How to Check PageRank in 2023
Authority is one of the main metrics of a site's quality. Webmasters agree that a resource and a separate page have a ranking, and it is calculated based on a large number of micro factors.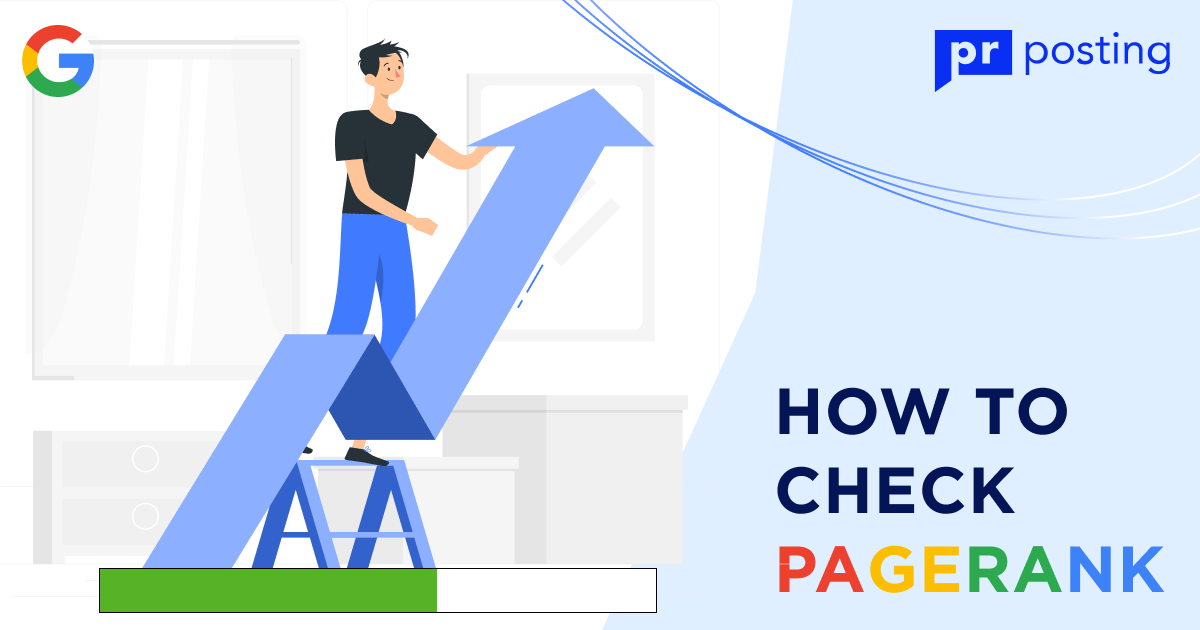 Almost since its first days, Google's ranking algorithms have been relying on PageRank, which determines a page ranking through relationships between links.
What Is Google Page Rank Checker and Why Use It?
A Page Rank Checker is a tool that allows you to find out a URL rank assigned by search engines. Many services offer to check the page authority online, and each of them has its own algorithms for calculating the value of this metric.
No PageRank checker will allow you to learn the real PageRank value of a page because there is no publicly available data on that. Therefore, they use several options to provide webmasters with information on the PR of pages.
The first option is historical data. Some tools have been in use for years and accumulated information regarding sites that worked even when PageRank values ​​were freely available.
The second option is using a proprietary PageRank calculation formula. Several SEO-analysis services have developed an alternative to PR and provide information to anyone interested in page rankings.
It is useful to check PR for SEO researchers who spend a lot of time building a complete picture of ranking algorithms. In other cases, the numbers collected from various services do not mean anything because PageRank has not been publicly displayed for a long time.
What Is PageRank All About?
PageRank is an algorithm for determining the authority of a page based on connections between links. At the start of the project, the founders of Google planned to create high-quality content ranking algorithms and found a solution.
They took the principle of citation used for scientific works as a basis. For example, if a young scientist writes a dissertation and makes an important discovery about space, various sources will begin to cite his work in a matter of days.
Citation works as an indicator of the content quality in this case. A greater number of natural references speaks of the higher value of the scientific work. PageRank works in a similar way. No one thought about link building when search engines just began to develop, and link mass was the main ranking factor.
Regular Google Page Rank checks used to be a standard task for SEOs involved in continually promoting sites. Links with a high PR were appreciated above all things, and SEOs were keen to get as many references from reputable sites as possible.
A Brief Intro to the Algorithm
The PageRank of a page is a quality metric based on a graph reflecting hyperlinks. Previously, the metric value could be increased by building more backlinks. It is very important to place the links on authoritative resources rather than on sites that provide useless content and do not have a strong connection with the links.
Many webmasters still overestimate the importance of PR. "What is my Page Rank?" newbies ask and spend time analyzing the data provided by several services, while it is better to invest the efforts in internal website optimization and link building.
PageRank was created for websites with high trust to be displayed in the top positions for relevant queries. Even now, this metric is a powerful signal for algorithms, although it is not worth shifting focus only towards PR.
Google PageRank was last updated in 2013. Since 2014, representatives of the search engine have been constantly talking about the need to abandon website PR checking. The metric will remain an important part of the algorithms, but the data will be used within the ranking system only.
Until 2016, every webmaster could check PageRank using Google Toolbar for the Chrome browser. This add-on consisted of many elements, including a widget to show the PR toolbar value. The numbers had not changed since 2013, and the possibility to publicly view the data was gone in 2016.
How Does The Google PageRank Work?
Even experienced SEOs sometimes cannot explain how the PageRank calculation algorithm works. Data from patents, research by SEO specialists, and comments from Google representatives make it possible to confidently state that link connections lie at the core of PR.
It is known that PageRank is tied to a logarithmic scale, and the page rating ranges from 0 to 10. Authoritative projects like Wikipedia get the highest mark, while standard projects rarely come close to it.
It is important to understand that PageRank reflects the authority of a particular page. The more high-quality donors cite the promoted page, the higher PR you can get. Webmasters used to pay up to $1,000 for a reference from such a page.
The PageRank algorithm is based on a complex formula hotly debated by webmasters. Many SEOs interpret it in their own way and disagree with other views.
If you carefully analyze the PageRank formula, it becomes clear that the algorithm uses several factors. Say, there is page B on a real-estate website. The algorithms take into account a large amount of backlink data to calculate its PR value.
The first PageRank formula contains the distribution of the PR value depending on the number of links on the page. If the page contains 20 links, the PageRank is calculated using the formula: B/20.
Later, Google changed the PR distribution to eliminate manipulation of the ranking algorithms and make the calculation more accurate. The search engine has always closely monitored the situation in SEO and rebuilt the algorithms so that SEOs focus on creating high-quality sites instead of quickly reaching the TOP thanks to paid link building.
The Internet is constantly evolving, and the algorithms that assess the quality of content must change with it. Otherwise, the main goal of search engines, which is providing users with relevant answers to their queries, will stay unachieved.
Factors That Influence Website's PR
Any metric that affects the trust of search engines in a site should not be tied to a single indicator. In the case of PageRank, the formula was known, but over time, it became more complex, and the algorithm for Google PR checks changed.
In the search engine optimization niche, there are many myths and statements tried and tested yet irrelevant in a particular case. When PageRank was all the rage, many SEOs were building theories on how the algorithm worked, doing research, and publishing case studies.
The main problem is that even Google employees do not always know how exactly certain metrics are calculated, especially when there are hundreds or thousands of them. So, SEO researchers can rely only on data from publicly available patents and their own experiences.
It is reliably known that the PageRank value depends not only on the quality of link mass and the number of links on the page. There are also other factors, and information derived from Google patents supports this to a point. However, we cannot confirm they are still relevant in 2023.
Anchor Text
One of the important documents about Google, The Anatomy of a Large-Scale Hypertextual Web Search Engine, says that link text is processed in a special way and helps the search engine algorithms understand the content of pages.
Anchor text has a big impact on the effectiveness of the links. For example, to promote a site using high-frequency and high-competition keywords, SEOs buy backlinks where search queries make part of the anchor text.
Relevant anchor text has always performed better than links represented by the page URL. Google even recognizes mentions without backlinks, but natural anchors without keyword stuffing are highly effective.
A Google Page Rank checker simply demonstrates the indicator value and does not provide information about factors influencing the figure. Any toolbar displays data, and its interpretation depends on a webmaster's approach to understanding the principles of SEO.
Internal Links
In 2010, one of the SEO influencers, Bill Slawski, published an interesting article analyzing Google's «Reasonable Surfer» patent. Based on the data obtained, it can be assumed that internal links affect PageRank. That is, in theory, webmasters can use interlinking to influence the page authority indicator. If a site has many pages with a PR of 8-9 and they are linked to another page that has few inbound links, its PageRank may increase.
Links from important pages carry more weight than mentions from less authoritative resources, so Google PageRank checking used to help SEOs distribute link juice through interlinking to independently boost PR.
Based on the data of the patent, it can be concluded that a large number of factors affect the calculation of PR. Even the font size, the link position on the page, and the number of words in the anchor text have an indirect effect.
The Likelihood of Being Clicked
The likelihood of clicking is related to a damping factor, which is one of the most important metrics in the PageRank formula. The damping factor reflects the likelihood of clicking on links while visiting the pages of a site.
With each subsequent click-through, the probability of clicking decreases. For example, if a user reads an article and goes from it to a third-party resource, the likelihood that he or she will repeat this action is significantly reduced.
The «Reasonable Surfer» patent also contains hints of the link value based on its position. It follows from the patent that the likelihood of clicking on a link depends on its position on the page and the approach to its placement. External links placed in the page content, sidebar, header, and other priority areas have a higher value.
Therefore, each time you check Google Page Rank, you need to understand that the metric is influenced by a large number of factors, and the value cannot remain unchanged. The algorithms keep track of how the situation is changing and update the page rank of the site.
Nofollow Links
After the introduction of the nofollow attribute, many webmasters began to misuse it. Google added it to reduce the impact of links from comments, and SEOs saw it as an opportunity to control the PageRank distribution.
Let's say a page with PR 7 contains 5 links to third-party sites and 3 of them are closed from transferring the weight using the nofollow attribute. It follows from this equation that 2 links will share 7 points, and the remaining 3 links will receive zero PR.
Until 2009, the scheme had worked exactly like this, but Google revised the PageRank distribution algorithm taking into account the nofollow link, and the situation changed. Matt Cutts, former head of Google's webspam team, told about the changes in 2009.
If a page with PR 10 has 10 links and the nofollow attribute is attached to half of them, they receive one PageRank point each. And the remaining 50% of the PR is distributed between the links without nofollow.
Is Google PR Checker Still Relevant in 2023?
Any PageRank checker in 2023 provides no useful data to gauge page quality. When PageRank was available in Toolbar for everyone to view, the authority of a donor site's page was assessed only based on the number of points.
Even if the service offers access to a Page Rank tracker that stores historical data, these figures are of little use. The real values ​​could have changed both up and down since 2013.
But ignoring PageRank completely is no good at all. Although the data is not publicly available, Google algorithms continue to calculate it and take it into account as one of the metrics for assessing the quality of a site. In 2017, on his Twitter account, Gary Ilsh said that PR is still in use.
In 2018, Google updated the PageRank patent, and Bill Slawski published an analysis on his website. This is an indirect confirmation that PR remains relevant yet not as a metric to be used when buying links directly or through link-building websites but as one of the signals for search engine algorithms.
Over time, the interest of SEOs in PageRank has decreased, but mentions that confirm the relevance of this indicator pop up from time to time. For example, in a 2020 podcast, Gary Ilsh said that PR is also factored in when choosing a canonical page.
Many webmasters would like Google to have a more transparent policy regarding search algorithms, but, as practice shows, the representatives of the search engine prefer muddying the water. Even unambiguous answers to specific questions do not guarantee that the mechanism works in that way.
There are a lot of PR checkers available online, but they can be used only for research or for fun. You shouldn't be guided by the numbers shown by the services because there is no public access to real PageRank values since 2013.
Alternative SEO Services to Check PR of a Website in 2023
SEO-analysis services help webmasters and SEO specialists to automate routine tasks. It's hard to imagine that an SEO would manually search for backlinks or calculate a domain rating based on their own formulas.
Most webmasters use popular search engine optimization platforms that offer a variety of tools, from finding competitors' backlinks to link-building tips.
Many services provide an alternative to PageRank, and you can also focus on these indicators if the formula for calculating the value of the metrics covers all the necessary parameters. For example, a Domain Rating (DR) should not be calculated based on the link mass quality alone.
Webmasters don't have a single metric that can act as an equivalent of PageRank. Each specialist uses different services and focuses on their indicators when analyzing competitors, selecting donors, and solving other problems.
Being a popular SEO-analysis service, MOZ uses the Page Authority (PA) metric that reflects the performance of a page in a search engine. The maximum possible PA value is 100 points.
Page Authority is calculated based on data from the web index. The formula includes dozens of factors. It rests upon a logarithmic model, which is also used for original PageRank.
Page Authority is fueled by a machine learning algorithm, so the value for a particular page can change as new data becomes available. PA should be considered as a relative metric.
The popular search-engine marketing platform offers a large number of metrics for assessing the quality of a domain and an individual page. Ahrefs does not have a PageRank equivalent, but URL Rating (UR) is the closest option.
UR measures the strength of the link profile for a particular page on a site. Ahrefs said they tried to calculate URL Rating based on initial PageRank, but these metrics are different.
URL Rating takes into account the following factors:
links between pages
using the nofollow attribute
damping factor
crawler data for accurate results
Among webmasters, UR is often chosen as a substitute for PR when assessing the quality of donors and calculating the page ranking of their site. So, it can also be targeted and added to a set of important metrics.
The service is known for its quality link-building tools. Majestic offers several unique metrics that measure the quality of a domain and an individual page.
For example, the system has Citation Flow (CF). The metric is similar to normalized PR calculated based on the data on sites available in the Majestic system.
It should be borne in mind that CF does not consider the quality of links but reflects their number. Therefore, it is necessary to use Trust Flow (TF) along with Citation Flow. The former metric is related to the quality of links.
In terms of popularity, Semrush is on par with Ahrefs and other leaders in the search marketing niche. The company's specialists pay a lot of attention to the development of algorithms for determining the quality of a domain and individual pages.
Page Score (PS) works as a PageRank replacement. Points are calculated for each backlink of the resource analyzed, and they are available in backlink reports.
Page Score is calculated by the classic Page Rank formula, but it has been still going through beta testing. Therefore, it is necessary to treat these indicators as a relative metric.
Similarweb occupies one of the leading positions in the site-analysis niche. It does not have metrics related to the quality of link mass, but the service provides a lot of useful data.
One of the significant metrics is DigitalRank (DR), which takes into account the quantity and quality of website traffic. It is useful to pay heed to DR data when selecting donors, but bear in mind that Similarweb does not always show accurate data on traffic.
A site ranking changes as soon as monthly data are updated and then remains unchanged until more recent numbers appear. Thus, it is advisable to update the indicators once a month.
Alexa's ranking is often compared to that of Similarweb. Alexa Rank (AR) measures the popularity of websites. The service's algorithms analyze millions of resources and rank them to create a global ranking.
AR displays the popularity of a site compared to other resources represented in the Alexa service. It has nothing to do with PageRank, but it can be one of the important metrics when assessing donors' quality.
Service
PR alternative
Range of values ​​in points
Subscription cost, $
MOZ
Page Authority (PA)
1–100
99–599
Ahrefs
URL Rating (UR)
1–100
99–999
Majestic
Citation Flow (CF)

Trust Flow (TF)

0–100
49–399
Semrush
Page Score (PS)
0–100
120–450
Similarweb
DigitalRank (DR)
—
from 249
Alexa
Alexa Rank (AR)
—
149–299
In 2023, webmasters continue buying links to quickly build a link profile and use link exchanges for this purpose, which allows them to automate routine tasks. PRPosting is one of the most popular services boasting more than 44 thousand sites.
PRPosting aggregates metrics from popular SEO services to provide SEOs with a complete picture of website quality. The system uses convenient filters to sort sites by:
Ahrefs Rank
Majestic Citation Flow (CF)
Majestic Trust Flow (TF)
MOZ Domain Authority
A webmaster can set optimal values ​​for each metric in a form and collaborate with sites that get high scores based on all the SEO parameters. This will save a lot of time when choosing donors.
To Sum Up
In 2023, Google PageRank is still one of the signals for Google's ranking algorithms. However, the values ​​have not been updated since 2013, and they have been closed for public access since 2016. So, the practicability of using Google PR checkers is debatable.
SEO services offer their own metrics as an alternative to PageRank, but not all of them are calculated based on the authentic PR formula. However, search engine optimization platforms help detect link spam and find quality donors for projects of any niche regardless of PageRank.
Our services