FAQ
This page provides answers to frequently asked questions from clients of PRPosting. If the answer you are looking for is not here, please contact us directly.
What is PRposting?
PRposting.com is an outreach/guest posting platform for promoting sites using content.
There are over 40,000 sites from all over the world that are willing to post an article, news, press release, or other written content with a link to your project. Use PRPosting and post publications for SEO/SERM/PR as well as advertising purposes.
PRposting takes care of all communications, automates the process of posting publications, and saves your time.
What distinguishes PRposting from similar services?
No deposit fees
Sites for any tasks, ranging from the strong resources for marketing purposes and ending with inexpensive PBN and satellites for low-cost SEO objectives
We work with NDA projects
Unique filter sets: ahrefs, similarweb, moz, majestic parameters
Support of multi-currencies under one registration
Convenient distribution of balances by project budgets in the account
The possibility of creating a directory for your specific purposes
Daily check of posted publications for indexation, text or link changes
Only direct agreements with the owners of the sites. We do not work with intermediaries
Which countries does the service work with?
Today, the clients of PRposting can enter the markets of 177 countries. Of priority are US, UK and Ukrainian platforms, but we expand our directory to any regional area that the advertiser needs. If you have a specific category in an unpopular region, we will add it without any problems.
What to start work with the service with?
Registration (check par. "How to create an account")

Creating a project (check par. "How to add a project")

Adding a text/Ordering an article (check par. "How to add an article" and "How to order an article")

Selecting a site for posting a publication (check par. "How to use filters")

Replenishment of balance (check par. "How to replenish my account balance")

Order placement.
How to create an advertiser account
Registration requires minimal data: name, e-mail, and password (at least 6 characters). It is recommended to read the service Terms and Conditions and the Privacy Policy beforehand.
After registration, you will need to confirm your email address.
What is a project?
A project is a space where all publications about your site will be stored.
How to create a project:
1) Go to the "All projects" tab and click "Create project"
2) Fill in the "Project name" and "Project URL" fields. Select the currency that you plan to work with on PRposting.
3) Click "Create"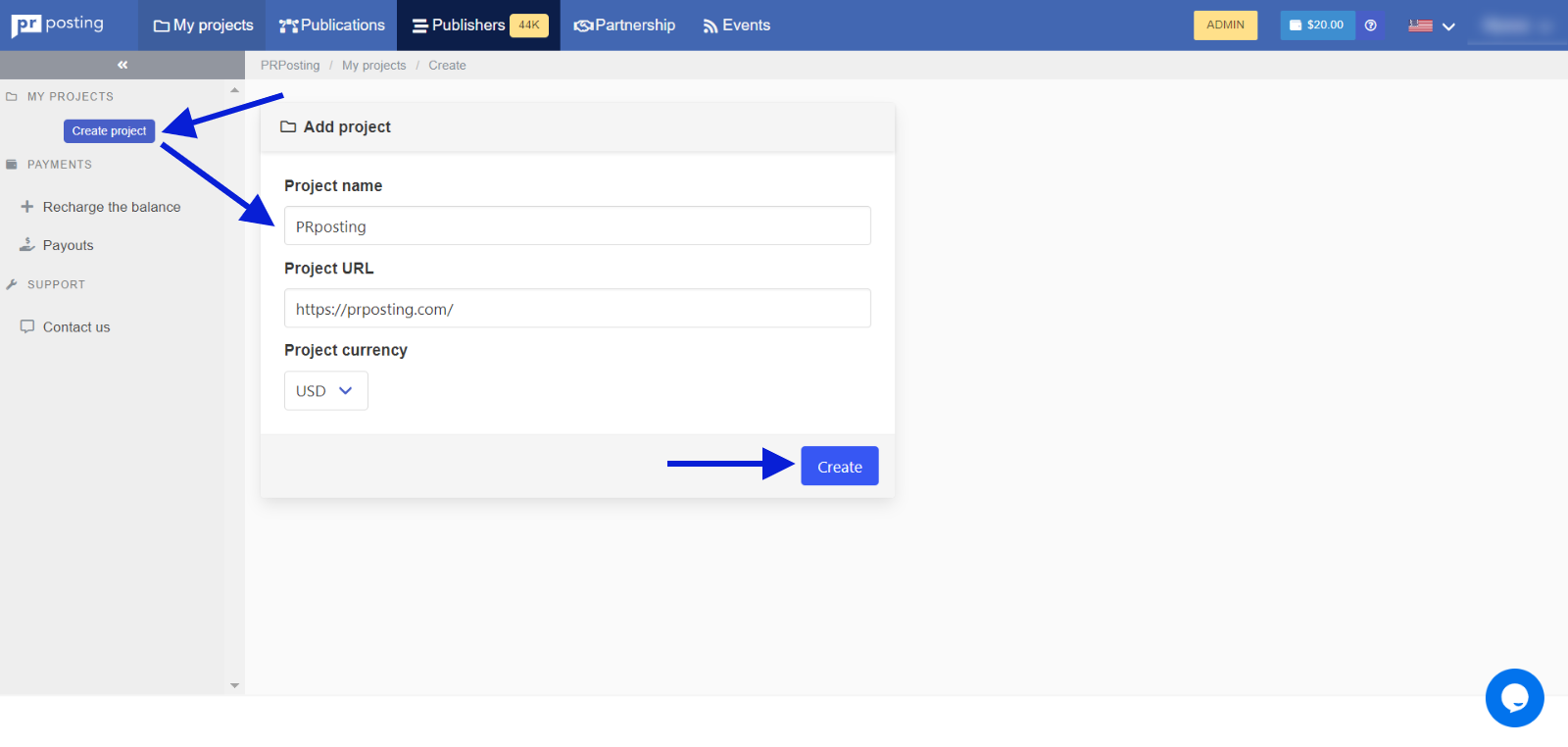 The finished project can be moved to the archive.
How to add a ready text
Go to the "Articles" tab and click "Create Article"

Next, fill in the information in a text editor:
Choose a publication format. The "Article" format is suitable for all texts not related to gambling or sports betting.

Specify the title of the article.

Add the text of your article

Insert links. No more than 4 links in one article are allowed.

Add links to pictures.

It is possible to add the text using Source Code.

Double-check the text and click "create." Adding changes to the text after publication will be problematic and not always possible.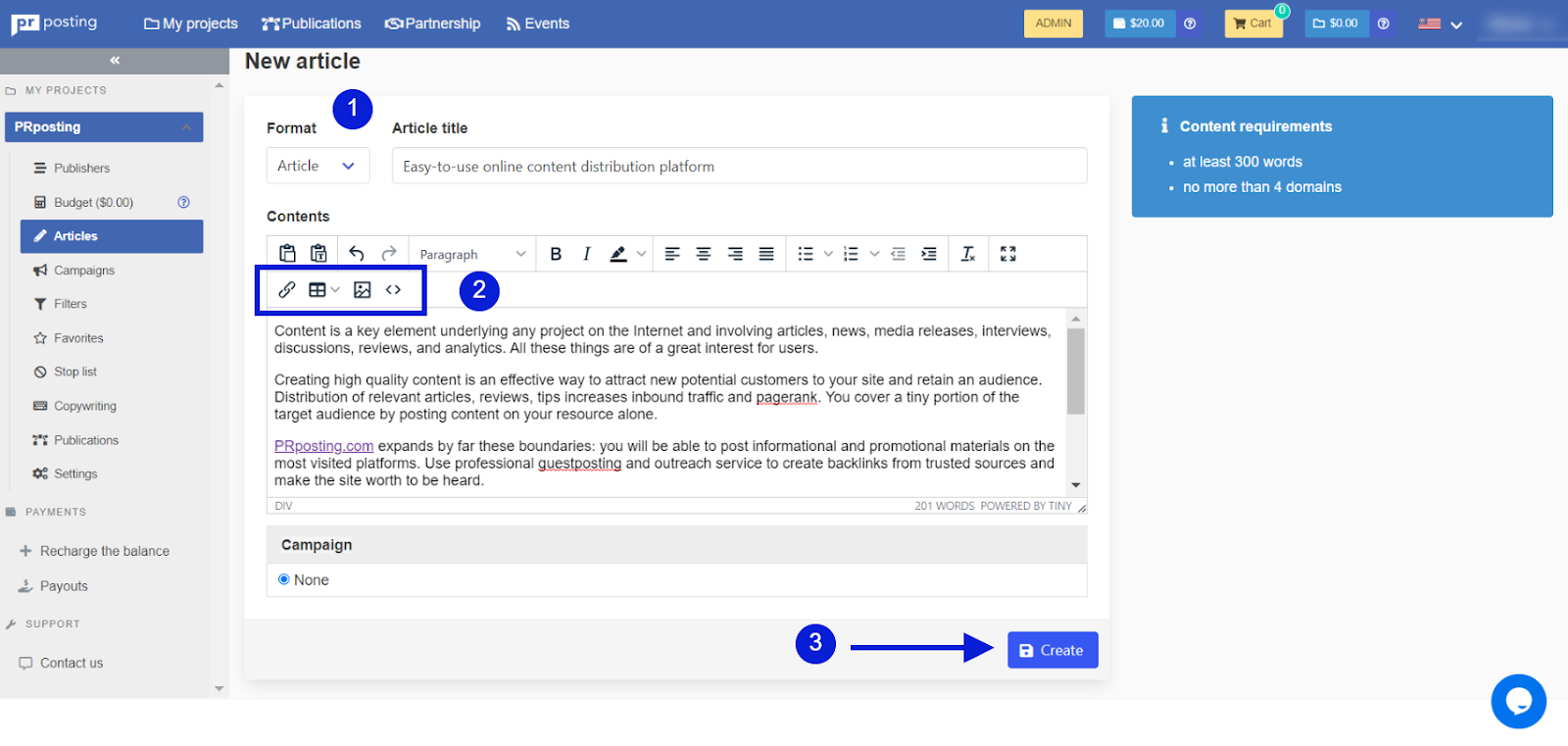 The added text must contain no less than 300 words.
What to do if there is no ready text and how to order an article?
1) Go to the "Articles" tab and click "Buy Article"

2) Fill out the brief. Specify the title of the article, a description; choose the language and format of the publication. Add the anchors and URLs of the links.
3) Click "order article"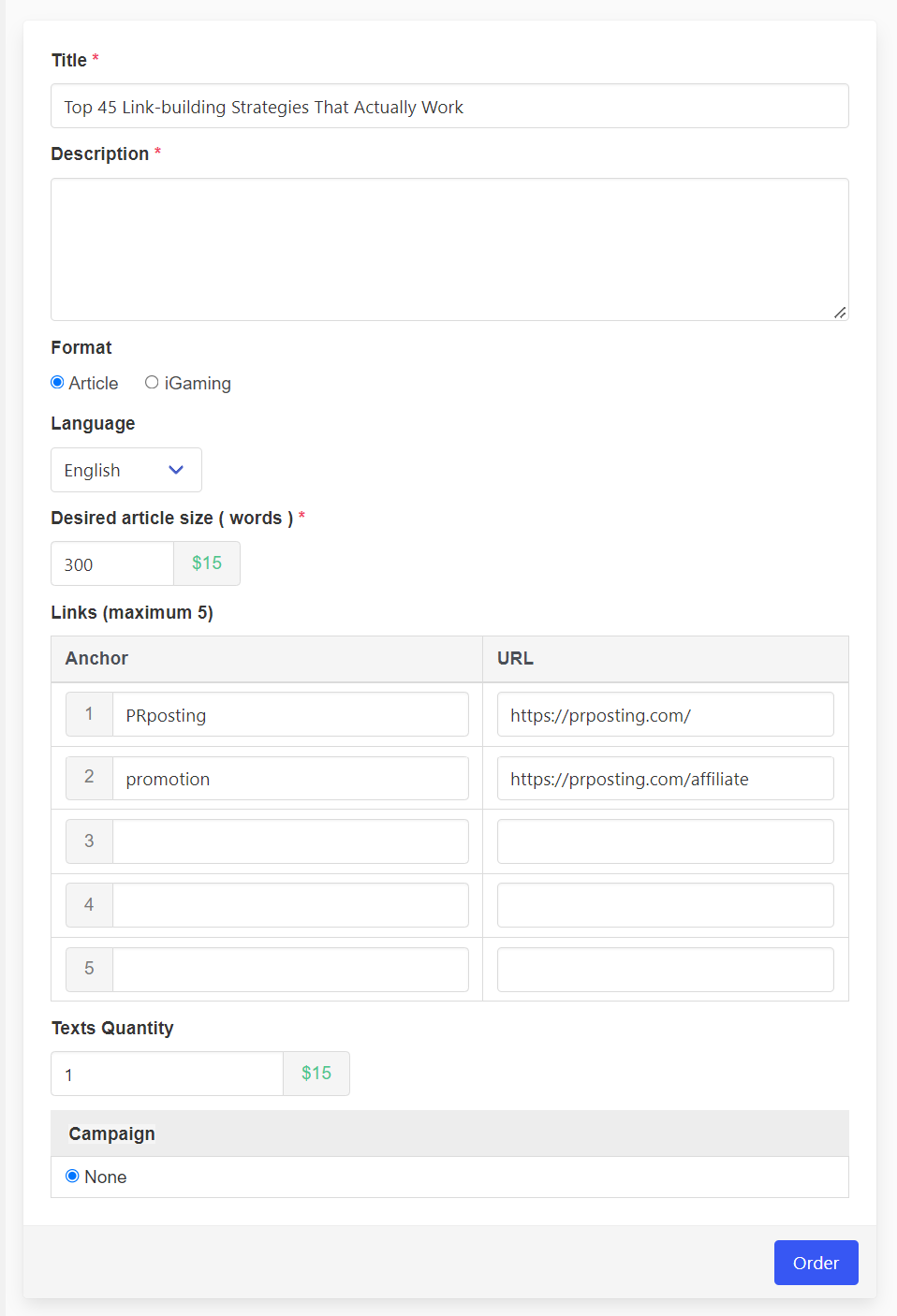 In 2-5 days, PRposting specialists will prepare the content maximally customized for the desired platform, taking into account your interests.
What topics are available when ordering articles on PRposting?
PRposting specialists will prepare a high-quality and unique article on any topic. We work only with reliable copywriters, who specialize in certain topics.
You can make comments and corrections to the finished material until the final approval.
What to do if there are no sites suitable for posting the materials?
Contact the technical support team of the site in live chat or by e-mail indicating "Couldn't find a site" in the subject field. Specify the topic, region and domain, site requirements, and the cost you need. PRposting.com specialists will add the required resource.
Forbidden topics on the platform
PRposting indicates the range of topics that are not available for publication via the platform's services. They include:
violence promotion, defamation, disclosure of secret information;
pornography;
promotion of drugs, information about their distribution sites or methods of production;
extremist materials, occult practices, or information about organizations officially banned in a particular state;
disclosure of personal information;
disclosure of corporate disputes.
Which platforms PRposting does not work with
PRposting does not publish materials on sites prohibited by the laws of any of the designated regions.
Publications are prohibited on:
pornographic sites;
websites of extremist, banned organizations;
platforms promoting violence and illegal activities.
Support work schedule
What should I do if I can't remember my password?
Click the "Forgot your password?" link in the login field;
Enter your email address (use the email address you specified during the account registration);
Click on "Send password recovery link";
Accept the email, follow the link;
Set a new password.
How to replenish my account balance?
Authorize in PRposting system and go to your personal page;
Place the cursor on the account balance and choose "Add funds."

Choose the currency. PRposting works with uah/usd/eur/pln/gbp.

Choose the payment method. Payment methods may vary depending on the selected currency.

Specify the amount. The minimum amount of payment is 10 USD.

Click "pay," and you will be redirected to the payment system website. Finish the payment.

If you have any questions, can't make a payment or find a suitable payment method, or want to make a payment via a bank transfer, click "Contact us" or describe your problem in the support chat on the PRposting.com website.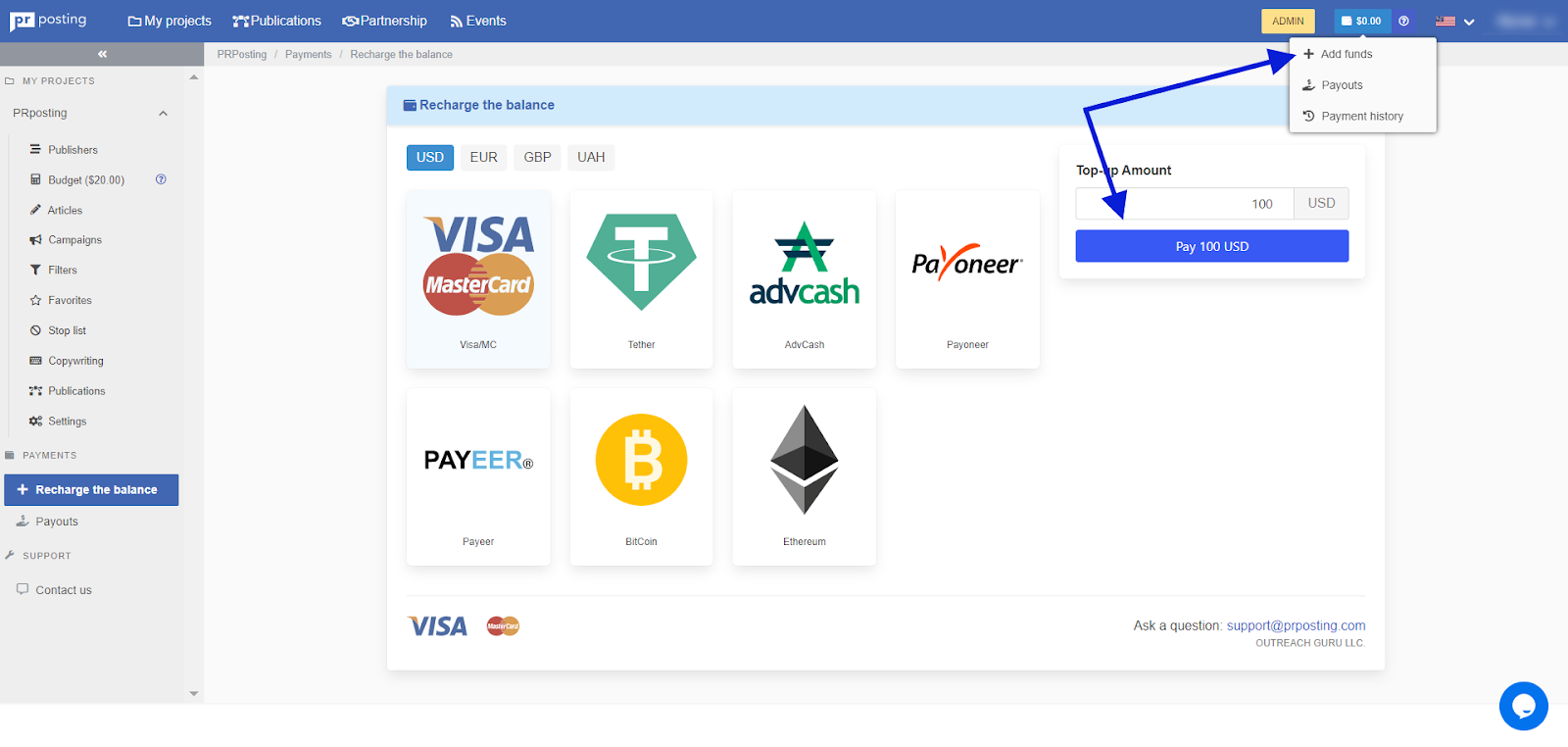 The amount will be credited to the account in accordance with the transfer deadlines of the selected payment system.
What commission does PRposting charge?
When replenishing our system with funds you pay only the commission charged by the payment gateway used to carry out the payment. The entire amount credited to your account in our system will be available for spending.
Which filters are available when selecting sites in the catalog?
When selecting a site (donor) to place a publication, you can use filtering by such parameters:
Ahrefs Domain Rating (DR), Ahrefs Trafic Ahrefs Traffic (ATRF), Ahrefs Rank (ARNK), Ahrefs Backlinks, Ahrefs Referring Domains

Majestic Citation Flow(CF), Majestic Trust Flow (TF)

MOZ Domain Authority, MOZ Rank (MOZR)

Similarweb Traffic (SWT)

Cost per publication, Domain zone, Allowed number of links in 1 publication, type of link.

Ability to Exclude PBN, leave only HTTPS sites, try a stop list or exclude previously purchased sites.

Categories (the main subject of the site) and country.

Smart search and site posting speed.

You can save the filter settings.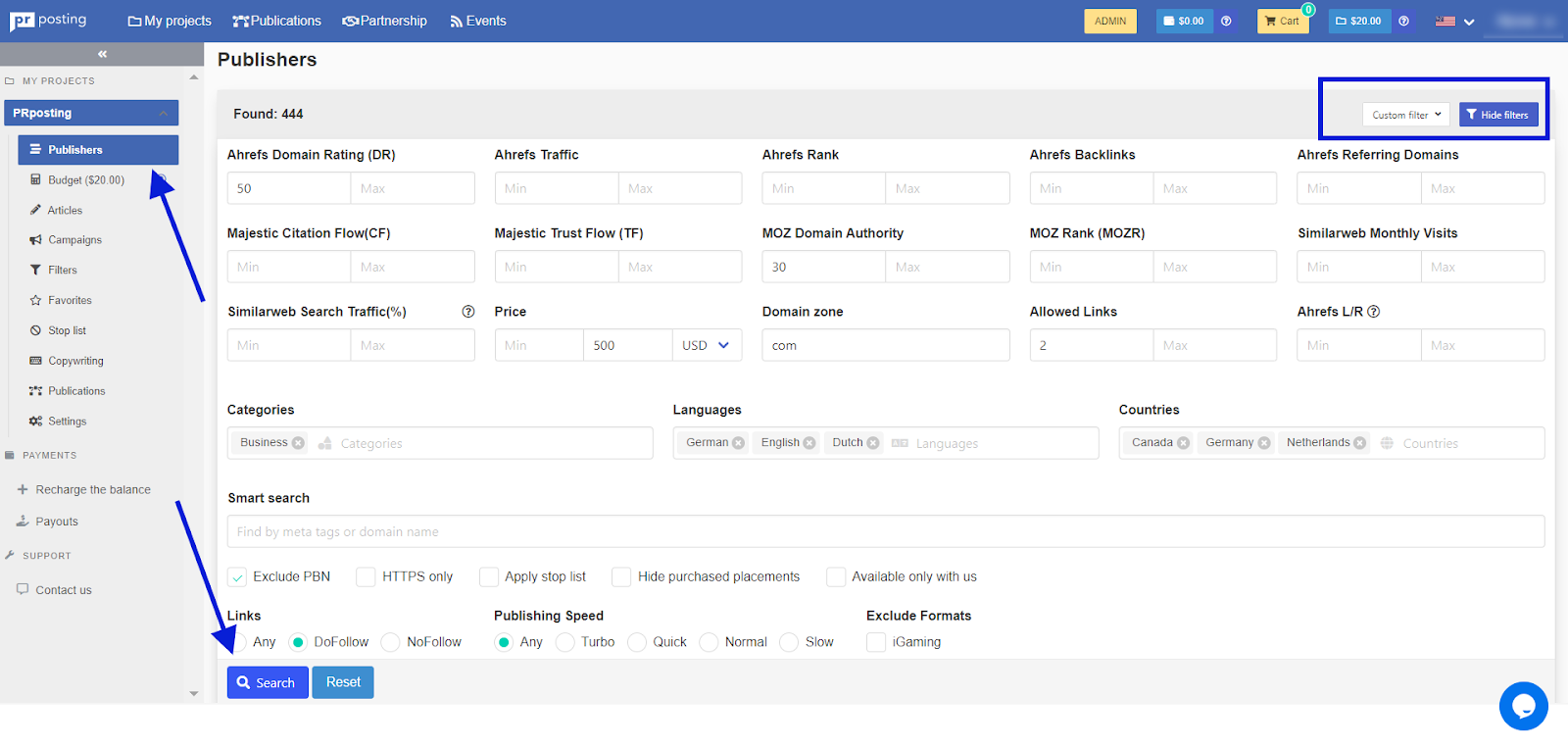 What are the requirements for text formats?
PRposting works with all kinds of materials: articles, news, press releases, interviews, etc.
What are the publishers' requirements for texts?
When preparing a text for publication, pay attention to the publishers' requirements regarding the number of characters and references in the text.

How long does it take to post a publication?
Placing a publication takes from several hours to several days depending on the waiting list or the approval of the material by the site's editors.
The user of PRposting will be notified of the publication once the article has been posted on the selected site.
PRposting offers the possibility of uploading reports to csv file.
How to make the publishing of my article more effective?
Choose relevant sites with high rankings and also use the services of professional PRposting authors. They will prepare your material according to the stylistics of the particular site and include search queries in the text.
How to change an already posted article?
You can't change the text of a published article on your own. Contact the technical support service via a live chat or by e-mail [email protected] with the "Change article" subject.
It is not always possible to make corrections to an article that has been posted.
Insurance service
We provide you a free guarantee for the safety of the published article for 3 months. If during this time your article is removed from the site, or the links in it are deleted/changed, or the site itself is unavailable, we undertake to restore the text in its original form. In case if recovery is not possible, a full refund for the order will be made to the account balance.
The guarantee also applies if the site has a technical ban on indexing and it cannot be fixed.
If you want to protect your article for a longer period, use the Insurance service:
for 6 months (+7% of the cost of the site)

for 9 months (+10%)

for 1 year (+15%)

If your article has been modified or removed and you would like to take advantage of insurance service, please contact technical support via online chat or email [email protected].
Is there a referral program?
Are there any additional deposit/withdrawal fees?
PRposting does not charge any deposit or withdrawal fees.
Transaction fees may be charged by the payment systems you use in accordance with their internal policies. Contact payment system operators for more details about possible charges.
To the webmaster (site owner)
How do I add a site to PRposting.com?
Go to https://prposting.com/join and fill out the form:
Enter the URL of your site

Your name

Your contact phone number

Your email address

Contact info if you use messengers (tg/whatsapp/skype...)

Currency

The cost of publishing an article (the minimum cost of publishing a text on your site) and the cost of placing an article on gambling/betting topics. If you do not post gambling/betting related articles, just skip this point.

Types of links: Dofollow, Nofollow, Any.

The maximum number of links in the text.

Will the publication be visible on the main page?

Will the published material be highlighted with "advertisement", "pr," or any other designation of advertising publication?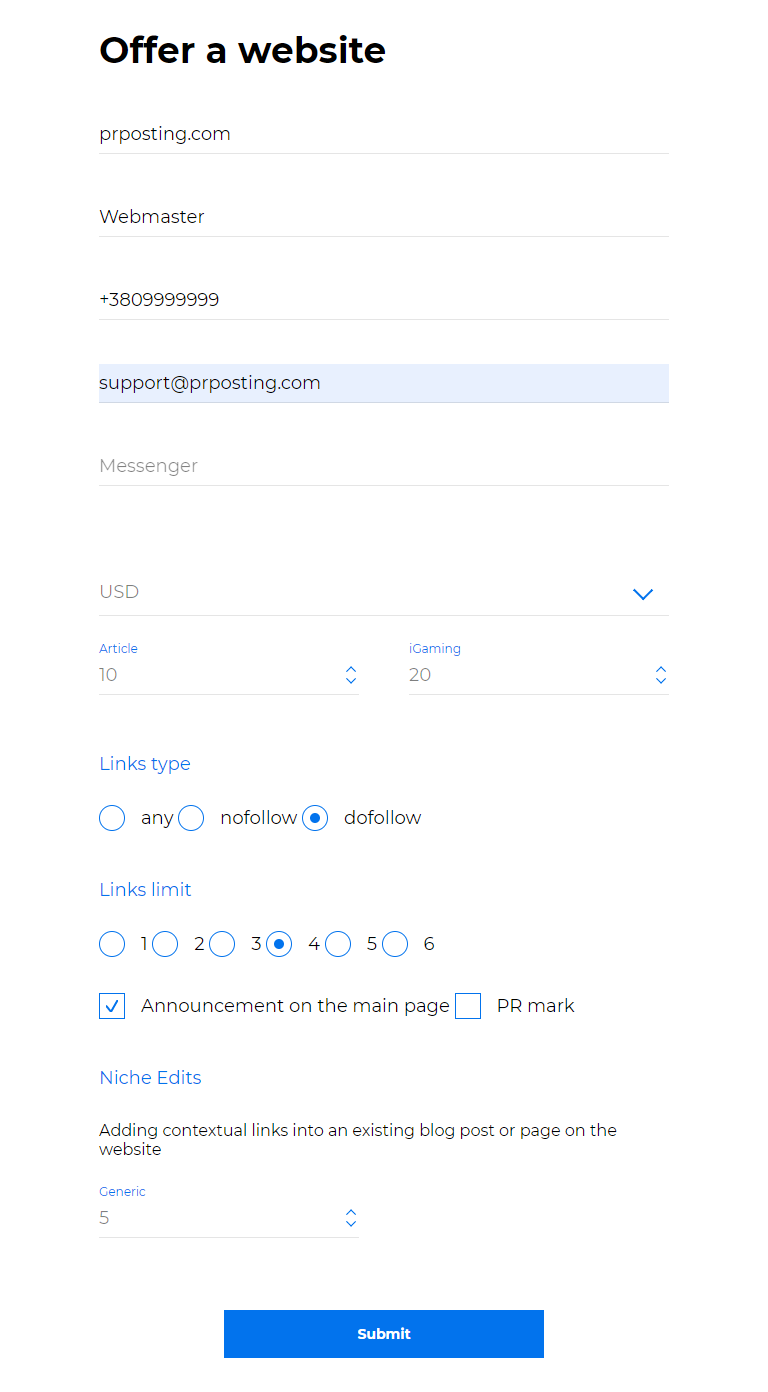 What are the requirements for the sites to be registered?
PRposting works with a wide range of publishers: news, education, information, services and sales, gambling, betting, casinos, etc.
PRposting may refuse to cooperate with sites that contain:
violence promotion, defamation;
pornography;
drug promotion, information about the places of drug distribution or methods of production;
extremist materials, occult practices, or information about organizations officially banned in a particular state;
confidential information;
disclosure of corporate disputes.