Follow Up Email Templates and Inspirational Examples
Regular follow-up emails can be a powerful tool for implementing your email marketing strategy, which will help you build trust with customers or partners, increase conversions, identify interested audiences, and automate common marketing tasks. Let's talk about creating a follow-up email template that serves the above goals.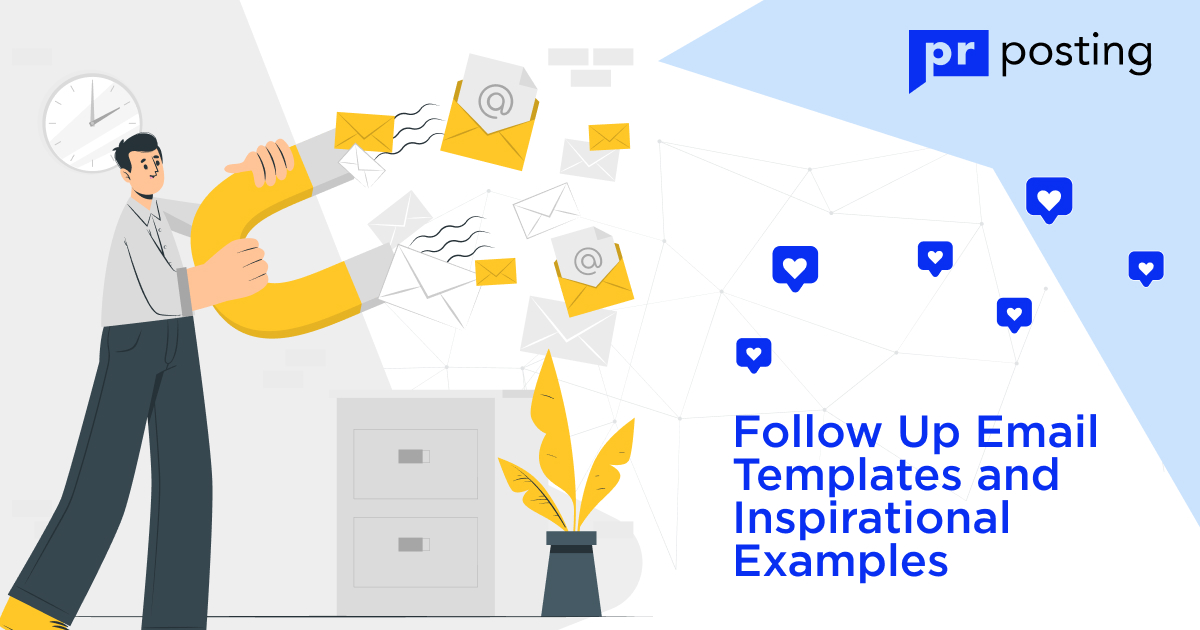 What Is a Follow-Up Letter and Why Send It?
In marketing, a follow-up email for business is a single letter or a chain of letters sent in response to some target action and other activities of potential customers. This may include a subscription, trial version activation or product purchase, a personal meeting or phone call, participation in a conference, etc.
Goals follow-up customer email can achieve:
lead to the purchase of a product or service;
encourage feedback from those who have already interacted with the company;
invite the participants of the previous conference to the next event;
remind about an abandoned form on a website;
request general impressions about cooperation;
thank the client for their time spent on a personal meeting;
sum up the results of a phone call or a personal meeting, and much more.
How to Write a Follow-Up Email Correctly?
To get a high percentage of follow-up letters open and read, you should learn how to arouse and retain the interest of a potential client. To this end, you can create several effective follow-up email templates for different occasions. What must be taken into account when constructing such a template?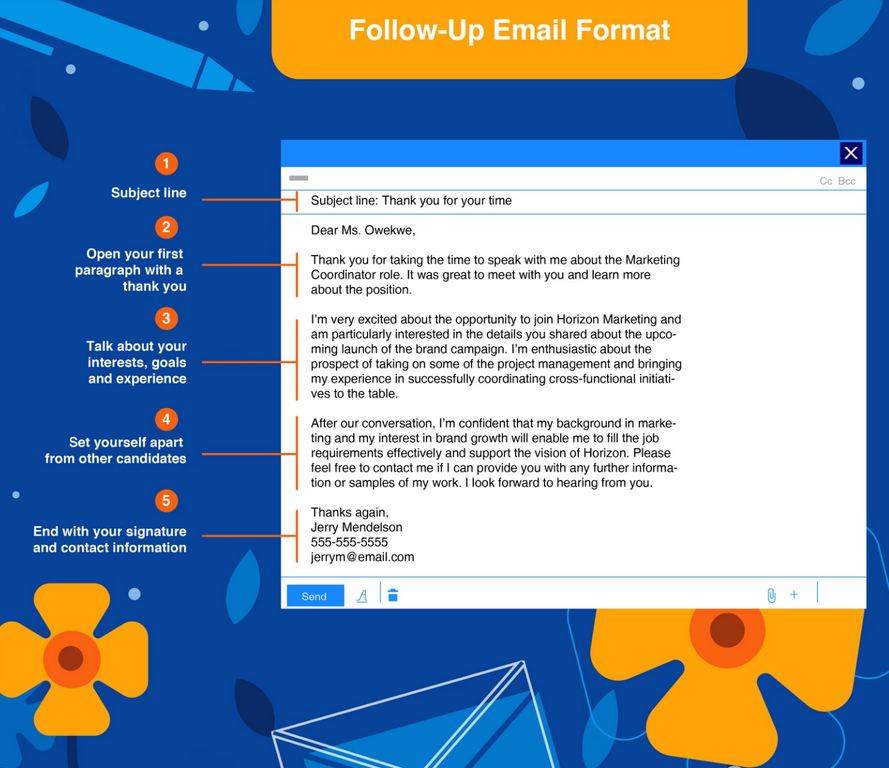 Include an initial message
A follow-up email often serves as a reminder of the recipient's recent activities, and you have several ways to convey this information:
Briefly summarize or retell the essence of the previous letter.
Ask if the last email got lost or if the client forgot to reply.
Approach the client with a bit of humor; add a meme or a funny picture to ease the situation.
Pay attention to the subject line
A follow-up email a client wouldn't miss should contain a catchy headline. It informs about the exact topic of the letter and encourages the recipient to open the email. Here are some typical follow-up email headers that will grab the attention of potential customers:
Thank you for registering with our service, [name]!
Let's keep communicating, [name]!
Thank you for participating in our workshop, [name]!
Awaiting your decision on our offer, [name].
Let's sum up our conversation about cooperation, [name].
We would like to confirm the date of our next meeting, [name].
[name], we have prepared some ideas to start working.
A question about the functionality of our product. We value your opinion, [name].
We have gathered N ways for you to increase income, [name].
[name], we have created a list of resources to help you resolve your problems.
[name], you have not paid your invoice — do you have any questions?
Personalize the message
Compose a follow-up email template in a way showing a potential client that you remember the background of your interaction and are interested in helping with their "pains":
Call the recipient by name and exactly as they previously introduced themselves to you.
Try and find a balance between a business narrative and an emotional attitude.
Demonstrate a human approach (for example, use only your name in the signature).
Avoid complex language — let it feel like friendly communication.
Make offers relevant to the recipient's needs or expectations.
Keep everything concise and to the point
Keep your follow-up email lapidary and elegant. You have only a few seconds to grab and hold a potential customer's attention. After a short backstory to remind the addressee of your previous touchpoints, move on to the point:
Write follow-up letters of no more than 200 words.
Specify the main point in the first two or three sentences.
Structure the information: break the text into paragraphs, use lists, etc.
Remember that your goal is to write a short message aimed to thank the recipient, encourage him or her to give you feedback, spark their interest in new products/events, or arrange a call or meeting. A letter that is too long, especially written as unstructured text, is likely to scare away a potential client. Such a message can be ignored or, even worse, sent to a spam folder. Keep this in mind when preparing your follow-up email template.
Be consistent
If your email strategy involves sending multiple follow-up emails in a row, take it slow and be consistent:
Play your cards close to the vest — add some value to each subsequent letter.
Place a CTA at the end of the email and articulate it clearly to encourage the prospect to take action.
Hold a pause between sending the messages, for example, 1-2 days between the first and second follow-up emails and 4 days between the second and third letters.
You will accumulate expertise, feedback, and analytics as you advance in creating professional follow-up emails. This will allow you to choose an optimal interval between the letters based on the specifics of your audience.
10 Email Templates You Can Use
We offer 10 typical follow-up templates to use in different situations for your benefit. Feel free to avail of these examples in your business after minor adjustments. A ready-made template is a guide to action and one of the important steps in implementing an effective email marketing strategy.
When receiving no response
Are your emails not being answered? There may be several reasons for this. First, your letter may accidentally end up in spam, and the user can stumble across it only by chance — if he or she regularly looks through this folder for something important. Second, the user opened and read it but did not respond to the letter. Third, the user saw your letter in the inbox but did not open it. The reasons behind the second and third cases may vary: the title or the content of the letter failed to attract the attention of the potential client; the addressee was distracted by other tasks in the process of answering the letter or simply forgot about you. In any case, you should display some perseverance and draw the recipient's attention to yourself again. We will offer some options on how to do this below.
Hello [name]!
Perhaps you have not seen the previous letter, so I hasten to make an offer that will definitely interest you.
I am 100% sure that cooperation between our companies has great potential. We are trusted by [company 1, company 2,…], which have already [achievement 1, achievement 2, …] with our help.
Get in touch with any of our managers to receive more information — we have prepared a nice bonus for all new customers.
I am looking forward to an answer.
[Signature]
Important:
Be persistent: you can send more than one repeat follow-up email.
Avoid monotony and devise interesting semantic constructions to attract attention.
After a meeting or a call
You have made the first contact with potential clients, which means they already know about you and perhaps are even ready to cooperate. It is important not to miss this opportunity and take the next step as soon as possible to motivate the clients to do the same. We hope the follow-up email example below will help.
Hello [name]!
During our last conversation, we discussed [subject of the discussion] and agreed on developing a further strategic roadmap next time we get in touch.
Perhaps now is the right time to continue the discussion? I will be happy to answer your questions by phone or in any other convenient way. Please inform me when it will be comfortable for you to proceed with our communication.
[Signature]
Important:
Act confidently and assertively.
Don't waste precious time by putting off the next step.
Briefly summarize the results of the meeting or the call in the letter.
After an event
Be careful when choosing the time to send the first follow-up email after a trade show, conference, seminar, or another event in which your competitors participated. There is a high probability that potential leads will receive several letters on the first day, and yours may simply get lost. However, it is no good putting things off since your rivals can leave you behind. It is better to maintain a pause for 2-3 days — this is an optimal timespan between an event and the next touchpoint.
Hello [name]!
It was a pleasure to meet you at [the name of the event] and discuss [the event topic].
We think that this information will be interesting for you [link] — here, you can get answers to the questions we believe you were worried about.
What do you think about this? Please give us feedback — we appreciate your opinion.
See you!
[Signature]
Important:
Remind the recipient of the name and the theme of the event.
Make a CTA that motivates the client to take the next step.
Add customer value to stand out from the competition.
After sending a cold email to a potential client
In this case, sending a follow-up email is crucial to increase conversions, so be mindful when composing the template. Many marketers refuse to send repeat emails because they are afraid to look pushy. In fact, you can still turn the prospect into a customer.
Good afternoon, [name]!
It seems you missed my previous message where I wrote about [subject]. I believe it would be a great opportunity for you [value 1, value 2, …].
Perhaps you can spare 10 minutes to look into my offer? I am ready to answer any questions by phone [number] or email.
[Signature]
Important:
Make personalized offers.
Be assertive and persuasive.
Add some extra value to each subsequent letter.
After the first discussion
You have already established contact with the client, and now your task is to keep them interested in cooperation with your company. It makes sense to send a follow-up email as soon as possible before the lead forgets the details.
Hello [name]!
Last time, we discussed [the topic of the discussion], and you expressed an interest in [the company product]. Would you care to test [the product/offer] on favorable terms? Let's discuss details in a form convenient for you.
See you soon!
[Signature]
Important:
Act quickly and confidently.
Write a letter that will benefit the client.
Be concise to show you value the client's time.
After a trigger event
Suppose a user takes some action indicating their interest in your products or services. For example, the potential client re-opened a previous email — marketing tools for tracking such actions are only gaining popularity and can be used to increase conversions.
Hello [name]!
I have noticed you are interested in our products, and I want to make sure you found what you were looking for. I am sure our solutions will help you satisfy [need 1, need 2, …].
Perhaps you have questions? I will be pleased to answer them. Let us know how to get in touch with you.
I look forward to an answer.
[Signature]
Important:
Act quickly.
Summarize the first discussion.
Encourage the client to take the next step.
For sales
A follow-up email template for sales should contain a reminder that the client is already on track to close a deal. Sales statistics will depend on this letter, so approach the task as responsibly as possible.
Good afternoon, [name]!
I can see that you have almost completed your checkout on our website. Perhaps something distracted you? I suggest you pick up where you left off.
Do you know this product category is selling 12% better in the current season than in the previous one? But don't worry, your product is still waiting for you in the Cart. Complete your purchase, or email us if you have any problems.
By the way, did you know that [article proving the product value]?
[Signature]
Important:
Avoid clickbait in the subject line.
Be concise to save the lead's time.
Add some statistics or an interesting fact that will interest the client.
After a webinar
A follow-up email can become one of the most important tools for keeping the attention of your audience and attracting it to other web pages, for example, to expand your LinkedIn subscriber base.
Hello [name]!
Thank you for joining our webinar! We hope you enjoyed it and had quality time!
Here are some additional resources on the topic of your interest:
[link 1]
[link 2]
[link 3]…
Keep this record to refresh your memory about the webinar at any time [link to the record].
Follow us on LinkedIn and stay up to date with the latest events!
[Signature]
Important:
Remind the client about the topic and content of the webinar.
Make a personalized offer in the subject line.
Increase awareness with branded images.
After an interview
This follow-up template is suitable for those cases when you plan to cooperate with a company on mutually beneficial terms, for example, if you offer IT outsourcing services and are interested in finding new clients.
Hello [name]!
Thank you for taking the time to discuss the position of [job name]! It was a pleasure to meet with you and learn more details.
I would love to join [company name] and take on the responsibilities of [duty 1, duty 2,…]. I believe I will be useful in solving the following problems: [benefit 1, benefit 2, …].
I will be happy to provide you with additional information about my competencies along with my portfolio. Looking forward to hearing from you!
[Signature]
Important:
Start the letter by expressing thanks.
Emphasize your interest in the project/company.
Tell how you can help the company.
After sending a previous follow-up email
The percentage of letters opened and read to the end is a far cry from the coveted 100%. And this is exactly the reason to write again and again — at least to give a potential client a friendly kick and remind them about yourself.
Good afternoon, [name]!
Unfortunately, we did not get your response to our previous letter, and we want to know if everything is all right. If you have additional questions, we will be happy to answer them. Are you having difficulty using our service?
We hope to get feedback soon.
[Signature]
Important:
Remember that persistence pays off.
Send repeat emails every 3-5 days, depending on the specifics of your business.
Be concise to get the letter read to the end.
Offer help, but don't add new information about your service.
The Best Examples of Follow-Up Emails to Explore
We've collected some inspirational follow-up emails from famous brands. You can see how they use the techniques listed above and how creatively they approach the task. Perhaps at least one following up email example will be useful in constructing templates for your business.
Canva smartly encourages the email recipient to press the coveted button by asking two simple questions. If the answers are positive, nothing will prevent the potential client from taking the next step.

Apple's caring support team doesn't like boring and dry emails often seen when communicating with tech companies. Instead, they treat their customers in the friendliest way, gently pushing them to complete the targeted action from the previous message.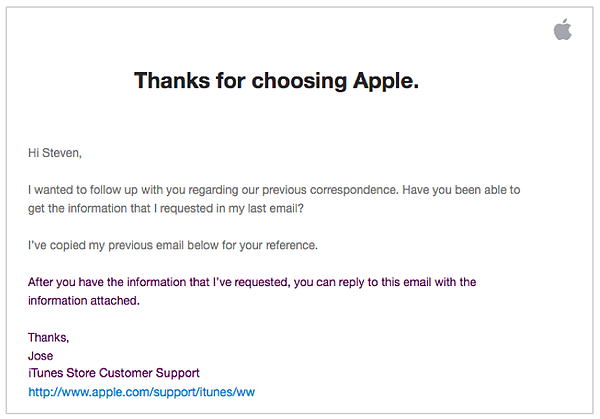 Salesforce gives a follow-up email example with four calls to action in one go. But everything is under control here since the email is intended for hot leads, and the conversion probability is higher than ever. In addition, pay attention to the design: it is sure to strike a chord with every client.

Have you noticed that each sample follow-up email to a prospective client contains at least one or two points described in the article? At the same time, the marketers approached the challenge inventively and engaged creative designers to solve it. The effect is impressive, isn't it?
Conclusions
We hope we have managed to inspire you to use another popular and effective (!) email marketing tool, and the recommendations, follow-up email examples, and suggested templates will help you get the most out of it and save you time. This is a great opportunity to attract customers who have already interacted with your business and can be interested in using your products and services.
FAQ
What is a follow-up email template?
A follow-up email template is a template for a text message to be sent to customers who have already interacted with your business in some way. This can be filling out a registration form, subscribing for updates, signing up for the trial version of an online product, purchasing your product/service, meeting at an event, conducting an interview, etc.
How to create a follow-up email template?
A follow-up template should be created based on an analysis of the previous touchpoints when a potential client interacted with your business — the letter content and structure will depend on this. Don't hesitate to draw attention to yourself again, write concisely, formulate CTA clearly, structure the message, and put some value in each follow-up email.