Searching for Similar Websites
Imagine that you decide to create a competitor to Google or YouTube by implementing an interesting idea. For example, to involve state-of-the-art artificial intelligence in search or offer short funny videos. And then the release date comes, but for some reason, the project doesn't work. What's the problem? You've forgotten about the existence of similar sites — in our case, Bing and TikTok. We will tell you which tool will help you conduct comprehensive marketing research.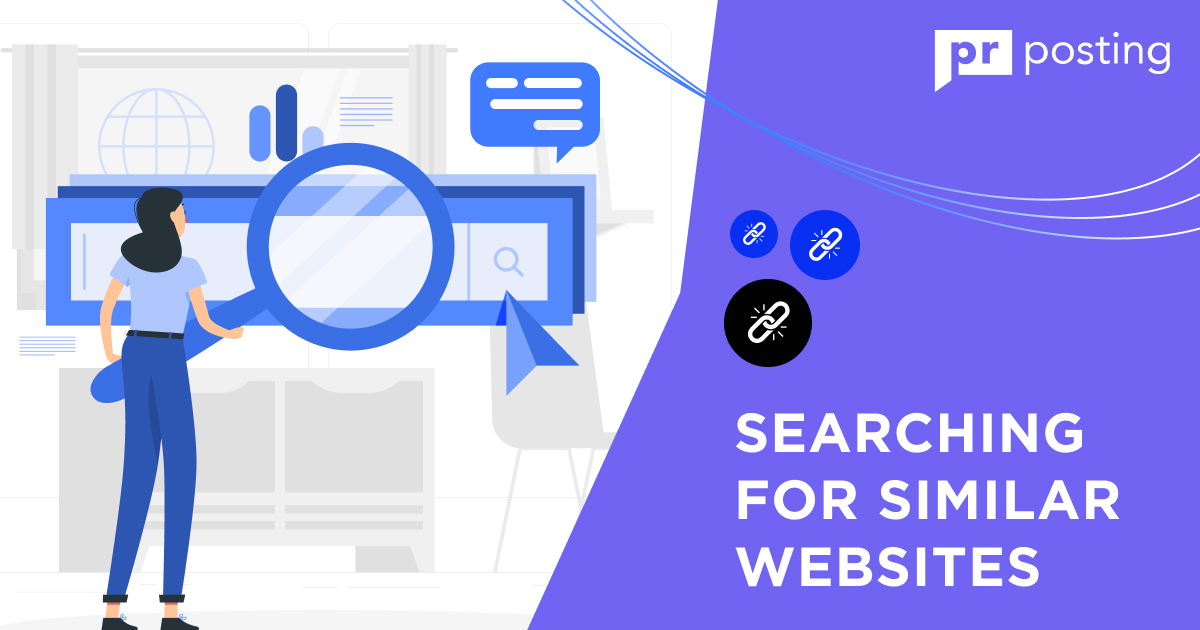 What Is a Similar Website Finder?
Researching with search engines is time-consuming, as you have to try tens of thousands of queries and carefully study hundreds of pages. To avoid wasting time and effort, you should entrust the similar sites search to a specialized tool. It examines the resource you offer and finds competitors optimized for similar keywords.
The result of using a similar website finder service will be a list of URLs that you should visit before starting work on your project. Moreover, you can get additional information that will be very valuable for online marketing:
the total traffic of competitors;
rank on a global, country, or niche scale;
bounce rate;
average time spent on the website;
depth of study — the number of pages viewed at a time;
the most relevant social networks for you;
owners of competing resources;
the company's field of activity.
Why Look for Similar Websites?
Obviously, this function is popular among marketers, as there are currently about ten similar services from well-known providers. Let's figure out when it's worth searching for similar resources with a common optimization strategy.
Finding direct and indirect competitors
Your project is unlikely to succeed if you have to compete with sites like Netflix and CNN, which have been operating in this field for many years and have managed to gather a large audience of visitors. Although you have a chance, you should check whether there are resources that are very similar to them but use different ideas that can gather an audience. This will be the reason to use a specialized service to search for them.
In digital marketing, indirect competitors are those who offer a different product but target your audience and can get some of your traffic. They usually use similar SEO principles, so a similar websites search can easily identify them. For example, if you offer professional hiking equipment, your indirect competitors will be manufacturers of sportswear and footwear in the casual segment. By using similar key phrases, they can reduce your traffic, especially if they have well-known brands at their disposal.
Identifying market gaps
It seems that people can buy and sell everything they need today. But every year, we see new products emerge — from toy spinners to electric cars and chatbots based on artificial intelligence. If you find a resource that offers a new product, you should think about whether you can compete with it right here and now.
The answer to this question can be found by finding similar websites. If there are no popular, promoted platforms among them, you have a good chance of success! This method of copying business ideas allows you to determine which segments are still open to beginners and which are already occupied by strong players.
Assessing the niche
Even if you have penetrated an empty market segment and are successful, you should not relax and rest on your laurels. There will always be a cunning contender who will use the previous point and copy your idea. If they pay more attention to marketing and choose the right areas of development, you may end up on the sidelines of history.
Therefore, you should periodically search for websites similar to your resource. This will help you identify new competitors in time and take the necessary actions. These may include entry into new communication channels, changes in advertising policy, or the involvement of well-known content makers.
Enhancing your website's marketing strategy
But why do we keep talking about competition? Related sites can be partners! If you find a similar resource, you can contact its owner to conclude an agreement on mutual website promotion.
As a rule, partners are indirect competitors who have a common audience and similar areas of optimization. For example, news websites cooperate with blogs and opinion leaders, and crypto exchanges cooperate with blockchain founders, technology companies, and decentralized financial organizations. This allows them to share spheres of influence in a civilized manner and get positive results without the exhausting struggle for traffic.
Conducting a competitor analysis
Finally, you can search for sites similar to your resource, even if you know your main competitors well. Specialized services allow you to get a lot of valuable information on one page. It can be traffic indicators, national rankings, search engine rankings, and user experience (UX) data.
A tool for identifying competing sites is more convenient than keyword research apps. Unlike them, it automatically identifies all areas of optimization of your pages and selects similar resources for them. The results of its work can be compared with integral indicators that characterize the financial condition of an enterprise in one figure.
How to Use the Similar Sites Search Tool?
The first step is to decide which web application you like. SimilarSites and SiteLike offer free services, but they have many limitations, especially when it comes to less popular resources outside the US and Europe. Sitechecker and SimilarWeb offer many more features with a paid subscription. But the basic search mechanics almost always remain the same:
Open the web application in a browser.
Copy the domain or the full URL of the page for which you want to find similar sites.
Paste the URL into the search bar of the service and click the Search button.
The process will take up to 10-15 seconds, after which you will get a list of the closest competitors and their key performance indicators.
How to Analyze the Sites Identified by the Service?
Knowing your opponent is good. But you still need to determine how to strengthen your position so as not to lose traffic, customer base, and profits. As part of comprehensive marketing research, you should pay attention to the following features of similar websites:
Structure and interface design. Which resource is more convenient to use — yours or a competitor's? Find strengths that you can borrow in the next update and mistakes to avoid when improving the frontend.
Traffic volume. Who has the largest audience? Never avoid learning from the experience of market leaders — almost 80% of successful projects copied someone's example in the early stages of business development.
Promotion strategy. Where do they place links, what plugins do they use, and what market segments do they focus on? It is important to pay attention to both positive and negative examples to build your marketing plan on their basis.
Textual content. What keywords are your competitors optimizing for? What is their readability rating? You can use popular SEO tools and browser extensions to quickly analyze your competitors.
Other Ways to Find Similar Websites
Of course, none of the marketing research methods is absolutely effective. Your direct competitors may use other optimization methods and promote pages with their specific keywords. Therefore, you should know where you can find similar websites.
Search engines
An obvious answer that will require some effort. To get useful results, enter the name of your product and market segment. Additionally, you can refine your search by geographic location, price category, or other characteristics of the offer. Knowing how to find similar websites on Google or Bing, you can create your personal monitoring methodology.
Browser plugins
SimilarSites and some other services offer extensions for Google Chrome and Mozilla Firefox. By installing them, you can find similar sites right when you are browsing a particular page. All you have to do is click one button. The results are displayed in a special window on the side, so you don't have to close the tab and risk losing valuable information.
Web catalogs
A bit outdated but still an effective solution. There are specialized resources that rank the best resources in different categories — multipurpose and niche online stores, niche blogs, marketplaces, etc. Some of them focus on segment leaders, offering to find sites like this. For example, you can find better alternatives to Serpstat or Amazon. Such rankings will be useful for both ordinary users and business owners.
Similar Site Search Services: Why Should You Bookmark Them?
The main reason is the convenience of conducting comprehensive research. With just one click, you can get a large amount of information about direct and indirect competitors, their traffic, and UX statistics. Moreover, such tools allow you to analyze the business environment before implementing an interesting idea, look for market gaps, and monitor the situation in a profitable niche.
FAQ
What is a similar website finder?
This web application helps you find resources that are optimized according to similar principles and use similar keywords.
Why look for similar websites?
The service allows you to conduct quick and convenient market research, analyze competitors, look for market gaps, and check the business environment before implementing a particular idea.
How to use the similar sites search tool?
Open the web application in a browser window, copy the domain or URL of the website, paste it into the search bar, and click the Search button. In 10-15 seconds, you will receive a list of competitors and other useful data.