Website Down Checker
Do you type your site URL into your browser and see a message that the  page is unavailable? You should not immediately blame the hosting and urgently dial the technical support number. First, you should check if this website is down or if minor problems with the Internet are to cause. Now, we are going to tell you how to do it.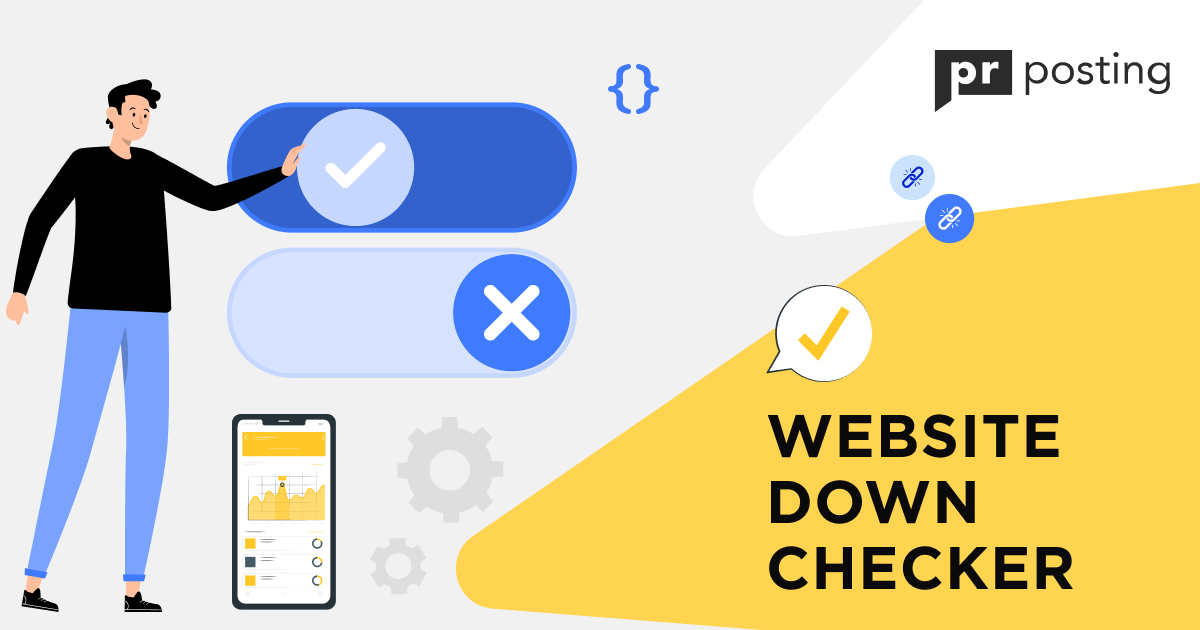 What Is a Website Down Checker
These are apps that check whether a certain resource can be accessed over different networks. They make it possible to detect or exclude technical problems on your part, for example, problems with the provider or certain restrictions set on the computer. Most of these services work from the cloud. It means that you don't need to download and install specific programs. You should just open the URL in your browser.
As a rule, almost every website down checker provides additional services. It can be uptime monitoring, technical audit, and accessibility evaluation using search engines. There are paid and free apps. Therefore, you can choose the best option for any resource, be it a blog or a popular online store.
Why Uptime Matters?
The goal of creating any commercial site is to make a profit. An unavailable page is the same as a closed door of an offline store. Users pull the handle, knock, hear no answer, turn around, and go to a competitor. Every minute of downtime costs a lot of money. For example, it is $220,000 for Amazon, $125,000 for Walmart, and $90,000 for Tesla.
In addition, the inaccessibility of the site causes the following problems:
Reduced SEO performance. An unavailable site reduces the number of visits and increases the bounce rate. Search engines recognize it as a technical issue and poor UX. The longer a page does not respond to user requests, the lower the ranking will be.
Probability of complete blocking. If the site is often down for a long time, Google considers it a threat to its security because such problematic resources are often attacked by hackers and distribute malware.
Stopping advertising campaigns. PPC environments have their error detectors. If a problem is detected, they automatically disable or delete campaigns. Therefore, you have to restart or manually create them again.
Another reason that makes it necessary to monitor site accessibility is the timely detection of technical errors and hacker attacks. In both cases, you should resolve these problems as soon as possible to avoid being blacklisted by users and search engines.
How Does a Website Down Checker Work?
The app sends an automated request from its server. Unlike humans, it uses software rather than visual controls. Therefore, the service receives the HTTP response and displays it on the screen. You probably already know about common codes:
200 – Everything is ok and the site works normally.
404 – The resource is temporarily unavailable.
503 – Server maintenance.
403 – A ban on the performance of a certain action.
301 – The site has been removed forever, and permanent redirection is applied.
400 – Incorrect syntax is used for the request.
You can find other server responses on the Wikipedia page. However, in 80% of cases, it is one of the above-mentioned codes. In addition, the app can show the site's loading time and its IP address. These tools are vital for both technical specialists and optimizers.
Some paid services may send multiple requests that allow you to find out if the website up or down in different countries. It is a convenient option for international businesses, where problems can be related to regional blocking, redirection of multilingual versions, and technical problems with certain providers.
How to Check if a Website Is Down?
Immediately after sending a manual request, you should check whether your device is connected to the Internet. So, you simply need to open any website that you use daily. Otherwise, you can enter google.com or bing.com in the address bar of your browser.
If access is denied and an error message appears on the screen, you should use one of the following site down checkers:
https://sitechecker.pro/
https://www.isitdownrightnow.com/
https://downforeveryoneorjustme.com/
https://www.websiteplanet.com/webtools/down-or-not/
https://www.freshworks.com/website-monitoring/is-it-down/
The API is as simple as possible. You enter your site URL in the search bar of the app and click the "Check," "Ping," 'Search," or similar buttons. In a few seconds, the service responds. Any of the mentioned programs can get an HTTP code and IP address. The specific functionality depends on the service version and your subscription plan if it is provided by the terms.
Possible Causes of a Website Downtime
Unfortunately, all the above-mentioned apps can give an answer to two questions – is this site down, or does it work normally? Of course, you can get some info using the HTTP code in the response. However, the most effective way is to communicate with the hosting technical support. As a result, you can get the following scenarios.
Server Overload
It is the most trivial reason why your site is down. Of course, every server needs downtime for maintenance. It is usually disconnected from the network for a short time during the hours of the least load – at night or early in the morning.
However, sometimes, hosting does not fulfill its obligations. Therefore, your site can regularly be unavailable owing to hardware failure or software errors. In this case, you should not sit and simply wait for the situation to improve. Switch to another hosting provider. Always keep such a fallback scenario at hand. If the sum is not too large for you, you can order such a service in advance. Hence, you will have a great alternative.
Malicious Cyber Attack (DDoS)
Most providers have protection against hackers. However, they have limitations. When hackers jump ahead in the race, even the world's greatest websites can be down for days. The site of a small startup is much more vulnerable, of course.
The answer to the question of why the website is down will not always be a targeted attack. Sometimes, the target is another resource hosted on the same server. Moreover, your PC has been connected to a botnet. It is a network of PCs infected with malicious software. Such malware causes hundreds of thousands of devices to send identical requests, resulting in a denial of service DDoS.
You can avoid such a problem by placing the site on a dedicated server. It is more expensive but much more reliable and less likely to be the target of attacks. Such significant resources as Microsoft, Cisco, IBM, and others have automatic reservation systems. If one of the servers is down, the request is automatically directed to the other computer. The process takes seconds and remains invisible to the user.
Hardware and Software Issues
The more complex your system is, the greater the probability of errors will be. Removing a single piece of code can cause redirected requests, following link circles, or disabling certain modules. Moreover, disabling databases and installing plugins incompatible with certain CMS become a common reason why is the site down.
The only case when you should try to fix the problem yourself is if it is you who develops and maintains the resource. If a third-party contractor deals with it, you should entrust this issue to them or another organization with the appropriate capabilities. Interfering with the website code without understanding its operation principles is very dangerous. In this case, you can lose important data forever.
Domain Name Server (DNS) Issues
Minimal errors occur most often, for example, when characters are confused in the settings. However, even in this case, the consequences can be serious. If the server has saved the changes, the patch may take up to 72 hours depending on your resource size.
You should entrust DNS settings to professionals. If you run into trouble, you should contact technical support immediately. It is vital to quickly set the correct settings to reduce site downtime.
The Domain Name Was Not Renewed
There are cases when you do not buy the site URL but rent it paying a certain amount annually or for another period specified in the contract. If you forget to pay, the site will be blocked. In the worst case, it can be re-rented, and you will be left without the URL with its optimization and other benefits. Hence, if possible, set up an automatic bill payment. If not, set a reminder on your calendar at least a week before the payment date.
Miscellaneous Causes
Even if you entrust your site development to the best specialists and install triple backup, you will not get a 100% guarantee of reliability. Things like natural disasters, massive power outages, and global hacker attacks are rare, but they do happen. If it is not possible to figure out the issue immediately, you should contact technical support.
How to Fix Website Downtime Issues
We have already told you why is this page down. Let us summarize these issues in the form of a checklist:
Test your Internet connection by switching to a popular site.
If you enter the URL manually, check that it is spelled correctly. Pay special attention to the encoding as there is a big difference between HTTP and HTTPS.
Check if you use a proxy server or a secure VPN connection. It is better to disable these services if there is no urgent need.
In case of constant equipment shutdowns, change the hosting provider to a more reliable one.
In case of frequent DDoS attacks, consider switching to a dedicated server and backup.
Don't forget to extend your domain name rental and pay your bills on time.
Leave DNS troubleshooting to your website administrator or other professionals. Respond to such errors as quickly as possible.
If the problem cannot be fixed, contact technical support immediately. It is undesirable to interfere with the code by yourself. There is a risk of losing valuable info or increasing downtime.
Tips on Preventing Website Downtime
There are several ways to protect against unexpected website down issues. Let us figure out how to avoid a site down and extend its operation time.
Employ a CDN
This abbreviation stands for content delivery network. It allows you to place parts of your resource on servers in different parts of the world. Hence, the probability that the entire site will go down at the same time can be reduced greatly. In the case of a targeted attack, only certain types of content, such as videos, photos, or JavaScript files, usually disappear from web pages.
Choose a Reliable Hosting Service
You should focus on reviews and ratings. Some aggregators publish useful statistics about service reliability. This is the ratio of the site up time to the total time. A 97% and above is considered the norm for the budget segment. It reaches 99.99% in top hostings.
Backup Your Data
Everyone who works with a computer perfectly knows the golden rule – save your data as often as possible. You should occasionally download all the data of your website to separate cloud storage or to a physical media, for example, a hard drive. If the attack occurs or your equipment fails, you will be able to restore the entire functionality of your resource much faster.
Get a Website Monitoring Service
There are specialized services that regularly send requests to your pages. They don't do it often enough to overload the servers, like once a minute, 15 minutes, or an hour. Moreover, it is vital to not only get the site down warnings but estimate the total outage time. Thus, you will be able to calculate the overall scale of the damage and timely detect malware left by hackers.
How to Monitor Website Availability?
Most website down checkers can monitor the access availability of your resource. The free version usually limits you to one URL. Moreover, you will need to register and agree to the terms. Such apps check if websites are down and monitor downtime.
However, there are other ways of monitoring. For example, you can set up custom alerts in Google Analytics or AdWords. These services will warn you about abnormal traffic figures by sending you emails or push notifications. You can also create a loyal community. Its members can contact you on social networks even faster than automated apps.
Final Words
Commercial projects must be sure that the website is up properly. You can inspect it by yourself or appoint an executive. However, it is much better to connect a monitoring service that will notify you of problems on time and keep valuable statistics. Even if you use a paid subscription of the premium level, it will be much cheaper than the loss caused by a long-term site down.
FAQ
What Is a Website Down Checker?
It is a specialized service that sends requests to your resource and provides data about the response. It ensures that your site isn't available for all users.
How Does a Website Down Checker Work?
The program simulates the sequence of user actions. However, it uses software code instead of visual diagnostics. It helps you to find out the site status, the IP address, and the HTTP server response.
What Causes Website Downtime?
The most common reasons are hardware failure, hacking, software problems, DNS errors, and the domain name was not renewed.
How Do I Fix Website Downtime Issues?
Check that you are connected to the Internet and that the URL is entered correctly. View the service settings. If you cannot determine the error type quickly, you should contact technical support.