Google Chrome Extensions Every SEO Specialist Should Know About
It is very convenient when you have all the necessary information at your fingertips. SEO extensions for Chrome allow you to monitor the key site indicators in the main browser window without being distracted by copying links and launching other applications. They will be useful for both working with your own resource and evaluating competitors. Let's figure out which tools are sure to come in handy for an SEO specialist.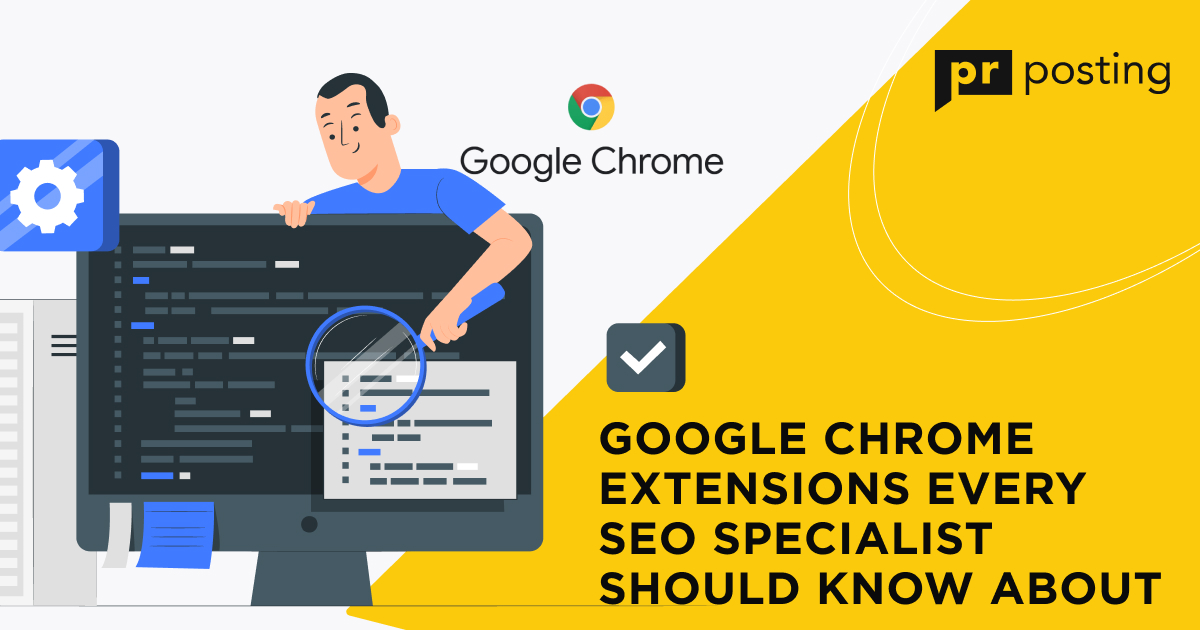 What Are the Advantages of Browser Extensions for Search Engine Optimization?
It's all about focus. When all the necessary data is located in one window, you can work faster and more efficiently. First of all, this is crucial for laptop owners limited by a relatively small built-in screen.
Chrome SEO extensions allow you to save time when performing routine tasks. If you need to analyze the metadata of several pages, it can be done in a few clicks instead of constantly switching between windows and repeating the same actions.
Another advantage of browser mini-applications is simplicity. They are installed in a matter of minutes. Many of them provide their services for free or have a trial period. So, you can try many different tools to choose an optimal set.
Top 21 SEO Extensions for Chrome
Spoiler: there is no silver bullet. Even multi-purpose applications have limitations. Therefore, you will have to install 5-7 extensions to fully cover your search engine optimization needs. We'll discuss application categories and choose the best services.
Basic SEO Extensions for Chrome
Tools that everyone will need. If you're just starting out in this field, these are the best tutorials on metadata, markup languages, link profiles, and other aspects of technical optimization.
1. SEO Meta in 1 Click
The name speaks for itself: just click on the logo of this chrome SEO plugin — and you get comprehensive metadata diagnostics. The application displays:
general search engine tags
all titles with length indication
Open Graph markup and social network tags
replacement text for multimedia content
all links on the page
sitemap and permissions from the robots.txt file.
The program highlights problem areas in red, helping to quickly correct errors. It also has general statistics on the number of titles, links, and images, which will help evaluate the effectiveness of page promotion.
Cost: free
2. Hreflang Tag Checker
Mini program for managing hreflang tags. It checks the correctness of tags for redirecting users to a page selected for them. Unlike the competition, this extension follows the links and checks if they are related to the original URL entered in your browser.
It is an indispensable tool for multilingual sites with complex structures. It speeds up checking page architecture and links several times. At the same time, you get all the diagnostic results in one window. You can't but agree that it's very convenient.
Cost: free
3. View Rendered Source
The best Chrome SEO extension if you build your site on JavaScript. This programming language provides wide possibilities, but it is impossible to call it simple and convenient. The application allows specialists without coding experience to diagnose web pages.
The extension displays two versions of a page — basic and JavaScript. It highlights differences for you to check the status of all tags and other optimization elements. If a plugin changes your settings, you will be able to see it and fix the error in time.
Cost: free
4. Data Scraper
A program that converts websites into Microsoft Excel spreadsheets in one click. You can create your own conversion schemes, for example, export only tables with product characteristics or the main text of articles without markup and images.
The extension's developers deliver active support for the application. Custom settings are available to all subscription owners — now, over a million custom layouts are linked to specific sites. There is a professional technical help desk that quickly solves problems and provides advice on how to use the extension.
Cost: the demo version is free; the full version — from $19.99 per month.
5. SEO Minion
Almost the silver bullet. In the window of this application, you will find:
metatags
all page links with highlighted broken URLs
SERP preview
hreflang tag checking
search results for certain geographic areas
tools for exporting useful data
This basic SEO tool lets you analyze the current site state, predict user behavior, and instantly correct flaws. It will be especially useful for beginners who are just getting to know all the functions of search services.
Cost: free
6. SEO Search Simulator
Additional search window with advanced settings. This Chrome SEO addon allows you to choose a geographic location and language without changing system settings. It also shows your site's position in the top 100 search results and highlights the link in the main window. It's a go-to tool for those who work in many regions and want to evaluate the optimization effectiveness for each of them.
Cost: free
Chrome SEO Plugins for Site or Page Analysis
Multifunctional control panels. They display the main site indicators in real time to get valuable statistics for creating an optimization strategy. They will be of particular assistance to experienced specialists processing dozens of pages per day.
1. SimilarWeb
It shows the key metrics of a site opened in the browser:
traffic dynamics
user engagement level
search ranking position by country and segment
traffic sources
By clicking, you will open advanced statistics for each of the indicators. This tool allows you to compare different optimization strategies. With its help, you can learn best practices from your competitors and market leaders.
Cost: free
2. Ahrefs SEO Toolbar
The tool evaluates the optimization level of an entire site and each page. It shows a breakdown of traffic by types and sources, performs rapid diagnostics, gives tips on improving the situation, and generates effective keyphrases. It also calculates an integral indicator showing the difficulty level of promotion in your business segment.
This is one of the best SEO extensions for Chrome from a site owner's or a senior optimization specialist's perspective. Unlike its competitors, it is aimed specifically at long-term strategy rather than day-to-day tactics. Its recommendations will help you build an effective digital marketing system.
Price: from $99 per month
3. MozBar
The basic version displays all page metrics, allowing you to work with them in the browser window or export the indicators to a CRV file. This is a smart solution for those who use external analytical services and automate report generation.
A premium subscription allows highlighting major errors on a page and in the code. It also evaluates the keyword promotion difficulty and delivers SERP metrics — all in one click, thus saving your precious time.
Cost: the basic version is free; the premium version starts at $99 per month.
4. SEOQuake
An optimization dashboard providing access to important metrics. It allows you to download all the indicators in CSV format compatible with most online and offline analytical services and shows the effectiveness of the site and page promotion separately.
An interesting feature of the application is its ability to highlight incorrect elements in the main window and generate recommendations for correcting the errors. Thanks to this, it can be used even by people having little idea about the technical side of SEO.
Cost: free
Applications for Keyword Research and Text Optimization
They perform the most important work — adapting your site to trending searches in a specific segment. They count the number of requests for certain topics, give ideas for content generation, and evaluate the page promotion difficulty.
1. Keywords Everywhere
A tool useful for both SEO and contextual advertising. It complements SERP with three important metrics — monthly number of queries, cost per click, and competition level in Google AdWords.
The main window is accompanied by two additional screens. They display related keyphrases and trending queries from this category. The application significantly reduces time expenditures — you don't have to constantly switch between the search page, AdWords, and Google Keywords.
Cost: free
2. TextOptimizer
One of a few SEO extensions for Chrome designed specifically for copywriters. It examines text on a page, highlights keywords, and creates "intent tables", which are compared with trending search engine queries.
As a result, the tool produces suggestions for improving the text content. The extension will recommend exact phrases you can insert on the page to attract more organic traffic. It works very smoothly and elegantly — the keywords are selected based on user intent, so they don't need major adaptation.
Cost: free
3. Keyword Surfer
It is embedded in the Google search page and adds key metrics to each link — query popularity, text length, and keyword count. The tool shows graphs of traffic and main indicators correlation and exports the data to CSV files.
The unique feature of the extension is the possibility of generating an approximate structure of an optimized text. The application analyzes the text content of your segment's leaders, creates reference headings and subheadings, calculates the article length, and suggests keyphrases.
Cost: free trial analysis for one site; the premium version with all tools starts at $49 per month.
4. Glimpse
A specific service that extends Google Trends with the following functions:
estimating the number of requests
selecting low-frequency key phrases
building an optimization map in your segment
The application can also predict search trends by keywords and separate traffic sources. It provides valuable information on the effectiveness of site optimization for social networks. In addition, it has a notification function informing you about the suddenly rising popularity of the topics you have marked.
Cost: the demo version for 10 requests per month is free; the full set of tools starts at $29 per month.
Chrome Extensions for Your Ad Campaigns
Promoting your business online is not only about passive optimization for search engines. To increase the number of leads, you need to go to external platforms, attract user attention, and create vibrant messages. The following applications will help you with this.
1. Hunter
Chrome SEO plugin for the B2B segment. With one click, it allows you to collect all email addresses linked to a site. Analyzing the structure of the resource, it divides addresses into groups, for example, management, IT staff, sales, etc. The extension is able to regularly update databases and export them to tables for further use in a CRM.
The application indicates how many times and on which pages a certain e-mail was mentioned. It also creates a corporate address template to reach even those people who have kept their contact details private.
Cost: the demo version is free; the full version starts at $49 per month.
2. BuzzStream
An interesting tool for networking. It serves to create a directory of webmasters, influencers, bloggers, and business leaders, along with recording their connections with each other and your team members. Later on, this will allow you to choose the best topic for starting a dialogue and find the shortest way to reach an agreement.
The program also provides a number of useful tools for:
writing commercial texts
creating effective advertising emails
evaluating the level of team involvement
tracking posted content
Price: from $24 per month
3. Check My Links
The name of this SEO extension for Chrome describes its functionality in detail. The mini-program highlights every link on a page, checks it, and alerts you about broken URLs. A navigation efficiency counter is displayed in a separate window. It significantly speeds up working with links and increases your site ranking due to technical optimization.
Cost: free
4. BuzzSumo
Social media marketing dashboard. The application calculates the number of interactions with your site on certain platforms, evaluates the level of user engagement, and monitors the quality of links. It also delivers information about the impact of different social networks on your SEO strategy effectiveness and reviews the best practices of your competitors.
Cost: free
5. GMass
A very simple and lightweight extension, which integrates with the Gmail platform. It adds useful features lacking in the original client:
creating mass mailings
sending letters based on a schedule
inserting links leading to Google tables
tracking the time when a letter is received
following dialogue chains with several participants
evaluating the mailing effectiveness
customizing emails based on pre-arranged data sets
forwarding to different recipients depending on the content
Cost: free
SEO Extensions for Chrome That Track Redirects
Redirection is a convenient navigation tool that directs visitors to the page they need. However, it creates a number of technical problems that can affect page optimization. That is why it is important to evaluate its impact with the help of the following extensions.
1. Link Redirect Trace
Tracks all redirects, including those executed with HTTP 301 and 302 as well as JavaScript. It adheres to commands for search robots specified in metadata and robots.txt files. The tool analyzes the canonical page version and its duplicates while providing access to the following metrics:
general optimization effectiveness rating and the level of website trust
time required to move to the final address
redirection depth
Cost: free
2. Redirect Path
This SEO extension for Google Chrome analyzes all links on a page. Like a strict teacher, it highlights broken URLs with red lines. By hovering over them, you get comprehensive information about the nature of the error and how to eliminate it. This is one of the simplest and most convenient tools for identifying problems in website technical optimization.
Cost: free
What Browser Extensions Should an SEO Specialist Install?
We recommend using more than one or two apps. Create your own library of SEO Chrome extensions, experiment with its content, and follow updates of popular services. The following tools will make a basic pack for SEO specialists:
Dashboard with main site metrics
Tool evaluating competitors' SEO strategies and searching for best practices
Crawler for downloading data in one click
Service for checking metatags and other markup tools
Application for analyzing links and detecting broken URLs
SEO and PPC keyword search extension
One-click email download service
Program for managing social media marketing
App for redirects quality assessment
Of course, this is a list for a full-stack specialist doing all the optimization work independently. In large SEO agencies with responsibilities effectively allocated between team members, each employee will have a separate list.
FAQ
Which Chrome SEO extensions are free?
You can find free apps in each category. For example, SEOQuake's feature-rich dashboard, Keywords Everywhere's keyword research service, and BuzzSumo's social media marketing management system don't require a subscription.
How to add extensions to the search bar?
First, you need to select an app from the Chrome Webstore, install it, and add it to the Quick Access Toolbar. After that, it can be launched by clicking on the puzzle icon in the upper right corner of the window.
What are the best SEO extensions for Chrome?
Universal applications — SEO Meta in 1 Click; analytical tools — SimilarWeb; keyword research — Keywords Everywhere; data collection for advertising campaigns — Hunter; redirection quality assessment — Link Redirect Trace.