8 Ways to Find Email for Outreach and Link Building
Creating an organic link-building profile for a website is a daunting task you can't complete in a few weeks. The webmaster has to spend a lot of time searching for new link-building opportunities every month.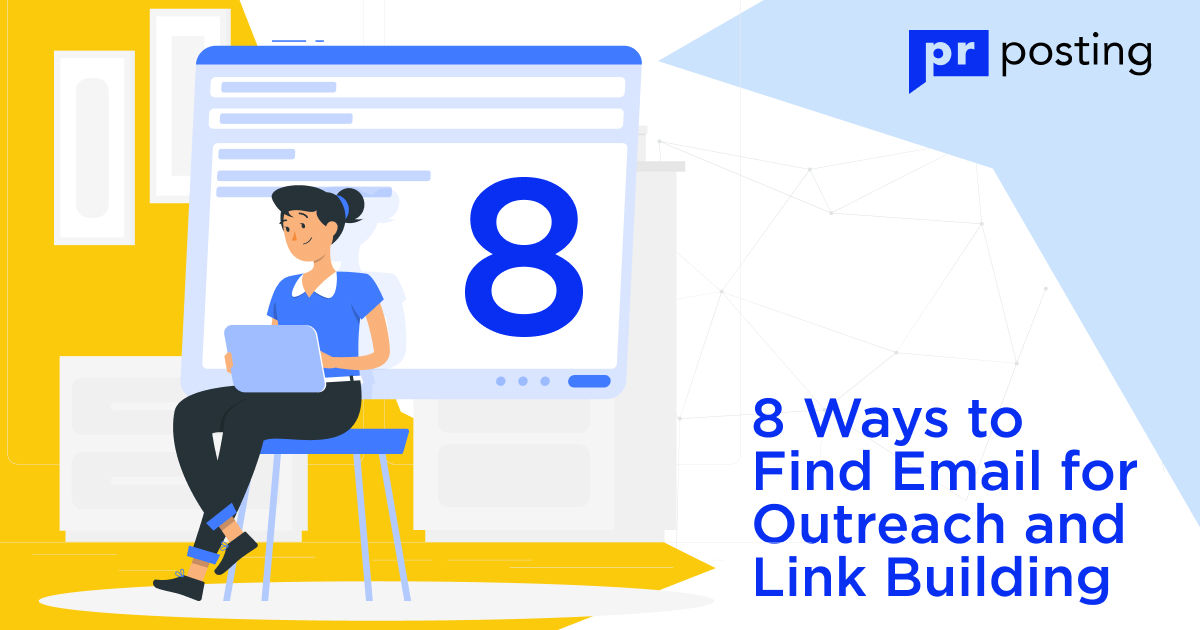 If a project's link mass lags far behind the quality and quantity of its competitors, the site may not reach the desired positions. Visibility in organic search partially depends on backlinks.
Many webmasters use outreach for link building. This method is based on email communication. First, the optimizer selects relevant donors, then performs an email search on the site, and finally sends a personalized offer.
According to marketing research, only 8.5% of newsletters get a response from recipients. This is due to the fact that site owners regularly encounter a flood of spam and are difficult to reach.
Sometimes, it is quite difficult to find the email address of a site representative. Therefore, newcomers to email marketing will need dedicated tools to help automate tasks.
Check for Email on the Company's Website
Publishing contacts on a website is standard practice. Information and business sites publish email addresses, phone numbers, and links to social media pages to provide audiences with communication channels.
Target customers or potential partners may use different channels to address their questions. So, more often than not, it doesn't take long to find a company's email addresses.
But do not expect an instant response. If the site is popular, its representatives receive dozens or even hundreds of emails every day. Accordingly, they are unlikely to respond to them quickly.
First, the webmaster will have to check the email for usefulness and then make a decision about the reply. And if we take into account the rather low rate of receiving reply emails, the potential cooperation can remain only in the plans.
For example, on the site of a car distributor in the U.S., you can easily find an email address. You don't need to use an email finder for the site to do this. The information is at the bottom of any website page.
Also, sites often create pages with a description of the company or all the contacts. You need to carefully analyze the content and choose the right email finder. The company has different departments that deal with relevant tasks.
After copying the address, you should not send emails. You should first check the email for validity. Validators can help with this. You can use any service with the appropriate features.
If the validator interface shows an OK result, then the probability of sending the email to its destination is greatly increased. Some email address hunters support email validation in bulk. Thanks to this, you can complete the task quickly.
Use Software and Services to Search for Emails
There are many solutions in the market of marketing tools. Website owners can use desktop software and online services. In the second case, you can do the work faster, thus saving money. Desktop software is more convenient for some users, but it will require a paid license to work properly. And in services, you can buy access for a few days or a week and collect email addresses at a time.
You should make your choice based on the frequency of your tasks. If email marketing is not on your priority list, there is no point in buying a $500 software license.
Also, keep in mind that online platforms, for the most part, provide comprehensive services. Using one account, you'll be able to use an email finder on the site, check addresses for validity, and run a newsletter.
SaaS are interested in getting as many customers as possible and gaining a significant market share. That's why they regularly update features and struggle for each new user.
This scenario is most beneficial for those who want to utilize email marketing tools. The webmaster can take advantage of a trial period or activate a free plan and complete tasks with minimal effort.
The competition in the market of email address hunters is quite high. Therefore, you should carefully analyze the features of a particular platform before registering and paying for a plan for a few months.
Most services provide an opportunity to request a refund within a 7-day period, but it is better not to waste your time and money uselessly. You can save resources by comparing platforms at the start of your search for email addresses on the site.
Find That Email
The service is considered a simple email search tool. Webmasters and marketers can use it to quickly find email addresses and check their validity.
Find That Email also offers clients an extension for Chrome. Thanks to the service, you can find email addresses on social networks and add them to your database in one click. Background search is supported, which saves time on routine.
After registering, new customers can test the platform's payment plan features. It is also possible to get a 10% discount on the first payment from the basic cost of the subscription.
Among the advantages, platform users highlight the user-friendly interface and quick training. You can learn the available tools after a few hours of active use. Disadvantages include the lack of useful features such as email newsletters and email templates.
Clearbit Connect
Email finder sites are similar for the most part, but this service is notable for its user-friendly presentation format. It also promises customers can find emails in less than 5 seconds.
Clearbit Connect offers users a handy extension for Chrome, which allows them to search for emails right in the email creation interface. After installing the extension, you can get a lot of contextual data on recipients. The service provides users with additional tools for marketing and sales. Therefore, if you want, you can buy a comprehensive plan. The company announces the cost of the subscription in a personal conversation with a manager.
Customers love the platform for its easy integration into the Gmail interface and its high speed. Among the disadvantages are an inconvenient pricing policy and limited marketing features.
Finder
This email hunter is considered a top solution. It has been on the market for years and is constantly updating features for customers. Finder offers users to find emails in seconds with a database of 430 million records.
The service has integrations with popular CRMs, bots to quickly send inquiries, and export of leads to the selected customer interaction system. Other useful tools include email address validation, support for bulk transactions, email list creation, etc.
A 14-day trial is provided after registration. Paid plans start at $15 per month. For that amount, the customer gets access to all 50 Finder modules.
The service is often called one of the most convenient email finders, which is true. A large number of available tools is both an advantage and a disadvantage, but the low price covers all the drawbacks.
Snov.io
The all-in-one email marketing platform covers many tasks, among which there is a search for the emails of potential partners. Over the last year, it found 260 million leads for 680,000 users.
Snov searches for emails by domain, company name, and contact name. Website owners, marketers, sales managers, and other professionals use the platform. All collected addresses outside the platform can be checked for validity and examined.
Users receive 50 free queries each month. Paid subscriptions include the full range of tools available. Subscriptions range from $33 to $615 per month. If you pay for a year, you can get 2 months of free access.
Email finder snov.io is considered one of the most powerful search marketing platforms, but it's more suitable for marketers working with a large volume of contacts. Although for a one-time collection of 50 email addresses, free queries will be sufficient.
Voila Norbert
The service is positioned as a handy tool for finding any email address. In addition to the email finder, the interface has several useful modules that cover other tasks. For example, there is an email address verifier.
Voila Norbert can be used as a service and extension for Chrome. Mass search by domain, contact names, social networks, and other sources provides quick access to the data you need.
You can get the first 50 contacts for free, but after that, you'll have to pay. Subscriptions vary in the number of leads per month. If you pay for annual access, you can save from $100 to $1,200.
Among the benefits of the service, customers highlight the free email search, email tracker, and macros for creating templates. There are also disadvantages: the email is not accurate in 100% of cases, and the extension can fail due to a large number of tabs.
Hunter
When marketers, businessmen, or website owners need to collect a database of contacts for collaboration, they most often discover Hunter. This platform is at the top of most rankings.
The service searches for email addresses by domains and contact names. In the interface, you can do email verification and export leads to any CMS. Unlike competitors, Hunter does not only work in Chrome; there is also an extension for Firefox and an add-on for Google Sheets.
The platform provides users with a free plan with 25 email searches per month and 50 email verifications. Subscriptions range in price from $49 to $399. If you pay per year, you can save 30%. Among Hunter's biggest advantages is its user-friendly interface, where all basic operations are done on one page. Another advantage is the free plan with no limit on the duration of use. Users don't like the lack of mass email address search and LinkedIn support.
FindThatLead
The B2B platform provides customers with a large number of useful tools. The main task it solves is finding leads for businesses. FindThatLead is positioned as a fast way to scale B2B processes.
The service gives you the opportunity to search for email addresses in a web interface and extension for Chrome. It searches by contact name and company name. The platform's interface allows you to check the validity of the email and send emails.
FindThatLead offers customers a free plan and three paid subscriptions. Pricing plans vary in the number of limits available and user accounts. For teamwork, you'll need a plan starting at $150 per month.
Among the pluses, customers note email search by domain, contact names, and social network analysis. Disadvantages include the lack of an API, difficulty filtering results, and unavailable email search by phone number.
eMail-Prospector Pro by eGrabber
This is desktop software that developers call the best B2B solution. With this tool, businesses can find new customers and expand their network of business relationships.
The program finds a verified email address by domain and company name. You can also additionally get a phone number for faster communication with potential leads. After registration, you can get 7 days of free access. The license costs $1,195 per year. If you go beyond 4,000 leads, you will have to buy additional limits at $395. There are many reviews of the software, but it is quite specific.
Among the advantages is the availability of additional tools such as email verification. The main disadvantage is the need to buy plugins. For example, an email verifier costs $295 for checking 5,000 records.
FindEmails.com
This service allows you to quickly find emails of executives of any company. You can use the web interface or an extension for Chrome. Almost the entire cycle of email marketing tasks can be handled in one account.
FindEmails is positioned as a professional tool for finding email addresses. The platform analyzes found email addresses so that customers only send emails to existing recipients. Among the tools available are email verification and search by contact name or company name and API.
For $29 a month, customers get 1,000 task credits, support, and API access. The most expensive plan allows for 10,000 queries.
In the list of benefits, customers of the service include a user-friendly interface, fast task execution, and the possibility of integrating the platform's data into email marketing tools. Among the disadvantages is the lack of newsletters and integrations with popular platforms.
Most services provide approximately the same features, but it is easy to make the right choice. To do this, simply analyze whether the platform meets all the needs.
For example, if you need a free Gmail search tool, you can only use a limited number of services from the list. Developers of tools are interested in generating income, so you should not count on charity.
Check the Company's Social Networks: LinkedIn, Facebook, Twitter
Most commercial companies and information projects have accounts on social networks. They don't necessarily post every day, but the basic information is usually available.
Among the useful data, you can find email addresses. They are posted in different places on each site, but the basic approach is the same everywhere. All the webmaster or marketer has to do is find the contacts.
Specialized services help you save time searching for emails on Facebook. Most tools on our list can analyze content on social networks and highlight emails. Then, all you have to do is verify them and send the letters.
Facebook doesn't always publish email addresses, but LinkedIn uses them more often because of the site's features. It was created to integrate into business processes and is designed to build connections between companies.
If a company used to be active on Twitter, you can probably find email addresses on the official page. Not every email finder for Facebook will do the job, though.
It is better to pay for a subscription plan in a service that can analyze the content of all popular social networks. Then, you can quickly find the email addresses of all potential leads.
Do not count on the 100% accuracy of the algorithms of the platforms. Even popular services sometimes make mistakes and cannot find emails. In that case, you have to analyze the data manually and forget about the online tool for finding email addresses on Facebook.
Try to Guess the Right Email Address with Permutator+
Experienced email marketers say that in most cases, you can guess email addresses. Usually, emails consist of a username and a domain. For example, if the website owner is Robin Williams, there's a high likelihood his email account will be [email protected] or [email protected] The only thing left to do is to use a verifier to check or do a Facebook email search.
Also, keep in mind that e-mail domains are set up in such a way that all letters to non-existent emails go to the main server. That is, if the address [email protected] does not exist, the administrator can still receive the message.
The answer to the question of how to find an email address by name is very simple. You can also use automation tools instead of a manual search. The Permutator+ service finds email variations based on the specified data.
During testing, the system generated 34 combinations. If you use email address verifiers, you can find the right boxes and add them to the sales funnel. The subsequent result depends on the lead interaction approach.
You can also use email verification in Gmail. To do this, simply create a draft sheet and hover your mouse over the address. If a customer profile appears, the combination is correct.
Not all marketers know how to find email by name, but it's never too late to get the knowledge. And if there is no name, you can use other approaches to find information. There are numerous services that can help.
Find an Email Using Twitter's Advanced Search
Twitter is not only a place to write short notes about life and a source of current trends but also a database of contacts. If you use the built-in tools correctly, you can find a lot of useful information.
One of the answers to the question of how to find e-mail addresses of companies is Twitter. This social network often publishes contacts of companies and information projects. In most cases, the email can be found in the content.
The problem with finding information on the site is that tweets quickly descend, and if the flow of messages is dense enough, it will be difficult to find the necessary data.
Special operators come to the rescue, allowing you to filter search results. To highlight email addresses, you need to write the word email and select the desired account. And then view the results.
In the example above, the system found BBC channel profiles and helped to collect a database of emails that can be used for building contacts. Using the standard search form is somewhat different from the approach to managing email search tools on Facebook, but you can quickly master any features of the services if you want to.
Sign up for Newsletters from Your Customers
Commercial companies and information projects regularly communicate with their audiences. Despite the development of social networks and messengers, email is still one of the priority means of communication.
If you look at the website of any project, you are likely to find a newsletter subscription form. It can be integrated into the content of a particular page or displayed in the footer.
Almost all services working in the email-hunting niche offer the search of corporate email addresses. The accuracy of the algorithms may vary in each case, but the result will be approximately the same.
To search for emails, all you have to do is enter the domain and, if necessary, specify the contact's name. Some email marketing platforms can find emails automatically and sort them by relevance.
But it's better to sign up in advance for the newsletter of the project you'll need to connect with in the future. If there is no publicly available email used by the resource's representatives, the newsletter will be the only source of data.
Beginners in marketing often ask how to find email companies but don't look beyond the capabilities of the services. Sometimes, you can solve the problem without registering on numerous platforms and paying subscription fees.
Try a Whois Service
Many companies have an official website that performs various tasks. The site cannot operate without a domain, and to register it, you need to specify the administrator's email. And this email should preferably be active.
If the provider will have a question about the domain, they can send an email to the administrator. Also, complaints from copyright holders are sent to this email, which you must respond to promptly.
Therefore, to find the email of the domain, you can first look at the data from the public registry and then use paid tools. If the administrator does not respond to emails, you need to engage other sources of information.
You can view the contact email of the domain owner with the help of any whois service. To do this, just enter the URL of the site and copy the email. Some platforms can also find all the domains of the same owner. But this is only possible if the personal information is not protected by Whois Protect.
In the example of the Apple domain, we see that the data are in the registry, and any user can view them. So, we can easily find the email of the domain and send a letter to it with a detailed description of the request.
The whois data are publicly available and, according to the registration rules, the contact email is not hidden. This allows for quick communication with the administrator of the domain. If they do not get in touch, the copyright holders can contact the provider.
Searching for all the emails for a domain can be a long process if the project has many employees. So, the marketer or businessman will have to go through dozens of emails in search of the right one. And then still wait for a response to find a relevant team member. This means that finding any email is not enough.
Use the Contact Form on the Website
Some sites don't have information about the team or company. There may also be a page with contact information if the project does not provide commercial services. Therefore, sometimes, it is very difficult to find the actual channels of communication.
If the website owner does not want to publish contacts, they can create a request form. Users will use it when necessary, and the webmaster will receive a letter without any obligation to respond on their part.
When a potential customer is looking for a company email and wants to place an order, they expect the request to be processed quickly. But when there is only a contact form, there is no guarantee of a response.
If the site allows you to send a request via a form, you should use it. Usually, you have to enter your name, email, and the subject of the question. And then, you have to wait for the letter to be processed and a reply, but these processes can take a long time.
Large companies with several divisions often publish contacts in the public domain and indicate different email addresses for relevant questions. There is no point in writing to the sales manager concerning cooperation in the information field.
In the image above, you can see that the online store provides support in a personal account. You can't get an email address for marketing, so you have to use other communication channels.
Commercial projects that handle many requests from customers try to save time and create a FAQ. The help section provides answers to frequently asked questions.
You shouldn't send spam to email or chat because you can quickly get blacklisted, which means you miss all the chances for a discount or placing a backlink in the relevant content.
How to Use an Email Address Database for Link Building?
Experienced optimizers have been using the link-building method that allows building links to reputable projects for many years. Outreach link building is based precisely on effective email marketing.
When a webmaster receives the contact information of potential partners, they need to create personalized emails. A typical template-based request for placing links is unlikely to produce the desired result.
Public templates can be used as a basis. If the recipient sees that the letter has boilerplate approaches, they may refuse to cooperate or leave the request unanswered.
The terms for placing links can be different, but you should focus on the organic nature of the link. It is important because search algorithms are constantly being updated to recognize artificial links.
You can identify artificial links through anchors, link attributes, and the approach to integrating links into content. If a link to an external resource does not fit into the context of the page, there can be no clicks on it.
The formula for successful outreach link building consists of several aspects:
Personalized email;
Benefits to both parties;
Use of the correct link attributes.
Organic linking will add points to a resource's link profile. If it looks suspicious, the site will get extra attention from search engine algorithms. This is not an advantage in this scenario.
The main problem with using outreach is the difficulty of scaling processes. To place 30-50 links monthly, you will have to maintain contact with representatives of hundreds of resources. This takes a lot of time and finances.
Email marketing is a powerful tool to enhance a resource's profile, but you shouldn't ignore other methods. It is difficult to get a link through email, so it is possible to interact with webmasters through an exchange.
PRPosting offers customers more than 44,000 sites for different budgets. Website owners are interested in a quick response, so do not delay in responding to the offer. To start link building, you only need a list of selected projects and content.
Working through exchangers saves time but requires a budget for placing links. The cost depends on the donor's authority, the amount of traffic, and the project owner's requests.
Conclusions
Beginners in email marketing can find many answers to questions about how to get an email for marketing. But this is only the first step on the way to solving the main task.
You should pay attention to all the intermediate steps and make sure that the potential partner is committed to the cooperation. You should also remember about the insurance of the deal, which can be arranged through specialized services.
FAQ
What is email outreach?
This is sending requests for collaboration in bulk via email. The method is actively used by website owners to place links to relevant resources.
Who is an outreach specialist?
This is a specialist who deals with building connections through email. This person can negotiate link placement on favorable terms.
What is email outreach in SEO?
It is a powerful method of getting links based on sending personalized emails. Outreach can be used in most white niches.
What is cold email?
It's an email newsletter that aims to reach out to potential affiliates. Once a connection is made, the marketer continues to communicate until agreements are reached.
What is an outreach newsletter?
It is a set of processes related to reaching an agreement to place links via email. This link-building method is used in a variety of niches to expand a site's link profile.