How to Promote Website in 2023
You should study the question of how to promote a website even before you create your own online resource. If you are entering the e-commerce market, you must have a clear plan of action from A to Z on how to attract the attention of the user, keep them on the page, and motivate them to perform the target action. We analyze the most popular tools for connecting with your target audience.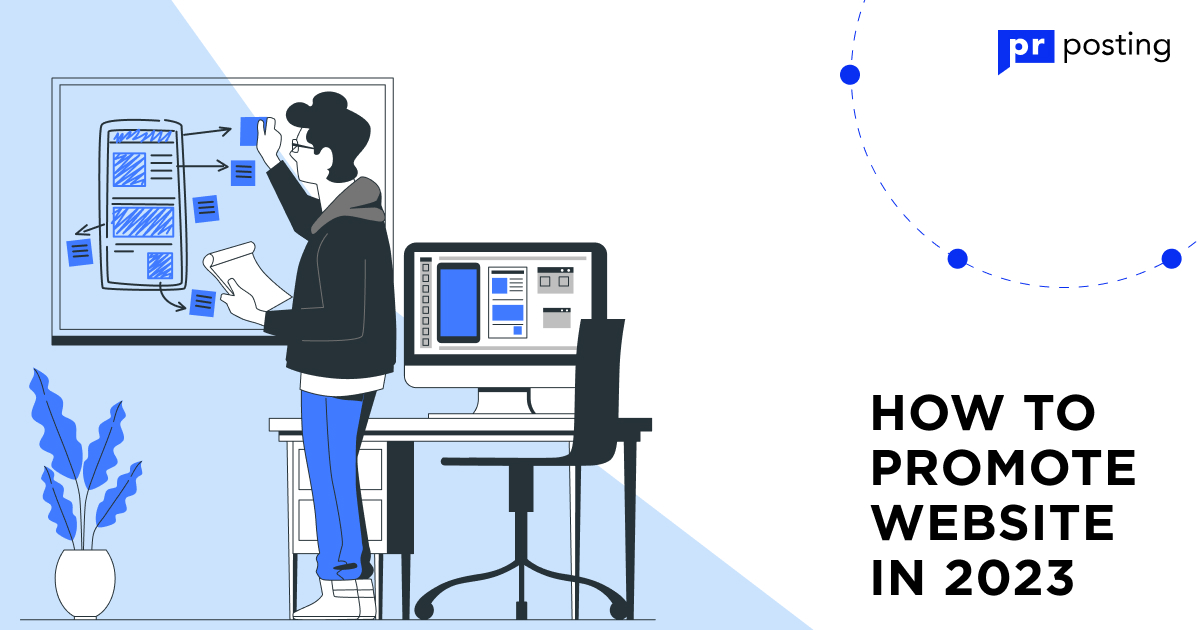 The Most Effective Website Promotion Methods: Free and Paid Solutions
To achieve maximum results, apply the principle of synergy: all means used simultaneously in optimal proportions reinforce each other. If you focus on a certain direction and ignore the others, it will be much harder to achieve success — more time, effort, and resources will be needed. So, we tell you which website promotion methods should work in combination.
Search Engine Optimization (SEO)
It is the biggest source of organic traffic. If your site precisely meets user requests and technical requirements, it will reach the top of search results. It means free clicks, views, and conversions.
Useful tips
Before you promote a site, make sure that each web page corresponds to the user's intent.
Avoid blatant clickbait. This is a slippery slope, leading to ban rather than success.
Pay attention to usability. If a page is not user-friendly, search engines automatically lower its ranking.
Keyword research
Fill your site with words that meet the most common queries in your niche. Keep a healthy balance of high-, medium-, and low-frequency keywords to achieve sustainable results that will be beneficial to you for a long time. Use external services that sort queries by popularity and optimization difficulty.
Link building
Create an internal navigation system — at least one link should lead to each page. Build your personal network of external links. Publish PR materials on reputable resources. Try not to spam with trash links — this usually has the opposite effect.
Create a blog
Attract the users' attention in the most natural way — attract their attention to your publications. Adding a blog to the site, post reviews of products and services, analysis, instructions, and useful tips. Long explanations are superfluous here — just think about the way you came to this article.
Useful tips
Focus on the needs of your audience. It is unlikely that visitors to the site of the tuning workshop will want to read about the features of vehicle taxation.
To effectively promote website from a technical point of view, remember to place a link to commercial pages in the blog.
Act as an influencer. Carefully proofread the text for errors, use high-quality images, and write striking and apt headlines for articles.
Try guest blogging
Engage recognized experts to write articles on your blog and, at the same time, publish your texts with links to other resources. Of course, it requires some investment, but it fully pays off in the medium term. You will significantly increase the authority of your site and create an extensive network of quality links.
Useful tips
Avoid toxic resources. If the audience of an external blog is hostile to any PR, you should refuse to post an article — the result will be negative.
Even if you are confident in the qualifications of the expert involved, always check the authenticity of the information in the article before publication.
Follow the general topic and the intent of potential clients. Don't try to cover too broad information — blurred content boundaries will worsen your search engine rankings.
Content Marketing
Don't let users forget about your brand or product. Update your blog regularly, create infographics, record videos, and answer frequently asked questions. Utilize media channels as much as possible and monitor feedback to monitor the quality of your content marketing in real time.
Useful tips
Brand all content. Incorporate your logo into infographics, videos, photos, and instructions. Try to do it unobtrusively to avoid negativity.
Play on emotion. In your message, you should define the problem, remind the user of its importance, talk about ways to solve it, and offer your services.
Conduct A/B testing. Compare different types of content, their style, and channels for promoting your website. Choose the most effective methods of work.
Social Media Marketing
Actively communicate with your audience to get feedback, insights, and useful ideas for business development. Establish a formal social media presence and control everything that happens on your pages. Create your own community — over time, you'll have fans and brand ambassadors who will do marketing work for free.
Useful tips
Choose this option only if you intend to take it seriously. Running pages on social networks is very bad PR.
Find the face of the brand. This could be you, your talented employee, or a guest blogger you invite. People trust personal recommendations more than abstract references.
Focus on niche content. If you really want to share interesting off-topic content, use short-term tools like stories and reels.
Email Marketing
Newsletters have been an effective advertising tool for decades. They have a very high conversion-to-cost ratio. In the beginning, you can use them to promote website for free, manually sending materials to the first subscribers. Then, it is better to switch to paid services for automation to facilitate the task and avoid spam blocking.
Useful tips
Make the letter useful for the recipient. Include a discount coupon, inform about the promotion's terms before it starts, or provide valuable information. Motivate to open the next message rather than delete it.
Be creative. Organize a contest, tell about a hidden prize on the site, or give a hint about a product update. Spice things up with intrigue.
Use minimalistic but striking media elements. Purely text-based emails stopped being effective in the early 2010s. Today, you need to actively compete with your competitors for the user's attention.
Get featured in podcasts and news
Traditional PR methods work well in the online space. Your job is to be seen and talked about on popular media channels. Identify the most popular outlets in your market segment, create an appropriate tone for each, and engage celebrities if your budget allows it.
Useful tips
Try to make sponsored content look as native as possible. Blatant advertising in news and podcasts is usually perceived negatively.
If you want to talk about your brand, do it in a bright and creative way. Prove to your audience that your offering is truly unique; otherwise, it won't get enough attention.
Avoid toxic channels. Positive and only positive! Moreover, a mention of your brand should not stand next to negative content; otherwise, there will be a strong association between them.
Contextual Advertising (PPC)
The biggest source of paid traffic. Its advantage is an instant effect. With the right settings, you will receive the result the moment when you start to advertise your web site. But remember, the slightest mistake in the PPC can increase the cost of conversion by several times. So, you should use this method very carefully.
Useful tips
If you do not fully understand all the principles of PPC, use the services of a target expert. The risks in this area are much higher than in SEO, so the payment for their work will quickly pay off.
Create a lot of campaigns with very narrow and specific settings. It is the optimal way of developing a young business — you will receive a high level of conversion with minimal costs.
Do not limit yourself to search engines. Actively advertise on social media — this usually yields great results for a business that maintains a close connection with its audience.
Organize giveaways
Nothing appeals to a person like the word "free." A gift can motivate simple, targeted actions — subscriptions, purchases, and filling out questionnaires. The effectiveness of such campaigns is usually very high because you are working with a large audience and rewarding only one or more participants of the campaign.
Useful tips
Make the target action as simple as possible. Preferably, it should be possible to implement it in a few clicks. If participation in the contest requires a lot of effort and time, the user will get tired in the process and refuse.
Avoid symbolic gifts. They should have genuine value. Offering potential customers something cheap or free means becoming their antagonist.
Generate interesting and useful content. If it's boring, most participants will unsubscribe from you right after the promotion is over.
Add your website to online directories
This tool seems archaic, so many SEO specialists neglect it. Well, it's in vain, because pages in directories are still indexed by search engines. It helps to create plenty of authoritative links and increase page ranking. However, do not be fooled by the unlimited prospects of free website promotion. If the directory got subject to search engine penalties, you should avoid it.
Useful tips
Use verified automation tools such as Yooda, Yext, Speed Dial, SEOmoz, and Directory Maximiser.
Try to use subject-specific aggregators of news and useful content. They increase the chances that your content will actually interest users and not just contribute to link building.
Consider participating in arbitrage networks. In them, you acquire something in between paid and organic traffic — the effect is fast enough, but it does not disappear immediately after you turn off the service.
Register on forums
The most popular sites where you can easily find your target audience are Reddit and Quora. The first is suitable for maximum informal communication, while the second is for more commercial relationships with potential clients. This method combines the direct connection of social networks with link building and greatly increases your ranking in search results through mentions and links.
Useful tips
Be prepared for various reactions. There will always be a certain percentage of trolls and haters in a large audience. Find decent responses for them that other users will like.
Show a responsible attitude. Publish as much useful content as possible and answer questions in the comments.
If it looks native, provide a link to your blog and the site's informational pages. But avoid posts with commercial content.
Add the site to local directories
Although we live in the age of globalization, regional web resources still play a big role. Many rely on them to keep abreast of what's happening in their city — local sites tend to respond faster than big media channels. You get a loyal, engaged audience and increase the mass of authoritative links.
Useful tips
Adapt to local specifics. Tell people why your product will be useful to them in that particular city or region.
Learn from your competitors. Look for instructions on how to promote your website in their content. Review comments and monitor the number of views.
Choose a friendly tone for a conversation. In local resources, personal recommendations are more trustworthy than abstract promotional appeals.
Become a hero of ratings and reviews
A whopping 97% of users study reviews when choosing a product. 92% are skeptical of unrated offers. 23% don't want to buy products rated below 4/5. These numbers confirm that you should immediately include your product in different rating systems.
Useful tips
Be ready to face negative feedback. Learn methods of appealing to unreliable comments and be prepared to compromise to maintain a high rating.
Use comments as a guide to action. Improve your product rather than blame users for being biased.
Offer free samples, discounts, and giveaways in exchange for positive reviews from well-known bloggers and online resources.
Collaborate with colleagues
It's easier to do things together, particularly to market your websites. Create a joint promotion or giveaway, offering participants more valuable prizes than either of you can afford individually. Agree to exchange links to sites and external resources to strengthen your link building and improve the effectiveness of your SEO strategy.
Useful tips
If you work in the same market segment, discuss the boundaries of cooperation in advance to avoid conflicts.
Try to look for partners in a neighboring industry. For example, promote market research for businesses along with strategic planning services.
Choose a partner at a similar stage of business development — you will have common interests, which will prolong your successful collaboration.
Try digital PR
Build relationships with journalists, bloggers, and other content creators. Exchange reciprocal services, send them useful content, and order articles. At the initial stage, you can use a simpler and more accessible method — providing expert comments under the news, thus attracting readers.
Useful tips
Use special tools to monitor mentions and publications, such as HARO, Ahrefs website authority checker, and SourceBottle.
Subscribe to content makers and opinion leaders on social media. Learn their methods of influencing the audience.
Feel free to order sponsored content on news sites. They work very effectively when presented organically.
Tips for website promotion for beginners
In addition to the effect of synergy, you will need to be systematic. It is important to build a promotion strategy and not to implement the above methods chaotically. We can share the following tips:
Treat promotion like a job. Create a clear schedule and stick to it, even if the entire marketing division of the business is you.
Find a reasonable balance. Don't be silent, but don't try to drown your followers in an ocean of content, either. Experiment with the frequency of content posting to find the best time interval.
Don't stop learning how to advertise a website. Look for new SEO techniques, understand PPC targeting, and learn all about SMM tricks.
Monitor the effectiveness of your marketing. Engage external services and plugins to assess the dynamics of your achievements.
Feel free to outsource some of the work. This is what experts are for, to dive deep into a particular area. Experiment; it is quite possible that you will not only save your time but also get a financial benefit.
How to effectively promote a website in 2023: Summing up
The key elements of success are a comprehensive approach and consistency. Using several tools at once, you increase their effectiveness. For example, a social media presence increases your search engine ranking and makes it easier to manage contextual advertising.
Take website promotion as seriously as possible, even if your business is at an early stage of development. Stand out from your competitors and use any means to retain attention. Go from being a bright startup to an expert in your field and an opinion leader.
FAQ
How can I promote my website for free?
Do SEO optimization, establish a social media presence, add your resource to online directories, and attract attention with expert comments on ranking news.
How can you promote a website faster?
If you're willing to allocate a marketing budget, use contextual advertising, order sponsored articles on other resources, implement email newsletters, and arrange giveaways.
What is the most effective way to promote a website in 2023?
Use all possible tools at the same time — each of them will be the most effective.
More Like This