What Is White Hat SEO?
The complexity of promoting a website in organic search is constantly increasing due to updated ranking algorithms and new projects in competitive niches. Webmasters have to devote more and more time to creating an SEO strategy.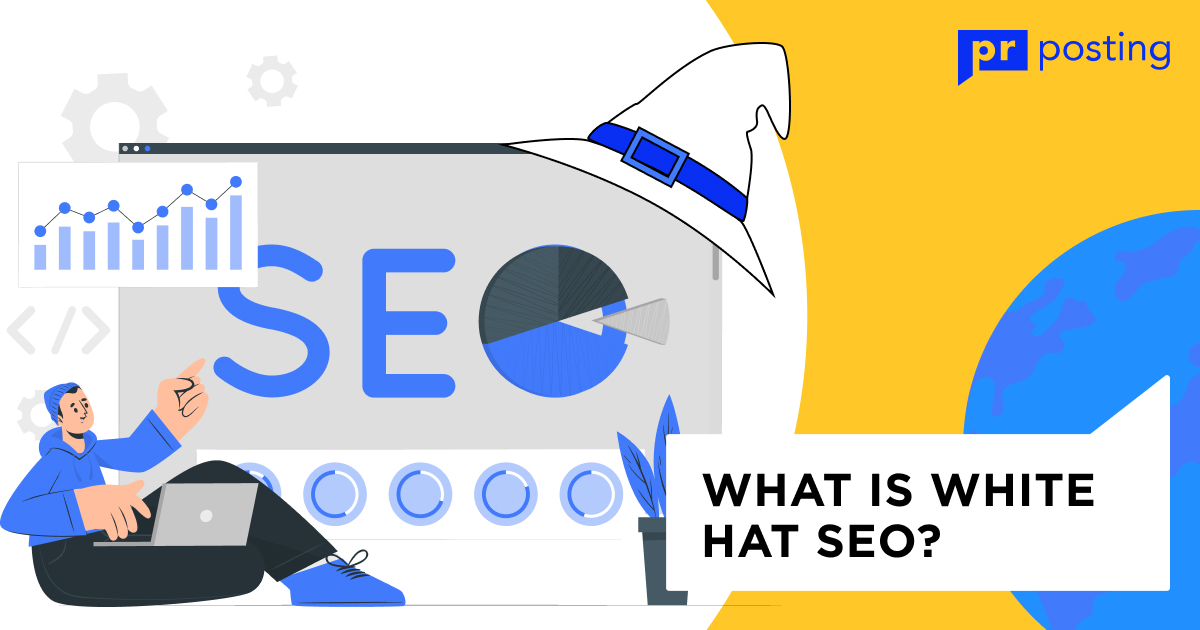 Newbies are often looking for a quick path to high positions and relevant traffic, but there are no magic tools. You can only achieve your goals through constant comprehensive work.
White-hat SEO is considered the most effective promotion method, which can have a lasting effect. The optimization strategy contains dozens of individual components, interaction with which will allow you to gain visibility for queries from the list of keywords.
1. What Is White-hat SEO?
White-hat SEO technology is associated with different tactics to promote sites that do not violate Google's recommendations. It is believed that these strategies pave the way for consistent traffic.
If search engine algorithms see that the project is constantly evolving and users are happy with the content, it is trustworthy. Marketing with white-hat methods takes a lot of time and money, but the effort should pay off in the long run.
White-hat SEO promotion is especially useful for unranked projects. If they show consistent results for months, it will definitely affect their credibility.
Sites with a history shouldn't relax either. If competitors' resources develop better and faster, it's easy to lose the position of niche leader. It will be difficult to gain renewed commitment to algorithms. White-hat SEO also provides a minimal guarantee of protection against falling into the category of sites that lose the battle for organic search during the Core Update. Google periodically makes global ranking adjustments and changes the rules of the game in certain niches.
Developments in ranking algorithms over the years confirm the rule that white-hat optimization will help produce sustainable results. If site owners invest only in backlinks, it may not be enough.
For optimization that goes against the guidelines for webmasters, the domain name may be subject to penalties. To avoid wasting time fixing mistakes, it is better not to make them. While the site will be trying to remove filters, competitors can go far ahead.
2. Technical Work on SEO
Some webmasters rely on external optimization because they believe that this is enough to successfully promote the project. In fact, it is possible to achieve long-lasting results only if the internal optimization is also at a high level.
When each URL of the site is optimized for loading speed, ease of interaction with content, and other parameters, behavioral factors will be on top. And this will positively affect the attitude of Google algorithms toward the project.
As for the technical development of the resource, you should cover these issues in the early stages of promotion. Then, you can get the maximum result after you begin an active external optimization.
2.1. Page loading speed
In 2023, users are accustomed to lightning-fast content loading. If visitors visit an unfamiliar site and have to wait for 2-3 minutes to load a page, most of them will return to search results.
Google closely monitors audience reactions, so a massive return to the search bar will not go unnoticed. Negative effects may not occur immediately, but the risk is very high.
Content loading speed should be brought to perfection. If the page loads for 10-15 seconds, it can be considered a good result. Otherwise, white-hat promotion methods will not help.
2.2. Duplicates and redirects
Duplicates and a large number of suspicious redirects reduce the quality of internal optimization. Pages with duplicate or similar content lead to blurring and may adversely affect positions.
As for redirects, you should keep a close eye on them. For many popular CMS, there are monitoring modules, in the interface of which you can see the statistics of redirects and the current status.
To avoid situations when you have to change the URLs of pages with traffic, you should properly set up the configuration of transliteration modules at the beginning of website promotion. So you can protect yourself from losing positions as much as possible.
2.3. HTTPS (SSL certificate)
A few years ago, Google announced global changes in search results. They implied the protection of user sessions by installing SSL certificates.
Many webmasters thought that a secure protocol was not a ranking factor, but search results provide all the answers. There are almost no projects without an SSL certificate in search results.
This technical optimization does not require much money. Most popular web hosting providers offer certificates for free or for a minimal fee (about $10).
2.4. Optimization for mobile devices
For many years now, Google has been actively promoting the mobile-first trend, which prioritizes mobile traffic. The share of visits from mobile devices is constantly growing, so every site should display correctly on smartphones by default.
If a project has problems displaying content, a notification will appear in the webmaster panel. In some cases, it also appears when there are no real problems, but additional verification will come in handy.
In the near future, the importance of mobile devices will only grow. It is more convenient to perform some operations from a computer, but high-speed access to content from smartphones is becoming more and more relevant.
2.5. Creating and configuring Sitemap, robots.txt
Creating a sitemap and a technical robots.txt file are standard tasks at the start of resource promotion. In many content management systems, files are created without the intervention of the webmaster. Google has long regarded robots as a recommendation, but it is imperative to create and add all pages and sections that should not be included in search results. If crawlers will index unnecessary URLs, you can close access to them through htaccess.
Site map speeds up indexing because search engine algorithms get the full project structure. You can create it with CMS modules or use dedicated services.
3. Internal Optimization
Internal optimization does not end with the performance of technical SEO tasks. Content loading speed and a correctly working certificate are essential, but you should also remember about the other sides of the project.
For example, even if a site is optimized for mobile devices and there are no problems loading content, that's not enough to ensure a perfect user experience.
Visitors come to the site for useful content and tools to help automate everyday tasks. If these components are missing, any optimization becomes useless.
3.1. Optimizing site structure
The structure of the resource is considered high-quality when search engine crawlers can easily scan pages and visitors find the desired content in a few clicks. This involves both URL structure and the approach to creating visual navigation.
Establishing the URL format and other structural components is not difficult, but you need to pay attention to this point in the first stage of project development. If you have to make changes urgently after you get a steady stream of traffic, you risk losing ground.
3.2. Internal linking
Internal linking allows you to solve several problems. First, it helps distribute juice among the right pages. If many authoritative resources link to a site category, you can put an internal link to an important page and boost it with SEO juice.
Second, competent linking helps search engine crawlers to better understand the structure of the resource. If they have problems with page navigation, it can affect the speed of indexing and the quality of ranking.
Each webmaster has a different approach to creating re-linking; there is no clear instruction on this matter. But you should remember about users – if the article will contain links to irrelevant pages, it may lead to an increase in bounce rate.
3.3. Content relevance
Webmasters like to say that content is king. In niches where content rules, that's true. Useful articles that solve audience problems don't go unnoticed and benefit the resource.
If Google's work regularly sees high visitor activity and the quality of content is confirmed by good behavioral factors, the site can count on the search engine's favor.
You can assess content relevance by using any analytics system. It is desirable to install a system that not only monitors user actions but also removes them. Such a function is available, for example, in Hotjar.
3.4. Headings (H1-H6)
In the SEO community, you can often notice the statement that page headings are intended only for crawlers. Therefore, webmasters add a few keywords to each of them and consider the task completed.
In fact, headings also matter to users. If the site uses a TOC module, the visitor can determine in a few seconds whether or not to spend time reading the content.
Therefore, you should find a balance between users and the work of search engines. You should not refuse to optimize content with keywords, but you don't need to over-spam the page either.
3.5. Title and Description
White-hat SEO promotion necessarily implies working with meta tags. This component of the page should also be optimized for users and search engine crawlers.
Google's crawlers analyze the title and descriptor to better understand the content of the page. And users look at them in search results to make a decision to visit the site or continue scrolling.
3.6. Content uniqueness
Hundreds of factors affect page ranking in a search engine, among which content uniqueness plays an important role. In some cases, it is impossible to achieve 100% uniqueness, but you should work hard to make the page as different as possible from what your competitors offer.
Uniqueness is not just about getting 100% in a particular service. First and foremost, it's about content that competitors can't duplicate. If it is easy to copy the content, it will be difficult to keep a high ranking.
4. External Optimization
After completing internal operations on the site, you need to proceed to active work on external optimization. It includes not only building link mass but also improving the project's image.
To become a leader in a highly competitive niche, you need to put a lot of effort. For this, getting hundreds of backlinks from reputable resources is not enough. If there is money behind such backlinks, they will be of little use.
The site must be recognizable. It is important that users mention a specific project when they need content or dedicated tools. In this case, the resource has no problems with ranking.
4.1. Competitor analysis
You should keep your main competitors at a distance but clearly see their actions. This will allow you to quickly respond to changes and make adjustments to the project's promotion strategy. If you neglect the situation, problems may arise.
Particular attention should be paid to projects that have demonstrated a high rate of development in recent months. If their visibility and traffic regularly grow, you need to find a clear explanation for this and then use the information to promote your resource.
4.2. Link-building strategy
The link profile is the foundation of successful optimization. You can invest a lot of money in content, but the result will be weak. To maximize the resource's potential, you'll need links.
Create a strategy for developing a profile immediately after registering a domain and deciding to work with the project. It is also important to periodically update the methodology based on fresh data.
4.3. Anchor list
Based on the anchor list, it is possible to conclude how quality link-building strategy the resource uses. If the list contains only commercial anchors with suspicious keywords, it may lead to penalties.
It is better to make the anchor list balanced, to have a chance for successful promotion. An organic profile acts as the most effective tool for protecting against ranking problems. If algorithms have no claims to anchors and link attributes, you can continue the promotion.
5. How to Increase the Link Mass of the Website Properly?
In SEO blogs and niche resources that produce materials on promotion in search engines, there are many recommendations for working with links. But many of them have nothing to do with practice.
Each site requires an individual link-building strategy. If you just buy links on a commercial scale without clear criteria for donors, there is unlikely to be a benefit.
The positive effect of link building will be seen only if there is a balance between the organic nature of the profile and the authority of the domain. Focusing only on SEO juice can lead to penalties.
5.1. Quality donors, recipients, and link juice
Website owners, who are faced with promotion in search engines for the first time, spend a lot of time trying to figure out which donors to get links from. They often choose resources randomly and focus on the number of links.
Experienced SEO specialists recommend paying attention to the following parameters:
Authority
Audience activity
Relevance
Spam rate
If a potential donor does not have 10,000 links in its profile, it does not mean that it is of insufficient quality. If it has a very active audience, you can still build links with it.
Remember that one of the main signs of the quality of each project is behavioral factors. If most links are clicked by users with good behavioral metrics, the site is trustworthy.
5.2. Smooth growth (without bursts)
There are many myths about link bursts. But so far, there is no fresh research, which would unequivocally prove the negative effect of this phenomenon. So do not take it as something bad.
We can say without a doubt that the artificial link burst does not belong to white-hat SEO. Search engines oppose any link exchange schemes. If we are talking about sponsored content, the source code of the links should include the sponsored attribute.
Link bursts occur in the profiles of some reputable projects, which do not lead to a dramatic decline. If the burst is natural, there may not be a problem.
6. What Should You Avoid Doing?
Sometimes, website owners don't want to waste time on troublesome SEO efforts. They prefer gray-hat optimization methods that are supposed to give a quick effect and save the promotion budget.
In many cases, this applies to work with the link mass. Instead of gradually building a link profile, webmasters buy profiles, placement in hundreds of directories, and use other dubious methods.
Link building on volume can be perceived positively only if the quantity does not outweigh the quality. Visibility in the organic search in this way is unlikely to raise. Therefore, it is better to focus on planning a strategy to strengthen the profile with its gradual implementation.
6.1. Similar backlinks (sites)
From the point of view of search engines, one of the main components of a quality link profile is variety. If 90% of the backlinks are from identical resources and with the same attributes, it would be suspicious.
To protect yourself from penalties and maximize visibility, you need to create an organic profile. It should contain links from different projects and with all available link attributes.
6.2. Anchor links only
Anchor links are used to strengthen page authority in terms of specific keywords. They are actively used by commercial resources in different niches. You cannot do without anchor links, but you must keep a balance. If there are 99% of links with suspicious anchors in the profile of an online store, the site may be subject to penalties. In this aspect, you should not look at your competitors. Even if they do not mask sponsored links at all, it is dangerous to copy the tactics.
6.3. Toxic links
Toxic links are links to low-quality projects. They include doorway websites, PBNs, sites with duplicate content, platforms with a high spam rate, and many other resources. Links from such sites can be in the profile, but their percentage should be minimal.
It is better to add links from quality blogs to the profile. You can integrate targeted keywords into the anchors, harmoniously complementing the overall picture. If they are followed by conversions with good behavioral factors, this will be an additional bonus for the site.
PRPosting will help to solve the problem with the search for authoritative donors. The service has collected more than 40,000 active sites for different niches. You can buy a link quickly if you have a budget and ready-made content.
In your personal account, you can create a campaign for a specific project in a few clicks, select donors using filters, and send requests for posting articles. Any communication with site owners is done in one interface.
7. Advantages of Using White-hat SEO
White-hat website promotion is positioned as the only legitimate tool to achieve results. The use of gray-hat and black-hat optimization strategies sooner or later leads to penalties. If the project is credible and can offer visitors useful content or unique tools, it has a good chance to gain a foothold at the top. Good visibility by keywords, audience location, and steady traffic growth will be the best achievements.
Also, using white-hat SEO allows you to get at least a guarantee of stability. If competitors use artificial link burst tactics or buy links without masking them as organic, it's realistic to overcome them.
7.1. Security
SEO is a unique industry that is largely based on experimentation. And the methods that worked in one case will not necessarily be effective in other cases. This is why similar sites rarely get the same visibility.
White-hat SEO is considered safe because its methods are based on Google's recommendations for webmasters. Ideally, website owners do not use crowding of pages with queries, massive link building, and other prohibited methods.
Security in the case of SEO is conditional. No project has a 100% guarantee of being penalized. This applies even to authoritative resources that have accumulated a large stock of trust.
7.2. Duration
Webmasters use black-hat methods to achieve the desired result with minimal effort. But not everyone realizes that happiness will not last long.
White-hat methods carry minimal risk to the resource. It can also get penalized but only if there is evidence that promotion rules have been violated. If there are no claims to the project, it will steadily receive traffic.
Duration is the main advantage of using white-hat SEO. You will have to invest a lot of resources and time in project optimization, but it will pay off with traffic in the long term.
7.3. Liquidity
Content ranking algorithms are still not perfect. In search results, you can encounter doorway sites and other low-quality resources that are designed to collect clicks and quick monetization. They do not exist for long and do not always pay off. But when a project steadily gets traffic and solves users' tasks, it can be monetized. Visitors can send donations, buy products, or pay for subscriptions to the SaaS platform. It all depends on the characteristics of the site.
The liquidity of using white-hat SEO methods is very high. Therefore, it is incorrect to compare them to gray-hat or black-hat SEO. The victory in the battle for traffic through prohibited methods will be short-lived.
8. Basic SEO Components
Successful website promotion in any niche is based on several fundamental components. It is desirable that each of them is brought to perfection. Only then can you get a stable result.
The optimization strategy should take into account not only the current SEO trends but also the features of a particular niche. For example, if the leaders in traffic rely on links, you can hardly beat them only thanks to content.
You should periodically update your approach to promotion, taking into account the situation in search results. This will help counter competitors' sites and update the core of the main ranking algorithm.
8.1. Quality content
Quality content with a balanced number of relevant queries helps get relevant traffic. If competitors can't offer users articles of a similar level, they will struggle.
The term quality content refers to unique and well-structured information that helps visitors satisfy their queries. If this is supported by good behavioral factors, the site can gain positions by keywords.
It is important to understand that the site will not necessarily stay at the top for years. To get a better chance at long-term results, it is necessary to periodically update pages with fresh data.
8.2. Getting the right links
Proper links are a conditional concept. Each site owner has a different approach to strengthening the link profile. Accordingly, it all depends on the objectives, budget, and situation in the niche.
In some topics, the number of potential donors is very limited, and webmasters have to spend more time creating a list of sites. It is desirable not to dilute the relevance to reduce the risk of getting penalized.
Because of a few comments on the blog, the site is unlikely to get restrictions on ranking. But if there are thousands of such mentions, algorithms may activate the suspicious mode. And it will be difficult to predict the final result.
8.3. Internal optimization
Internal optimization implies a perfect technical condition of the project, proper relinking, clear structure, and unique content. If the resource can offer the audience useful tools, this will also positively affect the ranking.
As for successfully gaining visibility for all queries, this can take a long time. The situation in the search results changes every day, and when a Core Update is performed, entire niches are affected.
Most internal optimization tasks are completed in the early stages of site development. Then, you only have to add quality content, strengthen your linking, and keep an eye on redirects.
8.4. Good user experience
All website owners want to get good behavioral factors, but it's difficult. The fact is that user experience is the result of interaction between users and the resource.
Many factors affect the user experience, from the user-friendliness of the interface to content quality. Bounce rate, session duration, and other parameters can be bad because of any problems.
The task of the webmaster is to find all the flaws in time and eliminate them promptly. For example, you should deal with link wheels and faulty redirects as quickly as possible.
9. What White-hat SEO Methods Can Result in Penalties?
SEO is an experimental industry with results that are difficult to predict. Therefore it makes no sense to be completely guided by your competitors or by public cases in other niches.
The use of white-hat and gray-hat promotion methods does not guarantee that all SEO objectives will be met or that you will quickly be penalized. The final result depends on the evaluation of the project's quality by search engine algorithms.
A project may be penalized for:
Suspicious links in the profile;
Excessive keywords in the content;
Abnormal user activity;
Duplicate content;
Spam in comments.
All of the above methods are not directly related to white-hat SEO, but the approach decides everything. For example, if you create 10-15 links per month and use safe anchors, problems are unlikely to arise. But if you set a low bar for quality, the risk of being penalized will increase.
The global problem of SEO is that even white-hat promotion methods do not provide protection from filters. Sometimes, projects suffer because of an algorithm error or competitor attacks.
To get a chance for successful promotion, you need to be prepared for any scenario. After all, even if the webmaster does not buy links, invests in content, and actively interacts with the audience, the site may still have problems. To learn about them promptly, you should monitor traffic and notifications in the console.
10. Tools for Backlink Analysis
Successful link building consists of individual tasks that must be performed perfectly for the upcoming promotion. You will need a list of potential donors, an anchor list, profiles on exchanges, and other elements.
Doing a large amount of work without using specialized tools is difficult. If there were no SEO platforms on the market, which automate link-building and internal optimization tasks, webmasters would have to spend hundreds of hours on them.
Backlink analysis tools are essential for every website owner, regardless of the level of competition, subject matter, or other factors. There is no need to buy a subscription plan; you can use the limits of a free account.
10.1. Ahrefs
The top search engine marketing platform provides users with many useful tools. Most of them focus on links, but there are also modules for tracking positions, content marketing, and other tasks.
You can evaluate Ahrefs' link mass checking features for free. A basic quality assessment report and data coverage analysis are available in the service. The profile analysis interface lists the most important metrics.
10.2. SEMrush
The service is positioned as Ahrefs' main competitor, but it is more focused on traffic analysis, position tracking, and marketing tasks. Website owners love SEMrush for its free daily limits for various operations.
The SEO platform provides a detailed report on backlinks where you can see attributes, popular anchors, profile dynamics, and other important data. Also, with the help of SEMrush, you can check the toxicity of backlinks.
10.3. Serpstat
This is a Ukrainian service that allows you to analyze links, check positions, and monitor the rate of competitors' promotions. Serpstat, like SEMrush, provides clients with free checking limits every day.
Serpstat's subscription costs are not much different from those of its main competitors. But the platform's features are constantly growing, and a paid plan will help solve a lot of problems.
10.4. Majestic
Majestic is often called the best service for link-building analysis. It has a large historical index, with data on millions of sites in search results. Even information about outdated projects is preserved.
The search engine marketing platform offers webmasters their domain quality metrics that can be used for donors. The cost of the plans is not much different from Ahrefs or SEMrush.
Before paying for a subscription plan in any service, you should analyze its features to make sure that all specified tasks can be solved in one interface.
11. Difference between White-hat, Gray-hat, and Black-hat SEO
When experienced webmasters say that one method of optimization refers entirely to the gray-hat SEO, and the other – to white-hat, these words should be taken critically. In practice, there is no clear distinction between the two.
Phishing, hidden text, and forced redirects are 100% black-hat techniques. And link exchange schemes, PBN creation, and other dubious methods belong more to gray-hat SEO than to black-hat SEO.
| | | | |
| --- | --- | --- | --- |
| Criterion | Black-hat | Gray-hat | White-hat |
| Implementation of Google recommendations | no | no | yes |
| Long-term results | no | no | yes |
| Chances of saving position during the Core Update | low | low | high |
| Risk of penalties | high | high | unlikely |
| Traffic liquidity | low | low | high |
| Costs | Depend on the scope of work | Depend on the scope of work | Depend on the scope of work |
Even for beginners, it is obvious that only conditionally safe promotion methods should be used on a regular basis. If you give the algorithms at least minimal evidence of violations, the reaction can be very fast.
12. Conclusions
White-hat SEO is a universal tool for promotion in any niche. If competitors only use link building or do not pay enough attention to optimization, you can take advantage of this to achieve the desired result.
Using white-hat techniques, you can achieve long-lasting results. Gray and black-hat methods cannot provide profits in the long run.
FAQ
Is it possible to promote a site using only white-hat SEO methods?
Yes, it is possible. The main thing is that search engines see that the site is constantly evolving and useful to the audience.
What methods are used to promote the site?
It is necessary to bring internal and external optimization to a perfect state. This applies to both content and external links.
Is it safe to use white-hat SEO promotion?
It is safe, but no method gives 100% protection against penalties. Even reputable sites sometimes get subject to filters.
Can white-hat SEO help to avoid Google penalties?
It does if the owner does not use illegal optimization methods simultaneously. The result of each case depends on many factors.
What is the difference between white and gray promotion methods?
White methods are focused on a good user experience. Gray and black techniques help to get quick results, but you can hardly sustain it for many months.