White Hat Link Building
The quality and stability of the link profile greatly impact the effectiveness of website promotion in organic search. With minimal competition in a niche, you can count on traffic even with a small number of links, but you can't completely discard them.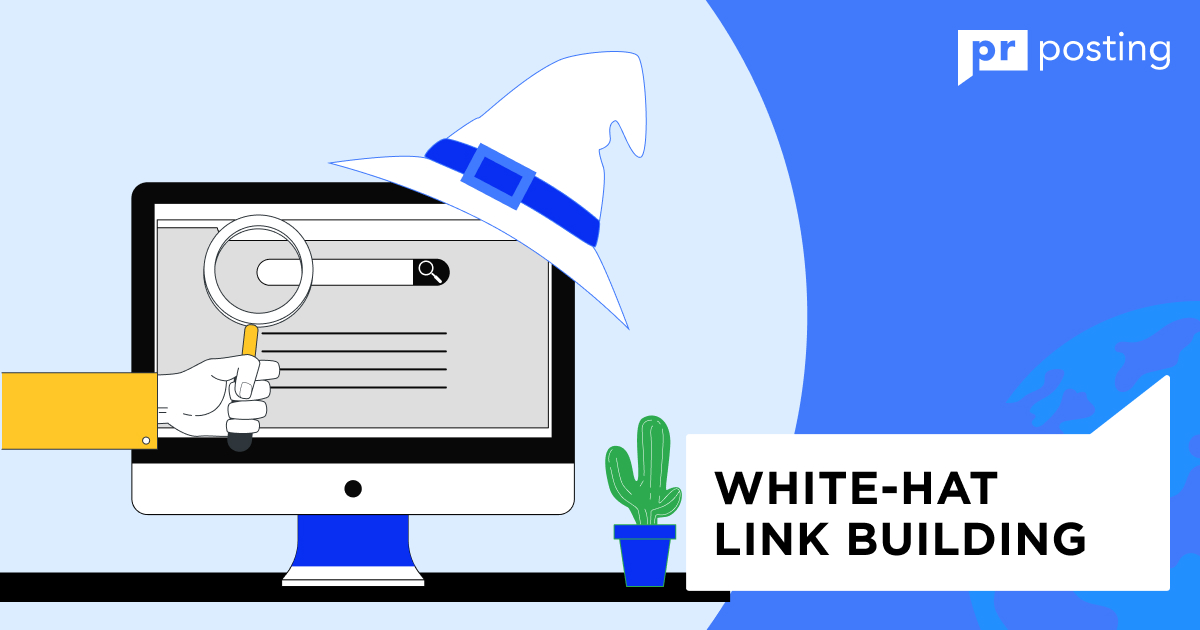 Website owners use different link-building methods. The success of the project in Google depends on the approach to their use. If the webmaster uses simple link-building schemes, they may not have the desired effect.
Creating a comprehensive link-building strategy is difficult, but it is a necessary step. The more approaches and types of sites can be covered, the more useful link building will be for the project over time.
1. What Is White-hat Link Building?
Link building using white-hat methods is a variety of link-building approaches used to increase a project's authority and visibility in organic search. It is believed that white-hat link building is what helps earn the favor of Google.
White-hat techniques allow you to regularly add quality links from trusted projects to your profile. There is no guarantee that they will help your site get a boost in a few months, but in the long run, chances are very high. Especially if your competitors are stomping around and not doing any link-building work.
White-hat link building is positioned differently, but in any case, the essence is the same. The main task of the webmaster is to build links to projects that search engine algorithms consider quality.
Links that look natural raise far fewer questions than links with obvious commercial implications. Therefore, website owners must focus on getting as many natural links as possible.
Active link building in some niches helps to outperform even those competitors who have held high positions for years but did not pay enough attention to external optimization. Such examples can be found in any subject.
To count on successful website promotion, you need a comprehensive work strategy. A link is good, but to get a high ranking, you should not forget about internal optimization. With the help of re-linking, you can distribute link juice and strengthen important pages.
1.1. How does it work?
SEO is a special niche based on experimentation. Therefore, you cannot give a 100% guarantee that 10-20 links will help to get a boost in organic search results. It all depends on ranking algorithms.
Sometimes, even dozens of links from authoritative resources do not give the desired effect quickly. But over time, the situation may change, so it is important not to stop working on adding content.
The high effectiveness of white-hat methods is provided by focusing on building links from authoritative websites. This factor makes the tool powerful and provides a lasting effect.
The variety of white-hat methods ensures that they can be used in any niche regardless of budget. For example, creating quality content allows you to get mentions on authoritative projects for free.
Any tactics can be used to improve the link profile of the site, but it is important to create links to resources that do not trade links in a pipeline mode.
If search engine algorithms see the stable development of the project, they can improve the resource's visibility over time. But do not expect this to happen in the second week after the start of active link building.
2. Why Is Link Building Important?
To answer this question, you need to delve into the theoretical model of content ranking. Google is known to use hundreds of individual factors to determine the page that best reveals the intent of a search query.
For example, hundreds of resources have written about Tesla Autopilot, but the official site's page comes out on top. This is due to the credibility of the project and the publication of exclusive content.
But if you search for articles about user experience with autopilot, other sites will take the top positions. This is due to the intent of the query and the fact that the official site has no publications on this topic.
In addition to the quality of content and internal optimization, the link profile affects the efficiency of ranking. In the early stages of development, search engines calculated the authority of sites based on links. Now, it is only one of many factors, but its contribution to the overall ranking is still great.
The webmaster's decisive actions to create an organic link profile give them an advantage over competitors who focus only on internal optimization and forget about the importance of external promotion.
2.1. More links & higher ranking
The project's ranking depends on the quality of links rather than their quantity. Therefore, you should focus on creating links to resources that search engine algorithms consider authoritative.
You can use different tools for analyzing sites to determine authority, but it is important to not only pay attention to SEO metrics but also check the quality of a potential donor manually.
Services will not be able to determine how well the content covers the needs of the target audience. They roughly estimate traffic and can show the number of comments, but their capabilities finish at that point.
If every link created with the help of white-hat link building in SEO is associated with an authoritative project, you can count on a stable increase in the site's ranking.
2.2. Brand awareness
Brand awareness is built through links and mentions without active links. The main advantage of growing brand awareness is getting direct conversions. It is important because total dependence on search engines makes the project vulnerable. For example, after the Core Update, the site may lose positions and organic traffic as well. It is hardly possible to quickly restore the previous ranking, so the site may be left without a significant part of the audience.
Referral traffic from other resources and direct conversions without search engines will help to save the situation. If work in this direction has been carried out for more than one month and yielded results, this is very good.
2.3. Direct referral traffic
As already noted, referral traffic allows you to not only partially reduce dependence on search engines but also create an active audience base. Many reputable projects get hundreds or even thousands of direct conversions.
If the project is performing well in terms of visibility in search engines, referral traffic will help strengthen its position. It demonstrates to Google algorithms that it is in demand and deserves a stable boost.
Maintaining referral traffic at a steady level is difficult, but regular mentions of relevant authoritative resources will help meet the objectives. This will require quality content and interaction with the target audience.
3. What Should You Know About Links?
Not every link is useful by default. And when you consider that search engines regularly raise the quality bar for links, you must take a very responsible approach to build relationships with projects.
Google and other search engines are interested in distinguishing artificial links from organic ones. If algorithms can't do this job, the quality of search results can drop drastically. Website owners who have not previously dealt with search engine optimization must understand SEO mechanisms. For example, there is a misconception that only external links affect the site's ranking, while internal optimization is not necessary.
3.1. Internal links
Internal links are used to create links between website pages. With re-linking, you can distribute link juice at your discretion. Usually, webmasters use this tool to boost essential pages.
Internal links also help users and search engine algorithms find additional pages. For example, Google can notice new URLs without a sitemap, but if URLs appear in them, the indexing speed may increase.
Previously, the nofollow attribute could be used to control the distribution of link juice, but for several years now, Google perceives it as a hint. Therefore, the strategy does not work regardless of the site niche or CMS.
Quality internal relinking brings a project closer to its maximum potential in search results. Through external links, you can get a lot of benefits in SERP, but you need to improve the site comprehensively.
3.3. External links
Links obtained through white-hat link-building techniques help the project to get higher positions for all relevant queries.
External links help search engine algorithms understand that the site deserves a steady increase in visibility. But only if other authoritative resources link to it.
If you look through any list of the most important content ranking factors, a link profile is sure to be among the top positions. This has been true since the development of search engines to this day.
External links help:
Increase a project's authority;
Strengthen positive visibility dynamics;
Protect against traffic drops;
Outperform competitors;
Google algorithms to determine content quality.
Links cover a lot of tasks, so you shouldn't spare any time to work with them. If the webmaster does not pay attention to this aspect of project development, you can wait for months in vain for positive dynamics in organic search.
It is also important to not just get 30 backlinks from open directories but work on creating an organic link profile. It is the only way to expect improved visibility and stable traffic.
4. The Importance of White-hat Link Building Methods
Website owners sometimes focus on cheap ways to get links, which prevents them from getting the most out of external promotion. Competitors can use the same directories, but things are not so simple with authoritative projects.
For example, if they do not have mentions from niche media or local projects in their profiles, such links will be beneficial to ranking. Getting such links is difficult but possible.
You can find much information about artificial links in Google's guidelines for webmasters. All of them are related to the fact that this approach will not bring the desired result and can lead to penalties.
This does not stop site owners from buying links every month and strengthening their profiles. Visibility is at risk, but if you follow security measures and make links natural, you can partially protect yourself from problems.
4.1. Ranking and traffic boost
These important site characteristics are closely related. Traffic grows after a project gets extra points in the rankings. A short-term boost is also beneficial, but it's better to ensure a lasting effect.
It is important to not just raise the visibility for 5-10 queries but do everything to maintain a lasting effect. Then, you do not have to worry about the high competition in the niche, and can make it easier for the site to undergo an update of the ranking algorithm's core.
For many webmasters, the boost is the main task on the way to successful website promotion. But you should focus on stability and respond quickly to problems.
4.2. Increase of authority and trust
Website authority and trust of the ranking algorithms and users are very valuable features. If you manage to earn the trust of search engines, you can count on good results in organic search results.
If the resource is in demand with the audience, this will be noticeable by good behavioral factors. Otherwise, the duration of the visit, the bounce rate, and the number of clicks per session will indicate a problem to the algorithms.
Authority cannot grow to its maximum value in a few months. It is formed as a result of hard work on improving the internal and external optimization of the resource.
4.3. Saving money in the long term
Gradual and stable growth of link mass can eventually activate the mechanism when authoritative projects will begin to create links without any action on the part of the site owner.
It is only possible under three conditions:
Quality content creation;
No spam in the profile;
Stable traffic and visibility dynamics.
You can find many examples in search results when local and multi-regional projects receive mentions without payment. This usually requires exclusive content and a well-known brand.
If niche media and other types of relevant resources link to the site on a regular basis, you will not need to spend much money on paid link building. Therefore, it is important to use all marketing channels in the first stages of project development.
4.4. Increasing content relevance
Interactive formats and exclusive data help increase the value of publications. For example, you can conduct research, prepare an infographic, do an interview, or creatively present a newsbreak.
Users actively interact with relevant content that has a user-friendly structure and covers their needs. Preparing such content will increase visitor engagement and positively affect behavioral factors.
You can use any free tools to create static or interactive content formats: Canva, VistaCreate, Visme, etc. You can figure out the basic features of these platforms in a few hours.
There is no need to copy content from competitors. It is better to produce such materials that cannot be copied by competitors. If the content is not similar to other offers in the niche, it can become a tool to win the fight for traffic.
4.5. Preparing your site for updates
Search engines are constantly improving their ranking algorithms to provide users with comprehensive answers. After a Core Update, search results usually change drastically because of the recalculation of the importance of various factors.
Quality link profile does not guarantee a permanent position in the first lines of SERPs, but it increases the chances that the project will successfully withstand all the stages of updates. It is possible only if the webmaster has taken steps to create an organic profile.
You can monitor updates with dedicated utilities, such as CognitiveSEO service graphs. You can set up email notifications and keep track of the situation. You can test the features of the platform for free for a week.
White-hat link-building methods allow you to rely on the loyalty of search engine algorithms. If there is a balance between organic and paid links, the profile will steadily improve.
5. The 9 Best White-hat Link-building Strategies
If you open several white-hat link-building guides on different sites, they will have roughly the same approaches. It is because link-building techniques rarely lose relevance.
For example, guest posts are still trending, but content requirements grow over time. Reputable projects don't want to waste effort on posting low-grade content, so webmasters have to work harder. The link-building strategies described below can be used in any niche. But it is always necessary to create a personal strategy of work taking into account the peculiarities of the project.
5.1. High-quality content
Useful unique content, constantly updated, can't get outdated. Such pages are the ones that stay in the top positions of SERPs for years and are not affected by large-scale algorithm updates.
Therefore, if you need a tool for getting links with high efficiency, quality content is best suited for this task. But do not expect that you will be able to streamline your work and publish thousands of links per month. It doesn't work that way.
Some content can generate hundreds of links, but that doesn't always happen. And the labor involved in creating such content is much higher than preparing a standard guest post.
If the link-building strategy implies covering a large number of sites, you should create a schedule to have time to complete the task within a certain time frame. Without a systematic approach, it will be difficult to achieve your goals.
5.2. Recovering lost links
Each link is a part of a big puzzle, so if the webmaster is interested in the long-term promotion of the resource, it is necessary to closely monitor the links. They can disappear for various reasons, and you may not notice the problem for a long time without control.
Backlink monitoring services help to solve the problem. You can use Monitor Backlinks or a tool with similar features. The main thing is that notifications come promptly, and you can set the frequency of updates.
To search for broken internal links, you can use Portent or a plugin for CMS. You should also keep an eye on them so as not to break the chain of link juice passing.
5.3. Guest posting
Website owners have been using guest posting for years to get links from authoritative projects. The approach still works today, but you don't just have to create hundreds of articles every month; you must make them useful to your target audience.
Search algorithms closely monitor referral traffic. If such visits have poor behavioral factors, there will be little use of links. Google makes the decision to pass on link juice at its own discretion.
Don't consider guest posting a magical tool that will make it possible to overcome your competitors in a few days. It takes a lot of time and human and financial resources to accomplish this task.
Also, if competitors are actively using this link-building approach, you need to create a more effective strategy to have a chance to compete successfully. The more backlinks you can create, the better.
5.4. Getting links like competitors
You should not copy your competitors' profiles completely, but you should use the most effective approaches. To do this, you should carefully monitor the situation in search results.
For example, if several competitors begin to actively add links to the profile, you will need to counter them with something. You can do this only by continuously monitoring websites.
There are many services in the search marketing market that will help to solve this problem. It is not necessary to keep track of every new link of your competitors, but you must see the general dynamics.
5.5. Link integration technique
Quality link integration into the content published on authoritative resources helps to make the profile more natural. For this, you should use safe anchors rather than focus only on commercial ones.
The algorithms of Google and other search engines spend a lot of time analyzing anchor texts. If they look suspicious and the profile consists of 90% of such links, many questions will arise.
To decide on a link integration strategy, you should carefully analyze niche leader profiles. If they have good traffic and visibility, you may want to copy some of their link-building ideas.
5.6. Free editorial links
Editorial links usually appear when media workers structure content and need to link to external resources. To get these benefits, you will need quality content.
The feature of editorial links is that they look natural. For example, if a local news resource writes about a local company's newsbreak and links to a press release, it's not suspicious.
Efforts should definitely be made to reach out to local projects and media. Regular cooperation will create new links on an ongoing basis.
5.7. Link trading
When beginners in SEO try to figure out what white-hat link-building methods are, most of them exclude paid links from the list. You can find a lot of information in Google's guidelines about how they lead to penalties.
Paid links can indeed trigger filters, but this happens when the webmaster does not take security measures. But when they properly work on building a natural profile, they don't have to worry about sponsored backlinks.
In fact, almost every project has paid links. Sometimes, you even have to pay for high-quality guest posting because there is no other way to post.
5.8. Getting value by investing
Investments in content, useful tools, and external links can take a long time to pay off, but these costs will eventually pay off. For example, you can get free links by creating tools.
Any project content should be valuable to users. If it doesn't address their needs, it will remain useless. And this automatically means a waste of money.
5.9. Using content as a link bait
Link bait is often positioned as a bad tool that attracts an audience to the site by deception. This is true only if the content is actually misleading users. But if it benefits the audience, there is nothing wrong with creating it to get links. Every site owner wants to get a profit on all the effort spent.
Creating link-bait content is difficult, but if you manage to achieve your goal, the resulting bonuses will repay all the expenses. You should stick to the basic rules of content generation and put the audience's concerns first.
6. How Does Google Determine Link Building with White-Hat Methods?
Google's algorithms determine link quality based on a number of factors. But right now, we can't talk about 100% accuracy in recognizing paid links. Artificial intelligence can analyze an abundance of data, but sometimes, even humans can't guarantee the accuracy of their decision.
Artificial links usually have the following indicators:
Suspicious anchors;
Lack of thematic connection between donor and recipient;
Systematic link exchange;
Donor's link profile with a high spam rate;
Absence of link conversions.
There is no clear algorithm in the public domain by which Google neural networks decide whether to define a link as artificial. As for organic links, everything is simple: if there is no evidence of artificiality, there is no need to worry.
That is why Google does not recognize links created by white-hat methods. For the search engine, it makes no difference how exactly the link appeared. For example, if a webmaster paid the owner of an authoritative resource but created useful content, it cannot be considered a manipulation of ranking algorithms.
If you look through Google's guidelines for webmasters, you'll find much information that penalties for link exchange or link sales may be imposed on both sides of the process, but the key word is "may."
It's easy to find examples of sites with no ranking problems, despite an obviously artificial link profile. But search engines are constantly working to take appropriate action on such projects.
7. What Links Are Considered Bad?
There are many examples of bad links and link-building techniques found in SEO guidelines. All approaches combine a focus on link quantity and low costs. In the case of search engine optimization, it is quality that matters, not quantity.
Poor-quality backlinks reduce the authority of the link profile and prevent the site from gaining maximum visibility. And if it drops over time, competitors will only benefit from it.
That's why link building requires clear planning. Posting content with targeted keywords on quality blogs is fine, but you need to engage as many link-building approaches as possible.
7.1. Reciprocal links
Google opposes all link exchange schemes, but in practice, it's not so straightforward. If project owners have taken security measures, there will be no penalties, especially if it is a one-time action rather than constant mentions.
Reciprocal links are positioned as one of the fastest and easiest methods of getting backlinks, but they should not be overused. If your profile entirely consists of such links, it is difficult to protect yourself against penalties.
7.2. Buying and selling links
Buying backlinks is standard practice, but search engines have a clear attitude to this. If the link is sponsored, you must use the sponsored attribute in the code; otherwise, it can be considered cloaking.
It is very risky to buy links in bulk from a project that sells mentions on a regular basis. You should not refuse sponsorship at all, but you should use different link-building methods.
7.3. Links from web directories
Links from public directories are not harmful unless they are created in streaming mode. For enterprises, for example, hundreds of links from local directories are not a problem that must be fixed urgently.
But when it comes to an ordinary information project with several thousand such links in its profile, it looks suspicious. And search engine algorithms will soon have questions about this.
7.4. Large-scale article marketing
Webmasters once used gender multiplication to get large numbers of links. Synonymizers were used to create variations of the same material, to which links with the right anchors were attached and published on sites with the possibility of creating UGC.
In 2023, this approach will not do any good. Even if the moderators of the resources will approve the content, they are unlikely to save the links. Search engine algorithms may recognize a large number of generated texts as spam.
There are severe penalties for spam in the link profile. Therefore, large-scale article marketing using synonymized content or duplicate comments on the blog will not be beneficial.
8. Software to Check the Quality of White-hat Link Building
White-hat link-building software helps to automate many routine tasks. For example, you can quickly check the donor's quality and decide whether to add the site to the white list.
Also, services help to find toxic links in the profile and see idle links. If the donor is rapidly losing link mass, it is better to exclude it from the list of potential partners.
The cost of access to SEO platforms may be too high for webmasters who promote small local projects, especially if it is necessary to monitor positions or provide access to other team members.
Therefore, you should make a list of needs in advance and ensure that the chosen platform covers 100% of the tasks. And only then move on to selecting a subscription term.
8.1. Ahrefs
This search analytics service is used by both experienced professionals and beginners. Thanks to the simple interface, every webmaster can quickly understand the peculiarities of using the available tools.
Ahrefs can analyze a link profile, find competitors' backlinks, monitor positions, and perform other tasks. For basic needs, the free Webmaster Tools is sufficient.
The cheapest plan costs $99 a month. For this money, the customer gets to create five projects and analyze 25,000 web pages. If necessary, you can buy a more expensive subscription with expanded limits.
8.2. PitchBox
This content marketing and email outreach platform provides many useful tools for link building through postings. The service's interface has a handy keyword search tool for finding opinion leaders.
For webmasters who plan many campaigns at once, there are personalized email templates with automatic posting. This feature saves time on routine tasks.
You can determine the cost of the monthly subscription only after a personal conversation with a manager. The site has a form to request a demo presentation, after which you can proceed to use the platform.
8.3. AnswerThePublic
The analytics service helps website owners find keywords to expand their keyword list. The platform also includes voice search queries, which not every SEO tool can find.
AnswerThePublic's interface has handy filters by topic and region of use. After entering a basic keyword, the service quickly builds a visualization that provides complete information about users' interests.
Subscriptions cost from $99 to $199 when paid monthly. If you pay for an annual plan, the cost can be reduced to $79 per month. Before you pay, make sure that the platform's tools are useful.
8.4. Google Search Console
If you need to see what links to a site Google's crawlers have found, there's no more accurate tool than the Console for Webmasters. The data in the interface may update with a delay, but you have to wait.
GSC's capabilities end with analyzing your site. The panel has no information about competitors and no ideas for improving link-building strategies.
8.5. Pro Rank Tracker
The analytics platform is considered one of the best solutions in the SERP monitoring niche. If you need a convenient tool to control the ranking of project pages, you should consider using Pro Rank Tracker.
The service provides ample opportunities to analyze the situation in SERPs. The webmaster can monitor the situation in all priority regions and types of search results. With the help of mobile applications, you can quickly analyze current data.
The platform provides new users with 30 days of free access with the opportunity to monitor 100 terms. Data can be updated even every day; there are no restrictions. The cost of subscription plans starts at $13.5 per month.
9. Why Is It Worth Using Only White-hat Link-building Methods?
Among SEO specialists, white-hat link building is considered a powerful tool for website promotion. When used correctly, it is possible to increase the authority of the project over time and defeat competitors.
White-hat methods focus on giving webmasters the opportunity to improve their link profile without the risk of being subject to a filter from search engine algorithms.
Quality link building covers many tasks:
Steadily increases the authority of the project;
Supports the naturalness of the link profile;
Allows you to successfully deal with competitors;
Discovers the potential of the site.
It is not necessary to focus on white hat and other terms. You should focus on solving the problems of target users through guest posts, comments, and other interaction formats.
With this approach, some new visitors to the site may eventually become an active audience. And improving behavioral factors will positively affect the project's credibility and visibility.
10. How is Black Hat Different from Gray Hat?
Not all webmasters use white-hat link building to strengthen their project's link profile. You can meet examples when the link mass of the resource consists of low-quality links.
The difference between gray hat and black hat for newcomers to SEO can be confusing because there is no clear interpretation of these concepts. Therefore, it is important to understand the details.
Grey hat includes:
Tiered links;
Paid links;
Backlinks exchange.
Black hat refers to:
Private blog networks;
Links from doorway pages;
Massive link spam.
You should understand that in some cases, the boundary between colors in SEO is conditional. For example, not all sources refer to PBN as black hat. Sometimes, private blog networks can be seen on the list of gray-hat link-building methods.
As for the purchase of links on stock exchanges, everything is also ambiguous. If you place links only on relevant donor sites and mask them as natural, this will contribute to the development of the link profile.
PRPosting will help to completely resolve the issue with sponsored links. All website owners from the platform are interested in processing the order quickly and taking measures to safely promote the donor and recipient.
All posted links are insured, so you don't have to worry that they will disappear. For an additional fee, you can extend the insurance and be assured of link replacement if the site owner fails to meet their obligations.
11. Conclusions
Getting backlinks steadily from reputable resources is an important component of a project's promotion strategy in any niche. Without increasing link juice, the potential of a resource may not be revealed.
Each webmaster determines the importance of white-hat link building, but there is no point in doubting that these techniques are useful. If you create effective link-building tactics, you can become a worthy competitor and win the battle for traffic.
FAQ
What is white-hat link building?
It implies link-building methods that are considered safe, and search engines do not impose penalties for using them.
What are the benefits of white-hat link-building methods?
The main advantage is the creation of an organic link profile, which can protect against filters. Other benefits include steady profile growth, increased authority, and savings in the long run.
What are the best white-hat strategies?
Some of the best strategies include guest posting, free editorial links, and outreach.
Is white-hat link building important for SEO?
Yes, it is important as long as the site owner keeps a balance between quality and quantity. Adding hundreds of links from public directories is no problem, but it is unlikely to benefit the site.
How do I check the effectiveness of link building?
The main indicators of quality link building are traffic dynamics and visibility. If everything is fine with them, it means that the webmaster is coping with their tasks.