Search Engine Marketing Platforms
Effective website promotion in any niche depends on the approach to creating an SEO marketing strategy. If you focus only on one aspect of the issue, the result can be disappointing.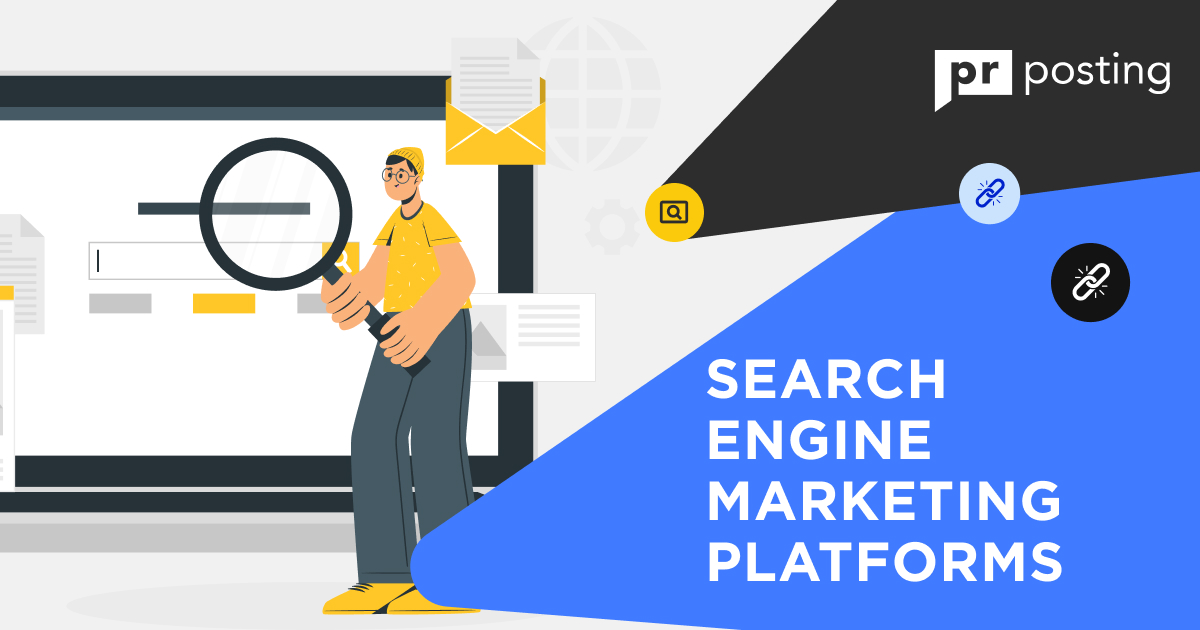 In the process of resource optimization, webmasters must perform many time-consuming routine tasks. This problem can be partially solved with the help of software for SEO marketing.
Choosing a search engine marketing platform to use regularly can be difficult because the niche is highly competitive. Popular services are similar in functionality but differ in interface features, pricing plans, and the amount of data available.
1. What Is a Search Marketing Platform?
A search marketing platform is a set of tools for solving project optimization tasks. For the most part, such software is used to perform SEO operations.
Each such service has unique features, but the general approach to using them is similar. With a user-friendly interface, a webmaster with any level of knowledge can quickly understand the peculiarities of SEO marketing platforms.
As for the choice of service, you should make it after an in-depth analysis of the capabilities of the platforms. If you focus only on the cost of pricing plans rather than the real benefits and feedback from users, you can miss a lot of crucial points.
For example, if you need a powerful tool for analyzing link mass, multifunctional platforms may not be suitable. Some of them are designed to provide customers with as many features as possible, so they often cannot compete with the narrowly focused services.
You should also pay attention to the speed of data updates. Some analytics platforms see new backlinks or de-indexed pages after several days or even weeks. Due to such drawbacks of the tool, you can lose precious time.
1.1. Main goal
Every webmaster has a different primary objective for using SEO platforms. It can be a keyword analysis, monitoring search results, or tracking competitors' link mass.
In any case, you need to compile a list of requirements for a search marketing platform in advance to make the right choice and recoup the cost of paying for a plan.
SEO platforms cover many essential tasks that must be done during website promotion:
Competitor analysis
Monitoring of organic search snippets
Tracking the link mass
Periodical site auditing
Monitoring the indexing speed
This list could be extended because SEO solutions provide users with plenty of useful tools. The main thing is to learn how to use them effectively and make sure that the pricing is in line with the possibilities.
Most popular online SEO platforms have a clear interface, but there are exceptions to the rule. For example, new customers of Majestic need time to get used to the specific dashboard structure. Therefore, if you need a user-friendly interface, it is better to add this criterion to the list of requirements and evaluate the ease of use at the stage of platform selection rather than when you have already paid for it for several years.
2. Why Use SEO Platforms?
Every website owner creates an individual promotion strategy, but it is always based on the understanding of content ranking in search results. The same approach works in the case of SEO platforms — the tools are about the same, but they can solve different problems.
Active use of search engine marketing services can become an integral part of the workflow for different reasons. Most webmasters save time and free it up to do the work that cannot be automated.
For example, donor selection should partially be done manually because even the best services cannot properly analyze content quality. A domain can have high SEO metrics, but user activity analysis shows the absence of comments and user-generated content.
Analytics platforms help you better understand the mechanics of search engines. If you constantly monitor projects, you can find reasons for increased or decreased visibility.
For example, if the website's positions improve drastically and a link burst is visible on the link mass graph, these events can be connected. Therefore, you should take the time to find the best SEO marketing platform for your needs.
You should also understand that the same tools can be implemented differently. For example, Moz can do an in-depth link mass analysis, but for some webmasters, it is more convenient to use simple Ahrefs or SEMRush charts.
2.1. Management
The process of managing the rate of resource promotion in SERPs depends on multiple factors. Not only budget size but also niche competition and approach to project optimization affect speed.
If the webmaster keeps the situation under control and does not forget to keep track of various essential metrics, the task can be completed successfully. But if control is minimal, the chances are greatly reduced.
Constant monitoring of the resource allows you to quickly see problems that can affect visibility in organic search. For example, if page deindexation begins because of technical problems, you can forget about high positions.
2.2. Implementation
Permanent improvement of internal and external optimization is the only way to get good visibility by keywords of the project. If a site has problems with the speed of loading or the rate of getting links, the potential may not be revealed in full.
In SEO, it is important to use experimental techniques. The webmaster takes certain measures, waits for a few weeks, and monitors the dynamics. Such a strategy will eventually bring results.
The approach to promotion can vary greatly depending on the competition in the niche. In some areas, quality content and good behavioral factors are sufficient to achieve positive results, while in others, you will not succeed without links.
An SEO platform is a tool for evaluating dynamics. With their help, you can see what changes have affected the growth or decline in project ranking. And then, you can use this information to change the strategy.
2.3. Measurement
Search marketing involves multiple metrics for assessing the results of the promotion. Using them correctly will allow you to quickly see problems or record new achievements.
Measurement is an important component of successful SEO, but you should not focus on this task only. You can review the results daily to keep track of changes. An hourly update doesn't make sense because new data are unlikely to appear as quickly.
At the beginning of the project promotion, you should make a list of metrics to measure the intermediate results of SEO marketing. Then, you will be able to assess the dynamics at any time and take action if necessary.
2.4. Interaction with content
SEO platforms help to evaluate not only the success of the promotion of the domain but also the state of On-Page optimization of specific pages. It is important because a page's contribution to overall success can vary.
For example, if the page is properly optimized but does not generate enough traffic due to high competition in the search market, you can use metrics to find points of growth. User interaction with content is important because it forms behavioral factors. If visitors aren't paying attention to posting comments or user-generated content, search engine algorithms will see that.
Data delivery to SEO marketing platforms can vary, so if you want to see clear audience engagement metrics, you'll need a special micro-markup and set up data collection on goal completion.
2.4.1. Conversion metrics
Conversion refers to the completion of actions that the webmaster has defined as important. This can be checkout or scrolling to the end of the page. It all depends on the tasks set.
It is better to track conversions from the first months of the project promotion. Then, you will see the dynamics for the entire period of the project's existence. And if there is an opportunity to see numbers only for the last few days, it may not be enough.
If users reach the final step on their way to the conversion event, it means they see the benefits of the website and can use them to cover their needs. Tools must be improved on a regular basis so that not to lose the audience's trust.
2.4.2. Content costs
Investing in the content will only pay off if users positively evaluate the content and want to spend time interacting with it. Otherwise, the money can be wasted because the effectiveness of ranking in organic search depends on behavioral factors.
The amount of sources spent on content varies greatly depending on the niche and the task at hand. In some niches, you can't do without creating useful tools and content for them.
SEO platforms cannot estimate the cost of content in automatic mode; only the webmaster has access to the data if they keep financial records. Be sure to keep the numbers to estimate the rate of return on investment.
2.4.3. Results metrics
Search marketing services provide a lot of metrics and useful indicators, but it is difficult to keep track of all of them. Therefore, you should select 3-5 key indicators that will indicate the state of website promotion.
Results metrics can be divided into two broad categories: internal and external. Internal ones relate to the technical state of the site and ranking optimization in organic search results. External ones include link mass, brand awareness, the volume of mentions without links, and other crucial metrics. You should monitor all metrics because it is important to see the situation comprehensively.
4. The Best Search Marketing Platforms in 2023
There are many useful services in the search marketing niche. They vary in popularity, cost of pricing plans, interface, and speed of data updates. Before paying for a subscription, make sure the platform is suitable for your specific needs.
The choice can be accelerated by a list of criteria depending on the tasks that allow you to determine the quality of the service. For example, if position monitoring is the first priority, a service with a powerful SERP analysis module is required.
A similar approach should be used for other tasks. That is, for link mass analysis, you will need a service that focuses on this aspect, and for audit, you can use desktop software designed to check the status of individual pages.
Most services from the list below are SEO harvesters with a wide range of available tools. But you should understand that they can be not as effective as dedicated platforms that were created to solve a specific task.
A comparison of popular platforms will allow you to make the right choice and determine the ideal tool. In this case, technical understanding is not needed because you can master the services whatever your level of SEO knowledge is.
4.1. Ahrefs
This search marketing platform is often listed among the best solutions in the SEO niche. Its features are not limited to link profile analysis; Ahrefs has site auditing modules, keyword analysis, content idea search, etc.
You can also use the service to monitor positions. The platform is positioned as a universal solution to improve ranking and organic traffic growth, which is true.
Pricing plans start at $99 per month. The most expensive subscription costs $1,000 and provides access to view backlink dynamics with no time limit. For basic tasks, you can use the free Ahrefs Webmaster Tool.
4.2. Google Search Console
Not all site owners buy subscriptions to SEO platforms, but almost everyone uses the webmaster console. It is the only tool that gives an idea of how a site performs in SERPs.
GSC will not help with competitor analysis or donor selection, but it provides a lot of other useful data. In the reports, you can see the links that search crawlers have found, as well as data on the compliance of the project's pages with Core Web Vitals metrics.
You can even do without Google Analytics and monitor click-through rates using Search Console. Sometimes, there are delays in traffic updates, so do not expect a lightning-fast response.
4.3. SEMRush
This search marketing platform is just as good as Ahrefs. When comparing them, users say that SEMRush provides more tools. The service has a simple interface, and registration takes a few clicks.
Through built-in tools, you can analyze website traffic, compare multiple projects, see the quality of the link mass, and run an audit of the resource pages. There is also a module for tracking positions, tips for improving the snippet and dashboard for content marketing.
4.4. KWFinder
The tool was created for convenient work with the list of keywords. It also contains additional modules for other tasks. The user-friendly interface makes it very easy to understand the features of the tool.
KWFinder provides a quick search for queries for which the site can get high positions in SERPs with minimal effort. Viewing competitors' keywords is not a problem for the service either.
The cost of the subscription plan starts at $29. The service is free to use for 10 days, but the features will be limited. After you pay, you have 48 hours to request a refund if there are any problems with the use.
4.5. Moz Pro
Moz is considered the benchmark SEO tools suitable for everyday tasks. With the PRO version of the service, you can get a lot of useful information: from keyword rankings to a report on competitor positions.
Moz Pro is suitable for auditing and determining the potential of pages in search engines. The service also handles link mass analysis and sending out email reports. Subscriptions cost from $99 to $599. They differ in the number of keywords and crawl pages, teamwork capabilities, and report settings. After registration, you can test the service for free for 30 days.
4.6. SEOQuake
It is one of the popular SEO marketing tools, which is available for free. After adding the plugin to your Firefox or Chrome browser, you can run project analysis in a few clicks.
SEOQuake shows meta tags, data about links, number of indexed pages, quality of optimization, and other data in the browser interface. For convenience, you can activate a fixed widget to view basic data without delay.
4.7. WooRank
This SEO and marketing software is not as popular as Ahrefs or SEMRush, but it can be used for everyday tasks.
WooRank can monitor positions, analyze the quality of page optimization, and generate PDF reports. It also has a reporting module not offered by other services.
Pricing plans start at $80 and go up to $200. Subscriptions can be tested for free after filling out the registration form and verifying the account.
4.8. Majestic
This service is often called the best solution for link mass analysis. It cannot compete with SEO harvesters but surpasses them in matters related to backlinks.
Majestic shows historical data, up-to-date profile dynamics, lost links, link anchors, and much more useful information. You have to get used to the dashboard structure, but it's not difficult. Subscriptions start at $50 and go up to $400. Pricing plans differ in access to API, limits for the analysis, the availability of the historical index, and other features.
4.9. SpyFu
This search marketing platform is focused on providing users with as many useful tools as possible. That is why it is rightly considered a powerful SEO harvester.
SpyFu analyzes contextual advertising, can compare the dynamics of competitor promotion, and provides access to tracking the positions of an unlimited number of keywords. The database has more than 109 million domains.
The cost of pricing plans depends on the payment method: monthly or annual. In the second case, the price will be less, but you have to pay a large sum in one payment. The cheapest plan is suitable only for small projects.
4.10. Answer The Public
Answer The Public was created by the developers of the popular Ubersuggest service. The analytics platform provides access to useful tools for SEO and content marketing.
The main specialization of the service is the search for specific queries that can bring traffic but are not seen by standard SEO platforms. The platform can be used to find voice search queries that users search on Google.
Pricing plans range from $99 to $199 per month. If you pay for a year, you can save money and use it for other tasks, such as improving your link profile.
4.11. Netpeak Spider
Netpeak Spider is a site audit tool that allows you to look at the site through the eyes of robots. The software has many advantages, but the main ones are worth highlighting:
Google Drive integration;
variability of site parsing settings;
JavaScript rendering capability;
ability to check the site with different User-agent and browsers;
visual dashboards;
severity of bugs and information about a specific bug;
ability to integrate with various Google services;
download report in PDF format.
By purchasing a special extended version of the software, the user, using the white label function, can integrate his contact information into this download, using it later as a preliminary audit for potential customers.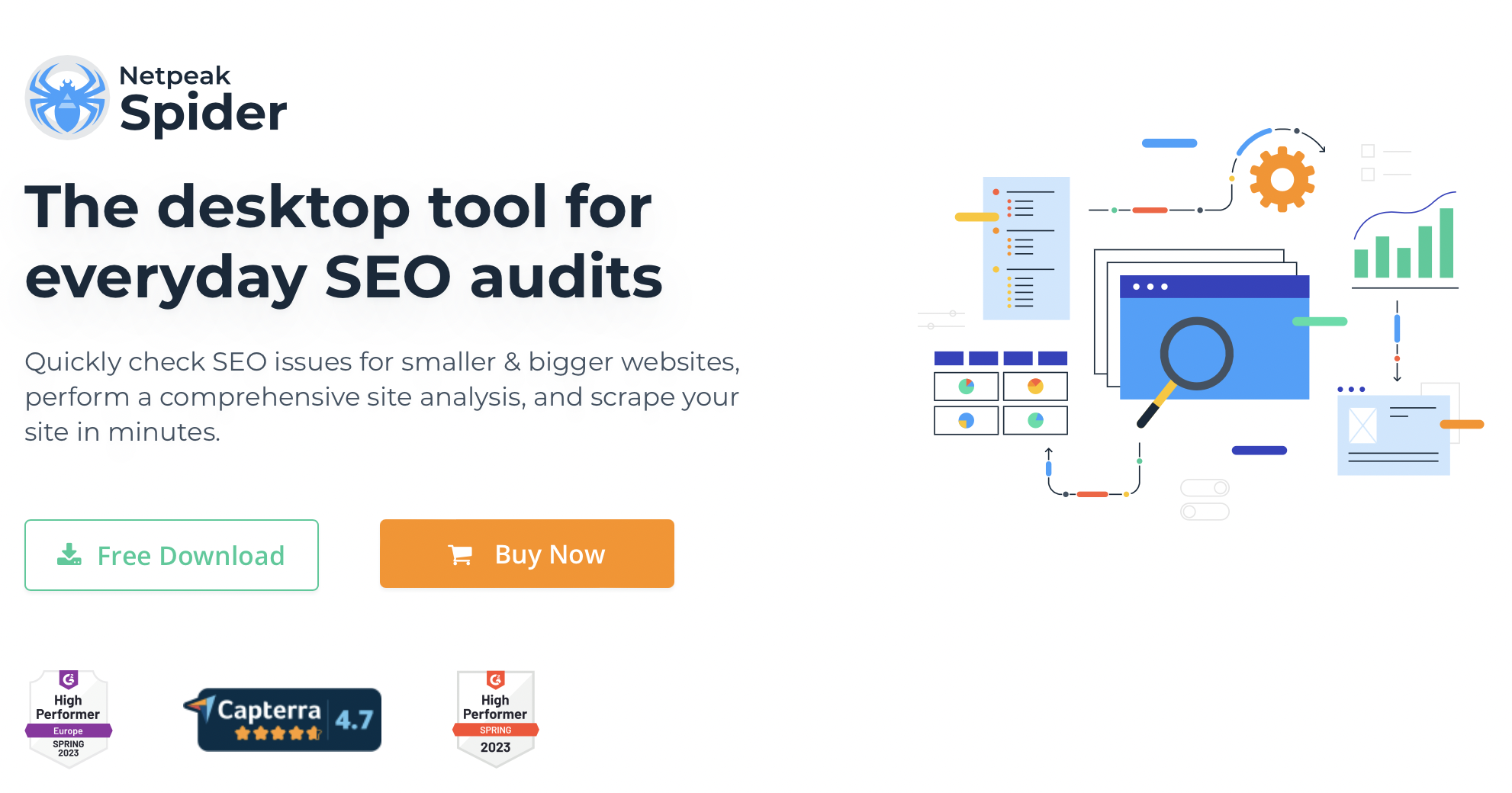 The PRPosting link exchange will help you spend money on link building as efficiently as possible. In your personal account, you can find relevant donors through convenient filters. Next, you only need to add content and send requests for posting publications.
At the moment, the service contains more than 44,000 websites on different topics, regions, and languages. As for the cost of placement, each webmaster can surely find at least a few donors for cooperation.
5. What to Pay Attention to on the SEO platform?
Each SEO platform has its specific features, so before paying for a long-term subscription, you must gain 100% confidence in its relevance. You can do that only with the deepest analysis.
Requirements for a quality search analytics platform may vary, but there are criteria that will be relevant for all scenarios of use. Without them, there is no point in considering the tool as an automation solution.
Essential criteria:
Flexible report settings
Availability of domain check in bulk
Automatic detection of competitors
Snapshots of snippets
Link mass monitoring
Position tracking
Sometimes, webmasters have special requests regarding access to APIs and branded reports. SEO agencies and freelancers providing promotion services need such features.
5.1. Elements of universal search
Tracking the dynamics in SERPs is a priority for all website owners, regardless of the project's niche. You should see how positions, snippet structure, the number of top positions, and pages with micro-markup change.
Search results change over time, so the service must update its features promptly. For example, if competitors show top positions, most webmasters will go to them.
5.2. Site audit
You must update the technical state of the pages from time to time even with perfect internal optimization. On-Page SEO affects the efficiency of ranking just as much as external optimization.
If you rely only on a great number of links, you can wait for the result for a long time. Therefore, at least a few times a month, you should conduct an audit using search marketing platforms.
Each service performs audits according to its standards, but the more useful data it collects, the better. So, you should make a demo test or send a request for onboarding before paying for a plan.
5.3. Keyword tracking
Monitoring the ranking dynamics by keyword queries helps to understand the effectiveness of the promotion. You should preferably create a project in ranking tracking services at the beginning of the site's development rather than a few years later.
The difference in the amount of data will be great, and the historical data can be lost forever. Therefore, you should make sure to find the perfect service as soon as possible. Migration can be difficult because of the peculiarities of statistics storage.
5.4. Backlink analysis
Links strongly impact the effectiveness of promotion, so working with them should be of the highest priority. The quality of external optimization depends on links.
Most SEO services can analyze link mass, but in each case, the amount of data will be different. It is better to check the structure of reports in advance and only then choose a tool to use on a regular basis.
When analyzing link mass, you should pay special attention to competitor analysis. If the service provides profile comparison tools, the data collected can be used to improve the project's ranking.
5.5. Reporting and exporting
Report content in each service is very different, so you must check this aspect before paying for a subscription. For example, one platform has a report creator, while others do not.
All platforms have a support service whose representatives are interested in providing answers to all questions. You can create a request through the support module or with the help of the online consultant widget.
As for export formats, services send reports via email in most cases. Some platforms also allow you to set up sending reports to messengers.
5.6. Traceable search engines
Google support is implemented in 99% of search engine marketing services. But specific search engines may be undemanded. SEO platforms also provide flexible options for setting up regions and search results for different devices. If the project is large with thousands of queries on the keyword list, each additional region and type of result will greatly decrease the available limits. For example, SEMRush provides only 500 queries for monitoring at $120 per month.
5.7. Number of users
If teamwork is required, you will have to look for a service that allows you to create additional profiles with the appropriate features. Flexible configuration is especially important for SEO agencies.
The number of accounts is usually limited, so you may have to buy an expensive subscription so that all team members can perform their tasks. Similar restrictions apply to the number of available projects in the interface of the service.
For example, Ahrefs provides access to only one user on all plans. That is, even owners of the most expensive subscriptions will not be able to add team members to the service, which can be a problem.
5.8. Custom Dashboards
Not every webmaster needs to create dashboards with an arbitrary structure, but sometimes, you can't access the necessary data without performing this task.
Some search engine marketing platforms provide such a possibility, but it should be tested in practice. If there are no critical problems with graphing, the service can be added to the list of convenient platforms.
5.9. Integration and API access
API access will be necessary when data must be integrated with other services. This tool is usually available only with the most expensive subscription plans, so you need to compare the cost of subscriptions of relevant platforms.
Integration of external services harmoniously complements the standard capabilities of SEO software. This can be unloading data from Search Console or connecting to a niche platform with data on link mass or keywords.
5.10. Position tracking
Monitoring the dynamics of SERPs is a classic task that all site owners have to do, regardless of the niche of promotion. If it is neglected, the data on the dynamics of the ranking will be severely limited.
Each service monitors positions differently. For example, not all search marketing platforms provide data on competitors and save SERP snapshots.
The same tool can be presented differently, so you must make sure it is user-friendly and can be used on a regular basis. If there are repeated problems during the testing process, it is best to look for an alternative.
5.11. Search for competitors
As a rule, site owners know all the competitors, but additional information would still be useful. If it helps improve your promotion strategy, you will benefit.
Automatic competitor search is offered by the majority of popular SEO marketing platforms. They find them by analyzing similar keywords and show matches in value.
It is important to constantly monitor your competitors and promptly notice changes in their link profile or internal optimization. If important events are missed, competitors can gain an advantage in the SERPs.
5.12. Pages/crawled URLs
The number of indexed pages can be seen in the project audit report. But the data on Google crawling is only available in the console for webmasters or in a web server log file.
It is important to monitor the dynamics of indexing because it is the only way to see problems with deindexation. Search algorithms remove pages due to technical problems or when there are grounds for imposing filters.
5.13. Compatibility with mobile devices
Convenient viewing of content on a mobile device guarantees the absence of obstacles on the way to high positions in mobile search results. Also, if a page doesn't meet Core Web Vitals metrics, it's unlikely to rank well.
You can check mobile compatibility using the Mobile Friendly tool, but if a website consists of hundreds of pages, it will take a lot of time. Therefore, it is better to use a tool that offers data checks in bulk.
Every website owner is looking for some tools in SEO software; the choice should be made only after an in-depth analysis of the features. Most of the best SEO platforms have a trial period to evaluate usability.
For a 14-day or monthly trial, you'll probably have to connect a bank card. If you are not sure that the service will be used all the time, it is better to add an empty card.
6. What Are the Benefits of Using SEO Platforms?
The main advantage of any SEO platform is the automation of routine work. Also, search marketing services provide access to plenty of tools that you can use to improve your promotion strategy: backlink analysis, keyword report, number of featured snippets, etc.
Additional benefits:
Full control of promotion dynamics
Competitor tracking
Sending reports on schedule
Creation of arbitrary dashboards
Improvement of content marketing
With the help of SEO marketing platforms, webmasters can complete many important tasks, and, vice versa, without an automation service, the amount of routine work would be huge.
These benefits are relevant only if the service fully provides them. For example, the lack of possibility to create a schedule for transferring reports makes using the service inconvenient.
Also, one of the important advantages is the possibility to pay for a long-term subscription. Popular platforms provide the opportunity to pay for a six-month or a year subscription.
Another thing to consider is the period of validity of the refund request. In some cases, it does not exceed 24 hours, which can create additional problems. It is necessary to gather all the important information about the features of the service in advance.
If the features of the service do not justify the cost, it is better to look for an alternative. It is relevant only if the webmaster has not paid for the annual subscription. Then, you can refuse to renew the subscription and transfer the data to a new platform.
7. How to Get Started?
One of the characteristics of SEO services is the rapid integration into the processes of website promotion. To start, you only need to research keywords and create a project in the interface of the chosen platform.
Then, you should activate the tools necessary to continuously monitor the promotion. Particular attention should be paid to the collection of positions on queries from the keyword list. It is better to set up SERP monitoring before you begin active promotion.
If you start collecting data on search ranking performance only after six months or more, valuable statistics will be lost forever. Services can show link mass at any time due to the historical index, but it does not work with positions.
After paying for a subscription, you should create a project in your personal account of the service and set up sending reports on a schedule. Popular SEO platforms usually offer a flexible configuration, so you can choose any data update interval.
You should also set up regular storage of search results screenshots. SERP screenshots allow you to see how the SERPs are changing. Then, you will be able to note what changes on the site affect the boost or decline.
8. How Much Does Access to SEO Platforms Cost?
The best search engine marketing platforms have fairly expensive pricing plans. Therefore, you should determine the feasibility of using such services.
For example, if your budget for website promotion is $500, you shouldn't spend half of that money on subscription fees. It is better to invest them in content and link building.
But this does not mean that you should completely forget about the analytics. You can use specialized tools to check the positions and links. Access to some of them costs up to $50.
You can save money by finding a service with an ideal balance of cost and features. For example, Majestic provides a large amount of data for $50, but you will not be able to buy even the cheapest subscription on Ahrefs and SEMRush.
At the same time, the cost of subscriptions to popular SEO platforms is justified. They provide users with many tools for automating routine work. Without services, the implementation of some tasks will take weeks or months.
9. SEO Platforms and Tools: Are They Similar?
When webmasters begin to deal with the issue of choosing software for SEO tasks, they choose from two options: platforms and tools.
The difference between these options is large and depends on the characteristics of the specific tool. SEO platforms usually consist of a large number of modules, each of which is designed for specific tasks.
But search marketing tools are focused on a particular need of webmasters, such as link building. It is because of their narrow specialization that they can surpass the capabilities of popular platforms.
You should also understand the difference between desktop and cloud solutions. In the first case, you need to install the software on your computer to work with it. Cloud tools are convenient because data collection is done on a remote server.
Comparing platforms with a large number of modules and specialized tools is difficult because these are different ways of solving one problem. It is easy to make a choice between an SEO platform and a tool if you have a clear list of requirements.
| | | | |
| --- | --- | --- | --- |
| | Features | Advantages | Disadvantages |
| SEO platforms | multiple modules covering various SEO tasks | A wide range of tools;Work in the cloud;Possibility to add team members. | High cost of plans;Beginners may find it difficult to understand module management;Strict limits. |
| Tools | Focused mainly on a single task | Narrow specialization;Purchase of a lifetime license is possible. | Solving a single task;Work in the cloud format is not available everywhere. |
10. Conclusions
Search marketing tools are indispensable assistants for the entire cycle of SEO tasks. If you choose the right platform, the cost of the subscription will fully pay off due to the high position of the site in search results.
Choosing SEO software can take a long time, but there is no need to hurry. If you choose the wrong one, you will have to look for an alternative and transfer the data.
FAQ
What is a search marketing platform?
It's an automation tool designed to enable site owners to avoid routine work and focus on tasks that require manual control.
What are the best SEO platforms?
The list of the best platforms often includes Ahrefs, SEMRush, Majestic.
How important is it to use search marketing platforms?
They help solve many problems site owners face, from monitoring positions to storing snapshots of snippets.
What to pay attention to when choosing an SEO platform?
You should make sure that the chosen service meets all the requirements and will be able to 100% solve the tasks at hand.
How to use search marketing platforms?
You need to choose a service, create an account, and add information about your project.