What Is Backlinks Dynamics and Why Is It Important for Your Website?
Backlink dynamics is one of the most important factors of website quality for search engines. SEO specialists and project owners spend a lot of time adding links from authoritative resources to their profiles.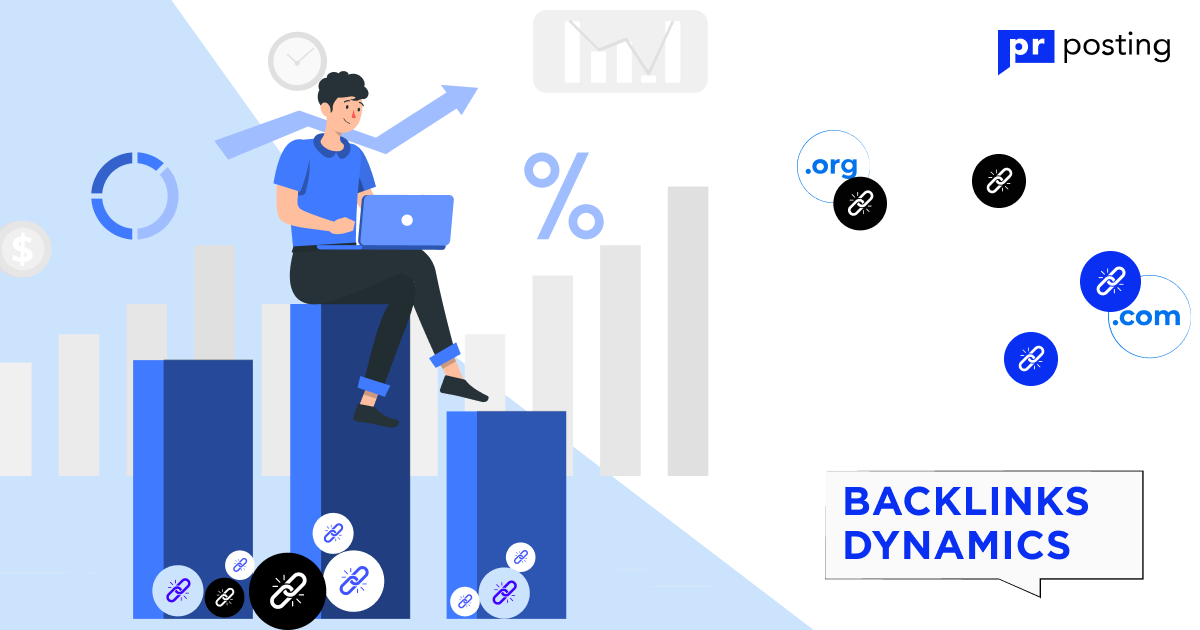 There are many link-building approaches, each requiring the utmost attention. For example, with outreach and guest posting, the result depends on interaction with webmasters. Therefore, it is not always possible to build a scheme for getting links so that the chart of backlinks steadily grows. If search engine algorithms will see a regular flow of links, it will negatively affect the positions in organic search results.
1. What Is Backlink Dynamics?
Link mass dynamics is the process of changing the backlinks of a website. You can assess the dynamics in a few seconds — just open the analytics module of any SEO service.
Link mass is comparable to an anthill — ants are constantly running somewhere, building underground passages and improving the building system, which is constantly changing.
The situation is similar with backlinks — the schedule is constantly updated, and the website owner must keep the situation under control. Don't expect the schedule to grow steadily without any effort. With this approach, you will most likely get a negative trend.
Link mass dynamics is a marker of website quality. If there are no new links in the profile, the website is not developing well. Projects with quality content regularly get new backlinks to their profiles. In some niches, projects can take the first positions in organic search results without links from authoritative sites, but this is an exception to the rule. If competition is high, it is almost impossible to win without a proper link-building strategy.
Therefore, the effectiveness of website promotion depends on the quality of link mass management. If there are no new backlinks in the profile month after month, search engine algorithms will draw the appropriate conclusion.
It is difficult to earn trust from Google and other search engines, but it is easy to lose it. In the reports of SEO services, you can find many examples of when the project has lost a significant share of visibility due to problems with a link profile.
2. Why Is Backlink Dynamics Essential for SEO?
Webmasters who have recently begun to immerse themselves in the SEO niche may come to the mistaken conclusion that the result of website promotion depends solely on links. It seems to be enough to buy 5-10 links from projects of The New York Times level — and competitors automatically lose the battle for search engine ranking.
Ten years ago, it was indeed possible to reach the top only through backlinks, but since then, Google's algorithms have changed. Today, there are hundreds or even thousands of factors that affect ranking.
Nevertheless, quality links can still boost organic search rankings if you choose the right link-building strategy. When website owner clearly understands how search engine algorithms work, they can get the most out of link building. Proper link dynamics solves several problems:
Increases the trust of the search engines in the project.
Helps bring the website to the top of search results.
Increases visibility for search queries by keywords.
Speeds up page indexing.
Allows outperforming competitors.
Boosts brand authority.
While promoting websites, webmasters have two global tasks: creating quality content and maintaining good backlink dynamics. Only comprehensive work in both directions will allow achieving the desired result.
Project owners with minimal experience in SEO often worry that they do not have enough budget for link building and focus their efforts on free link-building approaches, but they are wrong.
If a project regularly publishes quality content that other websites will want to share, links will grow organically. Therefore, creating research, infographics, and other downloadable content can produce good backlink growth.
Search engine algorithms regularly crawl the link profile, and if they see link flow every time, a negative result will follow. It may not happen immediately, but the probability is very high.
Therefore, a project owner must make every effort to show Google and other search services that the project is developing and is not abandoned. This is the only way to count on stable traffic.
Quality link dynamics is also a protection against losing to competitors. In niches with a large number of websites, the rate of website boosting on SEO parameters is very high. Those who do not manage to move at the right pace are out of competition.
3. How to Check Backlinks?
There are several ways to check the dynamics of a backlink profile. It all depends on the advantages and the amount of data required. If a comprehensive competitor analysis is required, you will need a paid plan on one of the SEO analytics platforms.
Services like Serpstat cover all the needs of webmasters concerning link analytics. Basic tasks can be solved even for free. Therefore, it is not necessary to pay $100-200 at once.
SEO services have different features, but the approach to solving work tasks with the link profile will be the same. Using filters, the webmaster can view the dynamics over a certain period or quality metrics of each backlink.
There are leaders in the niche of search engine marketing services, but you should not limit yourself to them. If you need to solve 1-2 basic tasks, platforms with minimal capabilities will cope with them.
3.1. Ahrefs
Ahrefs is considered the best link mass analysis service. To assess the quality of reports, you can get basic data on the backlink profile for free. All you have to do is enter the URL into the field and wait for scanning to complete.
Ahrefs has many search engine marketing tools, and link profile analysis is one of the most powerful. Even the free report has a lot of useful information that you can use to rebuild your backlink acquisition strategy. The cheapest plan costs $99 per user. Access for each additional team member will cost $20. The pricing plans have limitations on the amount of data in the reports and the number of projects.
3.2. Moz Link Explorer
The Moz platform is known for having one of the largest backlink indices. That's why webmasters use this service when they need to gather as much data as possible. In the reports, you can see information about competitors' websites, check links for spam, and find bad backlinks.
The service is one of the few that allow you to test the tools for free for a month. If there are enough features, you can pay for access for a year in advance and save 20% of the base price.
3.3. SEMrush
Website owners and SEO specialists rank SEMrush equally with Ahrefs. Its interface has more than 50 useful tools that can be used for various tasks in website promotion.
SEMrush gives users access to a backlink database containing 43 trillion links. Multiple servers regularly update statistics, and fresh data are quickly included in reports. The service is advantageous to use when it is necessary to create the dynamics in real-time.
The price of paid plans starts at $120. The cheapest plan allows you to add 5 projects and monitor the positions of 500 search queries. It is more advantageous to pay a subscription for a year in advance to save money.
3.4. BuzzSumo
The service is tied to social media, and webmasters can use it to find a link to their projects on Facebook, Twitter, and other services. This is very useful because these backlinks also partly impact the effectiveness of the promotion.
BuzzSumo can track links and sends reports to the email on a schedule. Thanks to this, the website owner will see the relevant state of brand authority on social media.
Paid plans cost from $99 to $299. The most expensive plan allows for 2 years of data storage and 15 users and limits the number of exported reports to 200 per month.
3.5. Google Search Console
The most useful data on backlinks is provided by Google Search Console for webmasters. Information can be updated with a delay, but from the interface, the website owner can see which links were found exactly by search engine algorithms.
GSC also allows you to disavow backlinks that analytics services have labeled as toxic. All you have to do is upload a file to the Disavow Tools interface, wait for processing, and view the results.
3.6. Majestic
SEO specialists often forget about this service when they cannot choose between Ahrefs and SEMrush. However, it has a very large link index. And there are also metrics to assess the quality of backlinks that you should focus on when selecting donors.
Majestic can check domains in bulk. This is very useful when you need to select 50-100 donors from several thousand sites. Doing this manually can be very time-consuming.
Pricing plans range from $50 to $399. The most expensive plan allows you to add 5 users and provides access to API. If you need to analyze more than 100 million pieces of data, the cost will increase.
4. Why Analyze Backlink Dynamics?
If the website owner will not monitor the link mass dynamics, they will not see the problem in time. Paid backlinks often disappear over time. This happens for various reasons: the project ceased to exist, the webmaster accidentally deleted external links, or there was a failure during the CMS update.
Therefore, it is important to follow the graphs in SEO analysis services and see the problem earlier than search engines. Then, you can save authority, and all the donors linking to the project will be saved in the profile. Particular attention should be paid to the pages that give the most traffic. If they lose 30-50% of links, search engine algorithms will certainly see that, and the result will be corresponding.
4.1. Backlink data
Not every link is quality by default. SEO exists for more than 20 years, but even now, we don't know exactly all the quality criteria Google uses to evaluate backlinks.
Toxic links negatively affect a project's authority and its ability to increase visibility in organic search results. Therefore, you should avoid posting links on websites that Google doesn't consider authoritative.
Regular profile analysis will allow you to see toxic backlinks and remove them with the help of the website owner or Search Console. SEMrush is the best tool for finding toxic links.
4.2. Organic growth
For your website's organic visibility to constantly grow, you need to regularly add links from authoritative projects to your profile. But it is not enough to avoid penalties for SEO links.
Organic links, which appear with no involvement from the website owner, help solve the problem. You can get them with the useful content you want to share. If it is created regularly, you can count on free links.
4.3. Buying targeted links
Getting new backlinks on a regular basis is a complex task that must be executed comprehensively. To protect yourself from search engine penalties, you should remember about diversification.
The more link sources, the better. You must approach the task so that algorithms have no claims to link mass quality. For example, the profile should not contain only crowd-sourced links.
PRPosting will 100% help to solve the problem with quality backlinks. After registering, you will be able to compile a whitelist in a few hours and offer webmasters to build links.
4.4. Link burst
There is a popular myth in the SEO niche about the harm of link burst. It can be easily refuted with examples of websites that have not only maintained good visibility in organic search but also received a boost.
If the link burst does not look artificial, search engine algorithms have no claims to it. Then, nothing will jeopardize the project's top position in search results.
You can create a backlink burst, but it's difficult. You will need an interesting newsbreak that can quickly become viral content. If the news doesn't cause the desire to share it, this won't work.
4.5. Link outflow
It is possible to get a boost in search engine rankings without a link burst, but if the graph is constantly going down, you should not wait for good news. Backlink outflow indicates a problem with external optimization.
If the outflow is constant, Google may decrease visibility in search results. This won't necessarily happen 1-2 days after a drop in the graph is detected, but over time, the likelihood of problems is very high.
You don't need to spend 3-4 hours analyzing backlinks every day, but you should do it at least 1-2 times a week. And be sure to enable the notification about problems in SEO services.
5. What Is Good Backlink Dynamics?
Good backlink dynamics is when the situation on the link mass graph is always stable. There should not be alternating segments with positive and negative trends. Therefore, you should make every effort to increase the number of donors.
A good-looking graph does not mean that the website owner has chosen the optimal backlink-building strategy. The number of backlinks does not mean anything. Each backlink in the profile must be high-quality.
In this case, you can see that the link mass is growing steadily during the entire period of website promotion. It is impossible to get a toxicity report for free, but there probably will not be any problems with spam. In such a scenario, there is no reason to doubt the possibility of successful website promotion.
6. How to Get More Quality Backlinks?
Each webmaster has an individual concept of quality links, but no one will argue that it is important to get backlinks from projects that Google considers authoritative.
There are several criteria for determining authority. The first is traffic stability. If the search traffic of the donor is maintained at the same level, it means that the website has no problems with algorithms at the moment.
Another indicator of quality is the spam rate. There is no point in building links to the project that places 10-15 backlinks in every article, and all of them look paid.
6.1. New profitable links
Profitable links are backlinks that lead to the resource under promotion from high-trust projects. There should not necessarily be such links in the profile, but they greatly affect the result of promotion.
You should try to regularly add backlinks that can be considered quality even without detailed SEO analysis. Search engines like organic linking the most.
6.2. Partnerships
Long-term partnerships with projects that are in demand by a large audience positively affect search traffic. Reliable brand websites provide an opportunity to turn your project into a well-known resource in the niche.
For example, it makes sense when a smartphone manufacturer regularly publishes newsbreaks on TechRadar-format projects. The project's audience consists entirely of potential buyers of mobile devices.
Such a partnership is good for both parties. The website gets first-hand information, and the company promotes the brand and expands its link profile. The scheme can be adapted to any niche.
6.3. Charity and investment
Websites of charities and investment funds often link to affiliate projects. For example, websites of online churches publish the names of contributors, and resources of nonprofit organizations publish data on patrons. If you produce content that will be useful to an organization's audience, it can be distributed quickly. You need to make an effort in the first stages of content distribution, and then, it will be distributed organically.
There are many methods of getting new backlinks, and the webmaster is interested in using more different tactics. If you focus all your efforts on one area, search engine algorithms can nullify the results and the work will be done in vain.
7. The Speed of Getting Backlinks
As we have already mentioned in the section about the link burst, the speed of getting backlinks should not be the first priority. You should always focus on quality rather than quantity. It is quite real to get 10-15 links from reputable projects, but it is more difficult to increase the number by 10 times.
Try to get at least 10-15% more links than the main competitors. If they increase the profile for an average of 20-30 links per month, you have to get at least 35-40.
Search engine algorithms are regularly updated, so you should be prepared for the fact that the situation in organic search results will become worse at any moment. Therefore, your task is to show search engines that the website is developing.
8. Conclusions
Backlink dynamics strongly affect the efficiency of website promotion in search engines. It is very difficult to get top positions for high-frequency requests without backlinks. That is why you should develop a competent strategy for working with links.
So as not to become a target of search algorithms, you must create an organic link profile and adjust it using different types of backlinks. Any non-spammy link will be useful and can affect the final result.