How to Check Website Traffic?
If you still did not find the best way to check a website's traffic, this article would be a great source of information on the issue. Learn about the most reliable and quality tools to check domain traffic properly and quickly.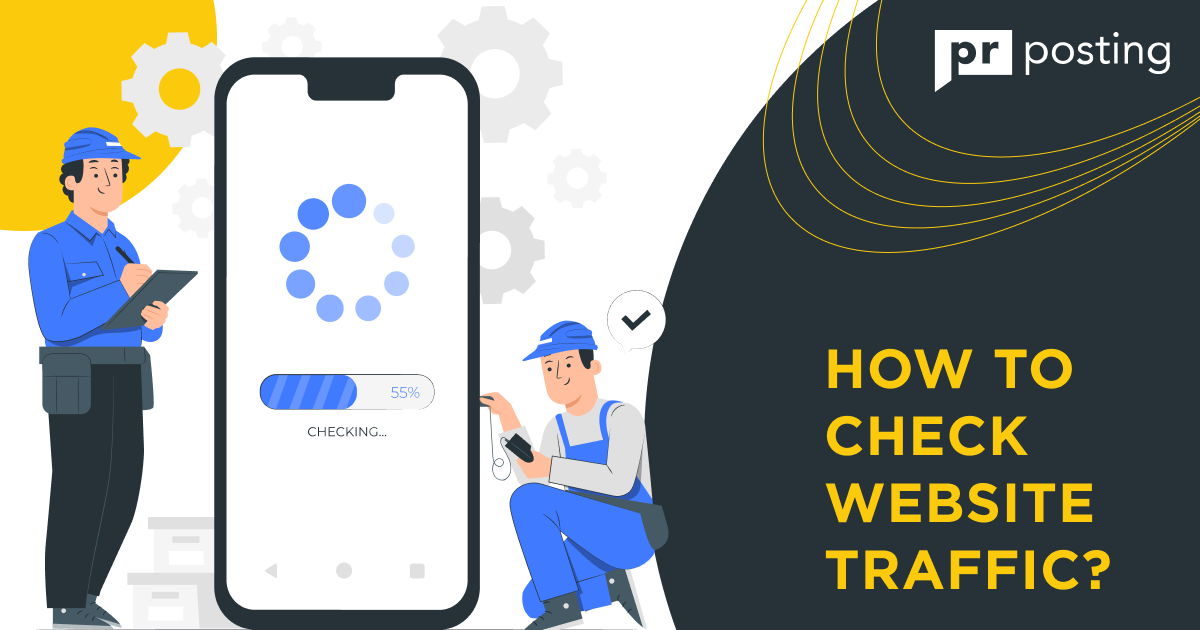 Complete Guide on Website Traffic Checker
When promoting websites in search engines, search marketing platforms are of great help to SEO specialists and webmasters. They allow automating routine processes and freeing up time for work that can only be done manually.
Among them are website traffic checker tools. They help to quickly analyze the visibility of pages and the domain at large. Also, these services provide statistics on competitors and show growth points. As a result, you can compare the rate of progress in organic search for your website compared to major competitors.
1. What Is Website Traffic?
Website traffic is the cumulative number of visitors over a selected period. Typically, webmasters focus on monthly traffic and track average daily traffic.
A set of parameters consists of different indicators, so there is no point in analyzing only one figure. You need to see the complete situation rather than just user activity in real-time.
There are many tools for tracking traffic, but most website owners use Google Analytics. You can create a container for your project in minutes, and the integration of the tracking code is a one-step process.
Webmasters who spend much time promoting a website in search engines focus primarily on organic traffic. The number of visitors through this channel is considered the main marker of project quality.
1.1. Direct
Direct traffic is all conversions where the analytics system does not see the sources. Usually, these are visits from users who enter the domain in the browser search box and proceed to the website.
We should note that browsers do not always send messages to the web server with information about the source of the conversion. That is why the direct traffic report may contain a lot of clicks from other sources.
If you imagine that all direct traffic is direct conversions, it is safe to say that the project is in demand. For example, if an online store has 1,000 users daily, and 30% of them click on pages from bookmarks, it is a very good result.
Checking website traffic is a standard procedure for many webmasters, but they often do not pay proper attention to direct conversions. You should constantly monitor the situation because search engine algorithms also track the numbers.
If the ratio eventually increases in favor of direct traffic, and behavioral factors worsen, ranking problems may arise. Search engines have been paying close attention to this group of factors in recent years.
1.2. Referral
Referral traffic is conversions from sources that the analytics system cannot classify as social media or other platforms. Algorithms see that there is a source of conversion but cannot include it in any category.
For example, if you publish an article on an external website and provide a hyperlink to your project, every user click will be recorded in the referral traffic report.
Referral traffic is valuable because it shows search engine algorithms what is in demand. If everything is fine with user behavioral factors, the website is good for their needs.
1.3. Organic
Organic traffic refers to visits from search engines, which are free for a webmaster. SEO and useful content help to generate such conversions. If the project is performing well according to these two criteria, it can eventually count on traffic.
Site visitors who come from search engines are generally highly interested in the content or products it offers. Organic conversions are highly likely to transform into completed conversions.
Analytics reports should analyze all traffic rather than just clicks from Google. There are cases where Bing and other services in the early stages of project development generate more conversions than the world's most popular search engine.
Organic traffic will not necessarily be stable. Search engine rankings are constantly changing, and a project may lose positions for the queries that used to bring in the bulk of clicks.
1.4. Advertising
SEO specialists often launch advertising campaigns at the beginning of website development. They allow for the accumulation of data on behavioral factors and see exactly how users interact with content.
Paid traffic also affects website evaluation by search engines. If most users close the browser tab after ten seconds of browsing, the website has certain problems.
You can get paid traffic from a variety of sources besides just Google Adwords. For example, targeted advertising on social media is often used.
The total volume of project traffic can be quite different. It all depends on niche features, the level of competitor development, and the domain's age. If the website is just starting to be promoted, the number of conversions may be meager.
2. Checking Website Traffic
Statistics of website traffic consist of different metrics. Each of them shows how the audience interacts with the project pages. For example, session duration shows how much time on average users spend viewing content.
It's important to compare your project's metrics to those of your competitors. If they have more organic traffic, and the difference in domain age or link mass is minimal, there may be a problem.
Website performance greatly affects user evaluation of the project. If content takes 3-5 minutes to load, few will wait that long. You can always find an alternative in the search engine results.
2.1. Your website viewers
The website's audience is its main value. If users are interested in the content or tools offered by the project, they will regularly visit it and form behavioral factors.
Among visitors, there will certainly be assessors who evaluate the website's quality, and their opinion may impact the effectiveness of the website's ranking in the future. If the project has no problems with UX and content, it may be ranked the highest.
To see the complete picture of traffic, search engine marketing services alone won't be enough. You will definitely need Google Analytics and other services. For example, you can use Hotjar to view the records of visits, but for additional functions, you must pay at least 31 euros per month.
2.2. Competitor's site visitors
Standard analytics systems provide a lot of useful data, but they are powerless when it comes to analyzing competitors. Search engine marketing services cope better with this task.
They can't provide records of your competitors' website traffic, but they do show basic information. For example, you can find out from which countries the project receives the most traffic and compare the figures with yours.
Checking domain traffic online should become a regular task as part of your marketing strategy. If you don't monitor the situation, you can miss out on problems that will later impact the effectiveness of your rankings.
If competitors start to drastically inflate behavioral factors, and the site owner discovers this a few months later, it will be much more difficult to solve the problem than at the start of inflating.
3. Best 5 Websites Traffic Stats Tools
Many analytics platforms help solve the problem with checking the project's traffic, but each of them has certain peculiarities. For example, not all services provide a trial for testing capabilities.
All webmasters watch the project's dynamics in search engines, but paying $300-500 just for this function is not always profitable. Therefore, it is better to use a platform that allows you to solve many problems simultaneously.
Tools for checking website traffic also allow you to research keywords, check competitors' SEO metrics, analyze links, and perform other routine tasks. They are advantageous to use for comprehensive project optimization.
3.1. SimilarWeb
The service is considered the best solution for traffic analysis. It allows you to check the traffic of any project the information about which is in the system. The report will not be generated if there is no information about the website in the public domain.
SimilarWeb also shows statistics on Android apps. This function became available recently, but it is very popular with active users of the platform. If a competitor has a mobile application, information on it will also be useful in the analysis.
SimilarWeb shows:
number of visits
bounce rate
number of pages viewed per visit
session duration
project position in global and local rankings
history data for the previous months
A very useful feature for webmasters is a project comparison option. You can see a summary report and find the indicators by which a competitor outperforms the project. This will allow you to find points of growth.
3.2. SEMRush
When it comes to checking website views or finding out information on other metrics, many webmasters use SEMRush. The service is among the most popular search marketing tools.
The analytics platform is great at analyzing traffic. It provides a lot of useful information that can be used to improve website development strategies.
SEMRush indicates:
volume of organic traffic
volume of paid traffic
report on user countries
traffic dynamics
status of branded traffic
With the help of the service reports, you can see how much traffic the main competitors get. This will help you evaluate the pace of project development and adjust your promotion strategy.
3.3. Ahrefs
Ahrefs is considered one of the best tools for analyzing website links. The service also provides information about the volume of traffic received by the project from search engines.
The analytics platform scans billions of pages every day and processes the data so users can see the information they need in reports. In addition to traffic statistics, you can learn many more useful things.
Ahrefs shows:
volume of organic traffic
report by country of users
top 10 competitors
pages with the highest traffic volume
data on competitors' paid advertising
The service is among the few tools that can perform batch verification. The webmaster adds 10-15 sites to the form and gets a summary report for all projects.
3.4. Majestic SEO
When webmasters are looking for a free program to check website traffic, Majestic is not on the list of tools that can help in this case.
The analytics service is entirely focused on link analysis. It has its own index with historical data. So, if you need to analyze your link profile, you should definitely pay attention to the service.
By analyzing competitors' backlinks, you can find out what contributed to their high traffic. If the link profile ensured this, you should change the promotion strategy to get similar advantages.
3.5. SERPSTAT
This comprehensive search engine marketing platform is in high demand among SEO professionals and webmasters. It can be considered a competitor to Ahrefs and SEMRush. It shows data on traffic, backlinks, and paid advertising.
One of the most valuable modules is search query analytics. In the reports, you can see how quickly the project is promoted in organic search results and find keywords that failed to help gain visibility.
SERPSTAT shows:
domain visibility in the Google Top 20
the volume of organic traffic
data on paid advertising
history of visibility changes;
top pages by visits
competitors in search results
SERPSTAT is suitable for webmasters who don't want to pay several hundred dollars to see an extended report on competitor traffic but need all available modules to improve their search engine rankings.
| | | | | |
| --- | --- | --- | --- | --- |
| Service | Comparison with competitors | Free access | Trial | Minimum cost per month |
| SimilarWeb | ✅ | ✅ | 7 days | On demand |
| SEMRush | ✅ | ✅ | 7 days | $119 |
| Ahrefs | ✅ | ❌ | ❌ | $99 |
| Majestic SEO | ✅ | ❌ | ❌ | $49 |
| SERPSTAT | ✅ | ✅ | 7 days | $69 |
4. Which Metrics to Analyze?
If the website owner only looks at the volume of traffic on a daily basis, that's not enough. It is important to see the entire picture since one figure by itself is useless. Traffic can grow steadily, but in practice, it will turn out that the share of organic conversions is decreasing.
To timely notice such problems, you need to pay a lot of attention to the analysis of all available reports in the analytics system. The best way to check website views implies diving into various metrics.
4.1. Unique visitors
The volume of unique visitors demonstrates how many users visit a site every day. In Google Analytics reports, you can see the average daily figure for the past week and compare it to the previous period.
If you use multiple analytics tools, you might see discrepancies in the numbers. They appear because each system uses a specific methodology. For example, if there are problems identifying traffic from messengers, the system may include them in referral traffic.
Under ideal conditions, the volume of unique visitors is constantly growing. But in practice, it is not always possible to accomplish this task. Therefore, fluctuating indicators are not considered anything extraordinary.
4.2. Page views
The page view is recorded whenever the content is loaded in the visitor's browser. If the user reloads it, the system counts two visits. This figure should be used as a benchmark in terms of total traffic.
If the number of page views is growing steadily and the traffic remains the same, the content may be more interesting for the user. To detect suspicious activity, you can simply look at the records of visits.
4.3. Organic search engine traffic
Webmasters try to earn the trust of search engine algorithms so that the website gets as much organic traffic as possible. It is search engines that are a stable source of targeted users – even without adding content, it can stay at the same level for months.
But don't expect a new project to get high positions in a few weeks thanks to content or links. As a rule, it takes at least a few months.
Google Analytics does not recognize conversions from some search engines, so you can use alternative sources if necessary. If you're not satisfied with the cost of Hotjar, it makes sense to look for a free alternative.
4.4. Average visit duration
The average session duration reflects the time a user spends on a website per visit. There is no perfect number, but if it takes at least a few minutes to review content or use tools, seconds-long visits can indicate problems.
The longer the session, the better for behavioral factors. If search engine algorithms see that user interest grows over time, this can positively affect organic rankings.
4.5. Bounce rate
The bounce rate is one of the main indicators of project quality. It shows the audience's interest. If one in two visits is converted into a closed browser tab, you need to solve the problem.
When the bounce rate rises sharply, you must promptly find an explanation. Analytical systems in which you can view the records of visits help perform the task. This is mostly due to UX issues.
Every metric in an analytics system is important, so don't ignore seemingly insignificant metrics. If you don't pay attention to analytics, you can quickly lose the trust of search engines.
5. Is It Possible to Check Website Traffic for Free?
Not every webmaster knows how to check website traffic for free. It is quite realistic if basic information about the traffic of your project and competitors' websites is required.
The analytical services described in the previous sections of this article help to solve this problem. For example, SEMRush gives you a 7-day trial period after you register and connect your bank card. You will need $1 on your balance to successfully activate the trial period.
Some platforms also allow you to create a limited number of reports daily. These limits may be enough to supplement your Google Analytics data. But if you need to take your analytics to a higher level, you probably can't do without purchasing a paid plan.
6. How Important Is Website Traffic?
Checking your website traffic in real-time helps to detect problems in time, but it is more essential to control the global situation. Therefore, it makes no sense to update reports every 10 minutes.
Project traffic is very important for potential advertisers. Basically, it is the traffic that has the greatest impact on the decision to start cooperating with the project.
If the website owner wants to earn on sponsored content in the future, you can estimate the approximate income by using the PRPosting directory. Just use filters by topic and SEO parameters.
The screenshot below shows that projects with high scores on Ahrefs, Majestic, and other services can count on several thousand dollars for posting one publication.
7. Conclusions
Checking website traffic is a standard task for webmasters who expect stable project promotion in search engines. Monitoring the numbers at least daily is enough to see the real picture.
You can also set up daily reports to be sent to email or messengers and view files in a familiar interface. It all depends solely on your needs.
FAQ
What is a website traffic checker?
It is a service or program that provides a complete report on website traffic. Some platforms also show competitor scores.
What are the best traffic checker tools?
SEMRush, SimilarWeb, and SERPSTAT are considered the best.
What metrics should I analyze to assess the quality of traffic?
Unique visitor volume, page views, search traffic volume, session duration, bounce rate, and other metrics.