SEO Marketing Platforms
Search engine algorithms are constantly changing. Accordingly, approaches to SEO are evolving. Since it is impossible to keep track of all the changes manually, you should use the tools provided by SEO platforms.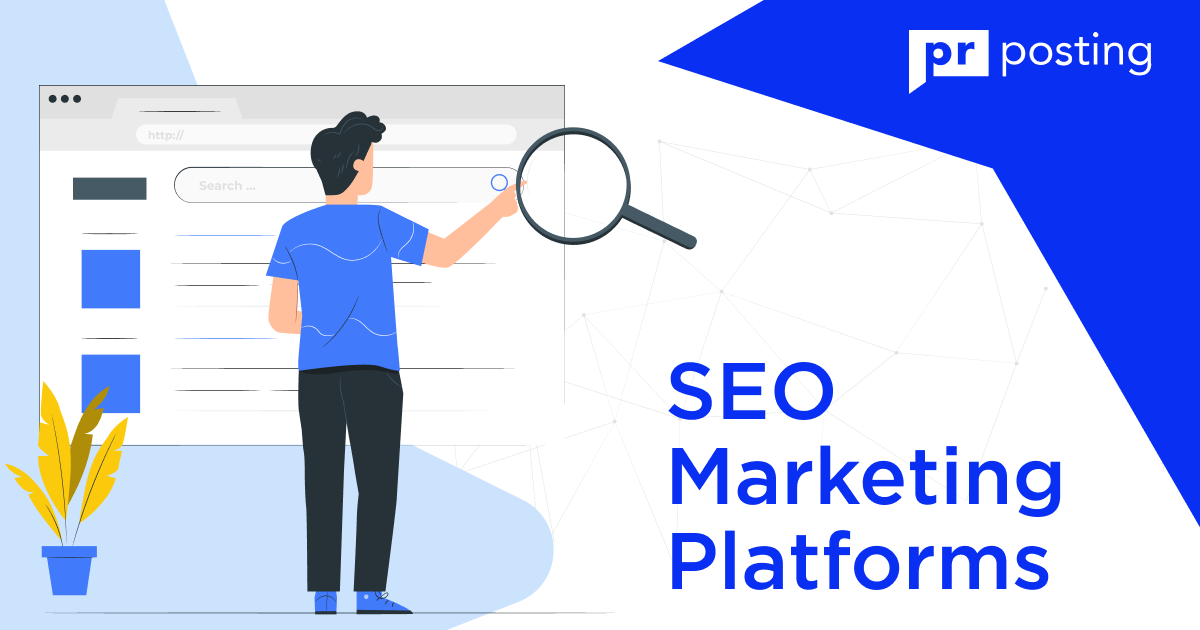 1. What Are SEO Marketing Platforms?
An SEO platform is a marketing technology that helps manage, implement, and measure a brand's presence in digital communication channels, such as Google search results.
These services provide a comprehensive overview of a website's strengths, weaknesses, opportunities, and threats. By completely understanding the capabilities and features of SEO platforms, you can choose the best offer and ensure it meets the needs of your company, brand, and content creation and optimization team.
2. Difference Between SEO Platforms and SEO Tools
There is some confusion in terms when it comes to SEO software and services, but it's really not that complicated. The only difference is the scale of the solution.
Most SEO tools are designed to solve a single problem and are specifically tailored to help a specific business area, such as keyword research, link analysis, or analytics.
SEO Platforms, or Enterprise SEO Platforms, operate at the enterprise level and provide comprehensive solutions for multiple tasks. They include a set of integrated technologies, are versatile, and can generate data that covers the needs of different departments or teams.
Often, SEO platforms can access other software products used in the company via APIs. Such solutions perfectly meet the needs of large businesses and SEO agencies.
3. Why Use Them
With SEO platforms, you can avoid exhausting research, such as when it comes to keywords or analyzing a website's ranking. Moreover, you can see which components of an SEO strategy work better and which work worse. And all this comes with intuitive reports and constant monitoring of the results.
If you manage multiple websites, SEO platforms can help assess the effectiveness of each of them instantly. They save hours of effort and allow you to create accurate and up-to-date reports literally in one click.
Another significant advantage is team integration because several people or departments can work with the platform. As a result, the data and efforts of everyone involved in content and website promotion can be combined. The outcome is predictable and forecasted growth of your brand's popularity.
Here are a few major tasks that SEO platforms help to solve effectively.
3.1. Website audit
SEO audit is a website analysis to determine the maximum number of problems affecting the effectiveness of organic search. It usually reveals technical problems, errors in website structure, flaws in page-level SEO, and potential off-site threats.
3.2. Versatile metrics
Every SEO specialist needs analytical data to make informed decisions about future actions and strategies. SEO platforms provide information on the amount of organic traffic, CTR, bounce rate, keyword ranking, website authority level, conversion rate, and other data.
3.3. Backlink analysis
It is an assessment of the volume and quality of links leading to your website from other resources. Such an analysis helps you determine how these links affect the website's search engine ranking and what you can do to improve their quality.
3.4. User research
Google strives to rank sites that address user queries. Therefore, it is essential to track the factors that influence user behavior on the website: page loading speed, adaptability to different devices, user-friendly structure of URLs and menus, and others.
3.5. Rating tracking
Domain authority (DA) from Moz or domain ranking (DR) from Ahrefs includes many factors: domain age, number of clicks, spam scores, backlinks, etc. These metrics don't affect Google's decision on how high to rank a website in search results. But they are indicative of a website's likely position in SERPs. The higher DA and DR scores, the higher the chances of getting on the first page in Google.
4. The Top Marketing Platforms for SEO
To make it easier to choose the best SEO platform, we've classified them by purpose, but you should keep in mind that this classification is conditional.
Most platforms are «all-in-one» solutions, so explore their features in advance.
4.1. Technical SEO Tools
Sitechecker
Link Extractor By Sitechecker helps you extract URLs, meta tags, and images from a specific web page on your or another site. After scanning, the extracted URLs are displayed in a list format that you can copy for future reference.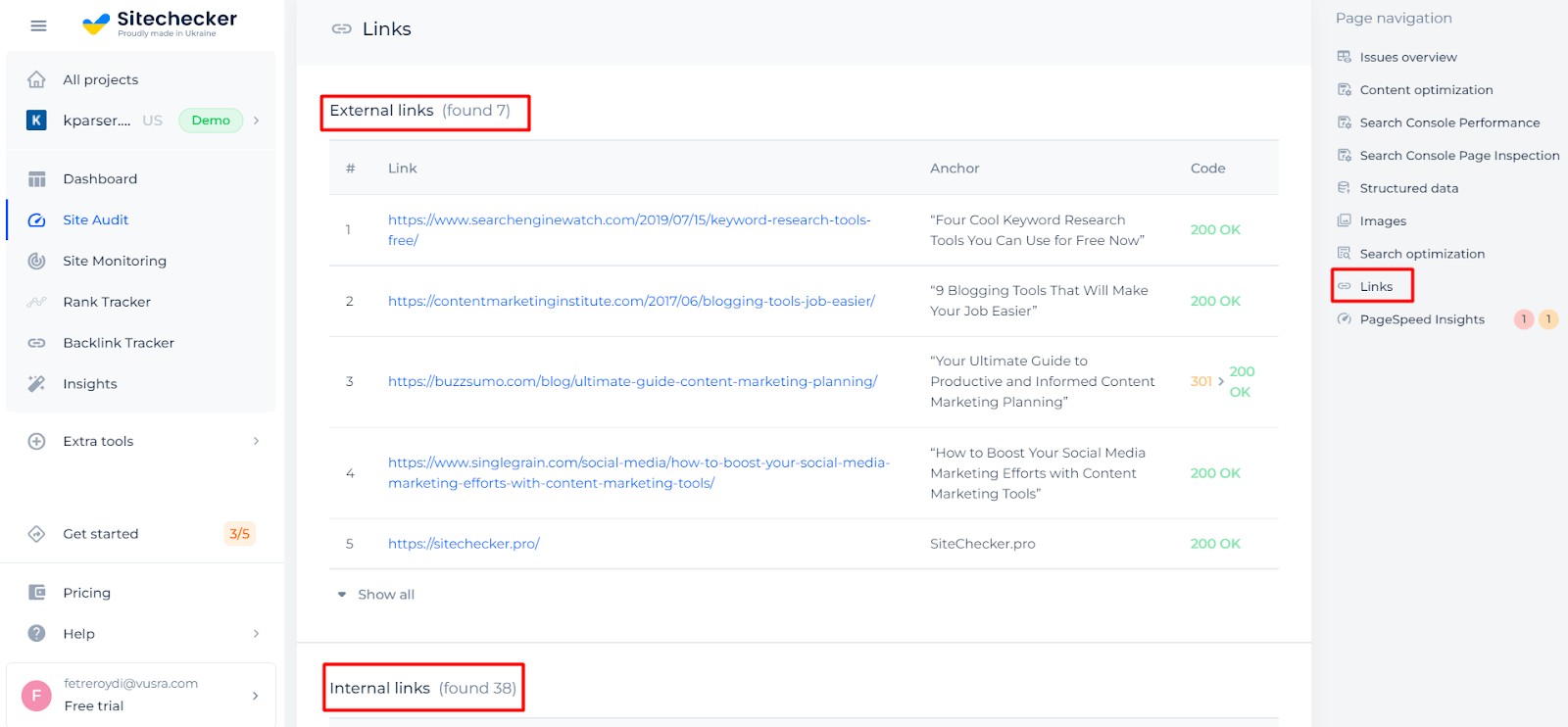 Link Extractor will be able to email addresses and URLs from websites and files. It will start navigating through all the links to extract URLs and domains from websites.
Deepcrawl
DeepCrawl is a dedicated SEO platform for website crawling and technical audits. It contains an ultra-fast web crawler, helps identify opportunities for code improvement, and protects the website from malicious bugs. This service is used by Adobe, PayPal, and IBM.
There are several useful tools on the platform:
Automation Hub protects against problems that can negatively affect traffic or resource profitability. This is important for the development team to be able to test new code.
DeepCrawl Connect allows you to integrate the platform with PowerBI, Tableau, and Google Data Studio tools.
Screaming Frog
Screaming Frog SEO Spider Tool is a well-known web crawler that allows you to quickly and efficiently check websites of any type. Thousands of SEO professionals use it, including those from Apple, Disney, and Google. The service is great if you are not dealing with hundreds of thousands of pages (in such a case, it is still better to use DeepCrawl).
The platform is great for analyzing headlines and metadata, auditing redirects and broken links, searching for repetitions in content, and crawling JavaScript. It integrates with Google Analytics, Search Console, and PageSpeed Insights.
seoClarity
seoClarity is a versatile SEO platform that has no competitors in terms of providing the most comprehensive website audit information with its proprietary Clarity Grid™ technology. Brands such as Samsung, Autotrader, and Expedia work with the platform.
A seoClarity audit includes more than 100 technical website checks, including broken links, 404 errors, and repetitive content. But the platform has solutions for other SEO tasks and problems as well.
Built-in AI and NLP algorithms indicate which content to include, and ranking analysis tools allow you to compare 27 SEO metrics with competitors' data.
4.2. Competitor Analysis
SpyFu
The name itself makes it clear that SpyFu is a platform that allows you to track your competitors' activity. It is used by such brands as Adobe, Microsoft, and SalesForce.
SpyFu will show you where your competitors appear online, their popular pages, the keywords they bid on in PPC ads, the amount they paid per click, the number of conversions, and even the ad options they launched. These recommendations will make it easy to increase traffic through both regular and paid channels.
Serpstat
Another all-in-one platform with great competitor tracking features is Serpstat . The interface is available in English, Russian, and Ukrainian, and the developers are a company from Ukraine. The service is used by Uber, Philips, and Samsung.
Serpstat's competitor analysis tools will allow you to identify your competitors' traffic sources and their keywords, track competitors' PPC advertising, analyze their backlinks, and much more.
Overall, the platform is very useful for SEO specialists, content marketers, advertising and marketing departments, and analysts alike.
4.3. Work with keywords
SEMrush
SEMrush is one of the most popular SEO platforms with over 50 integrated tools. For this reason, Amazon, Tesla, and P&G prefer using it.
The platform is included in this section because of its Keyword Magic tool, which gives access to a database with more than 20 billion keywords. It allows you to generate ideas for linked long-tail keywords and niche phrases.
In addition, the platform enables you to analyze website rankings, get competitor traffic data, and conduct an in-depth comparative analysis of domains and offers plenty of other features.
BrightEdge
BrightEdge is another versatile platform that allows you to track website rankings in real-time on search engines and analyze search results on Amazon and YouTube.
One of the most interesting tools on this platform is DataCube, which contains data on more than 3.5 billion keywords and information for five years. This is handy if you want to assess changes in consumer behavior, queries, or search engine results over the past few years.
Searchmetrics
Searchmetrics Suite helps you track rankings, conduct keyword research, and optimize content for better positions in search results. It is used by brands such as Toyota, Karcher, and Lenovo.
The platform will be of particular interest to those who work in global markets and develop marketing strategies for each country individually. Searchmetrics combines machine learning with keyword tracking to monitor search performance across 130 countries and 1,000 locations, for different search engines and device types.
4.4. Tools for checking website positions
Botify
Botify Enterprise SEO is a platform capable of making a detailed analysis of any resource and providing maximum information about every web page. Brands such as Marriott, Glassdoor, and Merkle work with it.
Botify can crawl a website as fast as 250 URLs/second, has a machine learning system that alerts you about potential SEO threats, a keyword tracking tool, and integration capabilities with analytics systems to track 1,000+ metrics.
Conductor
Conductor combines search and content marketing technologies. The platform is trusted by brands such as SAP, Ticketmaster, and Citibank. One of the company's offices is located in Kyiv.
One of the greatest strengths of the service is reporting. It is by far superior to competitors, starting with the «SEO news feed» with search statistics and ending with the possibility to easily share organic search statistics with the team and a wide range of functions for exporting data.
4.5. Link monitoring tools
Ahrefs
Ahrefs is a multi-tool SEO platform that, apart from keyword research and website auditing, helps determine backlink opportunities by analyzing domains linking to your resource and ranking them by domain authority.
The platform is also suitable for competitor analysis and collecting analytics on content in a certain niche. It is one of the most famous and user-friendly platforms.
Moz Pro
Moz Pro tools help analyze keywords, track search engine rankings, crawl the website to find errors, and perform quality SEO optimization of pages.
Among the newest tools is Link Explorer, which is indispensable for backlink analysis and tracking donor website rankings. It also allows you to track competitors' backlinks.
5. What to Pay Attention to When Selecting a Platform?
You should take a few essential steps to select the platform that will best meet your needs among the variety of options.
Create a list of basic needs (functions). How many keywords do you need to monitor? Do you need to track competitors, different locations, and devices?
Analyze which features are missing from your current SEO tools and which needs can be covered by free services.
Determine the budget you can spend on SEO platforms. You should share this figure with your service providers to select a package that will best meet your needs.
Think about who else in the company will be using the platform or its reports. How many people will have access to it? Often, the cost of the platform depends on the number of users.
Make a list of necessary integrations — software with which the platform will interact via API.
6. How Much Does a Subscription to SEO Marketing Platforms Cost?
Please note that the cost of SEO platforms directly depends on the number of users who have access to it and the supported features.
Some services provide prices only on request, while others, such as Conductor, can offer you the best package depending on the features you need.
| | | |
| --- | --- | --- |
| SEO Platform Name | Cost | Additional Information |
| Deepcrawl | starting at $89/month | – |
| Screaming Frog | starting at $209/year | free version with limited functionality |
| seoClarity | starting at $750/month | 50% discount on the first month |
| SpyFu | starting at $33/month | – |
| Serpstat | starting at $55/month | – |
| Semrush | starting at $120/month | 7-day trial period |
| BrightEdge | prices on request | – |
| Searchmetrics | starting at $69/month | – |
| Botify | starting at $569/month | – |
| Conductor | prices on request | – |
| Ahrefs | starting at $83/month | many free tools |
| Moz Pro | starting at $79/month | 30-day trial period |
Keep in mind that in most cases, an annual subscription to the service allows you to save 20% or more compared to a monthly plan.
7. Conclusions
Many factors affecting the choice of an SEO platform were not discussed in this article: compliance with international ISO/IEC standards for data protection, encryption, the possibility of customization of business processes, the availability of integrations, the prospects of scaling, etc. But even the provided information will be enough to select the platform that will help you effectively focus your efforts on SEO for your resources.
We would be grateful if you find an opportunity to share information about SEO platforms you already use and what you like about them in the comments.