How to Get High-quality Backlinks to Boost SEO in 2023?
Google's ranking algorithm was initially based on PageRank. Since then, the search engine has updated its page ranking system many times, but linking factors will continue to be among the top indicators in 2023.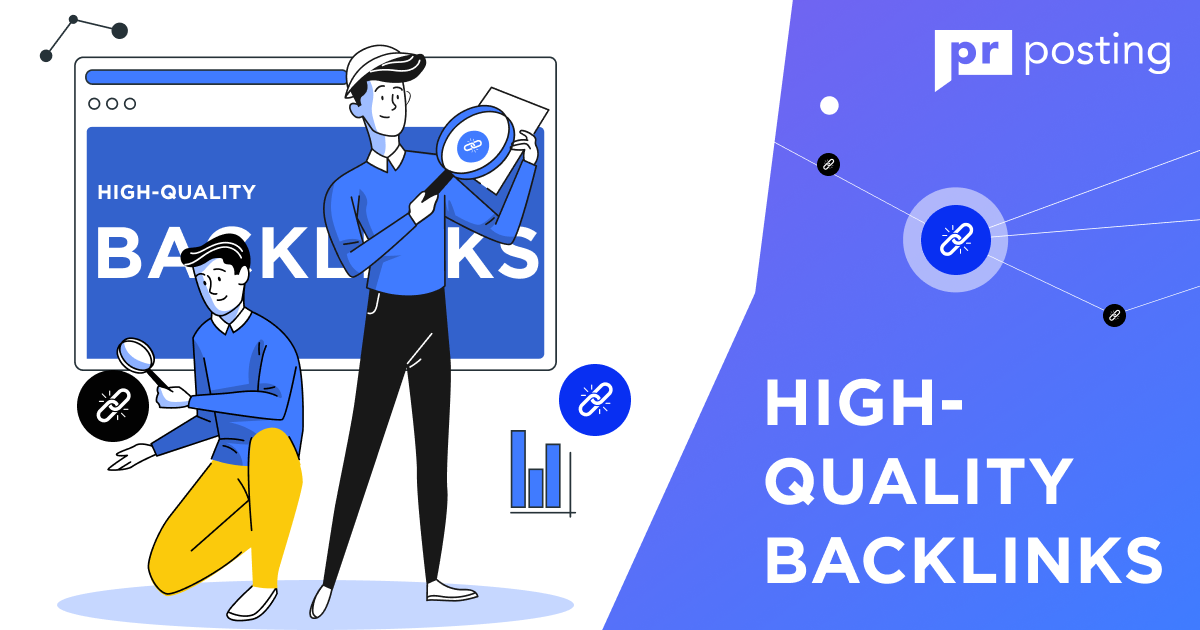 High-quality backlinks help a site rank high for relevant queries. If a page's ranking in the eyes of Google's algorithms is consistently high, and there is a majority of such landing pages on the site, the project can attract a large amount of targeted traffic.
To assess the quality of links, search algorithms use their own formulas, but it is known that it is the naturalness of links and the selection of optimal link attributes that affect rankings. If the profile of the site includes only dofollow links, it may eventually get penalized.
1. What Are High-quality Backlinks?
The concept of a high-quality link is very vague, and every optimizer interprets it differently. Google is constantly improving its algorithms to minimize the role of links and distinguish natural links from sponsored ones.
A quality link is one that appeared on its own. Or looks like a natural one, is posted from a relevant donor site, and is properly integrated into content. It is such links that contribute to the effective promotion in any niche.
It's safe to say that by 2023, Google has learned to distinguish backlinks that appeared naturally from paid ones. Therefore, site owners should pay maximum attention to anchors and the relevance of donor sites.
Not all webmasters know how to get quality backlinks. However, this is one of the main ranking factors. Therefore, much attention should be paid to working with sponsored links.
Proper use of internal links also affects the site's future operation, but this task can be completed in one step, and the profile must grow on an ongoing basis. It is necessary to cover relevant donors as much as possible and make sure backlinks are maintained on pages.
There are a lot of link-building strategies. Some webmasters copy the approaches of competitors, while others are constantly looking for new sources of quality backlinks. Regardless of the chosen method of promotion, the result should be the same — a steady increase in profile.
The results of numerous studies by independent analysts and SEO services indicate a clear link between the authority of a domain's link mass and positions in Google. The more quality donors link to the site, the higher its chances of getting good visibility in the niche.
1.1. How do search engines see links?
Beginner webmasters often think that it is necessary to focus on quantity rather than quality. This is a losing tactic that can lead to penalties and increase the payback period of a project.
You should forget about numbers and focus on the quality of donors. A comprehensive assessment of sites before posting links will help build a natural link profile and gain protection from the attention of Google algorithms.
In some niches, it's difficult to get high-quality backlinks because of the specifics. Non-standard link-building methods like PBN or tiered link building can help. The main thing is to make the profile look natural and grow steadily.
There is no information about a strict classification of link quality from the search engine in the public domain, but it can be assumed that links are of three levels:
The task of the site owner is to make sure that there are as few low-quality links as possible. They often appear regardless of the desire of the webmaster, but it is possible to deal with them with the help of Disavow Tool.
Most likely, search algorithms evaluate backlinks based on a range of factors. The more points the link scores on various criteria, the higher its final ranking will be.
Beginner webmasters should remember that Google opposes any schemes that violate SEO guidelines. Sites with suspicious activity can be subject to manual actions or algorithmic filters. Therefore, it is important to take measures that will help protect against penalties. The problem can be solved by covering all available sites and building a natural profile. The link mass must not include mentions from sites of the same type and the same attributes in the source code.
2. How to Get High-quality Backlinks in 2023?
Getting quality backlinks is one of the top priorities for website owners in any niche. The more relevant donors you manage to cover, the higher your chances of getting high positions for all queries from the list of semantic keywords.
In niches with limited opportunities for link building, you can use alternative link-building methods and outrank competitors who pay attention to on-page SEO rather than external optimization.
It is necessary to build up link mass comprehensively and not focus on one link-building method. Links from reputable corporate websites can significantly affect the visibility of the project, but the link profile should not comprise 100% of such links.
2.1. Develop a content-writing strategy
Quality content helps to get backlinks from web resources that do not post them on a paid basis and do not make financial profit a priority. For example, to post a link on a Forbes-level website, you need quality content or an interesting newsbreak.
Some webmasters actively use social media for getting backlinks, but such mentions are only suitable as a supplement for link mass. They have little or no effect on organic search rankings; so, you can't do without high-authority backlinks.
Content with a viral effect is distributed rapidly on the Internet. Just invest a little money in advertising at the beginning and watch the growth of organic coverage. But you can't get a guarantee of «virality» because this aspect depends on a large number of factors.
2.2. Try guest posting
Guest posting is among the most popular link-building methods. If you create non-standard content and offer it to sites that accept articles from third parties, you can get a lot of mentions from quality resources.
Some projects accept content in exchange for links without asking you to pay for posting articles. To publish content and not waste money, you need to follow the rules of each site and make changes when you get comments from the editorial board.
There are many listings of guest-posting sites on the Internet, but most of them are not suitable for active link building. If the resource is minimally moderated, and any webmaster can post a link to a project, it is worth carefully analyzing the quality of the potential donor site.
2.3. Get links from influencer blogs
Some projects boast an active audience that is happy to comment on articles and provide the site with good behavioral factors. If the topic of such a web resource corresponds to the niche of the site under promotion, it is definitely worth cooperating with it.
Links to a domain with high authority, which can also generate targeted traffic, are more valuable. Webmasters often argue about whether search algorithms evaluate backlinks by the number of clicks, but in this case, this factor is irrelevant.
Targeted traffic is always useful, even if the link doesn't get a higher priority than others due to it. Cooperation with opinion leaders can be highly beneficial, but it is necessary to find your own work strategy.
Influencers are usually interested in quality content and sponsored posts. If you offer them these two perks, you can expect a successful partnership.
2.4. Increase activity in online communities
Researching semantic keywords for a project on any topic is a complicated and time-consuming task. It is difficult to motivate users to register and visit the site regularly even if you have interesting content.
If you can't actively increase the number of regular visitors to the main project, you may publish content on other resources with a relevant audience. Reddit, Product Hunt, and other major projects are usually utilized for this purpose.
Promotion via online communities helps the site gain visibility in search engines faster through increasing mentions and good behavioral factors. If you manage to get considerable coverage on a particular site, it is worth maintaining activity on an ongoing basis.
2.5. Analyze your competitors
In almost every niche, there are major competitors who occupy a large part of the market and get a lot of organic traffic. Sometimes, to outrank them, you need to use a similar promotion strategy and supplement it with your expertise.
One answer to the question of how to build quality backlinks is to analyze the competitors that have developed recently. It is necessary to monitor the situation in the niche and pay special attention to the sites with the highest organic visibility growth.
It is useful to analyze competitors' sites, but it is impossible to determine the key growth factor with confidence. For example, if a project has increased traffic by 2 times, and the SEO analysis service indicates a clear increase in link mass, it does not mean anything.
The site may grow due to on-page SEO. Then, investing only in links will not work. To achieve success, you need a comprehensive approach that will cover all the important factors.
2.6. Use email outreach
Email outreach is one of the most effective marketing tools. To use it, you need relevant experience and services to automate routine tasks.
Projects that post guest articles on a regular basis or integrate sponsored links into content don't always put financial gain first. Therefore, an email offering cooperation may go unanswered for a long time.
Before you use email marketing, you need to create a strategy and remember to personalize emails for each potential partner. If you use template newsletters, the effectiveness will be low.
Email outreach may not produce the desired result. To get links from reputable web resources and ensure their maintenance, buy them on the PRPosting exchange. There are more than 44,000 sites for different niches, countries, and languages. In a personal cabinet, there are filters for easy selection of donors by link metrics, cost, and other criteria.
3. Essential Features of a High-quality Link
Some site owners post links to their project on all available sites and do not filter out potential donor sites. The approach cannot be considered effective because mentions on outdated resources are of little use.
Even a few links from spam sites may negatively affect the visibility of pages of the site under promotion in organic SERPs. Therefore, you should carefully check the quality of every donor site before posting links.
Remember that over time, even the highest quality project can stop working. And the backlink will disappear with it. To be aware of the events, you can use services to monitor backlinks. For example, Monitor Backlinks copes with this task perfectly.
3.1. Page authority
The authority of the landing page is a conditional value, which determines the rating of the URL in the context of a particular site. Many optimizers know that the home page has the greatest value. That's why sitewide links are highly valued, but if used incorrectly, they can be harmful to the site under promotion. It's better to follow a time-tested link-building strategy and avoid taking any risks.
Signs of an authoritative page:
useful content;
availability of traffic;
minimal number of outbound links;
1-2 clicks from the home page.
If a site representative offers to post backlinks on a resource page for a minimal cost, don't agree right away. Such links can be useful but only if the donor does not have a high spam rate.
3.2. Website authority
Site authority comprises a large number of factors. It is possible to determine the value of the site in the eyes of Google algorithms based on its visibility in the search engine. If a potential donor site has stable traffic and a good reputation, you can build links with it.
In a perfect world, every site's backlink profile should include links from reputable web resources only. It is difficult to achieve such a result, and there is no guarantee that this will help generate the maximum amount of traffic.
Google algorithms automatically disavow the majority of spam links; so, competitors that use unfair methods to gain high positions in search results usually don't achieve the desired result. And this means that there may be not only authoritative donor sites in the profile.
3.3. Anchor text
An anchor text is important to users and search engines. Google algorithms use anchor texts to better understand the content of an external resource page and assess the naturalness of the link.
If the anchor text does not match the page content, search engines can mark it as artificial, and the money paid for the link will be wasted. Therefore, the anchor should be natural and match the intent of the page as much as possible.
For informational and commercial projects, it is necessary to use different anchor texts. The more anchors of different types are in the profile, the lower the risk of search engine penalties.
3.4. Website relevance
Webmasters often ask how to get good backlinks for SEO and focus only on the metrics of potential donors. However, a more significant factor is site relevance.
When Google representatives talk about what links algorithms consider paid, in most cases, it's about relevance. If there is no thematic relationship between the donor and the recipient sites, it will be difficult to convince the search engine of the naturalness of the link.
3.5. Matches
The intent of the donor site's page affects the quality of the backlink. For example, if we are talking about the promotion of a site about smartphones, and the link is posted on the site about pets, this will seem suspicious.
A niche match ensures the naturalness of linking and prevents search engine algorithms from suspecting sponsored links. Therefore, website owners should pay attention to the selection of relevant donors.
3.6. Other important features
Every webmaster has a different approach to selecting sites for links, but Google is the leading search engine worldwide. Therefore, everyone has to adjust to ranking algorithms, regardless of the niche of the project.
The main criteria for a quality link:
naturalness;
authority;
relevance.
If you ignore these criteria and evaluate the donor site only on the basis of points it scores according to the metrics of various SEO services, you can be subject to penalties rather than gaining high positions in organic search.
It is very important that the site profile includes backlinks with different attributes. Google has been passing juice for nofollow links for several years now, and sponsored and ugc are great additions to the link mass.
Over time, backlinks can disappear from a profile, and that's okay. The main thing is to maintain profile dynamics so that the site does not attract the attention of search algorithms.
4. What Sites Are Best to Get Links from?
The answer to this question is not so simple. According to the basics of search engine optimization, backlinks should be posted on reputable resources, which are consistently ranked high in their respective niches.
But the problem is that the ranking of even the most high-quality project can decrease over time. And there is no way to affect this. Therefore, you should carefully select donors and get links from resources that are not going to be closed in the near future.
The quality of the site is a relative metric, but when selecting donor sites, you should always do a manual check rather than making a decision only on the basis of the high ranking of link metrics.
Sometimes, link building is hampered by high competition and the fact that reputable projects do not want to cooperate with «young» sites. Quality content marketing comes to the rescue.
Content based on the Skyscraper method is especially popular, which implies a more in-depth revealing of the topic than in existing materials. The author adds several «floors» to the article and gets a higher «skyscraper.»
Articles created using this method are readily accepted by reputable sites, which have high requirements for guest articles. If the article includes an infographic, a checklist, or downloadable content, it can get great organic coverage.
5. How to Check the Quality of the Site?
In every niche, the image of a perfect donor site will be different, but there are basic features that remain unchanged. When developing a link-building strategy, be sure to take into account the age of the site.
For «young» projects, it is important to get as many links from reputable sites as possible. And if we are talking about a resource that has already gained positions and traffic, the requirements on the quality of donors can be slightly reduced.
Even in the most popular niches, authoritative donor sites sooner or later run out, and it is necessary to engage sites for crowd marketing, which have minimal effect on link juice.
Important criteria for the quality of the site:
Good visibility. If the site attracts a lot of traffic in its niche, search engines consider it valuable to users.
Stable dynamics. Even a project with no history can get high positions, but it is much more difficult to keep them on a permanent basis.
Quality content. Resources that are made up of content translated through services are not quality donors.
Relevant audience. The link should not only pass juice but also generate targeted traffic to the recipient.
Absence of spam. If every page has at least 5-6 outbound links, it is better to refuse cooperation with such a project.
To assess the quality of each site, use a set of factors. A focus only on link metrics or traffic volume will not allow for a comprehensive analysis. And then, the pitfalls may go unnoticed.
Once the site begins to acquire backlinks naturally, there is no way to control the quality of all new donors, but this is unnecessary. And when you post links on your own, you must focus on quality in the pursuit of a few extra mentions.
If you cannot find authoritative donors to use commercial and branded anchors at the start of the project development, take advantage of link exchanges. They allow getting links with minimal effort.
6. Conclusion
Anchors are the weak point of many projects. For a link profile to look natural for algorithms and the latter have no need to check all links, it is essential to be careful.
At the start of the site promotion, you need to create an anchor list and change the ratio of different types of anchor texts if the focus shifts a bit during project development. Over time, natural backlinks will begin to appear, which should be supplemented with links from reputable projects.
FAQ
What are high-quality backlinks?
They are links from sites that Yandex and Google consider high-quality, authoritative, and worthy of audience attention.
How to get high-quality backlinks?
Create content using the «Skyscraper» method and distribute it to one or more projects. The better the content is prepared, the higher the chances of negotiating a deal with an authoritative resource.
Where to get quality backlinks?
First of all, it is worth focusing on projects that are very similar in topic. When you manage to cover the maximum number of sites, you can move on to sites on general topics.
How many quality backlinks are needed?
It is difficult to determine the exact number. If your competitors are regularly adding 20 quality links to the profile, it is preferable to get more backlinks. It all depends on the characteristics of a specific niche.