What Are Cheap Backlinks and Is It Worth Buying Them in 2023?
Backlinks are some of the strongest signals for search engine ranking algorithms. The latter ones oppose all link exchange schemes and unnatural backlinks, but this does not mean you should reject link building.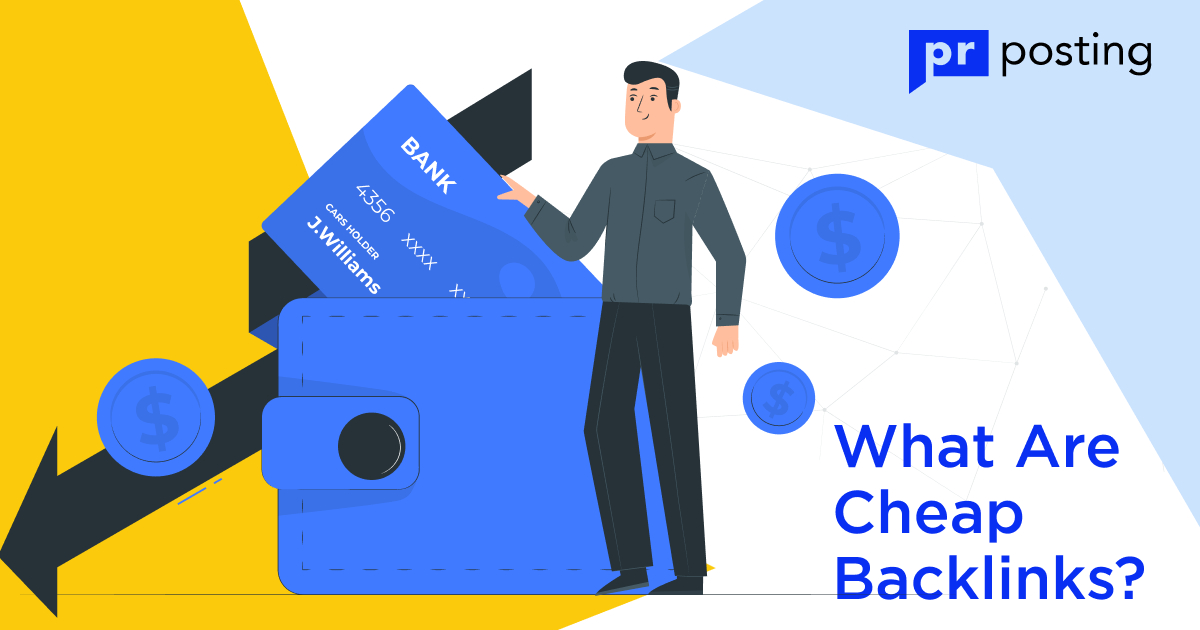 Every link has juice and cost. High-authority sites sell backlinks for hundreds and thousands of dollars, but if the webmaster has a minimal budget for promotion, such resources may not be affordable.
1. What Are Cheap Backlinks in SEO?
Cheap backlinks have a minimal cost and are usually posted on projects with low authority. For example, these can be backlinks from social media, which have almost no effect on ranking.
The attitude to cheap links among webmasters is ambiguous. There is an opinion that they can prevent successful site promotion on Google. Everyone knows that the search engine values quality backlinks and pays a lot of attention to fighting spam links.
Novice optimizers should keep in mind that not every cheap link is bad by default. It all depends on the features of a particular project and its approach to posting backlinks to advertisers' sites.
1.1 Links from comments
Backlinks from comments are commonly used for crowd marketing, and they help increase brand awareness. In most cases, they are closed from passing link juice.
Google added the nofollow attribute to combat comment spam. So, focusing your link-building strategy on cheap links from comments is not a good idea. However, if you help users solve problems and add native advertising, you can benefit from it.
1.2 Links from low-quality sites
One of the main tasks of an optimizer is to create a natural link profile so that search engines do not have suspicions about manipulating ranking algorithms.
The profile should contain not only backlinks from reputable resources but also links from less well-known projects. This way, Google algorithms will understand that the resource under promotion does not use only paid links.
It is important to understand that low-quality sites are not doorways or resources with duplicate content. They are projects that do not boast high Domain Authority rates on Moz or Domain Rating on Ahrefs. And overall, they are not leaders in their niches.
1.3 Links from user profiles
Links from profiles on forums, blogs, and other sites are considered spam, but that is not always the case. On high-quality projects, it is often possible to create profiles and post backlinks.
Profile backlinks are often part of a cheap link-building strategy. But in this case, we are talking about resources that are hardly moderated and heavily spammed. Such links can negatively affect the positions of the resource under promotion.
1.4 Links from social media
Links from social media are completely safe because search engines use them to determine brand authority. They have little or no effect on ranking.
Backlinks from social media, with the right approach, can bring traffic and increase project awareness, but the list of their advantages is almost limited to these two aspects. You should not fully reject them because they make the link profile natural.
2. Effectiveness of Cheap Links in 2023
Cheap backlinks in SEO are often underestimated. You can argue about whether it's better to buy one backlink for $300 or 10 links for $30, but you can't answer the question without analyzing the donor's quality.
Quality links from reputable projects increase the traffic of the promoted resource and can increase site position in a short time if it has no critical problems with On-Page SEO. But cheap links can also affect search results.
One of the effective scenarios for using cheap links is tiered link building. You can buy several backlinks from reputable projects and boost them with the help of tiers 1 and 2. Few people work with tiers 2-3, although this can yield good results.
Boosting links at different tiers requires a lot of time and additional costs. But thanks to this, the site has a chance to quickly improve positions in organic search results. The more first-tier links, the more will be the volume of backlinks on the second and third tiers.
3. How to Use This Method
The main advantage of cheap backlinks is that they are available even with little or no budget for promotion. It is possible to post 10-20 links from comments at no cost.
Most backlinks will be posted on Web 2.0 resources, but you can find projects of higher quality that exchange links on a regular basis. The main thing is to focus on building a natural profile rather than on ranking.
3.1 Getting Non-Anchor Links from Natural Resources
Anchor links are useful, but in the case of cheap backlinks, they have minimal effect. Therefore, you can focus on non-anchor links, which are considered safe for SEO.
Non-anchor backlinks also affect site position in organic search; so, you should not neglect them. Experienced webmasters recommend a ratio of 30-40% anchor links to 60-70% non-anchor links.
Cheap backlinks are suitable for sites with a minimal budget. But they can be used even if your budget allows posting links on authoritative projects, where a link can cost $1,000.
3.2 Increasing the number of backlinks from quality sites
Tiered link building allows using cheap links to the maximum. If your promotion budget is severely reduced, they will help maintain your profile dynamics at an optimal level.
Links from quality sites are very important for promotion. But sometimes, it's better to get a few backlinks from thematic blogs than have links on a reputable site, the topic of which does not match the one of the resource under promotion.
The growth of the link profile should be smooth so that search engines do not have suspicions about the manipulation of algorithms. The site may have only a few backlinks from Forbes-level projects, but it is better if the number grows every month.
3.3 Link building for sites with low competition
When promoting resources in niches with low competition, optimizers often use link exchanges to get backlinks with minimal effort. This strategy can be applied, but only as part of a broad approach.
In low competition, even cheap links can help in promoting the site to the top positions in search results for relevant queries. The approach should be selected after an in-depth analysis of the situation in the niche and identification of competitors' link-building strategy.
The main purpose of link building is not to post the maximum number of backlinks within one month, but seamlessly increase the number of donor sites and referring pages. Search engines algorithms should see the constant development of the site.
4. How to Make Sure That Cheap Links Are Effective
Each cheap backlink has a different value, and you can't consider them to be equal. When several backlinks are posted on the same site, they may have different effects that correspond to the «power» of the page.
SEO services have metrics to assess the quality of domains and individual pages. For example, Moz offers a Page Authority metric that helps select the most authoritative URL within the same project.
A good link-building strategy implies a focus on domain link metrics, and an excellent strategy should cover other donor metrics. Search engines evaluate link naturalness based on a set of signals.
It is worth paying attention to:
Site relevance. This is the main factor considered by search engines to assess whether links are natural.
Site authority. It is worth treating this factor as a relative value and analyzing metrics using several services.
Page authority. The more «powerful» the page, the more benefits it can bring the recipient.
Anchor text. Search engines analyze anchor texts to better understand the essence of the external resource page and assess whether the link is natural or not.
Text around a backlink. A backlink should be properly integrated into content.
Link position on the page. If the link is hidden in a footer or other areas where it is hardly noticeable, the number of conversions will be minimal.
Links attributes. In the case of cheap links, it's easy to get dofollow links, but nofollow should also be included in the profile.
A number of links on the page. There should be as few outbound links as possible.
Content quality. Google Panda was updated recently, but content quality still affects the efficiency of promotion.
Cheap link building can be beneficial, but should not post links on all available resources. You need to check them through a filter and select donors that are not yet completely spammed and can improve your link profile.
There is no way to make sure that cheap backlinks improve positions because search engine optimization involves complex work. But with the right approach, they can improve the naturalness of link mass.
5. The Best Ways to Get Cheap Backlinks for SEO
The cheapest backlinks can sometimes be more useful than a backlink costing several hundred dollars from a project that doesn't match the resource under promotion.
There are several ways to get cheap backlinks. Each of them has its own features. If necessary, you can use several options at once to get the maximum number of mentions.
5.1 Manual posting
If links are posted manually, the site owner can control the process, from selecting donors to developing a content posting strategy. If the project is designed for long-term promotion, you can hire a link builder and regularly assign tasks to this employee.
There are different ways to get links:
posting blog entries;
publishing comments;
creating user profiles on forums;
adding project cards to directories.
In some cases, site owners post links on their own and spend a lot of time on this. Without relevant experience, the dynamics of the link mass will be minimal, and the number of donors will increase very slowly.
5.2 Ordering services from third parties
There are many specialists on the market who offer outsource link building. They have the experience and resources to build links in large numbers. Therefore, the resource owner only needs to select a service, agency, or freelancer.
When selecting a service provider, you should analyze one's reputation, assess the approach to developing a link-building strategy, and get additional guarantees. Freelancers usually do not conclude an agreement on service provision, but agencies will easily do this.
5.3 Using automated link-building tools
Some services offer automated link building based on specified filters. Algorithms select donor sites independently, but it is worth keeping in mind that without manual analysis, it is impossible to make the right choice. Therefore, it is better to build links yourself or entrust the task to a reliable third party. Services can determine resource authority by link metrics, but they will not be able to check content quality.
The PRPosting exchange offers article posting on 44,000 sites. Clients can order content from professional authors and receive a 100% guarantee of a successfully posted link or refund within 7 days.
In a personal account, there are convenient filters to search for donor sites:
link metrics;
language;
region;
link attributes;
category;
a number of links in the article.
It is possible to automate some SEO tasks, but it is better to build links manually. You can monitor the presence of links on a page using Ahrefs, Semrush, and other services with similar features.
6. Pros and Cons of Cheap Link Building
Cheap links can be beneficial for SEO if you follow basic rules and do not focus on numbers. Backlinks from social media, forums, user profiles, and blogs help build a natural link profile.
There are many sites where you can post a link for free or at a minimal cost, but not all of them are high-quality. Backlinks from reputable projects boost the link juice of the recipient site, while cheaper links enhance the link mass.
| | |
| --- | --- |
| Pros | Cons |
| Link mass dilution | Minimal impact on ranking |
| Good for tiered link building | High spam rate of donor sites |
| Minimal costs | No guarantee that links will be maintained |
| High scalability | Copying of the link-building strategy by competitors |
| Dofollow links | |
| The possibility of delegation | |
7. Final Thoughts
Optimizers often neglect cheap backlinks. However, they can positively affect site promotion in organic search if you do not focus on numbers and maintain stable profile dynamics.
Cheap backlinks should not be associated with spammed resources, but much time will be spent filtering donor sites. One of the main disadvantages is that there is no guarantee that links will be maintained. Over time, they may disappear from the profile.
FAQ