What Is Paid Guest Posting and Is It Worth Doing in 2023?
Link building remains the most important task for website promotion in any niche. The quality of link mass affects position dynamics, time to reach the top, and traffic flow.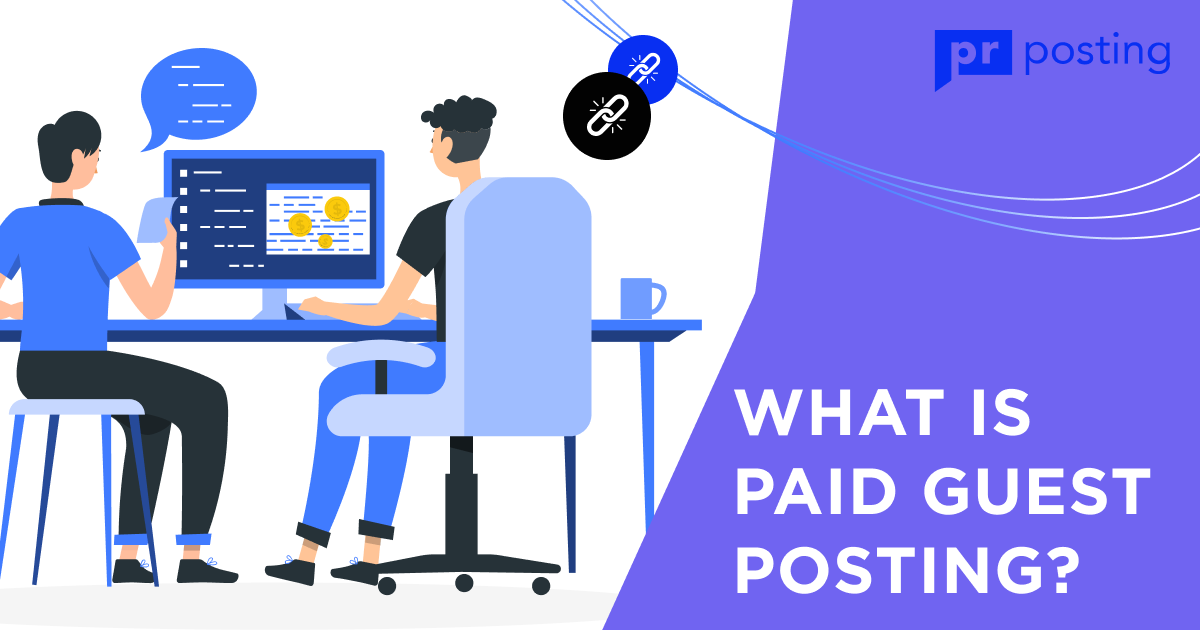 Paid guest posting is among the most popular link-building methods. It helps get links from reputable resources that post content on a paid basis.
Sponsored posts should be high-quality; otherwise, the site may refuse to post links even if you are willing to pay. And irrelevant and poorly written articles can raise the suspicion of search engine algorithms.
1. What Is Paid Guest Posting?
Paid guest posting is the process of posting content on external resources. In some cases, articles are posted free of charge, and it is possible to add a link to your site. And some sites post only sponsored content.
Optimizers have different opinions concerning this link-building method because both donor and recipient sites can be subject to penalties if they use it incorrectly.
If there is no relation between sites, both projects may be detected by Google algorithms. Therefore, to avoid penalties, it is necessary to choose relevant sites and pay maximum attention to the creation of articles with elements of added value.
In some cases, the cost of posting an article is high, but such sites should not be excluded from the list of potential donors. High price serves as a filter that excludes advertisers with a low budget.
2. The Value of Paid Guest Posts for SEO
Even one paid guest post can increase the position of the resource under promotion and attract the target audience. The result depends on the approach to site selection and work strategy.
Projects that post sponsored content on a regular basis are not always interested solely in money. Site representatives often check articles before posting and have high requirements for their quality.
Guest posting is important for SEO because it allows getting links from reputable projects on a regular basis. And the website under promotion can get link juice even if backlinks are marked with the nofollow attribute because Google has been treating the attribute as a hint for several years.
Advantages of guest posting:
Attracting a target audience. Provided that the content is posted on relevant sites.
Quick scaling. If the site profile includes links from authoritative sites, projects of any level will cooperate with it.
Backlinks are fixed on a permanent basis. Sponsorship ensures that over time, links will not disappear.
Social media reach. Sites often make announcements on social media, and the posted article can get into a newsletter.
Increased brand awareness. Some sites attract an audience through guest posting alone.
Websites for paid guest posting are a great opportunity to get quality backlinks and attract a targeted audience. If you use this link-building method correctly, you can steadily increase the number of regular visitors.
3. Google's Policy on Paid Guest Posting
Guest posting is among the most popular link-building methods. Google closely monitors links, analyzes their quality, and decides whether to consider a link natural based on a number of factors.
Google representatives have made numerous statements about guest posting, and each time they have advised optimizers to be cautious. In 2014, Matt Cutts noted that it was worth stopping the use of guest blogs as a method of getting links.
John Mueller was also unequivocal about posting content and links. Backlinks should be marked with sponsored and nofollow attributes. A few years ago, nofollow became a hint, and sponsored is used to mark up sponsored content.
Several years ago, SEMRush launched Marketplace, where it was possible to post links and pay for guaranteed traffic. John Mueller noticed the project and said that such backlinks were artificial.
The SEMRush team created content and posted it on their platform, but Mueller's opinion was unequivocal. Later, the project transformed into a mini studio specializing in article creation, and the dispute was resolved at that point.
The best strategy for a paid guest blog post is to use the sponsored tag. Google doesn't oppose sponsored content, but it doesn't like when paid articles are cloaked as natural.
4. Search for Sites to Post Your Article
Posting links is often a priority goal for site owners. They continuously look for opportunities to get quality backlinks and find them in the form of guest posts.
Google algorithms monitor guest posts closely, and if a site posts them on a regular basis, they may set higher requirements for the quality of the posts.
4.1 Link exchange
Link exchange is the simplest link-building method, which involves the mutual posting of backlinks. It should be used with caution because Google is against any exchange schemes.
Optimizers often spend too little time on anchor text creation and attract the attention of algorithms. When exchanging links, the relation between the donor and the recipient site is essential, as well as content quality because of Google Panda update and becoming part of the main ranking algorithm.
4.2 Blog Networks
Private Blog Networks are used for posting links, but algorithms may consider them spammy because of the low quality of sites. Therefore, to protect against penalties, you can use nofollow and sponsored.
It is worth posting on platforms that are part of a common network only if they at least minimally moderate content and pay attention to its quality. Some projects are created solely for profit, and they are of little use.
4.3 Social media
The possibilities of paid guest posting are not limited to blogs or sites for posting articles. You can post content in communities with a relevant audience and get targeted traffic.
Social media is a source of safe backlinks. They have minimal impact on organic search rankings but are suitable for diluting a link profile. Therefore, they can be used on a regular basis.
4.4 Analysis of competitors' backlink profiles
Your competitors' link profiles reveal a backlink-building strategy. It is worth periodically updating data on links of major competitors to notice changes in time.
One link-building approach involves copying the strategies of successful competitors who steadily increase their positions in search and save them for long.
4.5 Using Google search operators
You can quickly find sites to post content with the help of search operators. The method does not guarantee the coverage of all sites that publish guest posts, but it significantly reduces the time it takes to find them.
Examples of keywords:
keyword «guest post»;
keyword «guest post by»;
«publish guest post»;
«submit guest post»;
keyword «guest article».
Popular sites for paid guest posts are in the public domain. But with the help of search operators, you can find niche resources for publishing content, which you won't see on the first lines of search results.
5. What You Should Consider When Choosing a Site for Paid Guest Posts
Guest posting will only be beneficial if you pay enough attention to check the quality of sites. In the beginning, you need to develop a filter that will help remove poor-quality donors from the list.
If the SEO strategy does not imply generating traffic and leads, you can focus on monitoring the status of backlinks after they have been posted. Backlinks must not be lost over time and be counted as part of the profile.
5.1 Main topic and relevance
Donor and recipient sites should have a common topic. Search engine algorithms pay a lot of attention to this aspect. If a link looks unnatural, both projects may be subject to penalties.
Optimizers often sacrifice relevance in favor of a link from an authoritative project, but it is necessary to remember about Google's policy on paid guest posting. Guest posts are scrutinized, and requirements for them are higher.
5.2 Website metrics
Every webmaster has different requirements for the quality of donor sites. But if content is posted to pass the recipient's link juice, it is necessary to focus on domain metrics.
It is worth paying attention to:
Domain Authority Moz
Page Authority Moz
Domain Rating Ahrefs
the number of outbound links
backlink dynamics
Not every guest posting site is high-quality by default. There is no point in creating content, scheduling publications, and paying for links without verifying the donor.
5.3 Engagement
Blogs accepting paid guest posts don't always boast an active audience. And if the links posted don't generate targeted traffic, they will be useless.
Before negotiating a publication, you should make sure that the audience is actively involved in the discussion of articles and there are regular visitors to the site. Engagement affects the number of conversions.
5.4 Website's spam rate
The spam rate is related to the number of outbound links. If the number of donors of a site decreases over time, but the number of outbound links constantly increases, it is better to refuse posting content.
If the topics of donor and recipient sites match, but the spam rate is high, even a nofollow link can be toxic. Projects that are created for the purpose of publishing guest posts on a paid basis cannot be called a valuable addition to the link profile.
6. Getting Started with Paid Guest Posts
A guest posting strategy should cover all important aspects, from choosing the right sites to creating quality content. If the strategy is not well-thought-out, there will be minimal effect from the guest posts.
Webmasters often wonder how Google finds out if a guest post is sponsored. The answer is simple: poor-quality content posted on an irrelevant site.
6.1 Seeking out opportunities for guest blogging
The first step to successful guest blogging is finding sites to post content. It is important to use as many techniques as possible to cover all relevant sites.
Step-by-step instructions:
Identifying guest blogging goals.
Selecting one or more regions.
Developing a content strategy.
Searching for sites to post publications.
Guest posts are usually published to get a backlink, but it is possible to cover other tasks as well. For example, to expand the active audience of the promoted resource.
6.2 Filtering websites
The effectiveness of this link-building technique depends on the approach to donor site selection. Availability of traffic on the site does not prove its quality; so, it is important to perform a comprehensive analysis.
Step-by-step instructions:
Basic filtering by spam rate.
Analysis of domain link metrics.
Identification of sites with high priority.
If the site is spammed but has target traffic, you can still post on it. But you should be careful and use any available tools to mark up the link: attributes or redirects.
6.3 Studying submission guidelines
Each site has its own requirements for publications. For example, you may need expert comments to post an article, or it is allowed to post no less than 3-5 articles at a time.
Step-by-step instructions:
Analyzing the terms of posting.
Establishing communication with team members if additional information will be required.
Classifying sites according to priority and content requirements.
A careful study of the guidelines saves time and helps you establish contact with site representatives quicker. If they have high demands for content posting, and advertisers often don't comply with the rules, emails can remain unanswered for a long time.
6.4 Cooperation offer
A cooperation offer is the last point on the list of preparatory steps. The possibility of further cooperation depends on the approach to the formulation
Step-by-step instructions:
Search of contacts for sending the letter.
Site analysis to define its features
Drafting a personalized email template.
Interaction with the site representative before approving the publication.
It is not necessary to write a clickbait email subject, but it should reflect the essence and not look like a template. Then, there is a chance that the editor or another person in charge of guest posting will respond to it more quickly.
6.5 Content preparation
If the site does not have specific requirements for guest posts, it is still worth paying attention to the quality of the article for posting. Audience engagement and the chance of getting targeted traffic depend on this.
Step-by-step instructions:
Analyzing effective posts.
Determining priority topics.
Proper integration of links into content.
Posting an article and waiting for moderation.
Content should be prepared by a specialist who understands the subject and has extensive experience in creating guest posts. If this person has previously cooperated with the site, he/she will be able to quickly prepare an article.
6.6 Editing and mailing articles
Do not expect that the article will be approved immediately. Sites with quality content do not publish poorly prepared articles and may return them for revisions multiple times.
Step by step instructions:
Requesting more information about the reasons for rejecting the article.
Revising content according to comments.
Resubmission for moderation.
Some sites allow publishing content that was previously posted on other resources. This can save time, but duplicate content attracts the attention of search engines. Therefore, do not post it on a large number of sites.
6.7 Tracking results
After posting an article, work with guest posts is not over. You should not forget about content and monitor only the presence of a link in the profile. If the site has an active audience, you should work with it.
Step-by-step instructions:
Tracking comments.
Interacting with users.
Identifying sites with high performance.
After the first series of posts, you can identify the most successful projects and work with them on an ongoing basis. They can help significantly increase the audience of the resource and reduce dependence on search engines.
7. Free vs. Paid Guest Posting
Webmasters who haven't worked with guest posts before often ask where to find paid guest posts to see their design and copy successful approaches. The problem is that many projects hide sponsored content to avoid the attention of search engines.
You can distinguish paid guest posts from free ones by a number of features. Some sites have a mark for sponsored materials, but this is an exception to the rule. You need to pay attention to the project format, the number of posts, and content features.
| | |
| --- | --- |
| Free guest posting | Paid guest posting |
| 1-2 links per article | More than 2 links (optional) |
| Basic tools for content design | Advanced tools |
| Editors do not take part in article preparation | Editors actively participate in article preparation |
| No sponsored post checkmark | Sponsored post checkmark (optional) |
| No link retention guarantee | Link retention guarantee |
| | |
8. The Best Sites for Paid Guest Posting to Check out in 2023
There are many sites for posting content in the sponsored guest posting market. But if the site under promotion operates in a specific niche, there won't be many opportunities for article posting.
Most reputable projects that publish paid guest articles on a regular basis have high link metrics. That is why these resources are in high demand.

There are many lists of sites for paid guest posting on the Internet, but most sites cannot be considered high-quality. They were created specifically for posting links.
On the PRPosting exchange, there are more than 44,000 donor sites that post guest articles and boast good link performance. Below are 10 quality sites with Domain Rating exceeding 60.
| | | | | |
| --- | --- | --- | --- | --- |
| URL | Domain Authority (Moz) | Domain Rating (Ahrefs) | Topic | Cost, $ |
| github.com | 96 | 95 | general | 78 |
| behance.net | 92 | 94 | general | 78 |
| bloglovin.com | 93 | 90 | general | 21 |
| crowdfundinsider.com | 71 | 77 | business | 1 644 |
| 60secondmarketer.com | 53 | 71 | marketing | 214,5 |
| activistpost.com | 73 | 70 | finance and business | 780 |
| artcreative.me | 29 | 70 | general | 59 |
| wpaisle.com | 37 | 70 | Internet | 186 |
| mscareergirl.com | 46 | 65 | jobs | 143 |
| deer-digest.com | 28 | 64 | general | 107 |
9. Final Thoughts
Paid guest posting is a great method of building backlinks, which also helps attract a relevant audience to the site and increase brand awareness.
Optimizers often ask how much paid guest posts cost. Data in the table above indicate that you don't always have to pay several thousand dollars for them.
To successfully post guest articles, you need to select relevant topics and pitch the content to convince site representatives to publish it. Quality content can help reduce the cost of posting.
Frequently Asked Questions
What is paid guest posting?
Publishing content on sites that post articles on a paid basis and allow integrating backlinks into them.
Do paid guest posts affect SEO?
If backlinks don't look artificial, and the content matches a site's niche, guest posts can increase a site's position in organic search.
What's the difference between paid and free guest posts?
The major difference is that with the latter ones, a webmaster receives no guarantee that links will be retained. The article can be removed at any time, and backlinks will disappear.