An Ultimate Guide to Content Marketing in 2023
Companies that actively expand business operations in different niches use content marketing to attract an audience, build long-term relationships with customers, and stay competitive.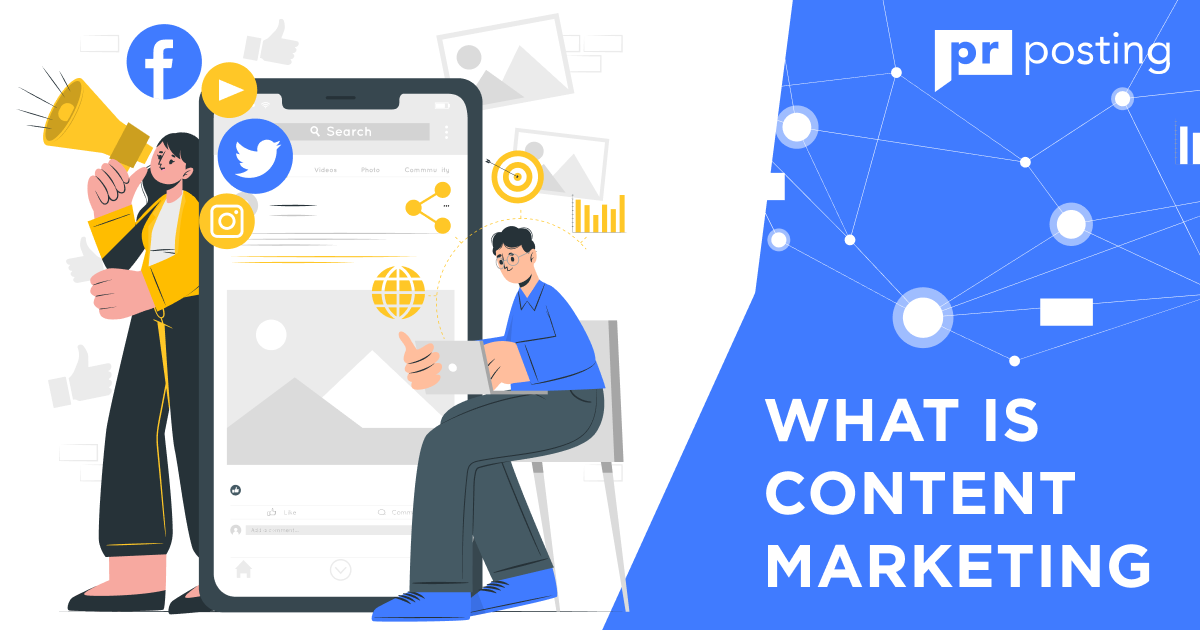 Many brands create content regularly, but not all of them succeed in this field. The effectiveness of using a marketing tool depends on the approach to building communications with the target audience.
If you want to create an effective content marketing strategy, you need to keep in mind the company's global goals while also addressing current issues — this is how you will gradually achieve the desired result.
1. What Is Content Marketing?
Content marketing is a promotion strategy aimed at sharing different content types. The content is created to improve brand image and attract targeted traffic.
The main objectives of content marketing are almost always the same, regardless of the company's niche. You can achieve them and build up a community by sharing posts on social media or doing Internet marketing on niche websites.
Every website has specific sources of traffic, but all specialists engaged in brand promotion are interested in increasing the number constantly. You will need quality products or services strengthened by competent marketing to encourage re-engagement.
You can attract organic traffic by relevant keywords via content marketing. It is difficult to gain good visibility for high-frequency queries in highly competitive niches. Regular publication of useful content gradually helps you achieve the goal.
Brands use different approaches to building a content marketing strategy, but there are always recurring aspects. For example, you can't do without analyzing audience needs. If you skip this step, further efforts will be pointless.
A content marketer must have extensive experience and the necessary knowledge about the needs and features of the brand's target audience.
Companies that depend on customer experience need to be consistent in holding the service bar high. If there are no problems with this aspect, you can proceed with content marketing without worries that the attracted traffic will not repay the expenses.
1.1. How It Differs from Other Types of Marketing
Content marketing can attract many targeted users, with some of them willing to pay for products or services. You have to establish a connection with the audience and make them want your product.
Commercial companies often develop brand language that many users do not perceive. Even the most effective storytelling, promotions, and other tools employed to attract attention are useless in such cases.
The main difference of content marketing as a way to form a loyal audience is that it can be used in any niche. For example, some companies do not find TV or radio advertising effective. However, regular content distribution through different channels can yield results quickly. This is possible only if a company uses newsbreaks wisely and integrates its products or services into them natively rather than just publishing several articles a week.
Content can be promoted via paid channels. They allow for testing different hypotheses and finding effective approaches to working with an audience. Network technologies provide maximum audience reach, and behavioral targeting lets you customize ad displays based on user activity.
2. Who Uses This Type of Marketing?
Content marketing is a flexible promotion tool that can be used by companies of any level. Recognized brands can also attract new users and get loyal customers, but the return can be higher for new projects.
Many offline companies began to actively develop their businesses online in 2020 and faced difficulties with building content marketing competently. It requires not only an experienced specialist and money for advertising but also constant monitoring of the situation in the niche.
Some brands effectively use newsbreaks and deliver the right idea to the target audience. Users learn to interact with content regularly and become more interested in products or services.
Many companies focus on formulaic content marketing plans. Nevertheless, you are not recommended to apply them in 2023. Users like that brands have become frank and are not afraid to make jokes and admit their mistakes.
Some commercial organizations use various content formats and develop a unique style that makes it easy for them to stand out from their competitors who have a conservative approach.
2.1. B2C
B2C is a mode of interaction where ordinary people are end consumers of products or services. They have problems and tasks that they want to solve with minimal losses.
B2C marketing has changed a lot in recent years, and it's fair to say that this is a time of experimentation and bold decisions. While companies were hesitant to interact with followers on social media in the past, many brands communicate with their target audiences as equals today.
Companies publish memes, exploit newsbreaks, and always stay up to date. Users have begun to treat brand accounts as a source of useful and entertaining content.
Everyone needs a content marketing plan, but it definitely shouldn't be formulaic. Scheduled posts of different formats come in handy to avoid getting lost in the flow of content. The audience's needs and a unique style that can't be copied should come first.
Competent B2C marketing allows you to gain a foothold in a certain niche and outperform competitors who do not use all the benefits of content marketing. If your main competitors just announce new products and do it irregularly, it's easy to beat them.
2.2. B2B
B2B is a pattern of business relationships between companies. Ultimately, ordinary people can buy goods or services, but only from brands. For example, a manufacturer of display matrices sells them to a company that assembles finished products and distributes them under its brand name.
Content marketing aimed at businesses works similarly to B2C, but its focus areas are slightly different. Formats of interaction with the target audience differ as well. However, overall goals are roughly the same — if a company uses one-size-fits-all approaches, the effectiveness will be poor.
It is difficult to overestimate the value of content marketing for B2B. With the help of webinars, presentations, round-table discussions, and Q&A sessions, companies can attract potential partners and gradually transform them into loyal customers.
Organic channels can be used for content promotion. For example, you can use search engine optimization to gain high positions in SERPs or run an advertising campaign in Google AdWords and achieve a steady flow of leads at an optimal cost.
You should not expect high effectiveness when approaching B2B marketing conventionally. Company representatives and end consumers of goods or services have different approaches to content, but both groups keep an eye on trends and like non-standard approaches.
3. Benefits and Value of Content Marketing
Users are tired of annoying and theatrical ads. They have long developed «banner blindness,» and even a high budget spent on paid ad distribution channels won't solve the problem.
Unlike paid advertising, content marketing is a long-term investment. If a brand spends time on A/B testing and determines the most effective formats, it can use them on an ongoing basis.
Advertising has a short-term effect, and the results can't be predicted with high accuracy. The flow of targeted actions can end quickly if the competition at the auction is high.
Content marketing metrics are used to evaluate the effectiveness of a strategy developed for interacting with audiences through content. They allow you to test different scenarios of interaction with your audience and get a detailed report with useful data.
The benefits of content marketing are tangible only if you use it correctly. Don't focus on sales metrics because audience loyalty is also very important.
3.1. Increases sales
The main goal of any commercial brand promotion is to steadily increase sales. The task is unlikely to be accomplished from the first days of content distribution, but the conversion and the number of new customers should increase with the growth of awareness.
You can solve important problems with the help of content marketing. For example, if the average bill remains low despite your efforts to improve service, you can make a series of posts and tell customers about the benefits they will get.
A properly organized purchasing funnel and strong partnership with every customer help keep sales at a high level. In this case, you don't have to experiment with CTAs and invest heavily in advertising channels every day.
3.2. Less intrusive than traditional advertising
Traditional advertising has long ceased to be effective. There are occasional good examples of ads on radio, TV, and the Internet, but they are few and far between. Users click on search engine ads, but content marketing can generate many more conversions.
Keep in mind that many users install ad blockers and don't see ads promoting products or services. Therefore, content marketing remains virtually the only effective communication tool.
You can find ways to bypass AdBlock, but it is better to spend time searching for effective content formats and apply them permanently. You can then reduce advertising costs and keep the number of leads at the right level.
3.3. Increases brand awareness and recognition
All content marketing tactics are somehow related to brand awareness. Even the most famous companies like Tesla or Microsoft occasionally need to draw attention to their products or services.
Thanks to their established credibility, they can sell products without any effort, but they can get the most out of their promotional strategies with proper marketing. For example, Tesla presentations attract as much attention as similar Apple events.
Visibility is a relative metric, which is difficult to assess. So, it's important to focus on ensuring that the majority of your target audience is aware of the brand's products or services. And whenever the need arises, they will think of your company first.
3.4. Increases ROI
Content marketing doesn't always yield results immediately after launching active promotion. It's a long-term investment that can pay off over many years, and you have to realize that.
You cannot always combine ROI and content marketing solutions in the usual sense. But if you take the right approach, you can enjoy pay-off faster and spend less money on promotion via paid advertising channels.
You can increase income from content distribution by expanding the number of sites where the brand is active. SMM helps reach a wide audience, but there are other sources of targeted traffic.
3.5. Provides a flow of followers on social media
Social media has long been the main channel of interaction between brands and consumers. Not all companies promote themselves on social media successfully, although these platforms are perfect for distributing content.
To get a steady flow of followers, you need to increase brand awareness and make users long for content on a regular basis. If posts are published once every 2 weeks, traffic will be lower than if they are posted regularly.
The engagement of followers rather than their number impacts the effectiveness of social media content marketing. Some brands managed to create a cult around themselves and make users comment on every post. This is the global goal of all commercial companies.
4. Main Types of Content Marketing
Different content types and formats can be used to sell products and services or interact with other businesses. For example, if a company sells travel services, it is not limited to distributing only training webinars. It is possible to use other approaches and find several optimal options based on testing. If you focus on one strategy and refuse to experiment, the effectiveness of your marketing efforts will be poor.
You should use several content distribution channels to increase the target audience coverage and deliver news steadily on the platforms the users find convenient.
4.1. Content marketing on social media
Billions of people worldwide use social media platforms every month. It's a perfect channel to distribute information about any kind of product and service. If you comply with their T&C, you can constantly generate a flow of new followers.
The myth that users do not take information from social media seriously has long been debunked. Some companies sell only through social media without utilizing other channels.
Social media platforms have transformed the way commercial companies treat content marketing. Users began to actively interact with the pages of different brands, and when the companies implemented the same strategy, a new reality has emerged.
4.2. Infographic Content Marketing
Not every list of content marketing tips mentions infographics. Not all brands share statistics with their target audience, and they miss a lot of opportunities.
Users love interesting facts and can share them online in less than no time. For example, if Apple produced 10 million smartphones in a year and replaced 3 million devices for free, this information is worth sharing.
The brand of this scale is well-known to everyone, but a good newsbreak will still be useful. The number of sold devices confirms the company status, and the volume of free replacements indicates that the brand's products are worth the high price.
4.3. Blog/written content marketing
Not all companies have blogs on their websites, but you can use external platforms with a target audience. You just need to invest in regular content creation instead of spending money on SEO or contextual advertising.
Brands that produce goods or services suitable for a wide audience should not get scattered throughout hundreds of sites. It is better to choose a few platforms of the highest quality and regularly interact with their audiences.
You can run a blog on your site, but users will wait for regular posts. And the company will not meet their expectations without properly optimized content creation and distribution.
4.4. Podcast content marketing
Podcast content marketing delivers value because brand representatives can establish contact with an audience and introduce it to product or service features in more detail.
Not all companies use podcasts, although it's a great tool for introducing users to corporate culture, philosophy, and news. You need a charismatic host and a cool concept to get the most out of the audio format.
Few people will listen to podcasts to hear boring news. We have mentioned earlier that a company's statistics show the scale of its work, but in the case of the audio format, you shouldn't just list some numbers.
You need to involve listeners in the created environment and make most of them become regular followers. Podcasts require equipment and a distribution strategy, but they work fine to increase brand awareness.
4.5. Video content marketing
Video has become the top content format in recent years, and the trend is expected to strengthen in the near future. Users can watch YouTube videos in the background without distracting from their primary tasks.
Competition in the video content niche is high, but you can establish yourself on the market with any number of competitors if you come up with a unique idea and actively develop it.
Unlike podcasts and blogging on a company website, videos can be distributed less often. Preparation and creation of a quality video are quite time-consuming. And you can achieve good reach even if you release a video once a month due to organic sharing.
4.6. Paid ad content marketing
Commercial companies usually apply a classic approach to working with advertising campaigns. They set a KPI for a specialist and regularly assess the abandonment rate.
This approach is correct, but you can incorporate content marketing in paid advertising as well. You don't have to create ads with template texts. You can try different approaches and evaluate their effectiveness by conversion rates.
An empathy map is excellent for creating emotional messages. It allows you to look at the world through the eyes of your target audience and provides a lot of useful information.
5. What Do Content Marketers Do?
The specifics of a content marketing specialist's work vary greatly depending on the corporate policy of a company. In some organizations, marketing specialists create social media posts as well as set up cross-posting and manage referral traffic.
It's up to a marketing specialist to determine how to do content marketing, but he/she should be guided by a target audience persona. If you disregard customer needs, you won't achieve the desired results.
A content marketing specialist can perform a wide range of tasks, but he/she cannot do without the help of other specialists. Therefore, it is better to allocate responsibilities and assign every team member the duties that fall within his or her area of expertise.
The quality of a strategy for content creation and distribution entirely determines the tool's effectiveness. Therefore, you should pay maximum attention to the task and use all available resources.
A content marketing specialist can spend a lot of time setting "SMART" goals and writing white papers, but user experience should always be a priority. It is important to give the highest regard for selected content formats and ways of engaging the audience.
White paper Tesla
5.1. Subject matter expertise
If a content marketing specialist does not know what appeals to the audience owned by the brand under promotion, he/she is working at random. Any interaction with users must be thought out step by step.
Subject matter expertise helps learn information about customer needs and estimate the overall situation in a niche. For example, if the competition in podcasts is weak, you can focus all your efforts on the development of this channel.
5.2. Branding
Content marketing basics imply creating a sustainable brand image. When users need to buy products or certain services, the company under promotion has to come to their minds.
Developing proper associations is a complex step-by-step task that must be performed on an ongoing basis. If you let users get interested in niche competitors, they may forget about your brand.
5.3. SEO
It's good when a company has a sufficient budget to launch large-scale advertising campaigns. But it's even better if an organization invests in the development of organic traffic channels.
Search engines are a major source of targeted visitors. You can be promoted on Google in any niche and outperform competitors who don't use SEO.
Do not expect quick results from search engine optimization, especially if the niche is highly competitive and competitor sites have retained good visibility for many years.
5.6. Content marketing strategy and analytics
This is the main task a content marketing specialist needs to address. The quality of a strategy built for content creation and distribution determines the investment effectiveness and the payback period.
You should analyze data as often as possible but without getting obsessed over key performance indicators. For example, your reach may change because of the regularity of publications or global trends affecting sites.
5.7. Content production
The effectiveness of content marketing can be assessed by the rate with which materials of different formats are produced. If a company releases two 5-minute reels a month and does not interact with its audience in any other way, the strategy cannot be considered 100% effective.
A specialist needs to organize the process of content production so as to cover all areas that turned to be highly efficient during experiments. If subscribers are used to seeing news every Thursday, their expectations should be met.
The pace of content production is important, but you shouldn't trade quality for quantity. In the age of digital noise, users filter content carefully and may not give a chance to a brand that pays little attention to quality.
6. Four Elements of an Effective Strategy
You can only create an effective content marketing strategy if you cover all the important factors and regularly update your work plan according to the current situation in the niche. For example, if a brand doesn't use newsbreaks, it loses some traffic.
It's equally important to pay attention to building a strategy and improving it based on feedback. If users like podcasts more than videos, you should take their opinions into account.
You can also use KPIs to identify effective directions for your content strategy. If the reach achieved through audio format is steadily growing, while videos are viewed by a few users, the choice is obvious.
6.1. Brand positioning
Whichever types of content marketing are used, a brand should have a clear brand positioning. For example, Tesla produces electric cars, just like hundreds of competitors around the world do, but its products are futuristic and technologically advanced.
If you remove the beautiful design and stuffing from these cars, you are left with a simple image that has little appeal to anyone. It's important to select positioning at the beginning of brand-building and stick to it throughout the promotion.
You don't have to set out clear frameworks for the brand. It is more essential for the target audience to develop strong associations when interacting with its content, products, or services.
6.2. Value proposition
Any commercial company must provide customers with a value proposition distinguishing it from competitors. Customers may search for alternatives if they do not see the upside of a purchase.
The availability of a value proposition does not depend on the level of a company or the niche it operates in. Even small firms can have a better value proposition than large corporations.
You should constantly integrate the value proposition into content and promote it through the main distribution channel. Do not forget to incorporate this parameter in all downstream channels and broadcast it to the audience.
6.3. Business case
Some brands actively describe how they organize processes within the company and share their business cases. This format has become trending recently, but you have to do research every time to use it.
Case formulation often takes much time and requires the active participation of different team members. Success stories are mostly of interest to the B2B segment, while other case formats are appropriate for B2C.
A few content marketing guides cover cases. Not all companies describe internal processes and name specific people responsible for them. If a brand wants to become more public, cases can help get closer to consumers.
6.4. Strategic plan
A strategic plan covers the whole of content marketing and includes all important aspects of content creation and distribution. You should continually update it and set short-term goals.
Any plan should focus on specific metrics to measure the effectiveness of its execution. For example, businesses often use the share of voice (SOV) metric, which determines the power of a brand's advertising activity.
A company measures the ad reach in the market and can assess how well PR specialists do their job. This metric is also applicable to a content strategy, which is part of a global brand promotion plan.
7. Steps to Create a Content Marketing Strategy (Plan)
It is better to break down any important task into steps to accomplish all of them properly and get the expected results. If you take on all tasks at once and perform them without a clear order, you can make no progress for a long time.
If a brand just starts online promotion, it is necessary to record its current performance and compare it with new figures over time. This way, it will be possible to determine the progress within a certain period.
There are many steps to create an effective content strategy, and each of them matters. If you miss even one of them, further work may not bring the desired result.
7.1. Set your mission and goals
When business people are asked, "Why is content marketing important?", almost no one answers that the tool helps formulate the company's mission and set short or long-term goals.
And this task can only be accomplished once the first analytics on interactions with the target audience have been generated. Content marketing helps determine the direction to move in, while customers' involvement can even affect the rate of production.
A company can have various goals:
generating leads over a long time;
increasing revenue;
improving email marketing;
enhancing the customer retention rate;
creating target audience loyalty;
formatting retargeting groups;
collecting feedback;
enhancing brand reputation.
A company has one mission, but its goals may vary depending on the promotion strategy. So, it is important to monitor the overall situation rather than focusing on specific indicators.
7.2. Define your KPIs
KPIs are metrics based on which you can determine the effectiveness of content creation and distribution. You should change your strategy if all the metrics do not deliver the results you want.
You need to select the right KPIs and make sure that your goals can be achieved without compromising user experience. Any business that depends on customer experience should focus on user emotions.
7.3. Know your audience
Before you begin working on goals and KPIs, you need to explore your target audience, classify it into segments, and create needs for every customer group. Apple sells smartphones for everyone, but every consumer uses them for different purposes.
Content marketing best practices imply active interaction with all the segments that may buy products or services. It makes sense to focus on a particular group in some cases, but other customers shouldn't find the flow of content irrelevant.
7.4. Assess your current position
Assessment of the current position in the market allows you to see problems that can greatly affect the company's performance in the near future. You should conduct an analysis from time to time to identify weaknesses.
The focus on content marketing is sometimes detrimental because other business areas suffer. This is why it is important to have a dedicated department responsible for content creation and distribution rather than assigning these tasks to all employees at once.
7.5. Determine the best content channels
You can use cross-posting and other automation tools to distribute content on social media, but every site has its own features. Therefore, you should create content from scratch and adjust it for every channel rather than copying it.
Every brand eventually finds a perfect option to interact with the target audience, but this path can be very difficult. Do not give up after the first attempts and keep moving forward actively.
7.6. Define content types
On some social media platforms and other websites, you can distribute text articles, audio, video, or infographics. Once the primary channel for communicating with your audience has been identified, it's time to find the perfect format.
If your company just starts developing and has virtually no market share, you should focus on two or three content types. The list can be expanded as the brand awareness and content marketing budget grow.
7.7. Determine and allocate resources
The importance of content marketing in promotion strategies developed for commercial companies is very high. It is essential to allocate resources from the very beginning and understand how much time and money will be spent on regular posting.
Small companies usually start promotion on social media and other platforms with a few posts and gradually move on to videos, podcasts, infographic releases, and other formats.
It is a great option for building a strong image. The target audience will gradually become accustomed to interacting with a new brand, and the number of loyal followers will increase over time.
7.8. Create a content calendar
A content distribution plan isn't just a spreadsheet with a list of formats by day of the week. It's a content release strategy that should address all critical aspects. One minor detail can sometimes destroy all the hard work.
A content plan helps you focus on your goals and release materials on time. Be sure to include newsbreaks that help the company stand out from the competition and deliver the right message to the audience.
7.9. Content creation
Branded content doesn't have to be template-based. It is better to avoid conservative strategies and find unconventional ways to interact with your audience. They can be much more helpful.
You need to distribute content on an ongoing basis to stay in touch with your target audience. But you can sometimes experience a lack of ideas. In such cases, it is better to take a break, analyze the current situation, and find the best way out.
Content creation should not turn into an assembly line. Users see the flow of messages every day and select the most interesting of them. You will need to think out of the box to attract them.
7.10. Distribution and marketing
Quality content is useless without proper distribution. You can produce useful case studies, but they will be ineffective if niche websites are not interested in them.
Therefore, it is important to use all available tools for content distribution. The more traffic you manage to generate through organic and paid channels, the more loyal customers you will attract.
For example, during SEO promotion, all indexed pages can potentially bring traffic if they contain high-quality content and are optimized according to the recommendations of search engines.
7.11. Evaluation of results
Summing up is usually done when a plan has already been fulfilled, but active company promotion has no logical end. Therefore, you should evaluate current results from time to time and compare them to the KPIs set.
The estimations help adjust a promotion strategy and identify its weaknesses. For example, if a company relies on podcasts, but they do not help increase sales, it is necessary to make changes.
8. Content Distribution Channels
Multiple content distribution channels exist, and you should approach each one differently. Principles useful for social media may not be suitable for working with corporate portals due to the peculiarities of the audience.
Many companies invest heavily in distribution and do not achieve the desired results. Problems arise because of the wrong approach. However, useful and high-quality content can be distributed for free.
Ad channels speed up promotion, but even a huge budget will not help get orders for goods or services if the content does not attract user attention. It is necessary to prepare a unique selling proposition and present it correctly.
8.1. Free content distribution
You can distribute content for free not only on social media. Many channels do not require high expenses. You may incur costs at the start of content distribution, but if you manage to gain the audience's trust, you will need less money for further interaction.
You need to organize your content marketing process so that the brand's team can cover all the platforms with which you work on an ongoing basis. Once you have detailed statistics on interactions with different resources, you can select the most effective ones and post content on them regularly.
Content distribution through free channels helps to test hypotheses and determine the most profitable scenarios for content marketing. For example, a brand may make a good showing on Reddit and generate regular traffic from it.
8.1.1. Corporate website and blog
Not all brands run blogs because this requires establishing processes for content creation. Many companies publish content irregularly and keep their blogs afloat just to show search engines that they are doing something.
Many factors affect post scheduling but if a company wants to steadily generate search traffic, it needs to create and distribute as much useful content as possible.
If a blog eventually attracts an active audience with good behavioral factors, it will gain an additional advantage for ranking on Google. The search engine pays much attention to the analysis of user experience.
8.1.2. Social media profiles
If a company doesn't have social media profiles, it loses a huge number of targeted users. It is possible to constantly increase the number of new customers even in narrow niches by establishing communication with the audience.
Some brands use a conservative approach to social media and just publish news. There will be little use of newsbreaks if they are not utilized correctly.
Responsiveness, creative presentation, and commitment to experimentation are essential on social media. Users love companies that dare to talk about their problems. The sale of goods or services is always associated with a negative customer experience.
8.1.3. Email marketing
Email marketing has been given a new lease of life in recent years. Users subscribe to interesting newsletters and don't mind receiving content regularly.
Automation tools help to leverage this channel effectively. For example, you can use the popular service, which has a full set of features to take email marketing to the next level.
You can use this service to set up trigger emails, remove dead emails from your database, and launch an add-on for quick access to your browser tools. You can avail of Mailchimp or GetResponse along with Snov.
8.1.4. Forums and communities
It takes a lot of time to attract an active audience to a blog and motivate the users to regularly interact with its content. Some brands opt for an easier approach and post content on external platforms.
It is important to select relevant platforms to get the most out of this content distribution channel. It is no point in talking about smartphone production technology on a website dedicated to funny stories, even if it has high traffic.
The main advantage of content distribution across other resources is that the company blog will eventually get referral traffic. But you should work with external links on forums and in other communities carefully. Many sites prohibit including them in content.
8.1.5. Guest articles
Guest posting is one of the most effective content distribution methods. It can be used by established brands and companies just launching their products on the market.
The advantage of this tool is that you can quickly generate targeted traffic. You need quality content and a relevant site to do this. If you prepare a useful article with added value, it can be posted for free.
Guest articles work to get links from reputable resources on a regular basis. If you find an author to routinely create quality content, the link profile will continually grow.
8.1.6. Video hosting platforms
Blogging and content marketing allow you to find targeted users and generate a loyal audience on any platform. Video hosting platforms like TikTok or YouTube can yield thousands of followers for brands.
It is difficult to create quality video content, but if you have proper resources, you can get the most out of the format. Just publish videos regularly and distribute them through paid or free channels.
Competition on video platforms is high, and you can gain an audience only by using non-standard approaches to content creation. Video hosting users subscribe to interesting channels that regularly prove their usefulness.
8.2. Paid content distribution
There are multiple channels for paid content distribution, and all of them have unique features. You should not get stuck on contextual advertising and spend your whole budget on ad impressions.
It is better to use several platforms of different formats to generate more traffic. Contextual advertising sometimes gives a minimum ROI, while targeted ads are more beneficial. You can find the best channel by testing every option.
Content distribution on a paid basis does not always imply the pay-per-click model. There are also bloggers, link exchange, sponsored content, and other distribution methods.
8.2.1. Pay-per-click (PPC) ads
Many companies run ads in Google AdWords to generate more sales or increase conversion rates. In most cases, campaigns in contextual advertising networks are launched to promote the commercial pages of a website.
Blog articles can also be promoted using this channel, but the cost per click can be high, and the ROI will be questionable. Therefore, the PPC model is more appropriate for promoting products or services.
The advantage of advertising campaigns is that users can both look at product cards and navigate to a blog to learn more about the brand philosophy.
8.2.2. Sponsored content
When commercial companies just start their market promotion, not all of them know if content marketing does work effectively. They build an interaction strategy, test hypotheses, and locate the most effective distribution channels.
Sponsored content can be a priority area. Even major brands release affiliate content on popular sites from time to time to gain organic reach and the audience's attention.
When posting sponsored content, you should keep in mind that Google recommends tagging it with the sponsored link attribute, but not all sites are happy with this. Therefore, you should discuss the terms of content posting in advance.
8.2.3. Paid influencer content
Local or international opinion leaders help improve content distribution and draw attention to products or services. In recent years, this promotion method has become one of the main options for brands that rely on e-commerce.
If your company is just entering the market and has a tight budget for advertising, you can start working with microbloggers and increase the level with time. Advertising with creators having a few tens of thousands of subscribers is often more useful than sponsored content in the profile of a blogger with millions of followers.
Interaction with niche influencers helps increase sales and brand awareness. You will not have problems with content distribution if the ads are native and the products are of good quality.
8.2.4. Paid advertising on social media
Targeted advertising on social media is used on a par with contextual advertising. The main advantage is that you can flexibly customize the parameters of ad impressions.
With targeted ads, you can attract traffic to the site or increase the number of subscribers to a community. Everything depends on the budget and the selected promotion strategy.
You can increase reach with the help of advertising only if there is interesting content in the community and new posts are released regularly. If you don't meet these requirements, even a huge budget won't help increase the number of followers or the site's traffic.
It is important to create an information flow at the early stages of brand development. You can do this by posting guest articles. The PRPosting platform offers more than 44,000 sites for posting sponsored content.
You can create a list of potential donors using filters in your account after registering and creating a project. The filters allow you to sort sites by specified criteria.
9. How to Evaluate Effectiveness: Content Marketing Metrics
When a company starts to comprehend content marketing meaning and understand how it works, one of the main tasks is to select metrics for evaluating results. Sales can grow steadily, but it's important to see the overall situation.
For example, if a company launches targeting and contextual advertising, it is essential to understand what channel brings more traffic at a lower cost. The task cannot be solved without analyzing metrics.
The selection of metrics for assessing the results should be based on the promotion strategy. You do not need to calculate ROI, customer acquisition costs, and other financial indicators if you do not use advertising channels.
9.1. Web traffic
Website traffic is not a key indicator of content marketing effectiveness, but it indirectly shows how big the website's audience is. If a company wants to increase the blog's traffic, the figure may be added to the list of KPIs.
The traffic dynamics depend on a large number of factors. Search engines are constantly changing their algorithms for ranking content; so, if a site attracts users only from this source, its traffic may decrease at any moment.
Apart from the volume of a site's monthly audience, the following behavioral factors also matter:
time of visit;
viewing depth;
bounce rate;
return rate.
The better the behavioral factors are, the more advantages a project can gain in organic search results. Google regularly assesses the quality of user experience and can improve a site's ranking.
9.2. CTR
CTR is defined as the ratio of impressions to clicks. The oftener users click on a link, the higher the clickability is. The metric is important for both advertising and organic channels.
When it comes to search engines, CTR depends on the quality of content in a snippet. If there are no title and description meta tags on web pages, Google will create them at its own discretion. It is important to fill in meta tags and make them relevant to the content.
9.3. Content views and backlinks
The number of article views indirectly confirms its popularity. If the content is created for redirects to product cards, it is important to measure conversions to orders for every page. This is the only way to know its real value.
Link mass dynamics impact the site effectiveness in Google and Yandex greatly. If the number of donor sites and backlinks constantly decreases, the search engines can limit the site ranking.
You can increase the number of backlinks by optimizing content distribution. New articles with native brand advertising will also attract targeted visitors to a site and convert them into customers.
9.4. SEO and keyword-based rankings
Visibility in organic search results is one of the main indicators of content marketing effectiveness. If a company actively runs a blog and invests in content creation, the traffic will be worth the cost.
Content creation is time-consuming and expensive, but if pages regularly generate traffic, and the number of orders grows, you need to continue the work. Rankings for keywords can change all the time, and you have to accept that.
You should regularly monitor visibility on Google and update your website promotion strategy if necessary. For example, if competitors grow through links extensively, you should use link building and other search engine marketing tools.
9.5. Quality of leads
Sometimes, hundreds of users visit a site daily but don't buy anything. This suggests that the visitors are not interested in the products, or there are problems with the content usability.
You can determine the reasons for the low quality of leads by viewing records of visits in an analytics service. Google Analytics can't offer this feature, but Hotjar and similar platforms have records of visits.
It is also important to collect user feedback from time to time to understand the reasons for low engagement. Some technical problems cannot be reproduced, but customers can point them out.
9.6. Conversions
Conversions can be low even if 2,000 users visit a site daily. And the cost of content marketing won't pay off because of the minimal effectiveness of the channel.
Multiple factors affect conversion, but the strongest are the selling offer quality and the site usability. If users are interested in products or services and can comfortably use the resource, there will be no problems with conversion.
9.7. ROI
Businesses must always generate income to stay afloat and outperform competitors. If content marketing doesn't pay off for a long time, you need to analyze your strategy and make changes.
You can easily assess the ROI of advertising channels, but content marketing requires more effort. You can measure the effectiveness of different platforms by tracking the source of orders. UTM tags and other analytical tools are useful for this.
10. Content Marketing Examples That Work
Many entrepreneurs know the content marketing definition, but not everyone can create quality content on an ongoing basis and organize distribution correctly. It is time-consuming, but costs can pay off tremendously.
There are many inspiring examples of content marketing for commercial companies on the Internet. They make it clear that interacting with your target audience through content is one of the best communication options.
10.1. GE Reports
General Electric is a well-known US corporation that manufactures equipment for various industries, from energy to aviation. The company actively uses content marketing in its operations.
It runs the GE Reports web portal, where new materials about technologies are regularly published. According to public sources, the site is visited by more than four million visitors every month.
One of the portal's top authors notes that it's important to steer clear of press releases yet tell engaging stories to the audience. This approach allows GE Reports to generate regular traffic from Reddit and other websites.
10.2. Intel IQ
Intel produces the world's best processors, and it has been a leader in the niche for years. The company also actively runs a blog on its official site and posts articles about technologies.
Several years ago, the Intel IQ editor-in-chief shared their traffic figures: the portal attracts 2.2 million readers per month, and the total traffic of all language versions is more than 3 million.
The editor-in-chief notes that there is no point in challenging the fact that content is king. But if a brand does not have a content distribution strategy, the work done makes no sense.
10.3. HubSpot
The company is considered one of the leaders in the digital sales niche. HubSpot is the one who coined the term «inbound marketing,» which has become ingrained in e-commerce.
HubSpot's blog often gets to the top of niche rankings. The content is characterized by a maximum amount of helpful information, illustrative examples, and added value. The company also has HubSpot Academy with a large selection of useful courses.
10.4. Salesforce
Salesforce is a perfect example of a content strategy for B2B. The blog is full of news, helpful tips, and longreads about marketing. The company develops one of the world's best CRMs and tells about growing a business.
In March 2020, Salesforce instantly responded to the new reality that emerged due to the pandemic and launched the Leading Through Change program. The company's team has long wanted to make a «content revolution,» and they have succeeded.
Salesforce engaged experts from different industries to create a content strategy, and together, they identified topics that hadn't been covered on the blog before. The live streaming series attracted 600 million viewers, and the audience grew by 70%.
10.5. P&G Everyday
Procter & Gamble is among the leaders in the global consumer product market. There are not many examples of marketing with a consistently high standard of quality in this niche.
The company runs the P&G Everyday website for sharing ideas and publishing tips about different products. The corporation interacts with different organizations to address socially important issues.
The P&G team thinks that strong marketing is a great way to support an e-commerce business. It can generate steady growth if customer needs are addressed.
11. Conclusion on the Content Marketing Guide
Content marketing can be an effective tool for expanding your target audience and increasing brand awareness. It brings sales to commercial companies and organic reach to information projects.
You should develop your content strategy step by step, taking into account all the essential factors. Remember that it takes time to achieve results with content marketing; so, you should not stop working in a month of active blogging or social media development.
FAQ
What is content marketing?
A promotional strategy for a company, which implies the active creation of branded content.
What types of content marketing exist?
B2B and B2C projects can be promoted with the help of content marketing. A variety of content formats comes in handy: text, graphics, podcasts, and videos.
What are the benefits of content marketing?
Target audience expansion, an increase in brand awareness, a steady flow of new followers on social media.
What are the main elements of content marketing?
Brand positioning, value proposition, a business case, and a strategic plan. All the elements affect the outcome.
How to create a content marketing strategy?
First, you need to define an overall goal and short-term objectives. Then, select formats and platforms for content distribution.
What metrics are used to track the effectiveness of content marketing?
It all depends on a company's goals. If your goal is to increase reach, you need to monitor traffic. For e-commerce, financial metrics are important: ROI, customer acquisition cost, CPC.