What Is Link Bait?
One of the main goals of website owners is to attract as many links as possible to pages that can get traffic from search engines. Over time, the cost of posting on quality donors increases, and so does the budget for link building.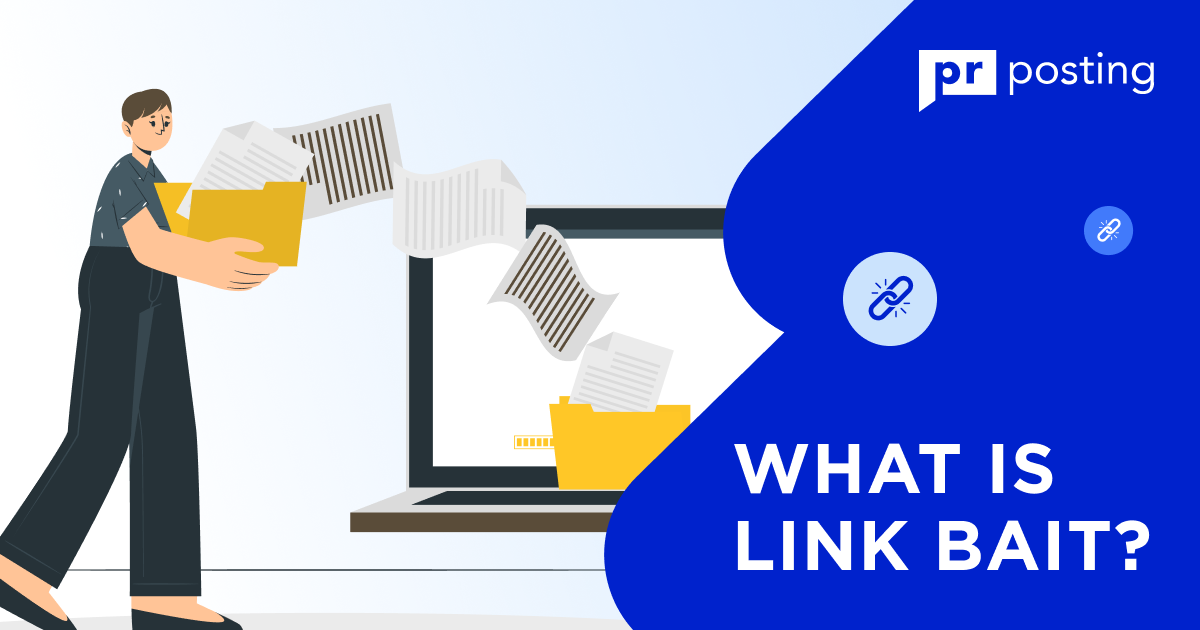 Webmasters benefit from using cheap link-building methods. Instead of buying 20 backlinks from trusted websites, you can use a different approach — create content or tools to which authoritative projects will link.
Not all website owners manage to master link building, but if you put enough effort, you can get good results. Therefore, you should focus on studying the peculiarities of the methodology for getting links.
What Does Link Bait Mean?
Link baiting is a technique for getting links. A webmaster posts content or tools that other projects will want to link to. The strategy allows you to get backlinks without spending much on link building.
Recall the principles of fishing to understand the essence of link bait. Imagine you use donuts, not worms, as bait. It is obvious that the fish are unlikely to like the bait.
Fishing will bring nothing but wasted time. If you choose the right bait and stick to the basic rules of fishing, the chances of catching the prey will automatically increase.
A similar principle applies to link building. Mediocre content, which is inferior in quality to competitors, will not have the desired effect. Therefore, you must create web pages that can gain organic links in the future.
The main feature of link baiting is that a website owner focuses on content rather than link building. In the early stages of web page promotion, they can spend money to attract attention to the project, but further, the system must work on its own.
A basic link baiting model:
Choosing an issue that will attract the attention of a target audience.
Creating a better page than that of competitors.
Advertising the page.
The result becomes noticeable at the last stage, but you must first complete the three previous steps successfully. You should go beyond just creating a simple article and take your time to assemble a landing page that will generate links on a regular basis.
The problem with most websites is that they rarely get backlinks. In 2015, the content analysis platform BuzzSumo conducted research in conjunction with MOZ. Their representatives analyzed one million publications to see reposts and linking.
The results showed that most content posted on the Web does not get backlinks. About 750,000 articles with reposts have no external links. Once organic sharing on social media runs out, the content will no longer be useful.
The study found that:
There are certain types of posts with a good correlation between reposts and links.
Articles containing 1,000 words or more are better perceived by the audience.
Posts with lists work well.
About 75% of the content studied has no backlinks, and it has much lower chances of getting organic traffic from search engines than pages shared across niche media and websites.
If website owners want to regularly increase traffic and attract the attention of search engine algorithms, they should create content for generating links. That's where link bait comes in handy.
The advantage of link bait is that it allows you to get backlinks while spending $100-200 on link building. Webmasters cannot completely refuse to buy links on marketplaces, but they will be able to redistribute the costs.
For example, if a website has 20 pages and 15 of them have baits for links, you can use the budget to build links for 5 pages instead of 20. This approach will increase the chances of getting traffic for all the landing pages.
Link bait can work as a link magnet, but it's not that simple. If you use dark patterns designed to attract the attention of the audience, they will be of little use. And creating a bait at the first attempt can be difficult.
You need to do a lot of work to achieve results in the form of free links: from analyzing competitors to designing a page layout and creating a content distribution strategy.
Let's imagine that a website about fish has released a study about the effects of music on fish sleep. With the right design, such content can get a lot of organic mentions.
But if the website owner didn't give attention to the content distribution strategy, the study will remain unnoticed. And if the project does not have a regular audience, the article will be of little use.
Pros and Cons of Link Bait
Link bait cannot be considered a magic tool that will allow you to forget about other link-building methods. It simply provides an opportunity to get backlinks through content rather than a link marketplace.
The pros of link bait are:
Increase in a project's visibility. Mentions on reputable platforms increase the website authority for search engines.
Link mass boosting. Link bait can generate thousands of backlinks.
Growth of type-in traffic. The greater number of users who see the content, the higher the chances of a steady increase in the share of direct leads.
Higher positions in search results. Visitors with good behavioral factors can provide improvement of positions for all major queries from a list of keywords.
Steady increase in traffic
Another benefit of link bait is that every new article can get organic links without the webmaster's involvement if a project regularly creates content that users want to refer to.
The link bait approach has some downsides:
High entry threshold. Content creation costs can be high because of niche specifics.
Lack of guarantees. Even useful tools are sometimes ignored.
Reduced effect due to high competition. If niche competitors started running cryptocurrency yield calculators long ago or they regularly release research data, it will be hard to outperform them.
Link bait does not guarantee that a steady increase in link mass will be displayed on a graph immediately after releasing great content or creating a tool that covers the audience's needs.
But the link-building method greatly increases the likelihood of getting organic links. You can focus on creating pages with baits instead wasting time sending outreach requests.
Link bait is a long-lasting strategy that can't get outdated. Users are always interested in unconventional content and quality tools that will save time on routine tasks.
Strategies for Creating Baits
A quality bait consists of several components, each of them affecting the end result. For example, a car ownership cost calculator can be useless if it doesn't take into account the features of different cars.
If only electric car owners can use it, the target audience will noticeably decrease. This is justified if we are talking about a company that produces electric cars. In this case, owners of gasoline-powered vehicles are not part of the target audience.
The components of an effective bait are:
benefit
focus on the visual part
uniqueness
relevance
When working with link bait, you should pay special attention to the last factor. If an article or tool becomes accessible to the public when it is no longer of interest to the users, you will waste time and money.
There are different strategies for creating link baits, but their basic goal is the same — to cover the audience's needs. If the task is accomplished, the chances of organic distribution of the page will significantly increase.
If the desired effect is not achieved, you can engage outreach and other link-building methods based on interaction with website owners. Usually, a few mentions are enough to start the snowball effect.
Link bait can cause a natural link burst when a flow of backlinks is created without the involvement of a webmaster. It was the case with interactive coronavirus distribution maps at the beginning of the pandemic. The websites received thousands of mentions for free.
It's hard to repeat their success because as soon as trending niches appear, they fill up instantly. Given the high rate of content distribution, it's not always possible to stay ahead of the competition.
If you use one of the effective baiting strategies, you can expect a positive result. No one can give a 100% guarantee, but your content or tool will have every chance of gaining reach among the target audience.
Focus on Social Currency
Social currency is the image and ranking of people in the social space. Social media users adopt content only if it fits their image and makes them more attractive to their friends.
You can create a new IQ test, offer it to several niche media outlets, and get organic mentions. Users who score high will share the results on their social media pages to show their level.
The importance of social currency increases with the emergence of new social media, messengers, and other projects aimed at communication. So, using a baiting tool is always a great idea.
Using Triggers
A trigger is a mechanism that forces people to take certain actions. For example, if one gets tired of riding to work in a crowded subway train, a person may decide to buy a car at one point.
Triggers are actively used in advertising. When a person sees an advertisement for new Tamagotchi pets, they will recall playing with them as a child and will want to buy the device to relive the memories.
Using bait triggers allows you to achieve the desired result faster. If you offer users to earn coins in a game in exchange for inviting friends, they will actively talk about the project.
Banking on Emotion
People share links to content only when it evokes an emotional response from them. Emotions pair well with triggers and further increase the chances of achieving the desired outcome.
For example, a pollution study will resonate with most readers. Users will share the article on social media and express their opinions.
Triggering emotions should not make the readers feel the pressure. There's no point in exaggerating facts hoping that users won't check them out and the website will get extra links.
Time-saving
The most effective link bait strategy is to create tools that allow people to save time. They willingly share links to such pages.
Drivers can benefit from a fuel consumption calculator, and travelers — from a bot with the cheapest airline tickets. If the tool is useful, sharing links is the least that grateful users will do.
It is not necessary to create a full-scale calculator. You can make a widget or table. It all depends on the characteristics of the project niche, the availability of competitors' analogs, and other factors.
Publishing Stories
People like to read stories, empathize with the characters, and relive the events in their heads. If you give them an interesting story, it can generate a lot of links.
Reputable projects often link to newsworthy stories. For example, a casino-themed portal might tell readers a story of a big win and provide a link to the winner's blog.
Standard blog posts can also generate thousands of backlinks without paying for outreach. Almost every article of the Backlinko project collects mentions across niche projects immediately after publication.
Three Examples of Link Bait
The effectiveness of link bait is best proven by real-life examples. Some of them got thousands of organic mentions and ensured good website visibility in an organic Google search.
The examples also demonstrate that link bait is not child's play. In some cases, webmasters spend hundreds of hours releasing research or creating a useful tool for their audience.
Article on Google's ranking factors
Backlinko's blog author Brian Dean originally conceived the article as a trap for getting backlinks. For two years since the article was published, the page has gotten 21,000 backlinks from 6,000 websites.
The closest competitor in SERPs, which was included in prompts, has only 284 links. This is also a good result, but Backlinko shows the full power of quality link bait.
Coronavirus Monitor
We have mentioned earlier that useful tools that happened to be available at the right time can have a very cool effect in terms of link building.
A good example is the Worldometer project's coronavirus data page. Since its inception, it has collected 2.8 million backlinks from 45,500 domains. It is not surprising that the website is at the top of the search results for the given topic.
The page has many interactive widgets that cover the needs of users interested in statistics. They can quickly learn about the situation in a particular country and sort the data as they wish.
Beer popularity map
The VinePair project released a map of the popularity of beer brands in different countries. They could have published a list or table instead of visual content, but the page wouldn't get backlinks in that case.
The website collected 15,000 free mentions from 271 domains. The result is not as impressive as in the previous examples, but the cost of creating the content fully paid off.
In complex niches, it can be difficult to find baits that have already worked. This is because many website owners prefer to spend their entire budget on buying links rather than on creating content.
Mistakes in Link Baiting
All website owners want to get free links and spend less money on link building. But if you don't follow the basic rules when working with baits, you run the risk of wasting your time.
It is important to know the target audience of a project and understand its needs. Then, you can create content or tools that will be shared on thematic portals without additional actions.
Clickbait
Users do not like to be misled. Therefore, all techniques that exaggerate the real value of content lead solely to a negative user experience.
Don't use too many anchors if you decide to buy some backlinks for a link bait page. Focus on the benefit to your audience and don't put emotional pressure on your readers.
Low value
No one will refer to an article if there are thousands of similar examples on the Internet. And chances of organic link mass growth in complex niches are equal to zero. Consequently, there is no point in wasting time and money on boilerplate content.
The tool is difficult to access because of ads
You can always make better content than your competitors. The skyscraper technique, which implies adding layers to existing pages, is ideal for this purpose.
If your competitors have a 20-story building, you need to build a taller skyscraper. This is the only way to get a chance for organic link growth and gain the trust of the audience.
Ignoring your competitors
If your niche competitors regularly release cool research or useful tools, there's no point in copying their approach unless you can outperform them in terms of quality.
When a newsbreak is irrelevant or outdated, there will be no use in presenting it. Uniqueness is always valued higher, and if you also combine it with creativity, you can achieve the goal with a profit.
Missing out on the audience's needs
It is important to consider the audience's needs in any niche. If a company sells cars, its content and useful tools should be focused on the core area of expertise.
You can do collaborations with brands from another niche, but they have to convey proper messages. Even a game with quality graphics won't appeal to the audience if it doesn't have a strong message.
It is simple to avoid mistakes when working with baits. Always look at the page through the eyes of your target audience. This way, you can easily determine if it is interesting or not.
Another mistake is refusing a boost with paid links. Immediately after the release of content or tool, you need to tell your audience about it. Publications on reputable platforms help with this.
PRPosting will help solve the problem of finding relevant donors. It has more than 44,000 websites for different niches and budgets in its database. The service covers the needs of webmasters promoting projects in any niche.
Lifehack: Finding Ideas for Link Bait
If you have no idea about what kind of link bait to create for your project, doing research will help you out. You need to analyze several major projects and niche competitors to find a base for further work.
Link analysis services that have reports on pages with the greatest backlink coverage serve to solve the problem. You can use Ahrefs , Semrush , or another search-engine marketing platform.
General instructions:
Enter the URL of a website into the search bar of a platform.
Wait for data to be updated.
Switch to a report for pages with the highest number of links.
Analyze the pages.
For example, the website of The New York Times got more than 213,000 backlinks due to the Wordle game. It is no longer in demand, but the page was very popular at the time of release.
Most of their backlinks are nofollow, and they continue to be generated even now. The project spotted the trend in time and was able to use it for improving visibility in organic search.
Link bait is a great tool for getting organic links. It will not allow you to refuse paid backlinks but will significantly reduce your dependence on constant interaction with website owners.
Regular link bait content creation gives you the opportunity to outperform your competitors in any niche. If you properly combine relevant newsbreaks, useful tools, and a competent marketing approach, the result will exceed all expectations.