How to Get Money for Links
Many webmasters want to get money for posting links on their projects, but it can be difficult to perform this task because SEO specialists and advertisers are interested in buying backlinks only on reputable websites.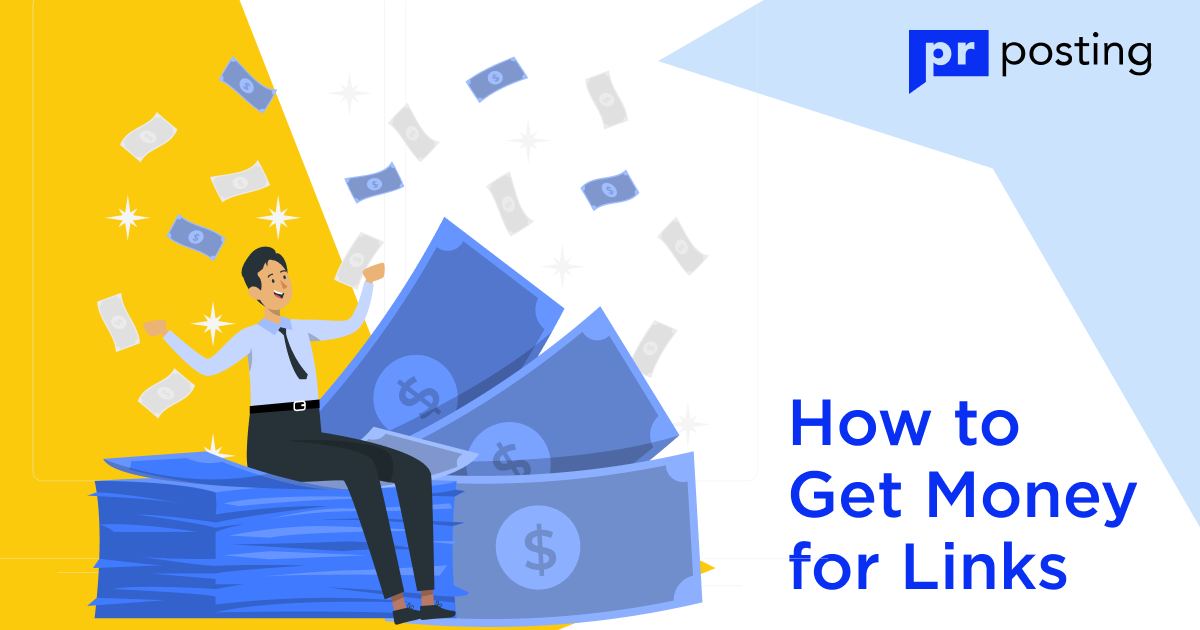 Income from posting sponsored links is accompanied by the risk of getting penalized by search engines. If a webmaster does not follow the basic safety rules, the project may lose positions and organic traffic.
1. Is It Possible to Get Paid for Posting Links?
Webmasters continue to buy backlinks for their projects in 2023. Google constantly reminds website owners that artificial linking can have negative consequences, but backlinks remain a major criterion for website quality.
It is quite realistic to get income for sponsored links, but it all depends on the project's attractiveness. Advertisers will not spend money on advertising if the website has nothing to offer them.
SEO specialists buy links from reputable projects that deserve attention from search engines. If the website has no permanent audience and low scores on essential metrics, it will be difficult to make money on paid links.
You should not focus on paid links if the project is just developing. This can be a negative signal for search engine algorithms. The website is unlikely to gain top positions for relevant queries, and promotion will slow down. Webmasters may try to immediately offset the costs of content and website development by selling links, but this tactic is unlikely to bring the desired result. A few backlinks can be sold, but in the long run, the chance of getting a stream of traffic will decrease significantly.
The opinion that sponsored links are the shortest way to a stable income is very popular, but it's not that simple. Not every project can be monetized in this way.
1.1. What is affiliate marketing?
To make money by posting links, you do not have to wait for months for advertisers and fulfill their conditions. If the project has at least a minimum audience, it is possible to earn income through affiliate marketing.
Affiliate marketing is a model for promoting goods or services where the affiliate receives a share of the seller's income. The more purchases users make, the higher the affiliate's reward.
There is a common misconception that you can make money from affiliate marketing only if your website or social media pages have tens of thousands of followers. In fact, you can get a minimum income even with an audience of 1,000 target followers.
This tactic of posting backlinks for money is different in that it can be used at any stage of project development. Some webmasters invest in the development of websites to make money on trade through affiliate links.
But you can sell backlinks and get a tangible income only if you have a large audience and good SEO domain metrics. Therefore, the entry threshold is very different, and you should understand this when it comes to monetization. Stable income from affiliate marketing is possible only if you offer users relevant products or services. For example, on a website about fishing, few people will click on links that lead to an automotive online store.
The amount of interest the webmaster gets from the purchase depends on the terms of the affiliate program. In commercial niches with expensive products, the website owner can earn good money on affiliate programs.
2. How to Get Money for Backlinks?
Many webmasters create and develop websites specifically for posting links for money. But it is difficult to achieve this goal because you have to make the project attractive for SEO specialists and website owners.
Because of the high competition in the market of paid links, you often have to reduce the cost of posting backlinks. And this ultimately affects the amount of income that a webmaster can get.
So, if the website owner wants to make money on links, one can use several monetization methods. If the project does not have high indicators on various SEO metrics, you can always use an alternative option.
2.1. Add advertising
One of the main project monetization methods is placing ad units that bring money for each click on external links. If widgets do not interfere with users interacting with content, search engines will not mind them.
Some websites have ad units placed after every two paragraphs of text, which is a problem. If behavioral factors deteriorate over time, the algorithms of Google and other search engines will not ignore them.
With contextual or banner advertising, you can reduce the payback period of the cost of website promotion, but you should prioritize the trust of the audience rather than short-term income.
2.2. Posting links on Google
Website owners often look for information on how to get money for posting links and focus on just one approach. They try to negotiate with webmasters and offer to create links on a paid basis.
Alternatively, you can use another method of making money from backlinks. For example, build several websites based on services trusted by Google and regularly post content on them. And then put a link to the main resource.
Thus, you will be able to create an organic link profile and control at least a small part of donor websites. You can also post affiliate links on satellites and earn on each order made by customers.
2.3. Posting links on Amazon
Amazon is one of the most popular e-commerce platforms in the world. In addition to offering many different products, it also allows you to make money from an affiliate program.
Webmasters even create websites specifically for making money on Amazon. In most cases, these are projects that regularly publish new product reviews. Widgets and affiliate links to Amazon appear in the content. In recent years, the marketplace has reduced the affiliate program payment rate several times, but webmasters continue to use it to earn income from websites.
2.4. Sponsored partnership
Sponsored partnership, for the most part, seems like paying for posting the company's links. For example, social media promotion services often buy ads from bloggers with varying numbers of followers.
As for authoritative sites in different niches, they steadily make money from sponsored partnerships. Interaction with advertisers occurs under different scenarios: posting articles, special projects, and banner ads.
Posting sponsored content without using nofollow and sponsored attributes for external links will cause a negative reaction from Google's algorithms. The search engine is fine with sponsorship but recommends properly noticing such links.
2.5. Social media
With the help of social media, you can also make money from posting links, but for this, you must have at least a few thousand followers. Advertisers are interested in focusing as much attention as possible on their products or services.
If a project is popular on social media, you can use it to make money from links without the risk of getting a filter in organic search. When a website has a minimum of sponsored links, you don't have to worry that it will attract the attention of search engine algorithms.
2.6. Online forums
Forums are considered to be unable to attract the same amount of traffic as they used to, but that is not entirely true. Classical forums are of little interest to anyone, but platforms of the new format, based on the interaction between community members, are now in trend.
For example, the Reddit service has an audience of many millions, which generates a lot of interesting content. Advertisers want to enter this platform, but not everyone succeeds.
Therefore, there is a demand for posting content with external links. If the Reddit project page has a good reputation and posts get a lot of reactions, you can use it to make money from paid links.
There are many approaches to generating income from link building, but you should use those that carry minimal risk to website promotion in organic search. If you prioritize income, it will negatively affect the website's position over time.
3. What Factors Affect the Price?
Webmasters tend to get the highest price for posting links, but the income depends on plenty of factors. The most important are the project authority, the audience size, and the domain's age.
When it comes to sponsored content, the most essential is the size of the audience. Metrics take second place because advertisers are interested in communication with target users.
3.1. TIC
This outdated metric is no longer supported, so no one takes it into account. With the help of SEO scanners with access to historical data, you can get the figures, but they are no longer relevant.
Spending time analyzing information on this metric makes no sense – the search engine replaced it with a new indicator a few years ago. But it is relevant only for some regions of promotion.
3.2. PR
PageRank was one of the main criteria for the quality of the website when choosing donors for link building. A few years ago, Google disabled the option to see the actual value of PR of the website and specific pages.
Now, you can find out PR only with the help of SEO services that have been gathering information for years. But there is no guarantee that the figures are relevant at the time a list of potential donors was formed.
3.3. PA
Page Authority is a metric of Moz, which is an alternative to PageRank. The formula for calculating PA has components that were used in the original PR. Therefore, you can rely on it to determine the donor quality.
You can check Page Authority for free with SEO checkers. The more points the page scores, the more attractive it will be to potential advertisers. Therefore, you should monitor changes in the numbers and boost the value of pages.
3.4. Posting daily
If 5-10 sponsored links are posted on a website every day, it may negatively affect advertisers' decisions to cooperate. Few people are interested in building links with projects that sell links without using security measures.
You can easily assess the project's quality by the approach to posting paid links. If it was created only to generate income, you will see it. Not everyone will want to cooperate with such websites.
3.5. Content relevance
When advertisers analyze websites that may become future donors for their projects, they pay great attention to content. Most projects with a large audience produce useful articles that generate search traffic without problems.
If the content on the website fits perfectly with the company's product line, it's more likely to collaborate with the resource. And when the trial publication gets much attention from the audience, the collaboration will continually reach a new level. This is beneficial to everyone.
3.6. Comments
Search engines and advertisers love websites with audience engagement on a regular basis. This applies to both content and comments about it. If a company only needs links, it may not pay attention to user activity, but such cooperation eventually becomes ineffective.
Comments below each piece of content are a good marker of the project's quality. If all the articles get at least a few comments on the subject, it means that the audience likes the content and is ready to spend time on discussions.
You can make plenty of money by posting sponsored links only if you create a quality project. Otherwise, you can only count on occasional orders, which are unlikely to develop into a permanent collaboration.
So as not to miscalculate the cost of posting links, you can use the directory of projects offered by PRPosting. To do this, simply set filters and see how much money webmasters charge in a specific niche.
Take into account the following parameters:
Ahrefs, Moz, and Majestic metrics
Domain zones
Domain age;
Region of promotion
You can also add interesting platforms to the selected and monitor the changes in the cost of posting. This will allow you to see the actual situation in the niche of paid link building.
4. Top 3 Methods to Get Money for Links for Companies
Not all projects can earn steadily on paid links. The problem is that there is a lot of competition in the market. Advertisers prefer authoritative websites and do not spend budgets on projects that do not reach the benchmark in terms of SEO.
If a webmaster wants to create a project to generate income through paid link building, they can use a few effective methods.
4.1. Blogging
Blogging is one of the most popular methods of earning from links. If a website is regularly updated and has fast indexing, advertisers may be interested in cooperation even if the project does not score enough on SEO metrics.
Blogging is possible with any budget, but niche competition is high. Only those authors who have managed to attract a target audience to their projects and motivate users to visit the website earn money.
You can run a blog on the basis of one of the popular content management systems or choose a niche blogging platform. Each option has its advantages and disadvantages, so you need to make a detailed analysis before proceeding.
4.2. Affiliate marketing
Affiliate marketing is one of the most useful monetization tools with a minimum entry threshold. You can place widgets and make money even with a website having an audience of 200-300 unique users every day.
If you select the right niche and regularly publish optimized content, search engines will notice it sooner or later, and the project can get stable traffic. And then, it remains to integrate suitable advertising formats.
It is quite realistic to receive income from advertising services or goods of companies through links or advertising widgets if the website has at least a minimum audience. Each click can generate a paid conversion.
Some projects earn hundreds of thousands of dollars a year through affiliate marketing. Such numbers are not fantastic for projects that regularly bring targeted customers to company websites.
4.3. Dropshipping
Dropshipping is a way to sell goods without spending money on warehousing and logistics. A website owner transfers orders to a supplier, who delivers them on their own. Nevertheless, each participant in this scheme gets an interest.
You can create an online store to sell products on the basis of a popular commercial platform, such as Shopify or BigCommerce. It all depends on the requirements of the webmaster to the capabilities of the designer.
In the dropshipping scheme, links also work fine. While the project doesn't have a permanent audience, you can attract users from social media, forums, and niche communities.
5. How to Make Money from Text Links?
Some platforms offer to make money by automatically posting links, but this may lead to problems with ranking in organic search results. Google is against any link schemes.
You can make money on text links without the risk of penalty only if you remember basic security methods. The donor and the recipient must be related. If the anchors or content cause dissonance, penalties may follow.
Don't assume that posting links on Google for money will generate a steady income over the long term. The flow of advertisers can stop at any time, especially if the website has problems with ranking.
6. How to Detect Link Scam?
There are many scammers on the Internet trying to scam newbies. They promise to open the way to a stable income for only a few hundred dollars, but it's cheating. You should rather develop your skills through your own experience. In the niche of paid links, scammers using different fraudulent schemes are also present. They rely on the fact that many website owners want to make more money from link building.
Popular link scam schemes:
Getting money for sponsored content on phishing sites where you have to enter bank details.
Posting links without a subscription.
Requesting access to the project's hosting or domain control panel.
Building links with websites that violate local laws.
Webmasters regularly receive spam emails whose authors promise to pay thousands of dollars for link building, but the scammers' efforts are aimed at gaining trust and using it to their advantage.
Conclusions
Every webmaster can earn money by posting links, but you should keep in mind the legal requirements of search engines, which are against all artificial link-building schemes.
Blogging, affiliate marketing, and other approaches to project monetization allow you to repay the costs of creating content and increasing audience engagement. But you should remember that this income can be unstable.
FAQ
How much does it cost to post paid links?
Different factors affect the cost of posting links: from the amount of traffic to the website's spam score.
Is it possible to get money for paid backlinks?
Yes, it is real if the project is appealing to potential advertisers. Otherwise, you should not expect a stable income.
How to get money for posting links for the company?
You need to make the project interesting for companies of different levels. Then advertisers will offer cooperation even without effort on the part of the website owner.
FAQ
How much does it cost to post paid links?
Different factors affect the cost of posting links: from the amount of traffic to the website's spam score.
Is it possible to get money for paid backlinks?
Yes, it is real if the project is appealing to potential advertisers. Otherwise, you should not expect a stable income.
How to get money for posting links for the company?
You need to make the project interesting for companies of different levels. Then advertisers will offer cooperation even without effort on the part of the website owner.