What Is SERP Checker?
Visibility in SERPs is considered one of the main markers of a website's quality. If it has long been promoted in search engines without results, Google algorithms may consider it not authoritative enough.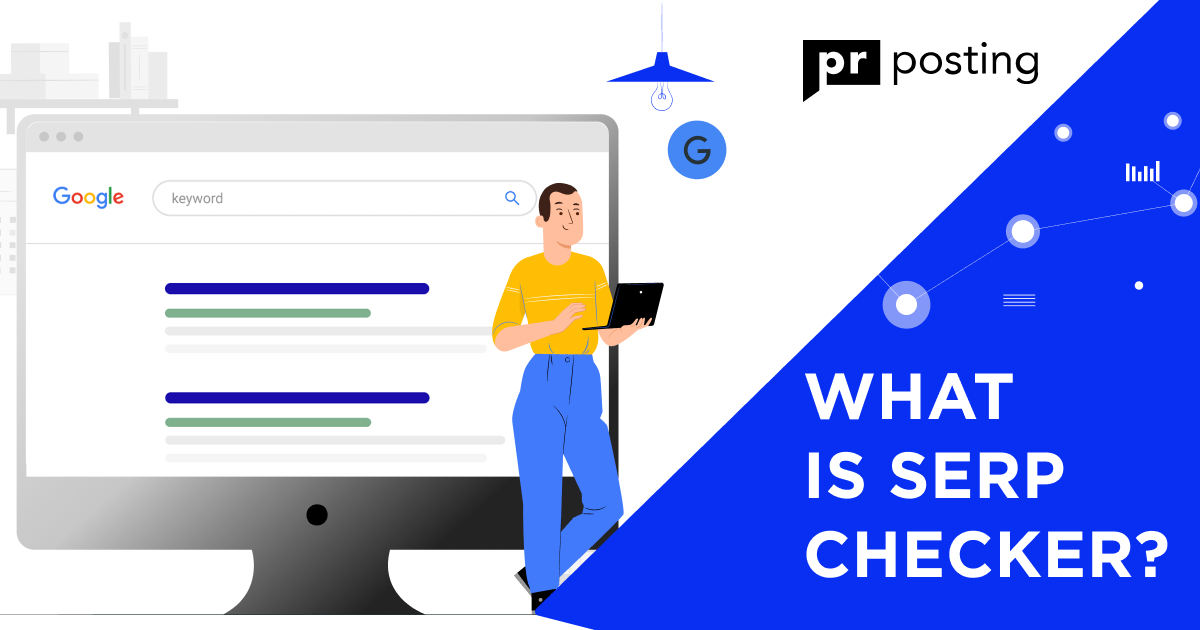 SERP Checker helps to monitor the situation in the organic SERP. Thanks to it, you can quickly see the problems with certain queries, quickly solve them, and regain positions.
It can be difficult to choose a quality tool for tracking visibility as there are many services with similar features on the market. You can make a decision only after analyzing the platforms' features and comparing them with their closest competitors.
1. What Is SERP Checker?
Regardless of the SEO strategy, every website owner expects to get as much organic traffic as possible. This task can be time-consuming, depending on the situation in SERPs.
SERP Checker is a useful tool that helps you keep track of your positions for search queries. The webmaster adds a keyword list to the platform interface, configures the regularity of the check, and receives reports to email or messenger.
The website owner can control the situation in search results, but it all depends on the frequency of verification. Experienced SEO specialists know that the situation in search can change at any moment, so you should choose the right check time-out depending on the current position of the site. SERP Checker allows you to automate the following tasks:
Local search visibility tracking;
Comparing rankings in desktop and mobile search;
Reports on the main competitors;
Tracking the visibility dynamics of competitors' projects;
Search for queries for which the site is not ranked;
Comparison of project visibility in different countries;
Collecting the frequency of queries.
The main feature of SERP Checker is the accuracy of the results. If a webmaster wants to fully trust the information obtained, the discrepancy should be minimal or absent.
2. How to Use SERP Checker?
It is possible to check positions manually, but in this case, you may forget about the accuracy, especially if you do not use anonymity mode and take into account the history of interaction with projects based on the IP address in search.
Even a beginner who does not know how to properly promote a project in search engines can use the SERP checker. It is enough to spend a few hours to understand the service settings.
It is reasonable to use the analytics platform only if you already have a list of keywords for which content can be ranked in search. The service can select queries independently, but the accuracy will be far from perfect.
2.1. Add the domain URL
If keywords are collected and clustered by intent, you can proceed to configure the collection of positions with a predetermined frequency. You should add the URL of the domain at the first step of project creation in the service.
The duration of the settings depends on the features of the analytics platform. In most cases, to collect data, you need to specify the domain, write the name of the project, add a list of requests, and, if necessary, check the frequency.
You should pay special attention to the frequency of statistics updates and the channel for receiving reports. Most often, webmasters receive PDF files with figures to email and review them from time to time.
2.2. Conduct analysis
After the basic setup of the project in the SERP Checker service, it is time to perform the first analysis. It is a starting point that can be used as a reference point for each visibility check.
Webmasters compare positions over the last month, but it is also essential to see the dynamics over the entire period of project promotion. Therefore, you should add the keyword list to the search analytics service as soon as the content is published, not after a year of promotion.
The frequency of checking should be set based on the objectives. If the keyword list comprises 20,000 queries, the cost of a daily check can be high. Therefore, it is necessary to complete the task at the stage of tool selection.
2.3. Get information about the website
The speed of data updates depends on many factors. The stability of the platform and the volume of available resources affect it the most. If the server cannot cope with processing a large amount of data, the delay can be high.
Most position tracking programs provide a free trial period. Therefore, you should compare the speed of data collection and consider the results when choosing a service.
The position report has a limited period of relevance, and you can rely on it only at a particular point in time. However, positions for certain queries often remain the same for months.
3. Calculating the Rating in SERP
All website owners want to gain access to the formula for ranking content, but there is none in the public domain. This information is protected as a trade secret, and it is not profitable for Google to make it available to all comers.
Google SERP checker helps find out what positions the site takes for certain queries, but the service does not show what affected the visibility. Therefore, it makes no sense to use it if you need to find out the secret of the high authority of competitive websites.
You can get the answer only during an in-depth analysis, which you should conduct from time to time to be aware of current events in the search. And you should remember the basic metrics affecting the ranking.
3.1. Time spent on the page
The time the user spent on the page demonstrates to search engine algorithms whether the content could interest this person. If 15 seconds is enough time to find the answer to a question, such a short visit time will not be a problem.
But if the user needs to solve a difficult question, and it took them a few seconds to get acquainted with the content, it can be a sign of technical problems or low quality of the content.
3.2. Number of backlinks
Since the inception of Google, one of the most important factors in ranking has been the link mass. In 2023, you still need quality backlinks to effectively promote your website, but it is becoming increasingly difficult to get them.
The search engine regularly updates its link-filtering algorithms to distinguish artificial links from links that originated without sponsorship. Therefore, if you use only cheap link-building methods, you may have problems with visibility in organic search results.
PRPosting can help you 100% solve the problem of finding authoritative donors for link building. Using filters, you can create a list of donors in a few hours of active analysis.
There are over 44,000 websites on different topics in the catalog of the service. To publish sponsored content, you just need to add it to your personal account and send requests for posting to the selected projects.
3.3. Website authority
The project authority is a conventional metric reflecting the search engine's attitude towards the website. The online SERP checker helps you estimate the authority of a domain using two criteria: traffic and visibility.
You should keep in mind that Google's stability rather than the volume of conversions affects authority. The project can get good visibility in a moment, but the boost will quickly cease.
3.4. Bounce rate
Bounce rate acts as one of the main markers of website quality from a technical and content perspective. Every webmaster has an individual benchmark for the bounce rate, but if every third visit results in a closed tab, it's a problem.
Visit recording services help to understand why users are returning to search results. They record every click, and if visitors have trouble viewing content, you can see which ones.
3.5. CTR
Sometimes, a webmaster has done their best to improve a page's visibility in the SERPs, but its position does not change. You can solve this problem by improving the snippet. Then there is a chance that CTR will increase.
If search engine algorithms see a steady increase in clickability, the page may move up a few lines. Search engine algorithms regularly conduct experiments and make decisions based on the results.
3.6. Page speed
SEO experts have long argued about whether Google has such a ranking factor as content loading speed and how it affects positions. It is safe to say that algorithms take into account the content loading speed.
It is beneficial for Google to place projects that care about users and provide them with a perfect experience at the top of organic search results. Therefore, if the website has problems with technical aspects, they should be solved before the beginning of the active promotion.
3.7. Conversion rate
The conversion rate is used to determine how many visits end up with a conversion. It can be said that the metric can only indirectly influence SERP rankings as a component of behavioral factors.
Setting up goals for a website is beneficial first and foremost to the webmaster. Through the conversion rate, they can find out how actively users complete the desired tasks.
Hundreds of factors affect the ranking in search results. They have different powers, so you can't predict the position of the content a month after publishing.
4. Why Does It Matter?
The SERP checker should be used not because competitors use it but to get valuable information about a project's promotion in Google and other search engines.
It is important to keep the situation in organic SERPs under control because if you monitor the traffic, there will not be a complete picture of the effectiveness of the project's promotion. It will also be difficult to keep track of competitors' successes.
Analytical platforms save a lot of time spent on routine tasks, and paid rates are justified. You should definitely use such tools in your work and make the most of their features.
4.1. Get to know the problems
SERP checkers can help find problems affecting the website's visibility in search results, even without advanced settings. In some cases, the capabilities of the services save the project's future.
If there are problems in some areas of the region where the website is promoted, the analysis of the local situation will help find them. It is very difficult to perform this task manually, even with the use of specialized tools for viewing local results.
4.2. Analyze the content and compare it to the best websites
If a webmaster does not know how the closest competitors are doing, it is like promoting a website without quality links. In some cases, the task can be accomplished, but it will be difficult to ensure a lasting effect.
SERP analysis tools provide a lot of useful information on each query and the visibility of competitors in general. This is enough to draw conclusions about the leverage of Google algorithms.
4.3. Understand why other websites are ahead of you
Regular analysis of the situation in organic search provides many important data that can be used to change your promotion strategy. Improving your approach to SEO, in most cases, is the key to winning.
You can understand why other sites rank higher than your project only through in-depth analysis. Search results provide information about the ranking of competitors, but you will need to collect other data separately.
4.4. Find the best keywords for your audience
SERP checkers can automatically select keywords that are not used in the content, but the page can be successfully ranked for them. The services' algorithms don't always cope with this task, but you can use most keywords found.
For example, competitor analysis often helps find keywords with an average frequency. The service shows by which queries the project ranks, and they can be added to the keyword list.
Not all webmasters know what a SERP checker is and often ignore issues with position tracking, but this is a mistake. It is important to see the dynamics of promotion from the beginning of website development.
5. The Best Tools for Tracking SERP Rankings
Website owners may find it difficult to choose from different SEO platforms. Most top services provide roughly the same features, and there may not be much difference between the cost of their plans either.
You should decide to pay for a subscription only after analyzing and finding the ideal option. For example, if competitor analysis is in the first place, and the keyword list includes several hundred queries, almost every search analytics service can handle it.
Criteria for choosing a SERP checker:
Operating time in the market;
Limitation of pricing plans;
Availability of team access;
Possibility of checking positions in bulk;
Tracking of competitors' achievements;
Available channels for sending reports.
Additional tools.
If you only need to analyze the SERP positions, it makes no sense to pay $500-1,000 for access to a platform with dozens of separate modules. It is better to choose a specialized SEO SERP checker and solve your tasks.
You should also take into account the need for team access. If you need to give team members different levels of access, a service that can cope with this task is required.
The Keyword Ranking Checker by Sitecheсker is a must-have for any site owner who wants to improve their SEO game. It provides data on keyword ranking, traffic volume by keyword, language settings, CPC (cost per click), and level of competition within Google Ads. Plus, it offers helpful tips on how website owners can tweak their blog URL for better results in SERPs.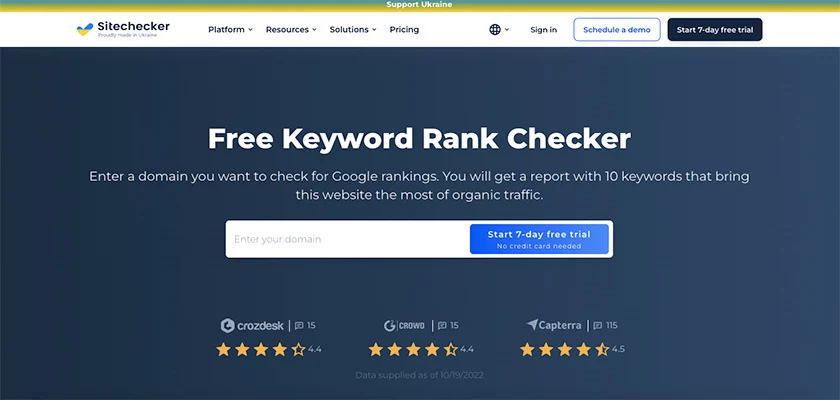 With this software, you can figure out where you stand compared to your rivals. Also, taking a look at their domain gives you an idea of which countries are visiting their sites more frequently than yours. With that data, it becomes much easier to improve your blog ranking. Not only that, but the backlink checker is an excellent tool to help you market and promote your blog site. You can access other websites' rankings for free, but to get more complete features, you must purchase a monthly or annually plans.
SEMRush
The analytics platform is among the most popular tools for SEO tasks. In addition to tracking positions, it analyzes link mass, generates a traffic report, and comes in handy when performing page audits.
The main feature of position tracking in SEMRush is a detailed competitor report. After collecting and analyzing the data, the webmaster can see competitors' page traffic and the number of featured snippets and find cannibalized keywords. Reports can be exported to PDF or viewed in the Google Data Studio interface.
Ahrefs
Ahrefs is positioned as a major competitor to Semrush. The service provides website owners with plenty of useful tools for standard tasks. It can be used to analyze backlinks, search for content keywords, and monitor competitors.
Ahrefs offers the opportunity to check page rankings for several keywords for free. In the report, you can see the frequency, keyword difficulty, and approximate amount of organic traffic. The service database contains data on 500 million keywords and is updated monthly.
SE Ranking
This service is considered one of the best SERP checkers – it was developed to solve this issue. SE Ranking provides new users with a free trial for 14 days.
The service is positioned as a tool for daily monitoring of positions with 100% accuracy. The platform offers to check data for any location, language, and device. It supports Google, Yahoo, Bing, and YouTube. It is regularly updated and is in demand in the community.
Serpstat
Serpstat has been increasingly compared to Ahrefs and SEMRush in recent years. The search engine marketing platform gives webmasters access to dozens of separate modules for analyzing positions, link mass, and traffic.
Serpstat offers daily position monitoring with the possibility to choose between desktop and mobile display, adjust regions, add competitors, and create flexible reporting schedules.
AccuRanker
This analytical platform was created to track the positions in organic search results. Just like SE Ranking, it offers new clients a 14-day trial period to test its features.
Among the most valuable tools is the SERP history scanner, which stores screenshots of search results. Thanks to it, you can see how the leaders and losers changed and analyze what influenced the changes.
ProRankTracker
The service provides an opportunity to monitor positions in different regions and types of results and easily assess the progress in SEO with visual reports. You can test the features for free for 30 days.
ProRankTracker guarantees 100% accuracy of positioning and analyzes data not only from Google but also from Bing, Yahoo, Amazon, and YouTube. The service is available in different countries – reports are generated in 13 languages.
SERPWoo Serp Tracker
The developers of the service point out that every day, the servers process millions of data to help users make the best marketing decisions. In addition to traditional search engine analysis, SERPWoo takes into account social signals.
The service is suitable for webmasters and corporate clients alike. With a user-friendly interface, users can quickly set up data collection based on specified keywords. You can also create a schedule for sending reports via email.
Advanced Web Ranking
The company that developed this SERP checking tool has been engaged in position monitoring for more than 19 years. Rank Tracker supports 170 regions and plenty of search engines, including specialized ones.
You can visualize your current SEO progress using Google Analytics, Search Console, and Google Ads. In addition to a standard page position check, the service analyzes additional search engine snippets: featured, images, videos, etc.
All of the above platforms cover the main task – ranking tracking, but in each case, the interaction with the interface is an individual scenario. Some services provide plenty of useful tools for little money.
Before you top up your account and pay for a year plan, you should make sure that the service covers 100% of your needs. To do this, just check the features during the trial period.
| | | | | |
| --- | --- | --- | --- | --- |
| Service | Comparison with Competitors | Frequency Check | Trial | Plan Cost |
| SEMRush | ✅ | ✅ | 7 days | $120–450 |
| Ahrefs | ✅ | ✅ | ❌ | $99–999 |
| SE Ranking | ✅ | ✅ | 14 days | $31–151 |
| Serpstat | ✅ | ✅ | A few requests per day | $55–399 |
| AccuRanker | ✅ | ✅ | 14 days | €116–2,492 |
| SERPWoo Serp Tracker | ✅ | ✅ | ❌ | $500–300 |
| Advanced Web Ranking | ✅ | ✅ | 30 days | $49–499 |
6. Accuracy of Data in SERP Checkers
Website owners who want to monitor the effectiveness of promotion through automated tools expect to pay for an accurate SERP checker and the results that they can be guided by.
It is important to understand that position reports have a limited period of relevance because the situation may change even in 5 minutes. Google announces only global updates of the search algorithm core, while minor updates may occur thousands of times a day.
Almost every service is positioned as the coolest and most accurate tool for monitoring SERPs, but this is not always the case. Nevertheless, most of these popular platforms are trustworthy because they have been improving their algorithms to crawl the results for years.
7. Why SERPs Are Important for SEO
Search engine results are the most useful source of information for all webmasters who actively promote one or more projects. If they rely on a search engine, they can't do without constantly analyzing SERPs.
Organic SERPs are constantly changing because Google updates its ranking algorithms. That is why positions should be checked not once every six months. The frequency of updates depends on your objectives, but it is better to get fresh reports at least twice a month. If the list of keywords consists of 20-30 queries, you can use a free SERP checker to analyze positions. But in most cases, you will need to buy a paid plan for $500-1,000.
8. Conclusions
In the market of search engine marketing, there are many useful services with which you can automate most routine and time-consuming tasks for effective website promotion.
The tools listed in the article will help not only with monitoring SERPs but also with tracking backlinks, analyzing competitors, and searching for queries to add to the content. You can also use alternative platforms, such as SpySERP.
FAQ
What is a SERP Checker?
It is a tool that checks the position of the website by queries in automatic mode. After scanning, a user receives a report to assess the dynamics of promotion.
How can I use SERP analysis in SEO?
Regular SERP analysis helps to monitor the situation in search results. It is also possible to see the success of competitors and adjust the promotion strategy.
How to use online SERP checkers?
To use the checkers, you must research keywords, add queries to the interface of the service, and set up the regions and the frequency of data updates.