Natural Link Building
Search engines have long tried to reduce the impact of linking factors on ranking, but backlinks are still among the main tools for promotion in organic search.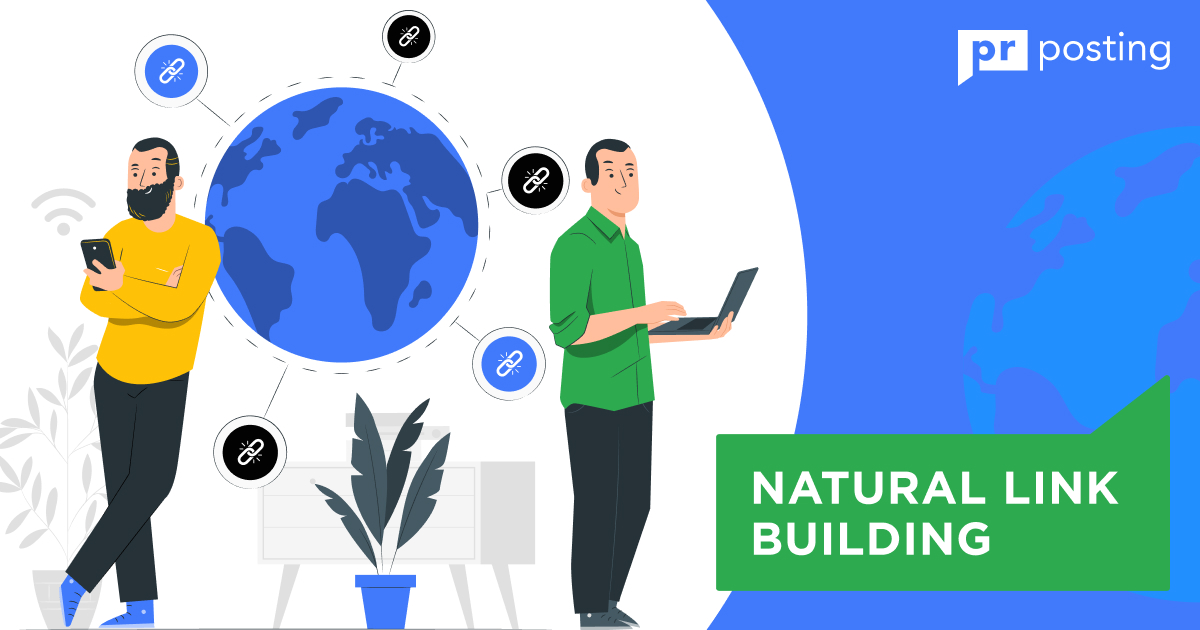 Google improves its algorithms for recognizing artificial links and penalizes sites that abuse this approach to building a link profile. Natural link building protects against filters, but it's not 100% effective.
1. What Is Natural Link Building?
Natural link building is a method of creating backlinks that pass the spam filter of search algorithms. When Google sees such linking, it has no complaints about the quality of link placement.
Artificial links created without cloaking can be easily distinguished from backlinks that the webmaster placed independently rather than under agreements with the website owner.
If there are many sponsored backlinks in the project profile and no natural links, it will likely fail to hold high positions in search results for a long time.
Natural backlinks may appear without the participation of the site owner, but it concerns mostly reputable projects with a large trust rate. But young projects face many problems with this issue.
1.1. Natural backlinks
All backlinks can be divided into two categories: natural and sponsored. Google representatives have long said that only natural links help the site to hold high positions for relevant queries.
But as the practice of project promotion in niches with high competition shows, search algorithms are not yet working perfectly. If the webmaster remembers the rules of basic protection, even sponsored backlinks can help improve visibility.
Penalties for artificial links in 2023 are still relevant, and it is impossible to be 100% protected from them. Still, webmasters must understand what natural link building is to improve their chances of successful promotion.
The difference between natural and artificial links can be minor if you use the right link-building strategy. If the site owner only buys backlinks on trusted projects, there will be no use for them.
You should create a comprehensive link-building strategy that will address all the important aspects, from the level of competition in the niche to the analysis of the latest updates of content ranking algorithms.
| | | |
| --- | --- | --- |
| Parameter | Naturallinks | Artificial links |
| Impact on promotion | Great | Depends on link-building strategy |
| Protection from penalties | Yes | Highly unlikely |
| Difficulty of scalability | High | Depends on budget |
| Backlink retention guarantee | No | Yes |
Sponsored backlinks do not always result in penalties. If there is a connection between the donor and the recipient, natural anchors are used in the content, and users click on links, there will unlikely be claims to backlinks.
2. Is It Important to Get Natural Links?
Some optimizers believe that the website will never have good visibility if the webmaster does not purchase sponsored backlinks. This opinion makes sense, but not everything is so straightforward. The result of promotion depends solely on the link -building strategy. If the webmaster manages to generate hundreds of natural links, it is not necessary to spend the entire budget to pay for sponsored links.
Paid backlinks can be converted to natural, and search algorithms will not have complaints about their quality. Tips on natural link building, which allow you to create an effective strategy for dealing with the owners of trusted sites, can help.
When businessmen face the need to promote the site in search engines, they often focus on myths and outdated approaches to work. As a result, they can't get the most out of the available budget.
Natural links cover plenty of tasks:
Help overcome competitors in the fight for search traffic;
Protect the site from search engine filters;
Mask sponsored links;
Strengthen the link profile;
Boost pages that have a better chance of getting traffic;
Show search engines that the site is developing steadily.
The list above could be continued, so you should just remember that the effectiveness of promotion depends on content quality, link mass, and audience behavior factors.
3. Why Is It Important to Build Natural Linking?
The benefits of natural link building give new projects a chance to gain a foothold in a niche and count on consistent traffic. Promoting a site with the help of content alone is also possible, but the rate will be slower compared to a comprehensive promotion strategy.
Natural linking demonstrates to Google and other search engines that a site should be paid attention to. If backlinks are regularly checked for spam, the project can get good visibility for relevant queries.
3.1. Niche leadership
Niche recognition allows a project to reveal its potential at 100%. Sites that managed to gain authority according to algorithms, in most cases, have stable traffic and regularly improve their visibility.
If a project is idle and does not develop, its trust will eventually decline. This applies to both content updates and changes in the link profile. Even the most trustworthy projects lose their trust limit without dynamics.
In highly competitive niches, it is difficult to constantly prove to search engines that a project deserves high positions more than its competitors. It is only possible when the site is developing in all directions.
3.2. Bold approach
To get natural links regularly, you need boldness. It increases even more when the webmaster sees the results of their work. For example, if rich content that required a lot of effort and time gained 200 backlinks.
To regularly improve the link profile, you should use different strategies for getting natural backlinks. You should do everything possible to ensure there are as many links of different formats in the profile as possible.
3.3. Growth of natural reposts
Content sharing on social media is one of the most popular link promotion methods. If viral content appears on a site regularly, the volume of natural backlinks can grow quickly.
In the case of social media backlinks, it's not the metrics that come first but the number of mentions. If users like the content, it can be quickly reposted hundreds or even thousands of times.
Social media promotion requires a clear strategy. This approach to link building has many differences compared with the classic link building, so you must adjust the strategy to project features.
3.4. Increase in traffic and visibility in search results
Almost every website developing with the help of organic traffic eventually enters a phase of stagnation. It manifests itself in the fact that the number of conversions from organic SERPs is constantly decreasing.
Such idle time is a negative factor, so you need to protect against it. Natural link building helps to solve this problem. Search algorithms see that the profile is growing and content is posted, so it is necessary to increase the site's trust.
You should remember that visibility in organic search results is not a constant value. The situation can change minute by minute, so there is no point in constantly updating the Google page in search of your project.
3.5. New linking
When search engines were just evolving, ranking algorithms were mostly focused on linking. Since then, the situation has changed dramatically, but backlinks still greatly influence the effectiveness of the promotion.
The regular emergence of new links to projects that search engines consider authoritative contributes to traffic growth. If there are no positive dynamics, there will be no improvement in visibility.
One of the main benefits of link building is improved organic profile growth. If niche leaders link to the site, other websites can add mentions without sponsorship.
3.6. Improving brand visibility
Every website owner dreams that their project will eventually become a reputable brand that competitors will respect. Brand promotion also affects audience growth.
One of the most effective methods of improving brand visibility in the digital space is campaigns for viral content distribution. Articles with interesting newsbreaks are often used in thousands of organic mentions.
However, without quality links, even the most useful content will stay useless and the costs won't pay off. Therefore, you should use all the important components of internal and external promotion.
4. How to Get Natural Links?
Many website owners believe that only Forbes or New York Times-level projects can get natural links, but this is a myth. A good example is sites with coronavirus statistics. When the topic was at its peak, the projects received thousands of free links.
It may be difficult to adapt the strategy of natural link building for a particular niche, so you should think about it at the start of the project. Then, you can proceed to increase the profile immediately after publishing content.
You should prepare for routine work in advance because natural links rarely appear by themselves. You will need to distribute links to authoritative projects yourself, communicate with webmasters, and update articles.
4.1. Quality content
There are many methods to build natural links, but interesting content in an appropriate format ensures a wide reach. For example, a single infographic or test can generate several thousand links.
In some cases, you can rewrite already published content and get the most out of it. The scheme will only work if the format of the previous publication was of insufficient quality.
No one will link to bad content. The maximum you can get in such a case is backlinks from doorways and other low-quality projects, which only clog up the link profile.
4.2. Social media activity
Social media does not directly affect the rankings but can help you build a natural link profile. Therefore, do not ignore the source of free links.
If you manage to create content with a viral effect, local opinion leaders may notice it, and then, the project will get a lot of targeted conversions to the site. It is difficult but possible to accomplish this task.
4.3. Traffic generation
Quality content combined with natural links contributes to traffic generation. If you manage to maintain a high rate of creating interesting content and establish links with reputable projects, the audience of the project will steadily grow over time.
In many niches, a high volume of targeted traffic is the main indicator of a good outcome. However, commercial projects with a minimal audience can also repay the cost.
4.4. Guest posting
Guest posting in 2023 remains a top priority method for getting natural links. Creating dozens of publications each month in complex niches is difficult, but even 20% of successful content can yield 80% results.
If your competitors actively use guest posting, you should do your best to outperform them in quality and make the project more attractive for linking.
4.5. Guest blogging
If a company has a blog that publishes useful content on a schedule, you can use it as a source for building new links. You should make sure that other projects want to post their content and strengthen links.
Creating a blog that will attract other site owners is not easy, but if you improve the project every day, you will eventually achieve the goal. Then, you can use the fruits of your labor and reduce the scope of routine tasks.
4.6. Focus on social media
Some websites do not invest in sponsored backlinks at all but get them in large numbers from social media. A good example is Reddit, which is very popular in the digital space.
In the last month, the website received tens of thousands of organic mentions on Facebook, Twitter, and other platforms. It is difficult to repeat such a result, but high-quality content helps a lot.
5. What Natural Link-building Methods Should Be Avoided?
When aiming to increase link mass, webmasters often use approaches that can be detrimental to website promotion in search engines. It is not necessary to abandon sponsored backlinks, but you should act wisely.
All of the following methods can be used, but if the algorithms have reason to strengthen the check for spam, there may be problems with ranking.
5.1. Link exchange
If several projects link to each other in every article, it is suspicious. You can exchange backlinks but be careful. You should use organic anchors and monitor clicks on links.
Google opposes all link exchange schemes, but almost every site has cross-links. Most of them have no problems with ranking, so link exchanges don't always lead to penalties.
5.2. Buying and selling links
Search engines constantly remind webmasters that buying links will lead to penalties, but this does not always happen. If you act carefully and use safe anchors, you may not fear filters.
In specific niches, it may be difficult to create a list of donors for links. In such cases, the PRPosting directory can be of great help. It contains over 44,000 quality projects on various topics.
After registration, you will be able to create a campaign in a few minutes in your personal cabinet. Then, you only need to top up your balance and send articles to potential donors. After the publication and indexing are complete, you can admire a good chart of link mass.
5.3. Links from free directories
Links from directories were one of the most popular methods of building link mass. Now, there are almost no sites with low spam rates, so you should focus on other link-building methods.
Since niche directories can be useful and dilute your link profile, you should not completely ignore this source of links. In addition, you do not have to use a public list of directories — you can create one yourself.
5.4. Large-scale article campaigns
Some website owners use outdated link-building techniques, such as article spinning. They generate hundreds of identical content using AI algorithms and publish them with different anchors.
This no longer works today. Google is constantly enhancing a spam filter that is sensitive to bursts in the link profile. The FAQ for webmasters even has a special page dedicated to marketing with spam articles.
6. Conclusions
Links have been and remain one of the main markers of website quality. If backlinks from reputable projects regularly appear in the profile, search algorithms will definitely notice them.
The optimal tactic for improving a link profile is to build links to authoritative and relevant projects with the help of quality content. The more useful content appears on the site, the better.
FAQ
What is naturallink building?
It is an approach to getting new links based on building natural links to authoritative projects. These backlinks do not raise suspicion with search algorithms.
How to get naturallinks?
Create useful content and do your best to distribute it quickly. Distribution plays a very important role, and you can't do without it.
What are the benefits of naturallinking?
Natural links help a project gain niche leadership, influence the increase in traffic, and can set off a chain reaction that will cause a natural link burst and increase in visibility.