Link Building For Local SEO
Website promotion in a particular region requires a specialized strategy, very different from the methodology for promoting projects that receive traffic from multiple countries. Webmasters may have problems with creating SEO tactics if they did not have relevant experience before.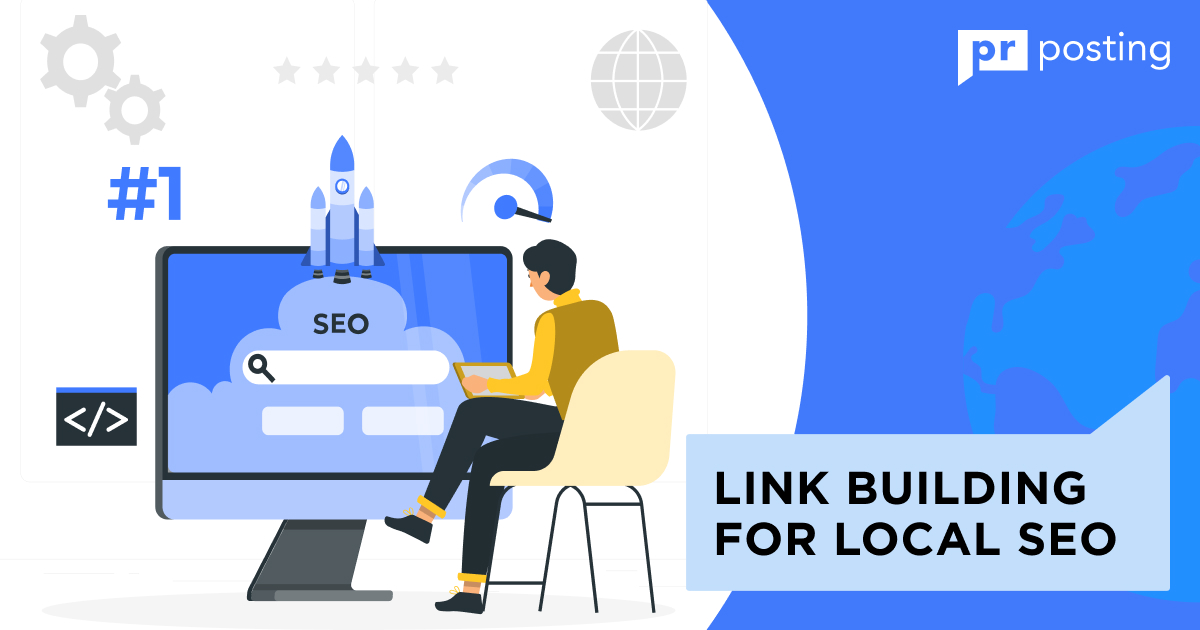 In most cases, competition in the local region is high. For example, if we are talking about a car rental company, there may be hundreds of similar firms in one city. If at least 50% of them use SEO, the struggle will be fierce.
Success in local SEO consists of many factors, each of which affects the final result. The webmaster needs to create a comprehensive optimization strategy that is better than that of the main competitors.
1. What Is Local Link Building?
Local link building is a mechanism for building links from local projects. They help a project get more attention from search engine algorithms. If a site doesn't have local links, it probably won't be able to get high positions.
For example, if there is a law firm whose site is being promoted in Buffalo, links from projects covering that city would be relevant. But there is no need to reject links to resources from other cities in New York State.
If you look at the link profile of any local site, it is very likely it will have not only local links but also links to nationwide projects. They also positively affect promotion, but local backlinks have more value for local SEO.
An example of a New York law firm's profile
Building links to local projects can be complicated by high competition, but there are many methods to get backlinks. For example, if competitors only use organization directories, you can take a different approach.
Local companies are eager to build links because they also need links. If you exchange mentions reasonably, such cooperation will have only positive outcomes.
Each link to a reputable local project adds points to the project's authority, and if their number will be sufficient, the resource can get a boost in organic search results. The most important is to be able to fix achievements because the short-term effect brings minimal benefit.
1.1. Link profile
When it comes to the need to focus on local link building, many webmasters start calculating budgets and reading manuals on local SEO. All of these steps are essential, but first, you need to optimize the resource.
If the project loads slowly or has problems with indexing, linking will bring little profit. Even if you can attract new users to the site, they will quickly close the tab of the browser because of technical problems.
When on-page SEO is good, a resource can benefit from active local link building. But the result depends solely on the approach to cooperation with external resources.
Link building only for SEO juice is not considered a winning tactic, because in the case of local promotion in the first place is the relevance, not the parameters of the donor.
2. Why Is It Important?
Website owners who have never dealt with narrow region promotion may ask why it is important to get local backlinks. If you look through various SEO manuals, they advise you to simply build up your link mass.
For local SEO, it is essential to focus on links from local resources because the project can quickly gain authority in the desired region. Search engine algorithms are sensitive to positive changes in the link profile.
Let's imagine that there is a smartphone repair firm's website being promoted in Los Angeles. It has just been created, and external optimization is minimal so far. Accordingly, such a project has almost no chance for high positions in organic search because of high competition.
The project owner has made the internal optimization perfect and began to build link links to local projects 3-4 months after the project's launch. If search engine algorithms have no complaints about them, the resource may eventually get a boost.
But if the profile of such a project will contain links from sites in New York, this is unlikely to help the site from Los Angeles. The distance between these cities is great, and the likelihood that the smartphone owner decides to drive 40 hours to repair it is close to zero.
Local link building for SEO is just as important as company reviews on Google My Business. Every link can affect the improvement of visibility in organic search.
If other authoritative local resources regularly link to the site, search engine algorithms are bound to notice it, and if there are no claims, positive dynamics can translate into a steady boost.
3. How Do Links Affect Local SEO?
If you look at any list of factors affecting search engine ranking, backlinks will always be at the top. From the creation of search engines to this day, their role is still very significant.
In the chart below, you can see that link signals account for almost 28% of 100%. So, to achieve significant goals in website promotion, you can't do without them. This is especially true if we are talking about a local project.
Every page of a regional site can get traffic if its external optimization is fine. Otherwise, the result may be unpredictable and will depend on the situation in the niche.
3.1. On-page and off-page SEO
In the SEO niche, many terms can be difficult for beginners. You should spend months getting theoretical knowledge, but you must learn the basics. Without them, you cannot expect to be successful in the promotion.
If you imagine that a website is a building, then On-Page SEO acts as the interior design, and Off-Page is about the exterior. If you remove even one component, the building will cease to be interesting. Therefore, even if the internal optimization of each page of the resource is good, it is not enough to quietly wait for the results of promotion in organic search. You need to put a lot of effort to improve external factors.
The strongest external factor is a link. If a local resource has many links to local projects that search engines consider reputable, the project can get a share of their trust.
3.2. Search for opportunities for posting links
When webmasters are just beginning to get into the essence of link building for local businesses, they mostly focus on easy methods of getting links, such as free directories.
Such tactics can give a profit, but the process of building a campaign to improve the link profile should include all available options. Therefore, you should not focus on one methodology.
Searching for link-building opportunities can take a lot of time, but you shouldn't spare it. Even 5-10 strong links can completely change the situation in search results if they look natural and meet other quality criteria of search engine algorithms.
To outperform competitors in local link building, you must use as many approaches as possible. If the link profile will be weaker than that of competitors, the site may stay in one place for a long time.
4. Top Factors for Local SEO
Ranking factors in local SEO differ from the approach to ranking in the information or commercial segments in large regions. This may come as a surprise to site owners, but you should clearly know the specifics of the promotion.
There are many ranking factors, and each of them can affect visibility in organic search. So, you should not ignore even the smallest details that may seem inappropriate. Visibility in search depends on the comprehensive condition of the project.
4.1. Placement on Google My Business
When potential clients are looking for information about a company, they definitely want to see a map of the firm on Google My Business. It has a lot of useful information that can influence customer decisions.
For example, if a company has a lot of negative reviews, users may refuse to cooperate. The opinion of other clients greatly affects the reputation, and so as not to waste time, users would rather look for an alternative.
If a company is not on GMB, it loses a lot of potential clients and useful statistics. In the personal account of the service, you can see detailed information about the interaction of users with the company map.
4.2. Links
If the internal optimization of your project is fine and you have a map on Google My Business, it's time to use link-building potential. A combination of the two tactics will help you get the most out of SEO.
Linking to local projects attracts the attention of search engine algorithms and increases the site's authority if there are no concerns about the quality of link building. The rate at which backlinks are built depends on the budget and niche specifics.
One of the main features of local link building is its budget. You can get a link from local projects at $30-50, but links from major international projects cost dozens of times more.
You can get backlinks for free if you create a newsbreak for the media. They will write about your company, counting on traffic and comments from interested users on the site and social networks.
4.3. Customer feedback
Link building for local SEO is important, but the effectiveness of promotion also depends on customer feedback. If a company has a low ranking according to customers, Google My Business ranking will be poor.
The company's map will be displayed when you type in its name, but the low ranking will still alienate potential customers. And when customers are looking for a product or service among all the offerings in the area, the company map may not appear at the top of the list.
Therefore, you should not just motivate customers to leave positive reviews but also respond to complaints on time. If the company takes responsibility for the problems, customers may change their opinions and ratings over time.
4.4. On-page signals: NAP citations, keywords in headings
Each page of the site has its value, which, according to experienced SEO experts, is expressed in a certain number of points. The final score consists of scores on individual factors. The more points one manages to score, the higher the chances of a good ranking.
The list of on-page signals includes the following parameters:
NAP information: address, phone number, name
Hyperlocal content
Location
Keywords in meta tags
The more relevant the page of the user query, the higher place it can take in the organic results. But provided that there are no downgrading factors, such as weak link mass.
5. How to Start Local Link Building?
Without experience, it can be difficult to create local link-building tactics. But the lion's share of the answer lies in competitor profiles. Even a superficial analysis is enough to determine the sources of links.
Competitor analysis can help strengthen your link-building strategy, but copying the profile is not enough. To count on consistent visibility, you need to find other sources of links.
There are many link-building tips in the public domain, but in the case of local SEO, everything is very simple – donors must be from the same region. If they are not spammed by external links, you can develop cooperation with them.
5.1. Get links from top-rated projects
Typically, website owners look only at SEO metrics when choosing a donor. They evaluate traffic, visibility, profile dynamics, and different parameters: Domain Authority, Trust Flow, and Page Score. The problem with the approach is that local sites may have minimal scores according to different SEO services. But it does not mean that they are not of high quality and not suitable for link building.
— Google Search Operators & Google Search Modifier Tips
— Copyright: Everything You Need to Know
A project can be considered top-rated if it ranks well in local search for relevant queries. If there are few outbound links, you can negotiate cooperation.
5.2. Get the same backlinks as competitors
By completely copying a competitor's profile, you can hardly get similar results. Search engines see the same links and draw appropriate conclusions. Therefore, it is better to build a strategy based on analyzing your competitors' techniques rather than copying them.
As for the quality and growth rate of the profile, it is better to get at least 5-10% more backlinks than the leaders of the niche. If everything is fine with internal optimization, the advantage will allow you to outperform your competitors.
You can get a comprehensive picture of competitors' profiles with the help of SEO services. They give you an understanding of what promotion methods niche leaders use and how you can outperform them by searching for weaknesses.
5.3. Recover lost links
Every link you lose negatively affects your site's score. If a project loses 5-10 percent of its profile each month and the number of new links does not compensate for this decline, the project may eventually lose visibility.
Therefore, you should monitor the link profile and prevent a sharp drop in the number of donors and backlinks. Various backlink monitoring services help to solve this problem.
5.4. Create relevant local content
One of the best ways to get free links is to have quality and useful content. If new pages that solve users' problems regularly appear on a site, other resources may link to them.
If you look at a random website from SERPs and its profile, there will certainly be organic links that are not sponsored by the webmaster. In some cases, the share of such links can be very high.
Content features depend on the niche, but if it is really useful, you can count on stable quoting. The result of the approach depends on content usefulness and a promotion method.
5.5. Get local links
Local links determine the future of the site, so you should devote maximum time to this task. If backlinks do not appear in the profile, the rate of project promotion may slow down.
There are many local link-building techniques:
sponsorship
link exchange
posting on Resource Pages
creation of newsbreaks
You can use several techniques or create a comprehensive strategy that covers all available link sources. To evaluate the effectiveness of the approach, you can use an analysis of the dynamics in organic search results.
5.6. Use other opportunities for getting local links
Sometimes, backlinks start to appear on their own. Usually, useful tools and interesting content help in this. Some projects do not use paid link building and take good fine positions in SERPs.
It is necessary to promote the site so that other resources want to link to it without any questions. If you manage to achieve this goal, you can not worry about success in search results.
5.7. Claim mentions without links
Mentions without links are not uncommon because so many site owners worry about link juice leakage. Therefore, they prefer company mentions or URLs without active links. You can find such mentions by using specialized tools or manual search in SERPs. You can claim to add an active link, but you should do it correctly.
If the webmaster refuses to add a link, there is no need to insist on it. You can offer to cooperate in the future and get additional backlinks from other pages, which would not appear without the analysis of mentions.
5.8. Buy projects
Sometimes, the number of donors in specific niches is severely limited, and there is almost no space to work on external optimization. In such a case, you can use a drastic approach — buy local projects and use them for link building.
Also, SEO specialists use drop domains to develop relevant resources on them and eventually enhance the main project with the help of backlinks from satellites. This can work, but you need to be safe.
5.9. Add internal links
Services for building local backlinks can be useful, but work in this direction will be less effective without internal optimization. Before you start creating backlinks, you need to do effective cross-linking.
Every webmaster has a different approach to cross-linking, but one should remember the importance of concentrating juice on the main pages. Pages that can get traffic from search engines should have the most link juice.
6. What Types of Content Are Useful for Local SEO?
It is impossible to promote a local project without content aimed at the citizens of the relevant region. If the offer is designed for residents of one city, the content should also be targeted at them.
For example, if a law firm specializes in cases within one state, users are unlikely to expect to find content related to another state with its legislation.
6.1. State or regional landing pages
Region-specific landing pages can get targeted traffic and links from other resources. If users find answers to their questions on such pages and validate behavioral factors, search algorithms will get a positive signal.
Nationwide projects can theoretically get more traffic than local projects, but these are different levels. If a business has not only a website but also a physical address, you should focus your efforts on pages with local content.
6.2. FAQ pages
Potential customers often ask the same questions. You can solve this problem by using FAQ pages that will provide answers to frequently asked questions. Most importantly, they should be informative and not produce new questions.
Authoritative resources can link to external resources if the page will help users find answers. But the link must fit the context and not look sponsored.
You don't have to focus on two types of content; you can use all the tools available to provide your audience with unique content that your competitors can't offer.
7. Tips for Local Link Building
Local links are the roof of the site, allowing it to withstand all the attempts of competitors to outperform the project in the struggle for search traffic. If the link mass is better than that of the competitors, it may be enough to win.
Each site has its possibilities for building local links, but if you use the maximum available sources, you can get an advantage over your competitors and consolidate the results on a long-term basis.
7.1. Use social media profiles
Links from social media sites do not directly affect ranking but may bring additional traffic from users with good behavioral factors. And this profit is useful even for reputable projects.
Maintaining activity on social networks is profitable because it can bring in new clients. That is why many companies have started active promotion on Facebook, Instagram, TikTok, and other platforms.
7.2. Create niche content
Niche content with striking newsbreaks can go viral on local sites with no effort on the part of the project owner. You don't even need to create viral content to do this – local resources cite even standard news stories.
Google tries its best to offer pages that answer all questions in response to user queries. And in the case of local content, local sites do that.
7.3. Interact with local communities
Working with communities is time-consuming, but it can pay off in the future with increased brand awareness and new links. You can't create a well-known project without audience support.
Interaction with a local community is a direct way to regularly expand the boundaries of active customers. They will not only respond to newsbreaks but also buy products or services.
Every region has resources with a large number of users. You should engage them in the first place and then expand your reach to less successful projects that can't boast a large audience.
7.4. Find sponsorship opportunities
A sponsor is one quick way to get links. If you have a budget for promotion or can give the project informational support, its owner will gladly build links.
Google doesn't mind sponsored content, but if there are links in it, they should be marked with the sponsored attribute. As practice shows, most webmasters are wary of it because of the lack of research-proven effect on ranking.
7.5. Contact local bloggers or influencers
Opinion leaders not only influence a local audience but also can make any project popular. That's why a successful partnership with them will only be a plus.
In the case of region-specific projects, regular cooperation with local influencers can lay the foundation for becoming a niche leader. If competitors don't take advantage of this opportunity, you have a chance to outperform them in the struggle for high visibility.
It is preferable to cooperate with bloggers who can reveal all the advantages of the brand rather than just place ads for money and consider the task done. This is the only way to get the most out of it.
7.6. Monitor competitor backlinks for opportunities
You should monitor the dynamics of your competitors' websites regularly. If you don't devote time to this task, you can miss the moment when they start to grow and fail to take countermeasures.
Various SEO platforms that reduce the amount of routine work and free up time for tasks that cannot be automated, such as Ahrefs or Semrush, help you keep track of your competitors' link profiles.
7.7. Find and restore broken links
Broken links on external projects appear for a variety of reasons, but there is one way to deal with them: contact the owner of the site with lost links. If they guaranteed the safety of links, you must remind them of this.
The easiest way to keep track of lost links is through services like Monitor Backlinks and tools with similar features. They send messages about every link that doesn't work.
7.8. Update your content
You can always make quality content even more useful. The skyscraper technique, which is based on adding more "floors" to existing content, is suitable for this.
That is, you need to think about how you can improve the existing content. Then publish the improved article or other content format and watch the ranking. Local websites can cite pages without additional action if they are valuable to the audience.
8. The Most Effective Local SEO Techniques
Not all website owners know how to start building local link mass, and that's okay. Without relevant experience, such a task can seem super complicated, but it's not that big of a deal.
The main thing to know about local link building is the focus on building links that search engines will consider natural. For the most part, metrics other than spam will not matter. If you manage to get additional conversions, it is already a great achievement.
Effective methods of getting local links are different in every case, but some approaches benefit every site. You should pay special attention to them and build a strategy on their basis.
8.1. Finding prospective links
Finding authoritative local projects doesn't take much time because you can easily find such resources. Just enter a few relevant queries into the search box and look through SERPs.
The issue of choosing donors in the case of local link building is quite specific. Under standard conditions, webmasters make choices based on SEO metrics, but another strategy is required with local sites.
It is necessary to focus on:
Availability of the target audience;
Indexation speed;
Stability of traffic and visibility;
Existing links.
You should periodically repeat the search for promising donors, but you are unlikely to find new projects. In the local region, leaders remain unchanged for years, so you should establish contact with them as early as possible.
8.2. Finding contacts to build links
Contacts are usually published on feedback pages. The approach to publishing contact information can vary, so you sometimes can't automate the task. But if there are few resources, you can collect contacts manually.
If the project is interested in link building, it may have a page with the rules of guest posting or terms of sponsorship. You should familiarize yourself with them to avoid problems in the future.
Sometimes, there is no additional information other than email. In this case, you should write a letter and wait for a reply. A reply back will not always be positive – not all website owners are willing to post links, and that's okay.
8.3. Email outreach
Outreach is one of the effective tools for getting links that webmasters have been using for years. It requires practice to use, but you can partially cover the task with outreach email templates.
Effective outreach is based on sending personalized emails to website owners. You should create them in a way that convinces the recipient of useful cooperation. If the arguments are not convincing enough, you may not wait for a reply.
Outreach is considered an art, which is true because you must create a unique offer based on the characteristics of the specific project to get a high conversion rate. In the beginning, conversions may be minimal, but with practice, rates can increase.
It is necessary to try to fix the agreements that were achieved in the correspondence as soon as possible. You can also transfer the communication to another channel with more prompt interaction, such as social networks or messengers.
For newsletters, you should use dedicated email marketing services, such as Snov.io. They will help you find email addresses, check their validity, and track the delivery of your emails.
9. Effective Link-building Tools
Local link-building services can be useful, but if you have the time and desire, you can do the task yourself. It doesn't require a budget of tens of thousands of dollars.
The result of third-party work can be unpredictable, and if you build links on your own, you will be able to keep the situation under control. The main thing is to take your time and pay attention to each step.
Useful SEO platforms that can analyze competitor profiles, do a site audit, and determine the quality of links help to automate some tasks. You should use them to build an effective link-building strategy.
Most services have a trial period and the possibility of free analysis within limits. For example, in Serpstat, you can daily analyze the link profiles of 10 sites.
9.1. Ahrefs
This SEO platform gives webmasters access to plenty of useful tools that make it much easier to promote a project. Through competitor analysis, you can see what link-building methods they use.
Ahrefs will help to evaluate the potential of the donor and a specific page. This comes in handy when building links. Ahrefs is suitable when you want to use a lot of tools and it makes sense to pay a few hundred dollars for them.
9.2. Google Search Console
Without regular use of Google Search Console, the promotion of any project is almost impossible. External services can automate a lot of routine tasks, but GSC has exclusive data.
Through the console for webmasters, you can see what links your work has found and added to your profile. Link mass analysis services see them faster, but it does not mean that search engine algorithms have already done a similar job by that time.
9.3. Moz Link Explorer
Moz Link Explorer is known for its large link index containing over 40 trillion backlinks. The service is usually used as an alternative source of information when you need to collect more data.
Moz does a good job of evaluating the donor and the specific page. The service uses its own metrics whose calculation algorithms have been improved over the years. Using the analytics platform, you can quickly check whether you should cooperate with a resource.
9.4. Majestic
Majestic is often compared to Ahrefs and Moz. The service has a historical index that shows the dynamics of a site's profile development over a long period. With this data, you can determine the quality of the resource.
The service offers backlink checks, keyword generation, position checking, and dozens of other useful tools. The cost of pricing plans on average is lower than that of competitors.
9.5. GroupHigh
It is a platform with a large directory of bloggers. It helps to find influencers for brand promotion and link building. With filters, you can quickly create a whitelist and get started.
GroupHigh allows you to reach opinion leaders on major social networks, but it doesn't cover messengers. If you want to make cooperation with bloggers a priority link-building approach, the service will come in handy.
The more useful tools a webmaster will have, the better. But keep in mind that most of them are paid. So, if you need them to solve tasks from time to time, it makes no sense to pay a subscription for a year in advance.
10. What Is the Biggest Linking Problem in Local SEO?
When owners of local business sites need promotion in local search, they may find it impossible to accomplish the task. In highly competitive niches, it can be difficult but realistic.
Before gaining theoretical knowledge, such as the definition of link building, you need to complete the work on internal optimization. Only then does it make sense to proceed to create a link-building strategy. There are many problems with link building in local search, and each webmaster can name 3-5 difficulties that prevent them from quickly building links regularly.
The main problem with getting links in local SEO is the limited number of relevant donors. In narrow niches, the number of projects can be limited to a few dozen.
Obviously, this number is not enough to support the profile on a long-term basis, and webmasters will have to expand the boundaries of relevant projects. This can lead to a dilution of link juice.
The problem can be partially solved with the help of PRPosting. The service's donor directory has handy filters that help narrow down the search by region of promotion, language, subject, and keywords in meta tags.
If you want to place backlinks as quickly as possible, you can filter sites according to the speed of content posting. In this case, it is better to choose resources with turbo and quick statuses.
In addition to the limited number of donors, webmasters often encounter high spam rates of donors. Local media are linking to other resources literally every day, which can be a problem if the growth rate of inbound links is less than the rate of outbound links.
11. Conclusions
Link building for local SEO has many specifics. If the webmaster has no experience with external platforms, it will be difficult to create a quality link profile. But the publication of useful content, accumulation of positive feedback, and perfect internal optimization will contribute to strengthening the link profile, and the work in this direction will be much easier.
FAQ
What is a local link?
It is a link from a local resource created for a specific audience. A local project profile should be made up of these types of links.
How do I find local links?
You can find resources for link building in search results by using operators that filter content. Next, it remains to filter them and negotiate a partnership.
How important are backlinks in SEO?
A link profile is a foundation for the effective promotion of local and international resources. Without quality links, you can hardly outperform your competitors in local search.
What is the biggest problem with links in local SEO?
The biggest problems are the small number of donors and the lack of an established scheme for placing links. You can solve them over time, but you can encounter difficulties in the early stages.
How do I start local link building?
First, you need to create a list of potential donors, then filter them by quality, and contact the representatives of the resources that will be used for link building.