8 Ways to Find Email Addresses for Outreach and Link Building
Having determined the target audience for their outreach link building campaign, the main question for SEO specialists is how to contact them. Letters with offers of cooperation must reach the addressees; otherwise, you will be left in uncertainty. The letter was not received, or they simply do not want to do business with you? Therefore, the search for reliable contacts of potential partners is a technical but extremely important task. How to find company email addresses for free? Consider 8 ways outreach professionals can use to get email addresses for marketing.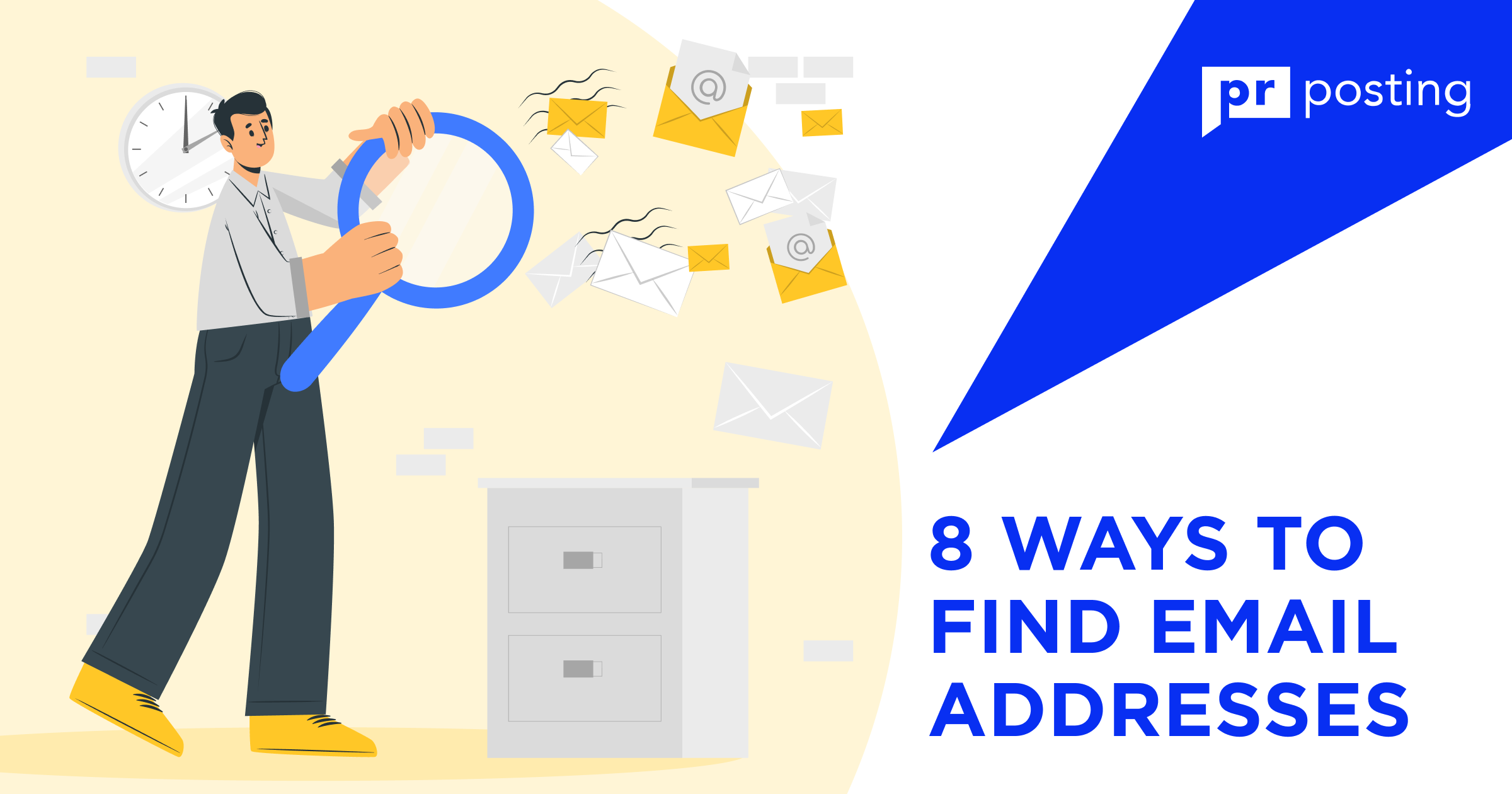 Check the Availability of Email on the Company's Website
You need to start with the easiest way. In this case, it is to open the company's web page and scroll down to the footer. Most often, the address is located there. Sometimes, visitors can find some email address at the top of the page. If it is not present in any of the indicated places, open the "About Us" or "Contacts" section. On these pages, addresses can be personalized for visitors to connect with proper specialists. In this case, you may immediately find the contacts of the content manager. Couldn't find email addresses on website? Then follow the second piece of advice and use the website email finder.
Use Special Software and Services to Find Email
The possibilities of using a professional email look up tool are quite wide. Different software has been released on the market. It can be used both free of charge and by subscription. Here are some of the most popular email finder tools.
Find That Email
It is a very useful Chrome application to find website email addresses. The service allows you to find addresses on social networks and websites and verify them. It can be integrated with other apps. In the proposed list – more than 500 items of the most popular ones. It has a good reputation due to the accuracy of its search. 100 free searches can be done every month. Above this rate, a paid plan starts.
Clearbit Connect
Clearbit Connect is also offered to Chrome users. It can be incorporated into the Gmail inbox. Thus, you can search for addresses directly in the address bar of your letters. A significant advantage of the service is that you can find out a lot of additional details about your potential partners, such as:
The exact location of the company and its postal address
Type of business
Number of employees
Financial details
Finder
This multifunctional tool provides access to a huge database of emails, on the basis of which the search for the necessary addresses is carried out. More than 430 million addresses are updated every month, which makes the database incredibly impressive. The application easily integrates with CMR. Thanks to this, users can easily operate it without leaving their digital office.
This bulk email finder is part of an automated cold outreach platform. Advanced search allows its users to filter addresses by company size, line of business, and other indicators. Snov.io email finder is considered one of the best tools for SEO outreach. The platform can also be useful for recruiters, business developers, sales managers, and other professionals. Up to 50 free searches can be done every month. For more, you will have to subscribe to one of the tariff plans.
Voila Norbert
For users to find the maximum number of potential partners, Voila Norbert performs several essential tasks:
Maintains and regularly updates its huge database of addresses.
Constantly looking for new addresses to replenish the pool.
Verifies each address, marking it with a "certainty score."
To complete the verification of the found addresses, a platform sends a special signal to them. Therefore, subscribers can be sure that their letters will definitely reach the addressees.
Hunter
Hunter is the most popular tool that has been developed for the lead generation platform. Hunter email addresses are easy to use and highly accurate, reaching up to 95%. Due to these qualities, the platform has already been chosen by more than 3 million users, among which are the world's leading companies. By searching for the necessary addresses in seconds, Hunter not only verifies them but also accompanies them with additional information, including the position of employees in the company.
FindThatLead
The address lookup tool is one of the many useful features offered by the B2B sales platform. FindThatLead also provides help in the formation of email texts using professional templates, tools for analyzing the success of email campaigns, and more. This service is well suited for teamwork. It allows for many search options: websites, social networks, keywords, and more.
eMail-Prospector Pro by eGrabber
It is enough to enter the name and company to get the necessary address and phone data of a potential partner. The tool not only finds but also analyzes the suggested addresses to filter out only the most real ones. In addition, along with the address you need, the platform will offer the addresses of co-workers of the person you are looking for. With this support, you will surely reach your goal!
FindEmails.com
If you do not need raw addresses but only verified ones, use FindEmails.com. This is one of the cheapest yet most effective options. The platform can also be used as an intermediary to exchange lists of verified addresses with other users. You can buy their databases and sell yours, making extra money from your efforts.
Check Company Social Media: LinkedIn, Facebook, Twitter
Company social media profiles have become common digital business cards. Easy access to their audience encourages companies to actively use the opportunities provided by social networks. Search email addresses on Facebook and other popular apps. Open the Facebook email finder online and type the name of the potential partner. On the company's profile, click the contact and personal information section. Some general addresses of the company will be presented there. By writing to the contact person, you can get the coordinates of the content manager, with whom you can discuss all the necessary issues. If the Facebook email finder tool was not helpful, check the next method.
Try to Guess the Correct Email Address with Permutator+
If you know the name and surname of the company representative with whom you need to make contact, this is a great success! Indeed, in this case, it becomes possible to use the email lookup tool by name. How to find email addresses by name? A very handy tool to find email address by name can be used for free. Open Permutator+ and enter all the data that is known about partners and may be useful in finding their address: first name, last name, and possible domain. Email finder by name will return multiple versions of addresses. Don't send emails to them right away. Only one or two of them can be real. To determine which one, enter all of them in the letter field and touch each one with the mouse. If you find an address with an avatar, this is exactly what you need!
Find Via Advanced Search on Twitter
How to find company email addresses if they are protected from bots by changing some symbols? A lot of users turn to this strategy to safeguard themselves from spam. Some social networks such as Twitter provide advanced search capabilities that allow you to research email addresses. Here you will have to show both imagination and logic. Users often leave their email addresses in some tweets or bio text. However, it is not realistic to review all the user's tweets! It is much easier to use advanced search to find company email addresses. To do this, enter the phrase "email at" in the search bar and specify the user's nickname.
Subscribe to Newsletter from Your Customers
If it is important for you to establish strong contacts with a potential partner for link building outreach, do something pleasant for them. For example, subscribe to a newsletter to find corporate email addresses. From it, you can find out not only the address necessary for contact but also many details about the company's activities. A letter based on them will look much more convincing!
Try to Use the Service WHOIS
You can use the data that remains when owners register a website domain. To do this, use the WHOIS service, which is an accumulator of domain owners with their contact addresses. To find all email addresses for a domain, open the search column and enter the available data. By law, website owners must provide their contact information to users for feedback. Therefore, it is highly likely that you will be able to find email addresses domain. However, if the website owner has taken advantage of the opportunity provided to them to hide their personal data, this method will not give the desired result.
Use the Contact Form on the Website
Almost every website offers a form for feedback from visitors. Sometimes, it is offered in the contact section. But many sites offer it in the form of a pop-up window so that potential visitors can immediately see that the company is ready to start a dialogue and instantly respond to any question. Open the contact form and briefly state the essence of your question. In most cases, the required information on the email addresses link will be provided with the name and position of the responsible person.
SUMMARY
If you don't know how to obtain email addresses for marketing, try several of the above-mentioned ways. Start from the simplest individual search on websites and social networks and explore using the best free email finder tool. If one method doesn't work, don't stop and try another! Over time, you will understand which of them suits you best. In the search, you will compile a solid base of contacts for outreach and link-building purposes.
FAQ
What is email outreach?
Communication with partners via email to establish cooperation in the form of the exchange of content, links, and others is called email outreach.
Who is the email outreach specialist?
It is a professional who can provide a full cycle of email campaigns to find and establish cooperative relationships with potential partners.
What is email outreach in SEO?
It is one of the strategies for promoting the website by establishing mutually beneficial relationships with other companies. They can take the form of publishing guest content with links, incorporating links into partner texts, and so on.
What is cold email outreach?
It is the initiation of cooperation with potential partners by offering them various forms of mutually beneficial projects. Contact is made in the form of an email message.
What is a guest post outreach email?
It is an offer to the owner of a website or blog to publish content with a link to the initiating company that may be of interest to their target audience.