What Is Email Tracking, and Why Is It Important?
You may hear the notion that email newsletters have long been ineffective and are associated with the target audience as spam by default, but numerous examples of productive email marketing strategies disprove it.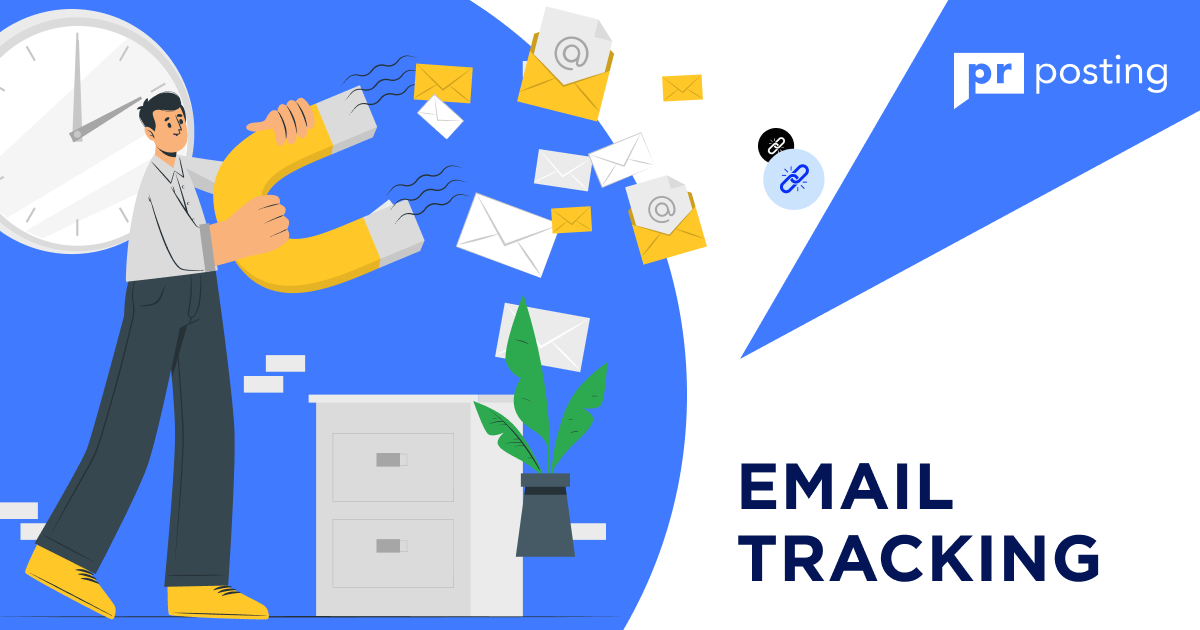 In fact, e-mail newsletters remain one of the main marketing tools for businesses. If a company doesn't use this channel to communicate with customers, it loses a lot of potential leads. And some projects stay afloat only thanks to newsletters.
1. What Is Email Tracking?
Email tracking is a tool that allows you to measure the effectiveness of email newsletters. It enables a professional to assess the reaction of subscribers to a particular email and the entire chain.
Imagine that you have been invited as a speaker at a professional conference. But the audience is behind a screen. Under such conditions, it is impossible to evaluate the reaction of the listeners. Most of them can scroll through a newsfeed on social networks rather than listen to the presentation.
With e-mail newsletters, the situation is similar. If you regularly send emails through an email service and don't follow the reaction of subscribers, it's a road to nowhere. There might be conversions, but the efficiency of using the channel could be much better.
Thanks to the tools of email providers and specialized services, you can see how users react to emails. This will allow you to adjust your marketing strategy, increase the number of leads, and form a steady trend of increasing the share of orders through this channel. It is important to understand that an email list is not just a sequence of characters and numbers but potential customers who can bring money to the business. If they are interested in your products or services, all that remains is to further encourage them.
By tracking email opens, you can see what percentage of email subscribers respond positively to content. For example, if only 2% open emails, you need to make changes to your newsletter strategy.
Tracking allows you to record not only email openings but also clicks on links and other activities. You can get such an opportunity immediately after you integrate the selected tool into your newsletter chain.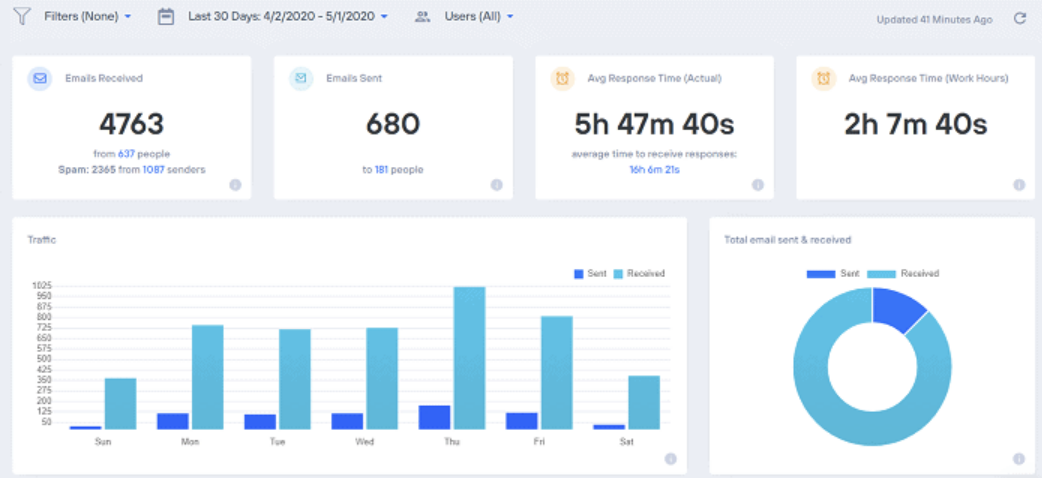 An email channel has many advantages over other sources of leads, so it is important to pay attention to the basic setup of useful tools allowing you to increase the effectiveness of your newsletters.
1.1. Advantages of tracking your emails
The main advantage of tracking is a full report on subscriber activity. You can see how many users opened your emails, when exactly they did it, and how their interaction activity changes when sending the next emails.
Newsletter tracking allows you to create effective templates to be used on an ongoing basis. This is very important at the initial stages of email channel development.
A marketer or business owner can send 3-5 greeting emails to new subscribers and see which ones are most likely to be opened. This information can then be used to refine your marketing strategy.
The main benefits of email tracking are:
Tracking important metrics. They allow you to see how loyal subscribers are to emails. If you use this information correctly, you can increase the effectiveness of your channel several times.
A complete history of customer interactions. You can follow how user behavior changes in terms of separate email chains.
Time saving. Thanks to tracking, you can identify the best template and use it on a regular basis.
Room for experimentation. You can test several approaches to distributing information on promotions, new product delivery, or price increase.
Growth of business performance. The increase of marketing strategy efficiency is transformed into the growth of conversion, the average check, the number of orders per customer, and other metrics.
It's safe to say that without tracking the effectiveness of email newsletters, the channel won't be beneficial. Therefore, before you start actively working with it, you must take care of technical issues.
No programming language knowledge is required to integrate email trackers. It is sufficient to connect to a specialized newsletter service with the appropriate features or pay $30-50 to a freelancer who will do basic settings.
After the tracking is activated, you will be able to see how users react to various email subjects, evaluate changes in the percentage of open emails (Open Rate), and record the real dynamics of coverage and other important indicators.
2. How Does Email Tracking Work?
Not all marketers and business owners take the time to learn how email tracking works. This is justified if there is no time and everything works well, but for general development, knowledge is not superfluous.
The core of email tracking is special tracking pixels. They are integrated into the body of the email and help collect important information. Most popular mailing platforms use this method.
Gmail and Outlook email services can activate email opening tracking in the settings. You don't need to use external tools or spend money to pay for subscriptions.
In addition to tracking pixels and standard email analytics tools, you can use Google Analytics and similar solutions. They allow you to monitor the clickability of links in the body of emails.
All tracking technologies have their advantages and disadvantages, so you should make the right choice. If you need to see whether recipients open emails, there is no point in using the analytics service. Basic tracking options, which almost every mailing program has, are sufficient.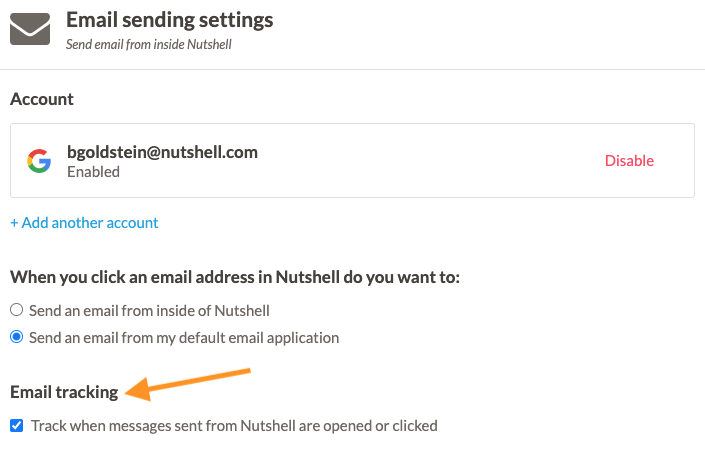 2.1. Opening tracking
If the marketer or business owner does not understand what part of subscribers interacts with emails, they are wasting their time. For example, if an email channel brings in 5 leads without tracking, you can increase this indicator by at least 2-3 times with its help.
Newbies think that e-mail opening is a simple action, which does not automatically lead to clicking a link or performing other targeting tasks. But it is worth bearing in mind that the flow of spam and marketing newsletters is extremely intense these days, so reading it means a lot.
You can implement opening tracking with email services, but this is not an ideal solution when it comes to complex email marketing. It's better to use a full-fledged tracking service for such tasks.
2.2. Click tracking
In addition to tracking email openings, you should also monitor other metrics. If you only focus on one parameter, you won't get a complete picture of the effectiveness of your marketing channel.
Click tracking is performed with the help of special tags added to URLs. If you have 5-10 links in your emails, you can see which ones are clicked most often and make changes in your mailing strategy.
Even if the emails do not include links to products or promotions, there will definitely be some URLs. It can be the evaluation of the operator's work, unsubscription, or something else.
2.3. Activity tracking
Activity tracking refers to other metrics that can provide additional signals about user behavior. This information will help you refine your newsletter strategy.
For instance, you can see in the analytics system from which devices users interact with emails more often. If 95% use smartphones, it makes sense to focus on mobile templates. Email tracking services are constantly improving their features, so users can get even more tools over time and increase the effectiveness of newsletters. Some trackers can track the number of file downloads and send messages when subscribers perform a certain action.
Most analytics services perform their tasks 100%, but you should keep in mind that there may be errors in the reports. Their extent depends on how well the tracking technology is implemented. The percentage of users who set up the blocking of extraneous trackers also affects the errors.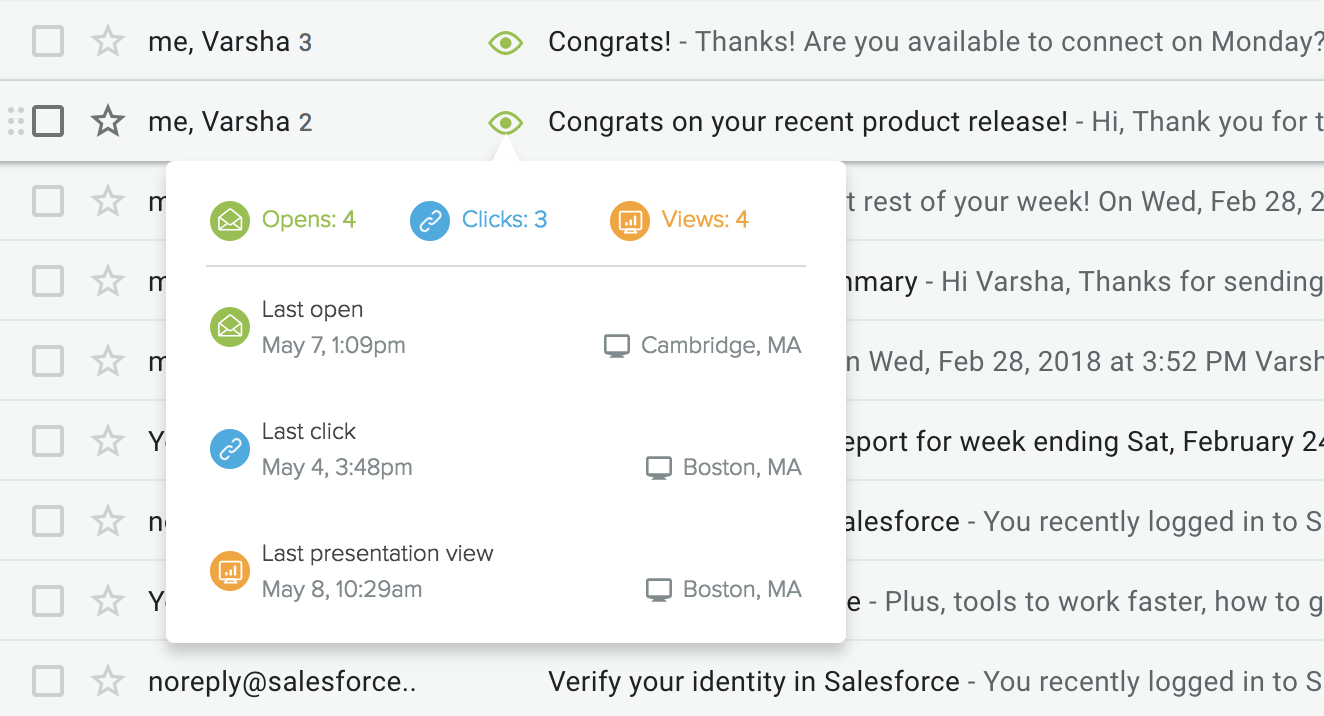 Some email programs allow blocking all pixels, in which case only UTM tags will help. It will be possible to track the number of clicks, but things are more complicated with other metrics.
Also, note that the service should send emails not to groups but to each addressee individually. In the first case, the possibilities for tracking will be minimal, so this scenario is inefficient.
3. The Best Email Tracking Software in 2023
The market of email tracking tools is highly competitive, so it can be difficult for newcomers to make the right choice. Before you pay for several months of access, you should take the time to test the platform.
For example, services sometimes have problems with IP or domain blocking. It is important that the developers fix them promptly. The effectiveness of all clients' newsletters depends on it.
If newsletters are used to solve business tasks, it is better to choose a comprehensive email marketing platform. As a result, you will be able to automate many tasks and save money.
Some companies use different platforms to create, send, and track metrics. If this choice is based on specific conditions, it can't be called wrong.
3.1. SalesHandy
The service is positioned as the No. 1 solution for cold letters. In addition to tracking, it offers automation of the sequences of email chains and extensive personalization of responses with macros.
Email opening tracking is implemented via Chrome extension. Tracking is activated with a single toggle switch. The user can then use any available features. One of the main features of SalesHandy is a real-time message on the desktop.
The cost of a subscription starts at $7 per slot. For this money, the customer gets unlimited tracking and a free connection to another team member's account. A basic subscription is enough for undemanding marketers.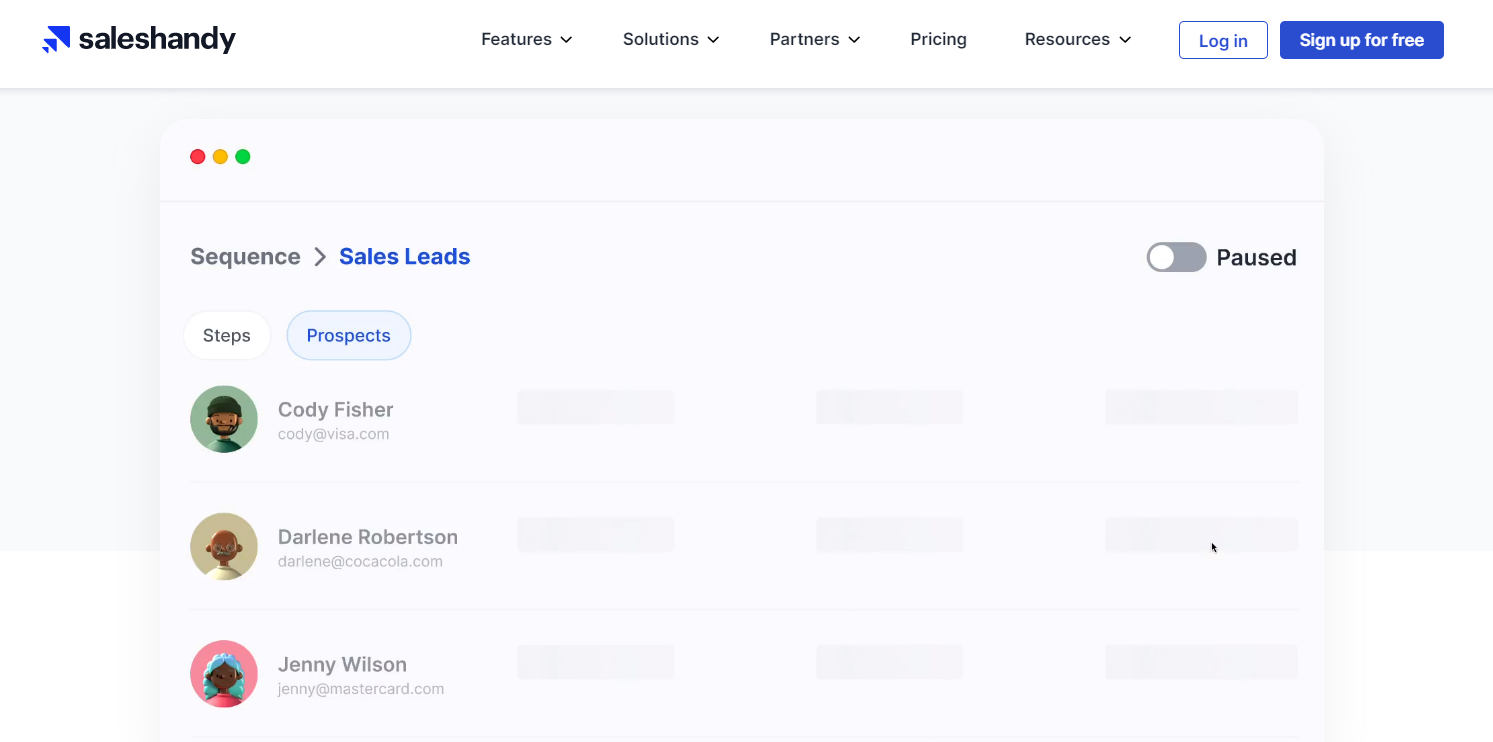 3.2. Snov.Io
It is an email marketing platform that is considered one of the niche leaders. It is beneficial because it covers many tasks in one interface. This way, business owners can save money.
Snov has a Google Chrome extension that can be integrated into Gmail. Thanks to it, you can keep track of important metrics: email openings, clicks on links, and the full history of interaction. The service also sends a push message to your desktop when a subscriber performs a certain action.
The tracker is completely free, but you can buy a subscription plan to use other tools: newsletter, warm-up, CRM. Subscriptions are not very expensive, but you will need one of the most expensive plans for teamwork.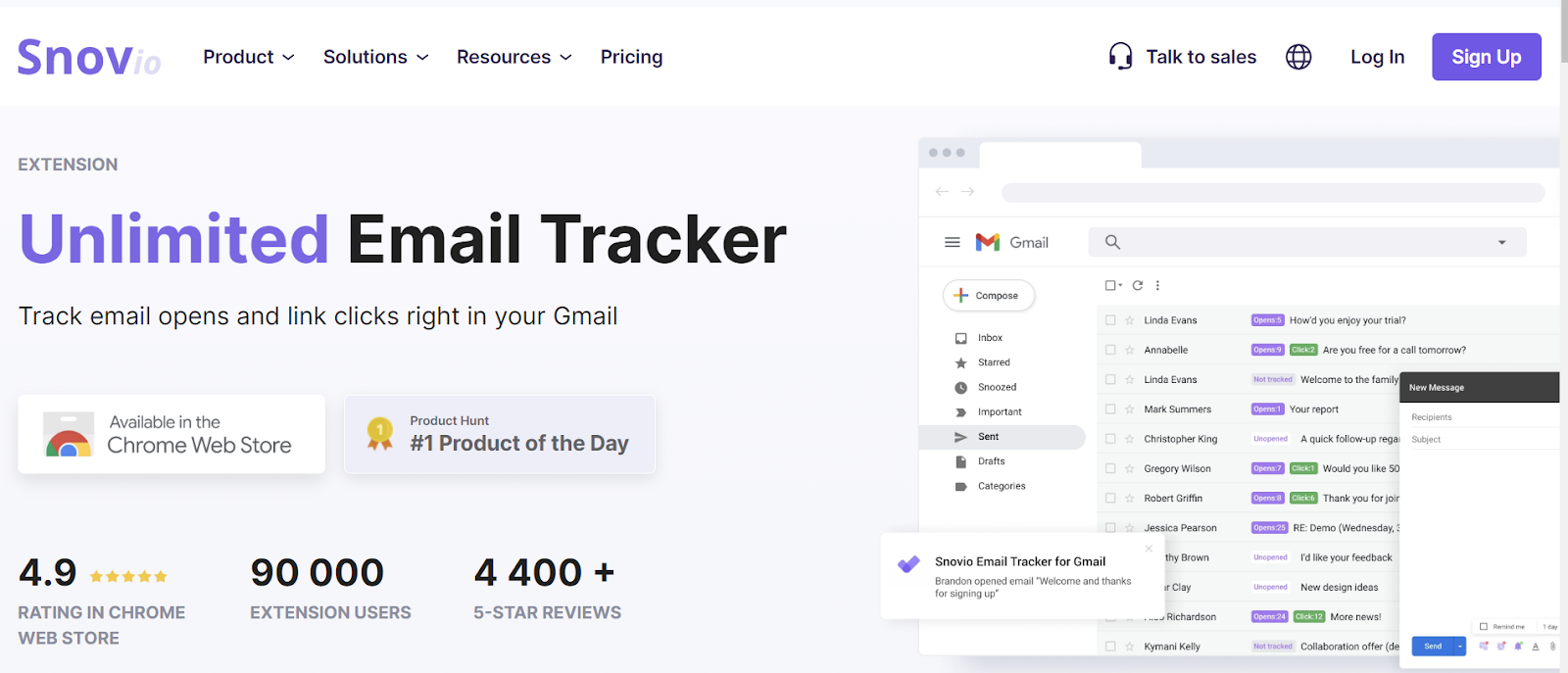 3.3. HubSpot
The platform is among the most popular tools for performing various tasks as part of a digital marketing strategy. When it comes to newsletter automation or CRM, users often mention this particular service.
HubSpot offers customers free email tracking. With its help, you can find out exactly when users open emails, how they interact with attachments and see the full history of communications with a particular subscriber.
Subscription plans start at $45, but they are only for those who want to use CRM and other tools. If you want to use tracking only, you don't need to pay.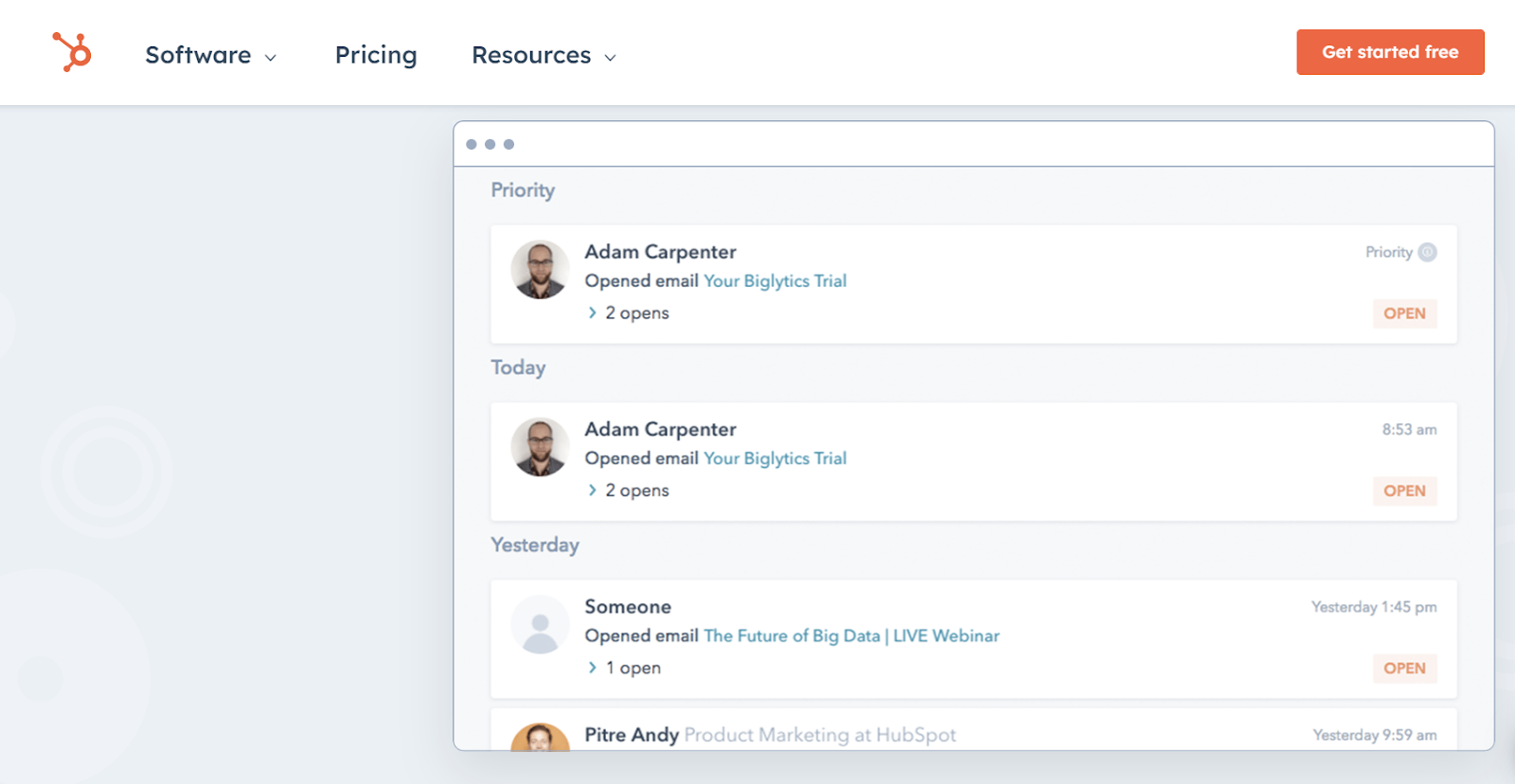 3.4. Groove
The service acts as a provider to connect to other digital marketing platforms. For example, it can be used to register incoming and outgoing messages in SalesForce.
After connecting Groove to your Gmail inbox and activating tracking, you can see the full history of interactions with a particular recipient. The platform also offers users templates for newsletters and tracking the effectiveness of the email channel as a whole.
Information about rates is not publicly available. It is possible to find out the actual cost for a specific project only after a demo presentation. Groove's active clients indicate prices starting at $12 per month.

3.5. LeadBoxer
The service helps to analyze potential clients. It helps sort leads by warm-up rate and increases the effectiveness of digital marketing. It also answers the question of how to track emails through standard tools.
LeadBoxer offers solutions for Gmail and Outlook. The service allows you to track email openings, clicks, and user interaction history. Tracking is activated in a single click.
The Chrome extension comes free, but if you need additional tools, you'll have to pay from $195 per month. So, LeadBoxer can hardly be called the best email tracking tool.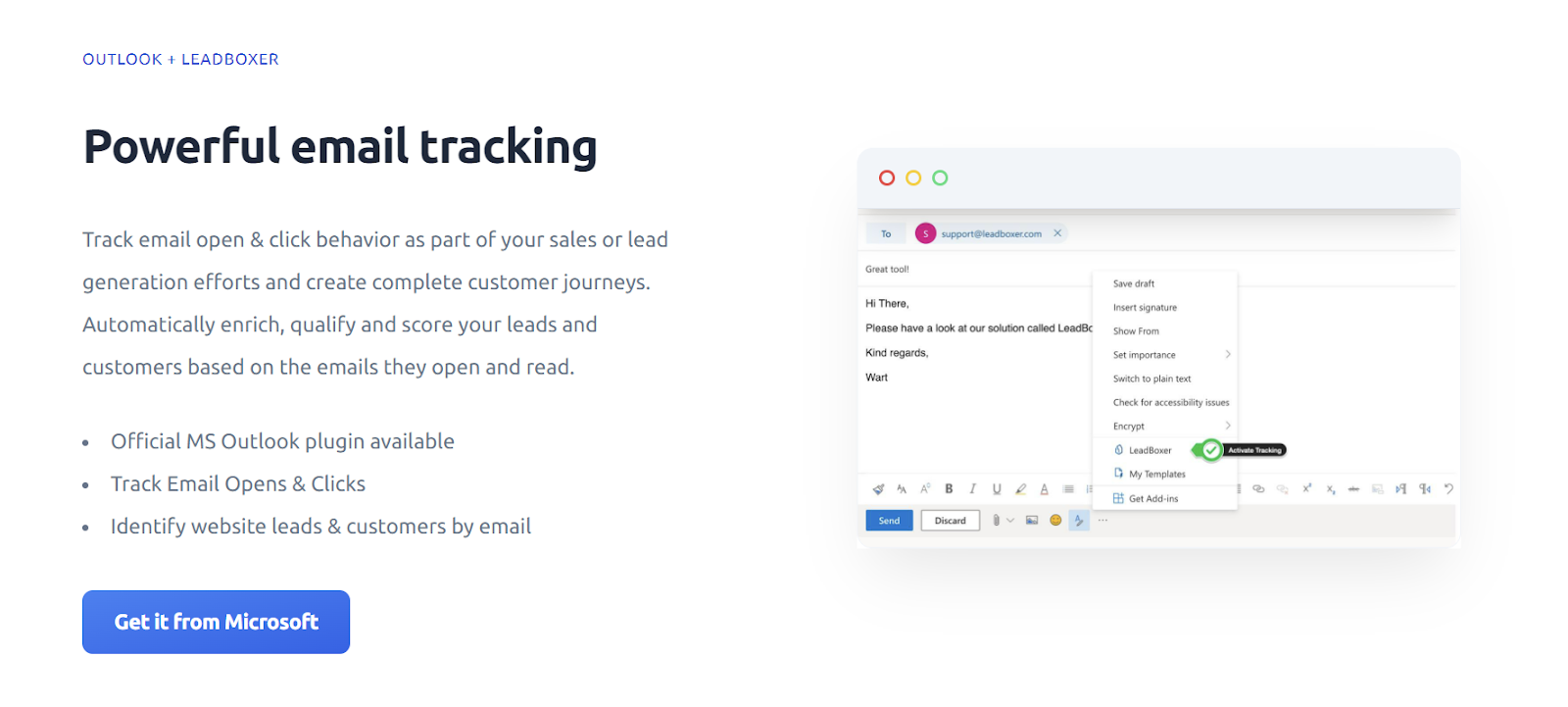 3.6. Streak
Streak is a useful Chrome browser extension for email tracking. After installation, an additional panel appears in the side interface, which allows you to track the activity of email recipients.
The tracking setup is implemented in a few clicks. Once the basic configuration is done, you can get real-time notifications on your desktop. By sending emails only to those who have opened them before, you can increase the conversion rate several times.
The Streak extension is available for free, but to use CRM, sales funnels, and other tools, you'll have to pay from $15. For demanding marketers, the tracking options available may not be sufficient.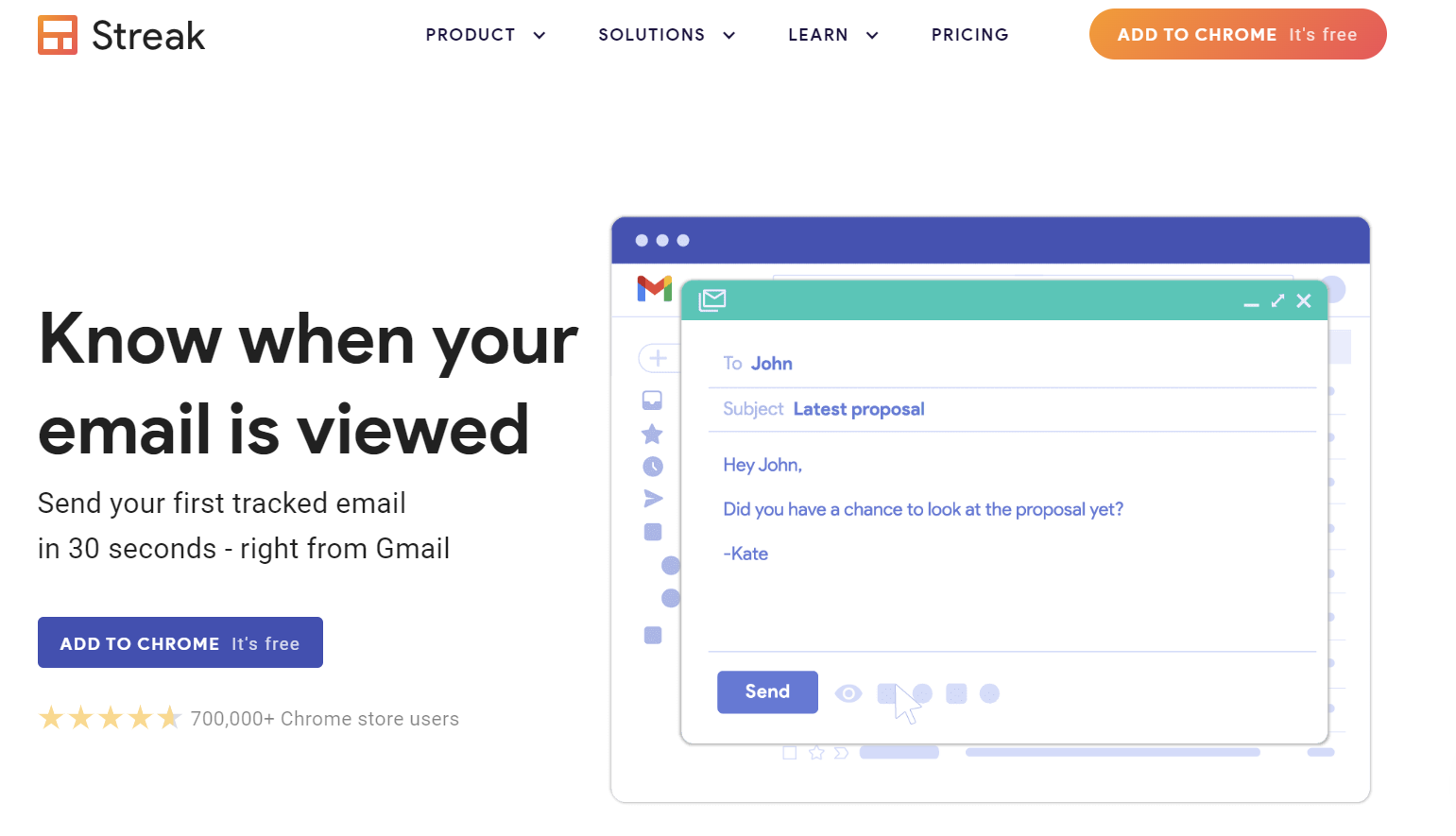 3.7. Mixmax
It's a dedicated platform for increasing the effectiveness of interaction with potential customers in the Gmail interface. It can also be used to schedule and send newsletters in bulk to subscribers.
Mixmax provides email marketing tracking tools and allows you to receive real-time notifications. Reports will show when the user opened the email and whether they clicked on the link.
The service has a free rate, which is sufficient for basic tasks. If more features are needed, you must pay from $24 per month. If necessary, you can get a personal demo to familiarize yourself with the available tools.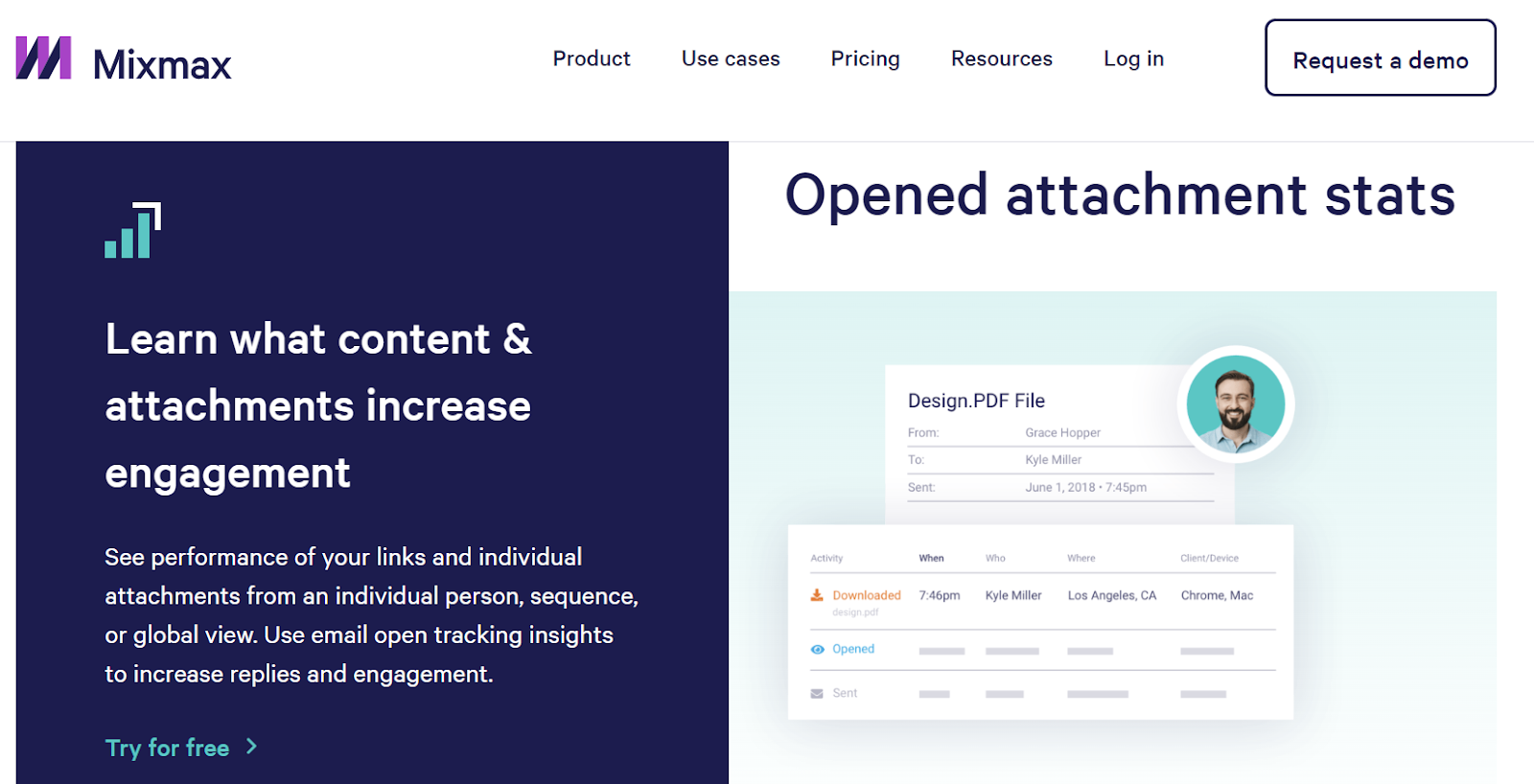 3.8. Yesware
When marketers ask how to track emails, one answer is Yesware. It integrates with Gmail and Outlook in a few clicks and helps get important information about subscribers' email interactions.
The service does a good job of determining when emails are read, when links are clicked, and when attachments are viewed. Yesware recognizes the locations and devices with which recipients interact with content.
The tracking tool comes free on a lifetime model, so you can use it on an ongoing basis without worrying that it will someday become paid. As for the other options, subscriptions start at $15 per month.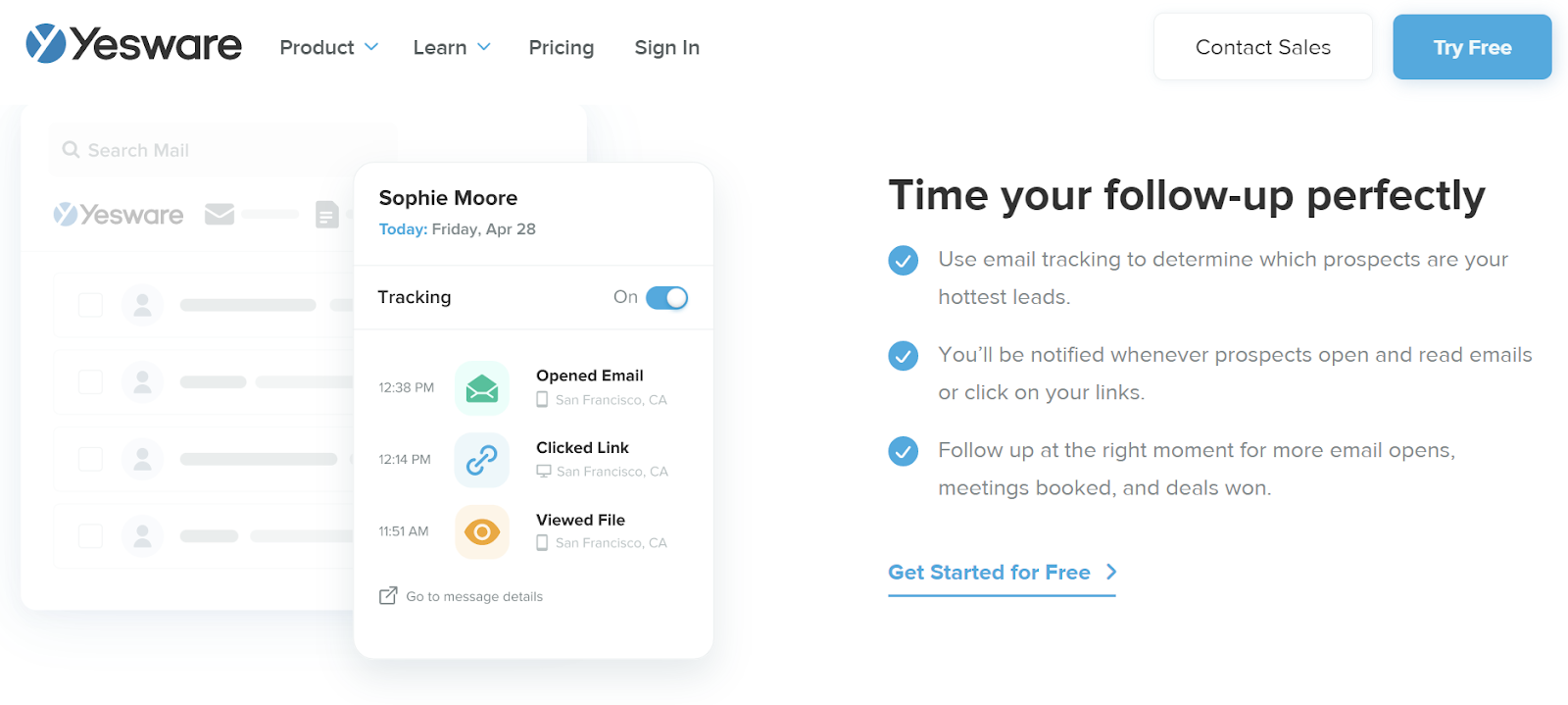 3.9. MailTracker by Hunter
This is a simple and free email tracker for the Chrome browser. The service that provides it is considered one of the most popular solutions in its niche. It is used by more than 30,000 clients.
MailTracker integrates into the Gmail interface and allows you to track emails in real time. The tracking function is activated in one click. The capabilities of the tool are limited, so, for example, you can't find out the location of the recipient.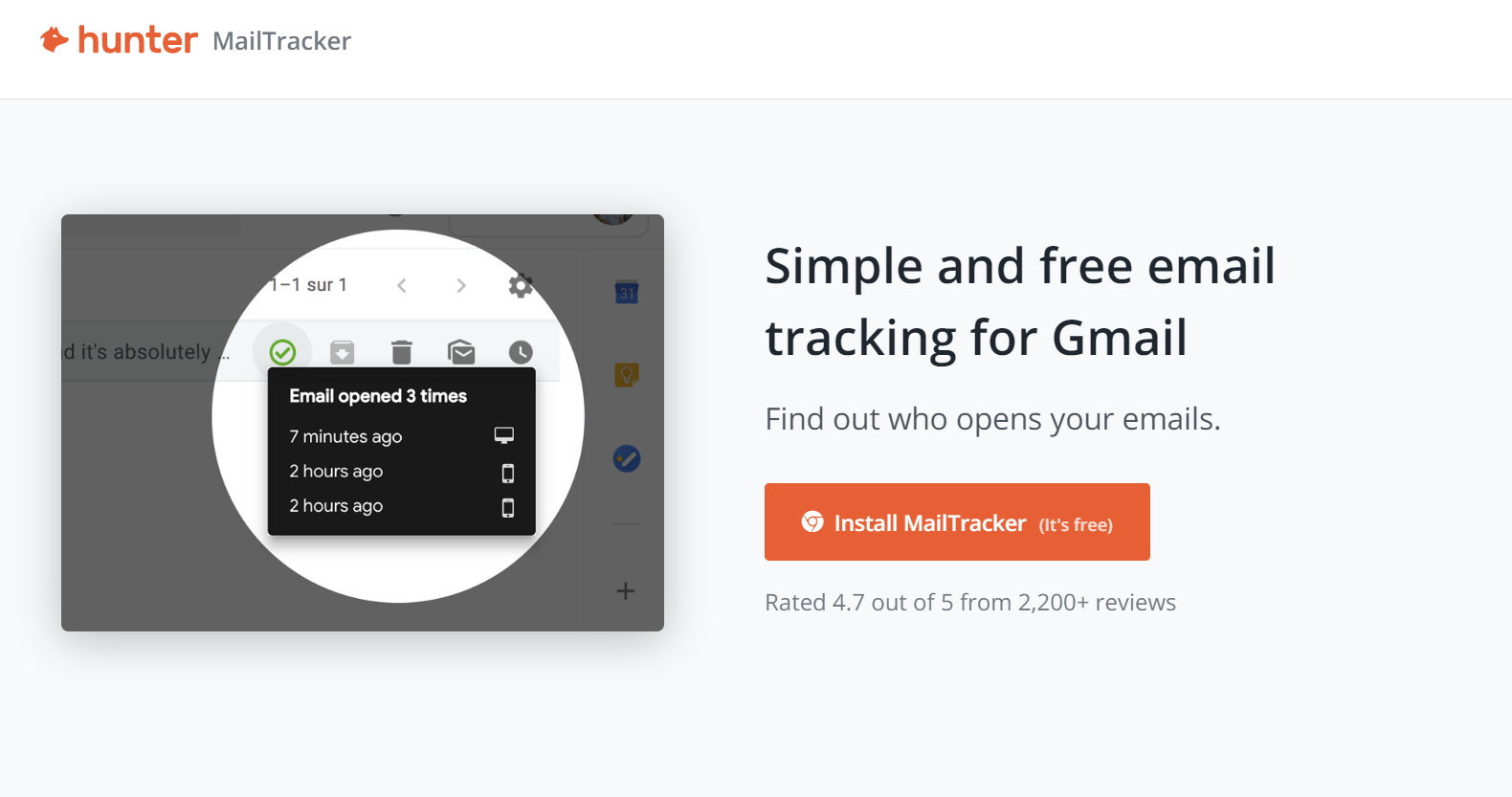 3.10. Mailtrack
This is a popular extension for Chrome, which has already received more than 11,000 positive reviews in the official browser marketplace. It is characterized by robust data protection, real-time alerts, and easy integration.
After installing the app, you can immediately activate tracking and see the full history of the user's interaction with the email. Reports also record information about the number of clicks on links.
Mailtrack is free, but you can buy access to advanced features for 12 or 30 euros per year. This cost makes the tool affordable for any level of business.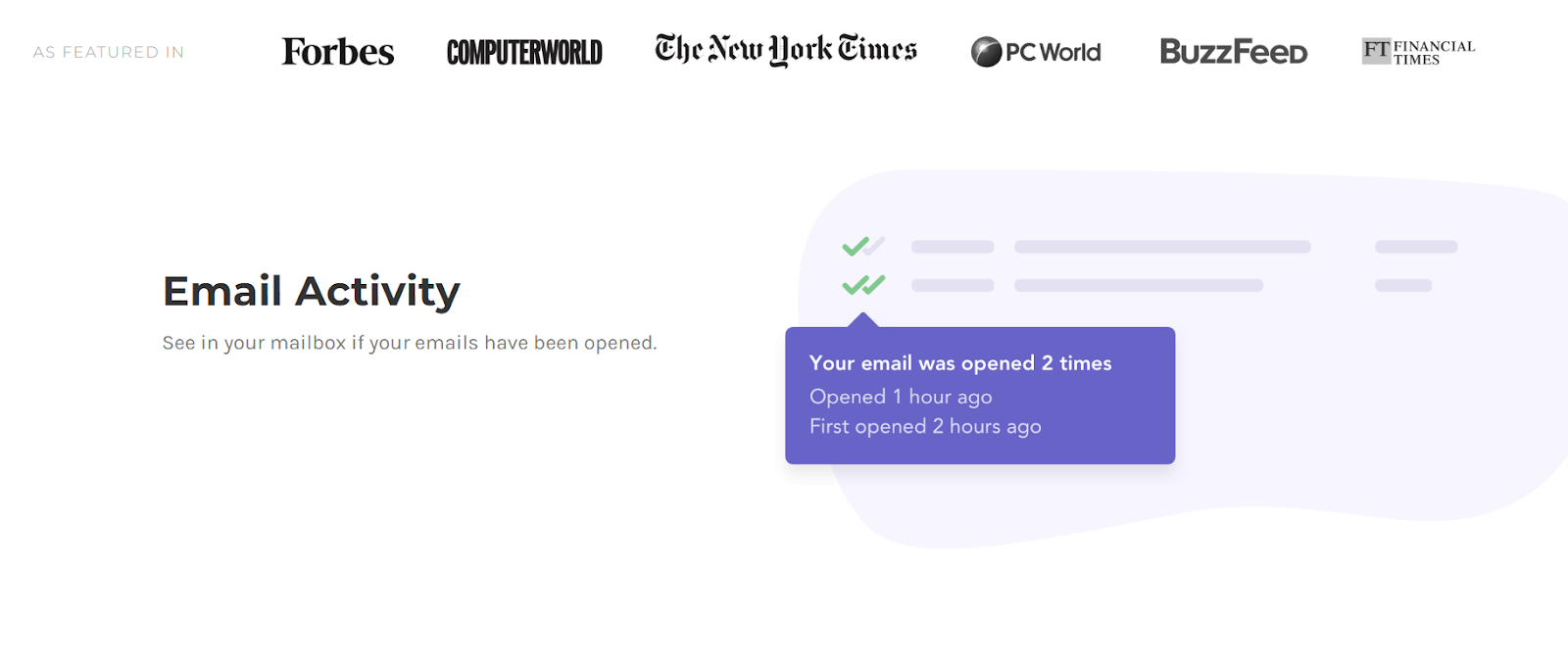 Service name
Email services
Pros and cons
Subscription cost per month
SalesHandy
Gmail
SalesHandy Gmail + tracking user locations

+ one-click activation

+connection of several mailboxes

– support of one email service

– only one team member connection $7-25

$7–25
Snov.Io
Gmail
+ built-in schedule

+ open source

– support of one email service

– does not track file uploads $30-$999

$30–999
HubSpot
Gmail
+ full user interaction history

+ answering calls

– support of one email service

– does not keep track of file downloads

$45–3,600
Groove
Gmail
+ full user interaction history

+ tracking user locations and devices

– supports one email service

– does not track file downloads

від 12$
LeadBoxer
Gmail та Outlook
+ support of two email services

+ standalone solution

– limited capacity

– does not track file downloads 195-495 euros

195–495 євро
Streak
Gmail
+ one-click activation

+ mass mailing

– support of one email service

– doesn't track file downloads

$15–129
MixMax
Gmail
+ built-in personalization

+ keeps track of attachments

– only supports one email service

– does not show the user's location and device

$24–69
Yesware
Gmail
+ shows the user's location and device

+ real-time notification

– one email service support $15-65

$15–65
MailTracker by Hunter
Gmail
+ quick integration

+ free lifetime access

– support of one email service

– limited features for free

безкоштовно
Mailtrack
Gmail
+ free lifetime use

+ real-time message

– support of one email service

12–30 euros/year
A basic analysis of all solutions shown in the table leads us to the conclusion that you will definitely need Gmail or Outlook to track your newsletters. However, you can connect your corporate email to them without any problems.
Using domain mail in combination with email tracking tools allows you to cover all your needs for tracking digital marketing metrics. It will take some time to set up, but the bundle will work automatically.
4. How Can I Improve Business Performance through Open-source Email Tracking?
When newcomers ask how to track emails, not everyone is prepared for the fact that integration of tracking tools is not done in 5 minutes. You can solve the problem at this time only if you have a subscriber base distributed in segments and make a choice in favor of a certain service.
In other cases, you need to spend time on preparatory work. Only after that, it makes sense to set up the integration with the mailbox and proceed to send email chains.
You must pay attention to each particular step to get the desired result. For example, if you do not connect the corporate email to the service beforehand, you will have to recollect the contact database.
4.1. Select the service
The first step is to make sure that you can track emails in full. Some platforms provide only the basic features available in any Chrome or other browser extension.
If you want to monitor email openings, clicks, and file downloads and see statistics by device, you need a powerful tool. You should check for all the features at the start, not after you pay.
Many popular tracking tools are free, but they may not cover all your needs. Therefore, it is better to find out about it in advance, not at the moment of sending the first newsletter.
Many platforms have a personal demo, so don't ignore the presentation. During the communication with the manager, you can get answers to all your questions and make sure you have made the right choice.
4.2. Start sending emails
There is no point in using tracking tools without sending emails. Even beginners who are new to digital marketing understand this.
If you haven't previously tracked newsletters, tracking will improve the effectiveness of that email channel. No one is saying that the number of leads will increase fivefold in a few days, but there should definitely be a positive shift.
Use the power of email tracking platforms to their fullest potential to get significant results for your project. Also, don't forget about data errors, which can be as high as 5-10%.
4.3. Optimize follow-ups
A follow-up is an email or conversation that is sent automatically after certain actions are performed. For example, if a user responds to a greeting after registering a profile, an email with a promo code can be sent to them.
Follow-up optimization can improve Reply Rates, Open Rates, link clickability, and other metrics. With follow-up chains, the sender can automate a large number of email marketing tasks.
Create follow-ups based on triggers. If they are sent chaotically, it will be of little use. On the contrary, it might lower conversion and user reach.
4.4. Cleaning up the list
When marketers and business people ask how to track email openings, not everyone thinks about the other tasks without which quality email marketing is impossible. This includes follow-ups, click-tracking, and periodic contact list cleanup.
Email marketing services allow you to segment users by activity. If a subscriber doesn't open emails for a long time, they can be crossed off the list.
When only loyal subscribers remain in the database, it automatically increases conversion, reach, and other metrics. Lack of loyalty, on the other hand, indicates that the user is not interested in further interaction.
After you have successfully set up all your email marketing processes, you should focus on newsletters, user segmentation, and experimenting with different email formats. Chain optimization and automation will help you achieve your goals and save time on routine.
The main advice that can be given to businessmen and anyone interested in newsletters is to focus on personalization. It is this tool that allows you to encourage customers and motivate them to take targeted actions. Email marketing starts here, not with finding an answer to the question of whether emails can be tracked.
In addition to newsletters, it makes sense to use other tools to get traffic and leads. Search engine optimization is ideal for this. More help is provided by links exchangers, which allow you to build links to reputable resources.
There are over 44,000 donors in the PRPosting directory for different regions and niches. A link on a relevant project can generate not only link juice but also several additional customers. But this is only possible if you do it right.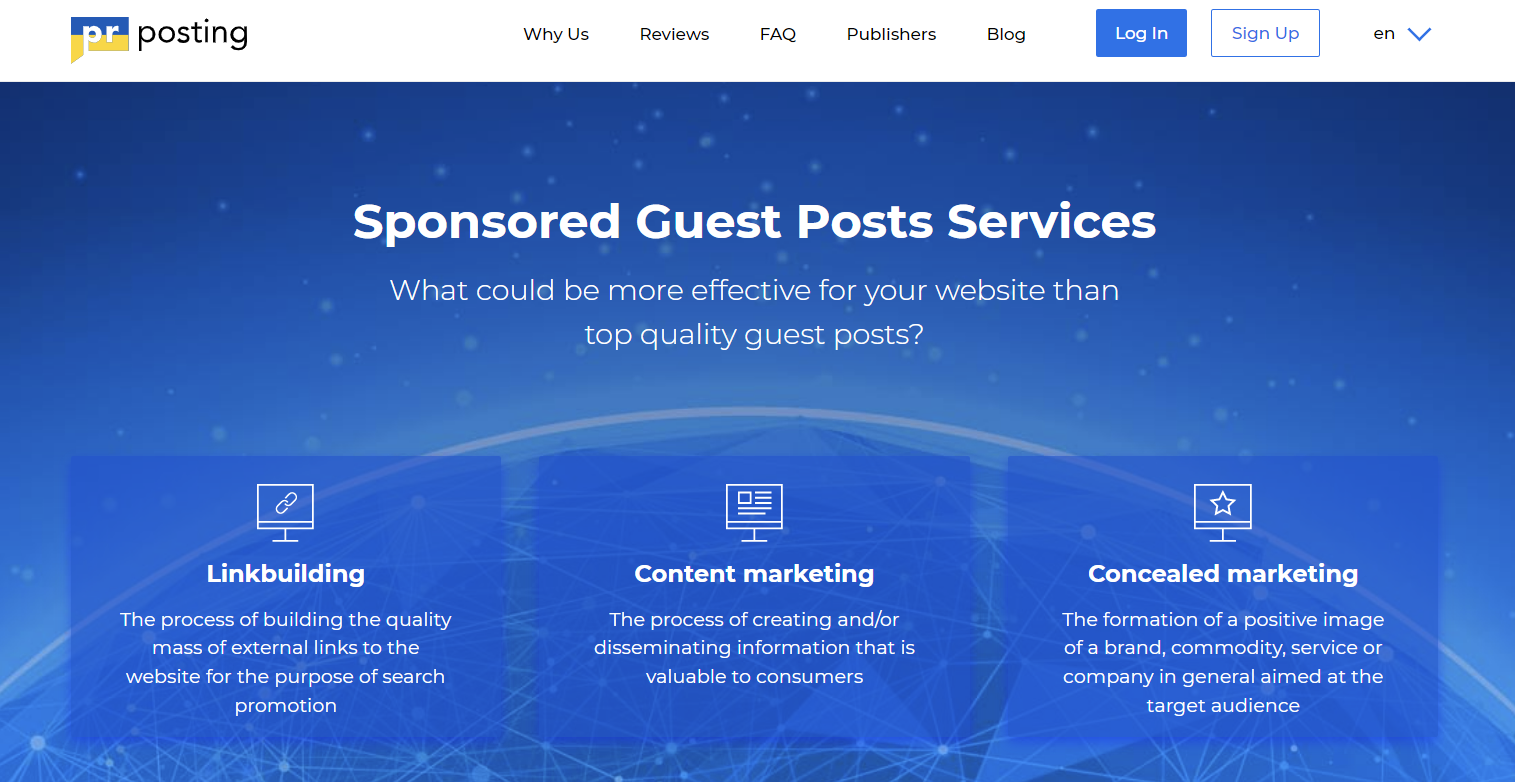 5. Conclusions
Email marketing was and still is a powerful tool to increase subscriber engagement in any niche. With it, information projects can increase audience reach, and businesses can gain new customers.
FAQ
What is email tracking?
It is tracking the activity of email recipients. Using tracking pixels and analytics services, you can view all user activity.
Can I track emails?
Yes, if the recipients do not block external trackers. In this case, it is not possible to get reliable data about their activity.
How do I track emails?
To do this, you must integrate the selected tracking tool into the mailing service. The task can be solved in different ways, but usually, entrepreneurs connect corporate mail to Gmail.
What is the best email tracking software?
Choosing the best tool is difficult because there is intense competition in the market. When email tracking is needed, users usually choose Snov, Hunter, and Yesware.