Tools for Finding Phone Numbers
You can find almost any information on the Internet, from the owner's personal email and photos to social media pages. So, you can check a person's background in just a few clicks.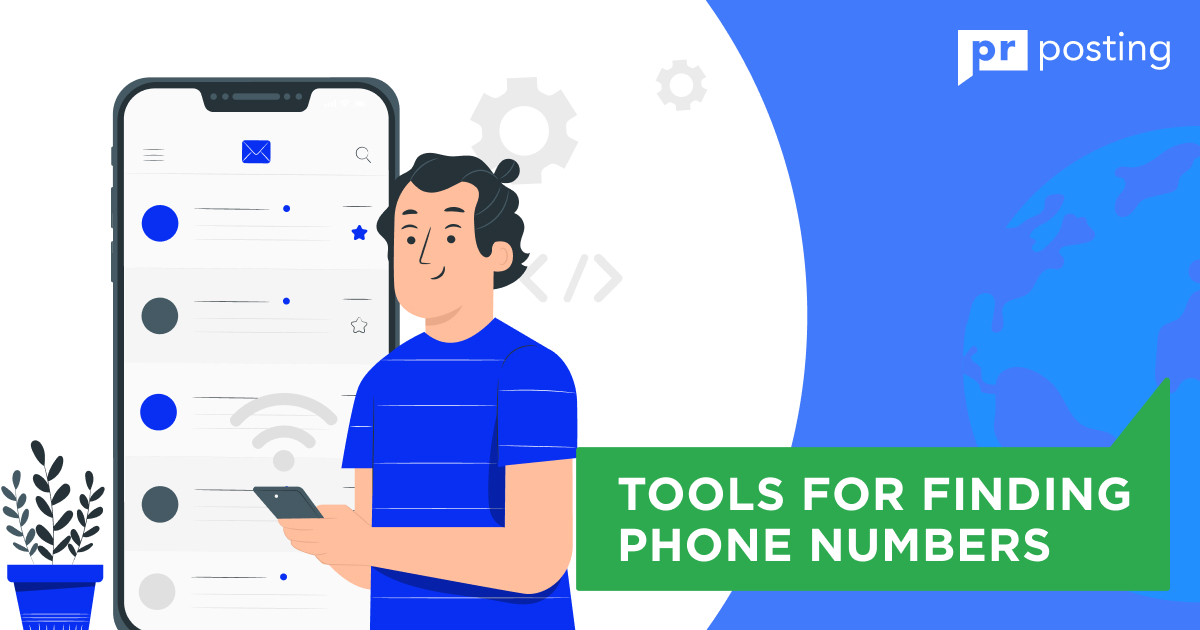 Marketers, journalists, webmasters, and business owners periodically wonder how to find a phone number. This need may arise when you want to quickly get in touch with a person, but their contacts are not available.
Phone number locator services come to the rescue. They can identify a person by name, residential address, or mailbox. There are also dedicated search engines for this task.
1. 4 Tips for Finding People's Phone Numbers
When users need to find a person's contact information, they usually look for them on social networks. If you have OSINT skills, you can solve the problem quickly because almost everyone has a digital footprint online.
Right now, the Web has plenty of personal data. For example, you can find a list of emails of a certain company or check if the email sender's mailbox is valid. Virtually all tasks related to information search can be automated.
The search for phone numbers cannot be called easy because it all depends on whether they were published in the public domain. Users willingly post photos on social networks, but the situation with phone numbers is more complicated.
Also, keep in mind that in the database of specialized services, there are often duplicates with the same last names. In this case, you will have to check the correctness of the information manually with the help of calls.
Most search platforms provide an opportunity to increase the accuracy of the data thanks to geolocation, but you should not hope for an exact result. If the owner of the number did not leave it in public sources, you will not be able to solve the task.
The main advantage of search tools is their ease of use. If the number is in the database, any user can find it. To do this, just enter the basic data and view the report. But, most likely, you will have to pay for this opportunity.
Not all services can check the validity of the phone and give the result in a few minutes. So, you should not think of them as magic tools that will definitely solve the problem. Often, you can see invalid numbers in the reports, the percentage of message delivery to which will be zero.
1.1. Use search engines
The easiest answer to the question of how to find people's phone numbers is through search engines. Google has accumulated a huge amount of data over more than 20 years. Among them are emails, phone numbers, email domains, and more.
To find an email account, phone number, or social media page, you need to enter the query into the search box and wait for the results to load. If the information is found in the content of indexed sites, you can use the information to solve your problems.
Search engines save time and can partially replace personal information search services, but it is not always possible. That is why reverse search platforms have a significant demand.
For example, it is not difficult to find Tim Cook's e-mail account, but his personal phone number is private information. For business matters, there is only a corporate line.
1.2. Try to use people search tools
People search sites have been around for years. They help you find people's contact information quickly. But you must have at least some personal information for this.
If you type in a query related to people databases into the Google search bar, you'll find dozens of tools. Each of them positions itself as an ideal solution, but you have to test their work on your experience.
As a rule, after processing a request to find a person's phone number, a payment form appears. Sometimes, part of the personal information is available for free, but this is more of an exception to the rule.
So, don't count on the first search engine service you come across to immediately ruin everything. Even after paying for an extended report, there may be problems with identifying the person.
1.3. Reverse number lookup
A reverse number lookup is a useful tool that allows you to get more personal information about its owner. It can be used when there is a cell phone but nothing is known about the person.
A reverse phone number lookup is usually available in services that do a similar operation with email addresses. They check if the box is on black lists and perform validation and other operations.
Users often post emails in the public domain, but they only publish phone numbers if they are ready to receive calls on them. Therefore, you have to use alternative communication channels.
1.4. Check social networks
Social media searches can be ranked second after Google and similar services. Users are usually active on Facebook and Instagram or use their content.
If a person has ever posted a phone number on a profile or in a post, you can use the standard search tool. But that option is ineffective.
Social media can give a lot of useful information about a person, including the region of residence. It can then be used to specify the search through dedicated services.
Some social networks, such as Twitter, have a special filter for finding email addresses. This cannot be called an alternative to finding a person's number by the last name, but sometimes, it is the only way to at least minimally satisfy your needs.
2. The Best Tools for Finding a Person's Phone Number
You can find the best tool for your needs only based on your experience. The marketing presentation of any service states that it does its job perfectly, but in practice, there are often obstacles to getting the data.
Without the money to pay for a subscription to a service, you have to look for free options. In such a situation, you're unlikely to succeed. SaaS services focus on profits and try to get as many subscribers to paid plans as possible.
If you test at least 2-3 tools that appear in search results on the query "how to find out a person's phone number," it is easy to see that they provide information only after paying for a report or subscription for a certain period. Dedicated personal data search platforms often also provide additional tools to cover more tasks. For example, this could be the verification of an email server or checking the functionality of a voicemail provider.
2.1. Google
When it comes to finding a company or sole proprietorship number, Google is the best solution. In this case, there is no need to use specialized tools and spend money on them.
To search for a number, all you have to do is enter the company name or the text sequence of the domain. In most cases, this is enough to quickly contact the right person.
Personal phone numbers can only be found if the owner has published them in public sources. For example, users often post information on message boards, forums, and other sites.
2.2. BeenVerified
The service offers clients 7+ useful tools related to finding information about people. Users can search by residential address, vehicle, and email.
On the home page, there is a quick data search form where a person's phone, mail, or last name can be inserted. After the data is processed, a report opens with basic information. You can find out the approximate location of the phone without paying.
Main features:
Multiple information search options;
Information about the number of an incoming call;
Full confidentiality.
The cost of subscription plans starts at $17, with the most expensive plan costing $27. The service is positioned as a simple tool to access public data. It helps find a person's cell phone number by name and solve other problems.
2.3. SalesIntel
This service is often seen in the rankings of business tools. It has a large database of contacts of entrepreneurs and companies, helping to quickly find information about local businesses.
The phone number search is implemented with a free extension for Chrome. It can be installed after filling in a simple form. The promotional page states that with SalesIntel tools, the user is 7 times more likely to find the right phone number.
Main features:
More than 6 million verified phones;
Updates every three months;
Multiple integrations with popular platforms;
Information collection by request.
The browser extension is free, but additional tools come with a fee. Fees can only be found out after registering and ordering a personal presentation.
2.4. WhitePages
It's a search engine that helps you find people, contact information and check the background of interlocutors. According to the service's internal data, about 30 million people use it each month.
WhitePages provides a lot of useful information about a phone number. The report indicates the risk of spam and an approximate location. During testing, the service handled the task perfectly.
Main features:
Fast processing of requests;
User-friendly interface;
Notification of spam from the number;
Detection of subscriber's location.

The cost of paid plans depends on the number of reports. For $5, you get no more than 20 reports per month, and for $20, you get 200 reports. You can use the tools for free; the basic data are enough to check the reputation of a number.
2.5. SpyDialer
This popular phone finder was created specifically for this task. In the form on the main page, you can enter a mobile email address or the actual address of residence.
SpyDialer does a pretty good job when you need to find a phone number. It takes a few minutes to process the data. After that, you can get access to the required information.
Main features:
Selecting a search mode;
Voicemail listening;
Identification of spam numbers.
The service is completely free; there are no paid reports or rates. But there is contextual advertising on the report page. As for data accuracy, it is rather dubious. For example, the Apple tech support phone number was recognized as spam.
2.6. Lead411
This B2B platform is the main competitor of SalesIntel. With its help, you can view the profiles of potential clients and evaluate the background of the candidates for a job.
Lead411's phone number search is implemented with an extension for Chrome. After installation, users can collect contact information from LinkedIn and company websites. There's also a reverse email lookup.
Main features:
Bulk number verification;
Detailed information about corporate numbers;
Integration with 25 CRMs;
Verification of email accounts.
You can get access to the extension only after registering and ordering a personal presentation. The cheapest plan costs $900 per year for a single user.
2.7. RevDriver
This is a free Chrome extension developed by SalesIntel. It can be used to collect customer information and quickly find verified phone numbers.
RevDriver collects data from LinkedIn and other sources. After installing the extension, just open a social media page to find related phone numbers and even a specific subscriber.
Main features:
One-click data search;
Integration with marketing platforms;
Accurate, human-verified data;
Sorting by employee functions.
The service is organized according to the Freemium model. Each user gets 100 search credits per month. For most customers, this volume is enough to cover their needs.
2.8. Facebook
One of the easiest answers to the question of how to find a person's phone number is Facebook. It is the most popular social network in the world, with millions of people logging in daily.
You can use several ways to find a phone number. The first is to search through the standard interface of the social network. If the phone number has ever been posted publicly, there will be no problem identifying it.
You can use Google to speed up the process. You should enter the phone number and add the prefix facebook.com. If the number page is indexed, it will be found quickly.
2.9. InfoTracer
This popular phone number lookup service features plenty of additional tools. It analyzes IP addresses, vehicle VINs, and physical addresses.
The phone number search is fast, but you can't see even basic information in the report. It's only available after you register and top up your account. InfoTracer provides more data than other popular services.
Main features:
Many data search scenarios;
Face recognition on photos;
Search for associated numbers;
Fast data processing.
A subscription to InfoTracer costs $25 a month. For this money, you can get a plan with no limit on the number of queries. New users can buy a one-week trial at $3.
2.10. AnyWho
This is a simple tool for finding data on people, businesses, and phone numbers. It is U.S.-oriented, so you can't access it from IP addresses outside the United States.
AnyWho handles queries quickly, but the quality of the data in the report is highly dubious. On average, it takes 2-3 minutes to update data. The service also does a good job of finding information about an individual.
Main features:
Search for addresses, social media pages, and photos;
Quick data processing;
Filters by cities;
Search by company.
The service is free and does not charge for basic reports, but you will have to create a profile to get information. There is no corresponding hint in the search form, which can be considered a disadvantage.
2.11. LinkedIn
This social network is designed for establishing business contacts. Most users post contact information on the pages, so it is very easy to find them.
To automate the collection of information, you can use specialized tools. Some services we mentioned above support working with LinkedIn. If you can establish a connection between the phone and the page on the social network, you will easily assess the background.
2.12. ZabaSearch
It is a specialized search engine for the U.S., which contains a lot of data about people and their personal contacts. In the interface, you can find information about phone number owners and addresses.
ZabaSearch quickly generates reports on phone numbers where you can see the location and name of the owner. It only takes a few minutes to process the query, but the results are not always 100% accurate.
Main features:
Search by city code and zip code;
It is possible to find people's pages on social networks;
Specifying the age and address of a subscriber.
ZabaSearch provides services for free, but you can buy extended access to get more information about the owner of the phone number. The subscription costs $25 per month.
2.13. UpLead
This is a B2B database that can be used to facilitate interactions with potential partners. The service is commonly used to create customer lists and risk assessments.
UpLead has more than 50 filters to find qualified leads in real time. As for phone numbers, there are more than 108 million contacts in the database. The service guarantees 95% data accuracy.
Main features:
Email verification;
Export of data to CRM;
Recognition of user intents;
Coverage of 200 countries.
You can perform basic tasks in the service for free. Access to advanced features is available with a subscription. The cost starts at $59 per month. The most expensive plan costs $239.
When users ask how to find out a person's phone number, they want an unambiguous answer. But you should keep in mind that any platform has some specifics. Therefore, you should definitely try it out personally.
If we are talking about webmasters and marketers who regularly interact with site owners, you can find contacts with the help of a link exchange. PRPosting eliminates the need to search for email accounts, create newsletters, and waste time waiting for replies to emails.
Communicating with potential partners is carried out in a user-friendly interface. It is quite realistic to create a list of projects to post in a few hours. For a fee, it is possible to extend the term of link insurance.
3. Conclusion
Choosing the best service for finding phone numbers can be difficult. From our list, WhitePages did the job best. This service is sufficient to identify the phone numbers of companies, but if you need to search for pages on social networks and other personal data of ordinary people have to look for an alternative.
FAQ
How to find a phone number?
To do this, you need to know the geographic location of the person and at least a minimum amount of personal information. If you don't have this data, you should not expect to solve the problem successfully.
How do I know if the phone number is correct?
Most services can perform basic number validation, but they do not guarantee 100% accuracy. It is possible to verify the correctness only after the call.
How do I know if the phone number is available?
SMS services come to the rescue. Some of them provide services for free, while others charge a fee for each notification.