An Ultimate Guide to Reverse Email Lookup
Despite the rapid development of social media and messengers, email is still one of the main communication channels. With email, entrepreneurs make business connections, marketers plan advertising campaigns, and webmasters negotiate link placement.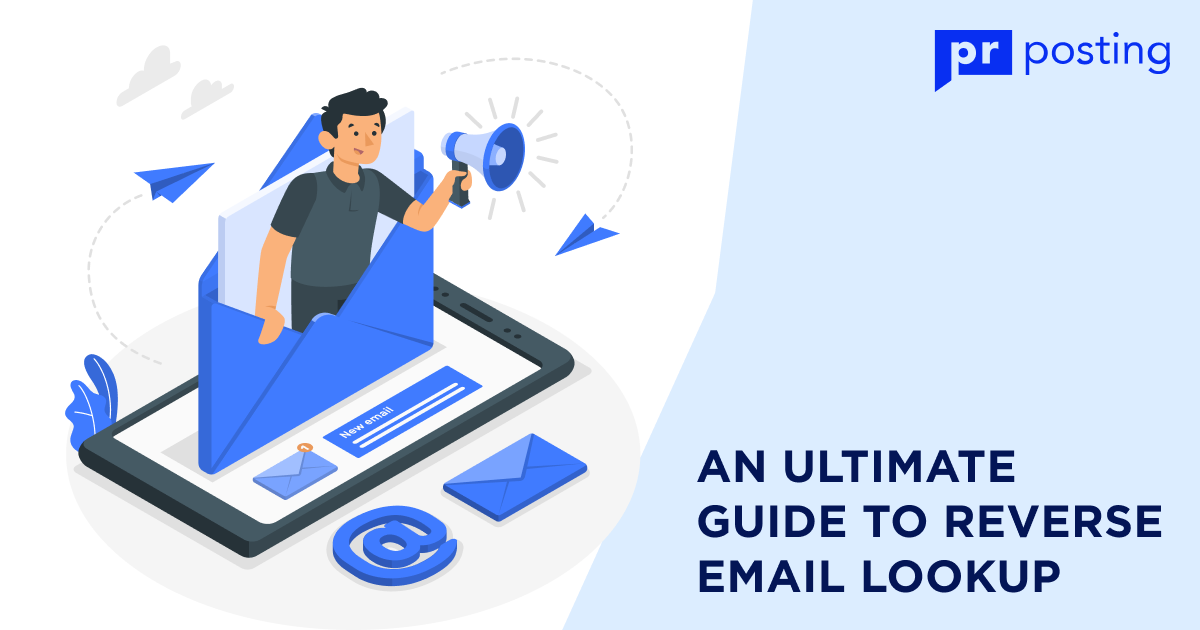 Interaction via email has its disadvantages, but some users have email accounts that have not changed for 5-10 years, and you can contact them only via this channel. Therefore, you should not give up this opportunity.
Reverse email lookup helps save time. This tool allows you to find public information about the owner of the address. After entering the email, specialized services show the name, phone number, social media accounts, and even photos.
Anyone can perform a reverse email lookup. To get basic information, you don't need to buy a paid subscription to the services or spend a few hours to understand the peculiarities of the interface. Usually, you need to create an account and paste the address into the search box.
1. What Is Reverse Email Lookup?
Everyone occasionally needs to send an email to someone. It can be related to school, business, or other tasks. Sometimes, the email address is unknown, and you have to search for information about it in public sources.
With an email lookup tool, you're very likely to find the address, but you must make sure that it belongs to the right person. This is where reverse email lookup services come to the rescue. Users don't realize that they leave a digital footprint thanks to their activity. Every time they use the same email or nickname, the information is stored online and can be found through specialized platforms.
Reverse email lookup tools display all public information by address. The amount of data can vary, but you will find the name and phone number with most services.
The main advantage of these tools is the ease of use. In some cases, the user does not even need to register. They type the address into the line and get all the data available.
Email lookup services work on the same principle, but the amount of data can vary greatly in any case. It depends on the source – some platforms have their databases with periodic updates, but most parse public information.
If you have to search for data about email account holders all the time, it is worth finding a platform that will solve this problem 100%. To do this, you need to evaluate the features of several tools and choose the one that works best for you.
2. Why Use Reverse Email Lookup?
Information about the owner of the email address can be required for a variety of tasks. First of all, you need it to find out if the email is related to the right person. If there is no information about them, you will have to send an email.
Reverse email search is useful not only for business owners or webmasters. Anyone who communicates by email can use the tool. It helps save time and spend it on other tasks. If you combine email search and reverse email lookup services, you can get all the information you need about a particular user. And then, you can add the address to the newsletter or send an email on a one-time basis.
Also, a reverse lookup service is useful when a request for collaboration is sent to your inbox, but there is no information about the sender. In this case, the email domain and destination are of little importance because it is necessary to check the reputation of the user.
2.1. For security purposes
Every email account owner receives at least 3-5 emails from online stores, services, and regular users every day. Most of them usually contain spam or irrelevant offers. Email harassment is a standard practice that is difficult to protect against if the email address is in the public domain.
With an email lookup tool, you can protect against problems. Some specialized platforms generate clear indicators of an email's reputation: age, presence on a spam list, and personal information. This is enough to make a decision about further interaction.
2.2. Marketing goals
The identification of the email owner is required for marketing purposes. For example, when you need to negotiate the placement of links on the site. If you just send an email without personalization, the chances of getting a response are minimal.
If you manage to gather at least basic information about the recipient and their project, the interaction can end in a successful collaboration. Personalized emails make you want to interact, unlike cold templates.
Searching for an email address allows you to make a quick decision about sending a message. With the help of the tool, you can find out if it makes sense to waste time on correspondence at all.
2.3. Employment assistance
We previously mentioned that an email address is everyone's main identifier. According to many studies, only a small percentage of users change emails. Most have been using the same account for 5-10 years or more.
A reverse email lookup service comes in handy when you need to find information about a potential job candidate. If it finds a valid LinkedIn page, it is possible to confirm the specialist's experience.
Candidates usually send a CV, but additional verification will not be superfluous. If the information matches, you can move on to negotiate other issues with the potential employee.
Email lookup tools are useful for anyone who needs to get additional information about a person with whom they are already communicating or are planning to communicate in the future. Because of their ease of use, the services are suitable for specialists with any level of knowledge.
3. How to Perform a Reverse Email Lookup?
You don't have to register with the first search service you find and immediately spend money to pay for a fee to get information about the owner of an email account. You can perform a one-time task or regularly receive basic data with the help of other options.
For example, you can use the standard features of email clients and services. If the owner of the address has added a photo and personal data, it can be used to collect additional information from public sources.
No matter what goals the user is pursuing: marketing, hiring, or worrying about their security, there are several ways to complete the task. It is up to each person to decide which one to choose.
3.1. Searching for email on Google or other search engines
Google is the most popular search engine in the world. For more than 20 years, it has accumulated a huge amount of data, among which are email addresses. The search engine can be used to make a connection between a sequence of email parts and a specific person.
If an email address is found on at least a few sites, it will be displayed in search results. But the amount of information is unpredictable, and, in some cases, you will not get anything but the address.
Keep in mind that the presence of email address data in search results depends on the correct operation of the sites. As soon as they stop working, the information disappears along with the pages.
3.2. Browser extension
Some popular email lookup services provide users with access to the database not only through the platform's interface but also through additional tools. More often than not, it's a browser extension.
For example, SEON Intelligence Tool for Chrome shows the personal information of the email owner: first and last name, pages on social networks, and other useful data.
Browser extensions greatly speed up tasks, but you should keep in mind that they may not provide the full amount of data. SaaS providers need to get new customers, so they get users interested in exclusive data and then motivate them to pay for a subscription.
3.3. Domain name
If the email address is known, there will be at least some information about it on the web. It remains to use specialized solutions to get access to it.
Corporate domains allow you to get more data about a potential partner. Search engines and other sites offer to check the reputation of the domain name in a few clicks.
The presence of a domain on a blacklist indicates a bad reputation. Spammers are not included in the list for no reason, so you can rely on this information. Blacklists are often more helpful than letter topics and other signals.
3.4. Social media
Social media is the most popular way to communicate. Most Internet users have a Facebook page or a messenger account. Social networks usually contain photos, emails, and other contacts.
Anyone can search for emails for free using social networks. For example, Twitter has a special filter for getting an email.
Reverse email lookup services usually manage to identify the owner of an email account on social networks very well. If the person is active on these sites, you can compile a full dossier.
3.5. Email clients
If you need only the first and last name or a photo of the email account holder, you can use the standard features of email services. For example, if you hover over an email, Gmail shows you all the data you want if the user specifies them.
This method can't be called 100% accurate, because spammers don't specify real data. In this case, it is not unreasonable to use a reverse email lookup service.
Each of the options for finding information about the email account has its advantages and disadvantages. Specialized platforms sometimes don't cover the needs completely either, so you need to be aware of additional solutions.
4. Factors to Consider When Choosing an Email Lookup Tool
Sometimes, the need to identify email addresses is ongoing. Then, it is better to find a service in advance that can quickly provide information on request.
There is high competition in the market of reverse email lookup platforms. Users without experience find it difficult to make a choice because the presentation of the advantages of the top platforms is really impressive. They offer cheap rates, API access, mass verification of addresses, and other features.
You should choose a service based on the following criteria:
Speed of receiving data and volume. Most popular services provide the necessary information within a few minutes after the request, but delays of 2-3 hours are possible.
Cost of payment rates. Paying $50 per month for a useful tool is not a problem if you need it every day. But if you need information about the owner of the email 1-2 times a month, it is not so profitable.
Existing limitations. Services need to make a profit, so they do everything to make users spend as much money as possible. Before paying for a subscription, you should ensure that the limits are sufficient to cover your needs.
Availability of additional tools. The availability of APIs, browser extensions, and other solutions to speed things up is a definite advantage.
If you type a query related to reverse email lookup services into a Google search box or another service, there will be dozens of pages in results. It will take a long time to analyze each platform, so it is better to use a comparison chart.
5. The Best Email Lookup Tools
It is not difficult to find a rating of email holder analysis services, but in each case, you need to spend at least some time checking the features of the tools. Over time, the information becomes outdated, and in practice, the system may not work so perfectly. You should choose a platform for constant use based on your needs. For example, if you only need to know the first and last name, almost every service can cope with this.
You should keep in mind that the cost of a subscription and the platforms' features change over time. Therefore, you should not count on 100% stability. If it is not possible to organize normal work without access to the service, you should include the increase in the subscription cost in your monthly budget.
5.1. CocoFinder
This powerful platform uses artificial intelligence technology and can provide comprehensive information about a person: photos, addresses, relatives, and other personal data.
After typing an email into the search box, additional windows open with reports on external services. CocoFinder uses the infrastructure of other platforms, so it may not be suitable for users who need to regularly receive data about email owners.
The service does not have any paid plans; you can use it as an additional tool. Access to all modules is free, but in some cases, redirects to other sites are possible.
5.2. Social Catfish
The platform provides the possibility of searching by image, phone number, name, and email address. There are more than 200 billion records in the database, allowing you to find the data you want.
After creating an email report, you can see personal information: first and last name, location, and social media pages. If necessary, you can activate an advanced search for additional data.
The cost of subscription plans starts at $27 per month. There is also an opportunity to buy access for 5 days at $6. The platform guarantees full data protection and does not save information about user requests.
5.3. EmailSherlock
It is a popular email lookup service often used to identify Gmail account holders. It also verifies the validity of email addresses, which eliminates the need to use other tools.
EmailSherlock aggregates data from other sites. For example, if you click on a user's name, you will be redirected to the Spokeo platform. It is sufficient for basic tasks, but there is no advanced analysis in the interface.
Email lookup is free, but if you want access to other tools, you must buy a subscription. You can find out how much it costs only after you register and ask for prices.
5.4. InfoTracer
The service provides access to a database of 5 million records, where you can find the phone number, photo, pages on social networks, and other personal data of the email address owner. The platform also searches for alternative email accounts, which can be used to communicate with the user.
Unlike previous services, InfoTracer provides a full report in its interface instead of redirecting the user to external services. Therefore, it is more convenient to use when you need to get data quickly.
The platform charges $2.95 for the advanced report. From time to time, users are offered a limited-edition offer – a $1 report. Judging by customer feedback, InfoTracer copes with its tasks.
5.5. Instant Checkmate
The platform searches data about people not only by email address but also by phone number or name. It is positioned as a background check tool and is suitable for everything, from marketing to personal security.
Access to the email address data search is opened after logging into the account. You can then get a detailed report in a few minutes. It will include photos, possible residential addresses, and social media pages.
Basic information in the Instant Checkmate interface is available for free, but you have to pay from $35 per month for an unlimited search. One-time report by phone number is available at $6.
5.6. BeenVerified
The service searches for information about people in public sources. It is focused on United States residents, for whom you can even get criminal record and bankruptcy information.
The report can retrieve a person's name and Twitter or LinkedIn page. It takes 2-3 minutes to process the data. Some information in the report will be closed, and you will get access to it only after payment. BeenVerified is positioned as a conditionally free tool, but in fact, without a subscription, the quality of reports will be average. The cost of the paid plan is $29 per month. You can activate a weekly trial for $1.
5.7. Snov.io
The platform automates various tasks related to digital marketing. It helps to verify the email domain, validate the email address, and improve the quality of newsletters.
Snov also offers an email name lookup module, but only for corporate emails. You need to specify the domain name in the line, and after processing, copy the addresses of the desired emails.
Paid plans start at $39 per month. There is an opportunity to use the tools for free, but there will be many limitations. The service is only suitable for specific tasks to search for corporate emails.
5.8. SPYTOX
The service is positioned as the best solution for finding people by email. It works with emails, phone numbers, and personal data. It stands out with its fast report generation.
The SPYTOX search box works even without registering in a personal account, but the form periodically redirects to the home page. That's why it's better to create a profile to get access to the required information.
There is no publicly available data about the cost of paid plans. Judging by user reviews, the cost of a full report is $20, but its quality is highly questionable. It is possible to use the service if you manage to bypass the restrictions.
5.9. RecordsFinder
The search platform is almost indistinguishable from its competitors. It searches for information about the email account holder: name, residential address, pages on social networks, and photos.
Once the email address analysis is complete, you can access the report after you pay. According to reviews, the service is very similar to BeenVerified and InfoTracer. They are supposedly run by the same company.
The cost of an email address report is $2.95. Once you pay, you can get the data you want, but you can't know in advance how complete it is. So, you actually have to pay without any guarantees.
| | | | | | |
| --- | --- | --- | --- | --- | --- |
| Service | Name and email | Pages on social media | Email validation | Free access | Cost per month |
| CocoFinder | yes | yes | no | yes | — |
| Social Catfish | yes | yes | no | yes | $27 |
| EmailSherlock | yes | yes | yes | no | — |
| InfoTracer | yes | yes | no | no | $19,95 |
| Instant Checkmate | yes | yes | no | yes | $35 |
| BeenVerified | yes | yes | no | no | $29 |
| Snov | no | no | yes | yes | $39 |
| SPYTOX | yes | no | no | yes | — |
| RecordsFinder | yes | yes | no | no | $12,95 |
According to the analysis of many popular services, they provide much less useful information than is noted in their presentations. Also, to access really useful data, you will have to pay first.

Choose a service based on the tasks it will perform. Snov is better for marketing, and BeenVerified and InfoTracer are better for HR management. You should also take a closer look at the SEON platform.
If you need to find information about email account holders due to the need to communicate with website owners to place links, it is better to use alternatives. The directory of PRPosting, a database of eternal links, comprises more than 44,000 sites for various niches and regions.
Communication with potential partners is carried out in a user-friendly interface, and registration requires no more than two minutes. After creating a whitelist and topping up your balance, you can send requests and expect a prompt response. There will be no need to keep track of Open Rates, Reply Rates, and other email marketing metrics.
6. Bottom Line
Searching for information about the owner of an email account is relevant to marketers, HR specialists, website owners, journalists, and all users who want to know something about the person with whom they communicate.
FAQ
What is a reverse email lookup?
It is a useful tool that shows public information about the owner of a particular email account. It can find addresses, photos, social media pages, and other data.
Who can benefit from a reverse email lookup?
All users who conduct business or personal correspondence by email. Through specialized services, you can cover almost all your needs for finding information.
How to perform a reverse email lookup?
To do this, you need to select a specific service, create an account, and use the reverse email lookup tool. In most cases, you will have to pay for an extended report.