Affiliate Marketing for Beginners
The development of the digital web has created an ideal environment for online retail. There are now millions of stores of all scales operating on the Internet. Among them are big marketplaces, like eBay or Amazon, and local projects.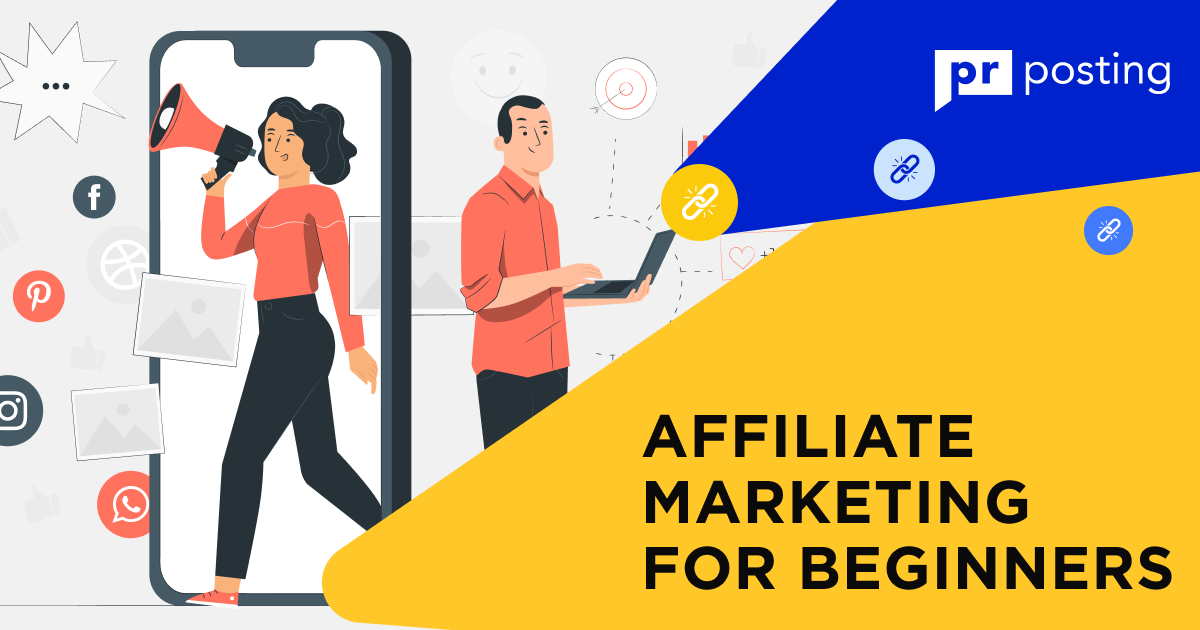 With the help of the Internet, you can provide customers with a variety of services. In demand are different services, from legal advice to computer help.
Providers of goods and services are willing to share part of the revenue with those who bring them customers. This model of interaction is called affiliate marketing. Affiliate marketing seems complicated for newbies, but it takes a few months of gradual immersion to understand the nuances of its work.
1. What Is Affiliate Marketing?
Affiliate marketing is a model of interaction between merchants and webmasters. It works in such a way that the affiliate supplies the performer with interested customers and receives a monetary reward for doing so.
The seller is interested in providing partners with high pay-per-click or other types of targeted actions. This only benefits their business because the cost of attracting an audience is reduced.
Some projects exist only at the expense of the affiliate program. Their owners do not invest in contextual, targeting, or blogger advertising. Such a development is possible not in all cases, but there are many working examples in different niches.
The popularity of affiliate marketing is steadily growing. According to recent reports, the amount of revenue generated by the niche is increasing every year. Even during a pandemic and economic crisis, online sales are not stopping. In 2022, expenditures are estimated at $8,2 billion.
Affiliate marketing expenditures
Attracting relevant traffic to products or services is not limited to paid advertising. Some affiliates use conditionally free methods related to content distribution.
One of the main features of the affiliate marketing niche is that the webmaster can earn even with a low volume of traffic. It is possible thanks to high rates for targeted actions, but the result is highly dependent on the traffic quality.
2. How Exactly Does Affiliate Marketing Work?
The core of the tool is affiliate links, cookies monitoring, and promo codes. It is these technical attributes that allow you to track a client's path and know which affiliate should receive a payment.
The affiliate marketing model has been in use for a long time. Even when there was no Internet yet, people earned bonuses and money by inviting friends. They connected their acquaintances to loyalty programs and exchanged virtual points for physical goods.
Affiliate marketing is much more advanced now than it was 20 years ago when digital networking was just emerging. Webmasters can choose an affiliate program from a large list and compare rates for targeted actions in different CPA networks.
It takes a little time to figure out what affiliate marketing is. But you can only make money from it once you've built a sales scheme. You will need a source of target users and a proven mechanism for attracting them.
2.1. Key parties involved
To understand the essence of any tool, you should break it down into components. In the case of affiliate programs, it is necessary to understand all the participants of the process. This will help increase the effectiveness of interaction with them.
The key parties involved are:
Sellers — are interested in selling goods and services;
Partners — receive a part of the profit from sales;
Buyers — demand the solution to their tasks.
Each participant in the scheme has a different goal, but, finally, everyone is interested in making sure that the product quality is at a high level. If this is not the case, the chain will break, and everyone will have a negative experience.
A CPA network is often added to the list of parties involved. This is an affiliate program aggregator that earns a percentage on each completed order. Webmasters benefit from working with advertisers through an intermediary because this gives them additional control.
2.2. Types of affiliate products
When newbies engage in affiliate marketing, they often limit themselves to physical products. This is a common misconception that leads to lower income.
There are many digital marketing niches where you can make money by distributing virtual goods and services. A webmaster can advertise programming courses, licensed software keys, e-books, and many useful services.
If you enter a query in Google related to products and services, you will definitely see several web pages with affiliate links in search results. When a user places orders on them, the webmaster will receive income.
Distribution of content about digital or physical goods has its specific features. In the first case, customers are interested in the quality of services and the reputation of the performer. When it comes to physical products, speed and cost of delivery affect the user experience.
2.3. Common commission payment models
Each affiliate program may have one or more commission fee models. If a merchant offers to make a choice, additional revenue growth opportunities open up.
Popular models:
Cost per click (CPC)
Cost per sale (CPS)
Cost per lead (CPL)
Cost per install (CPI)
RevShare
You can find plenty of tips on choosing a model in different guides for first-time business partners, but you should understand that the situation can be very different in each case. For example, for referral service programs, the best choice is RevShare. Under this model, the affiliate will receive a share from every customer payment. Sometimes, vendors design low-quality affiliate programs. They severely limit the validity of cookies, choose unprofitable models for webmasters, and underestimate the rate. It is better to avoid cooperating with such advertisers.
3. Advantages of Working in the Affiliate Marketing Niche
One of the main advantages is a wide selection of affiliate programs. Thanks to this. you can find a relevant affiliate product for almost any niche. If there is traffic, its monetization can become a constant source of income.
The high competition among CPA networks has led to the fact that each aggregator is trying to attract the attention of webmasters. They offer high rates, additional tools, and priority payouts.
Some networks even offer the opportunity to get paid for conversions that have not yet been verified by the merchant. If an affiliate has high-quality traffic, they will be able to receive regular remittances to their account.
Also, keep in mind that affiliate marketing can be done online. There is no need to spend money on an office, warehouses, and hired workers. A laptop and an Internet connection are enough.
3.1. High-income potential
The high potential is that the niche is constantly evolving and will work as long as there is a digital web. Every year, the number of advertisers in CPA networks is only growing.
Even large companies such as Amazon have affiliate programs, which website owners or PPC specialists can join. In any case, it is quite realistic to convert cooperation into income. Virtually every webmaster who has learned how to attract paid traffic or get users from search engines can become an affiliate marketer over time. The main thing is that clients perform targeted actions, and the marketer has no complaints about the quality of the leads.
3.2. A good source of passive income
You can generate passive income under several conditions. First, a steady attraction of traffic. For example, if the webmaster has several sites that bring in conversions from SERPs, there is a chance for stable profits.
Second, traffic relevance. If visitors are not interested in products or services, any amount of traffic will not be beneficial. A few leads a day is possible, but hardly the size of the profit will be substantial.
In some niches of affiliate programs, the highest income is obtained due to the RevShare model. For example, if a webmaster attracts clients for a hosting provider, they receive a percentage of payments every month.
3.3. Does not require huge investments
When beginners dive into the affiliate marketing niche, they may think they need tens of thousands of dollars to get a successful start. In fact, if you understand how affiliate marketing works, it's easy to see that the bar for entry is much lower.
Some successful affiliate marketers had only a few hundred dollars at the start. But even with that amount, they managed to achieve a steady income over time. Keep in mind that each case is unique, and it is impossible to predict the result in advance.
In addition, the niche of affiliate marketing has its problems. For example, you may encounter complications with the processing of conversions. If the webmaster worked with the seller without intermediaries, there is a possibility of refusal of payment.
4. How to Start Affiliate Marketing in a Few Easy Steps?
You can get a quick start in the niche of affiliate marketing but only if you have experience with paid traffic or your own sources. If there is none of that, you will have to spend time boosting your skills.
It is very important to understand how affiliate marketing works. Without basic knowledge, it will be difficult to recoup the cost of attracting traffic and buying useful tools.
Before you spend money on working with an affiliate program, you need to do some analysis. It may turn out that most reviews are negative and the advertiser's reputation is dubious.
4.1. Choose a niche
Finding a niche is the most crucial step on the way to being active in affiliate marketing. If you ignore this task and start actively developing without prior preparation, there is no point in counting on positive results.
For example, in 2023, it makes almost no sense to start a personal blog. Competition among product reviewers and lifestyle bloggers is extremely high. It's very difficult to break through the dense stream of content everywhere.
Everyone can start to engage in affiliate marketing, but only a small percentage of webmasters manage to achieve a passive income of at least a few thousand dollars. It is quite realistic to find your niche after a series of tests.
4.2. Choose a platform
Affiliate marketers with a narrow specialization usually earn more than those who try to stay afloat on several topics at the same time. But if you manage to build your team in the future, it makes sense to gain experience in several segments of the digital marketplace simultaneously.
You should choose the main platform based on a set of reasons. If it is very difficult to attract traffic and it is poorly converted, you should immediately change the platform. This will help reduce the damage of wasted time.
4.3. Find affiliate programs to join
The search for an affiliate program can be time-consuming, despite a large number of offers in CPA networks. The thing is that with each aggregator, the offers and conditions of one advertiser can be very different.
You should select an affiliate program not only based on the rate for the targeted actions. You should also take into account the reputation of the advertiser, CPA network reviews, the level of competition for traffic, and other factors.
It often happens that affiliate products do not sell. It is difficult to figure out the problem because dozens of individual factors affect the buying decision. Becoming an affiliate marketer means quickly finding the causes of problems and opportunities to solve them.
4.4. Start creating content
You can get leads and consistently generate income in any niche through quality content. Each topic has specific features, but the basic model of work is always the same. If you can solve people's problems with content, they will keep buying.
You can do without creating content, but the cost of traffic will be much higher. You will have to use contextual or targeting advertising to attract interested users.
4.5. Find your audience and generate traffic
Affiliate marketing starts with choosing a niche, but it's also important to choose a source of traffic. It can be search engines, social networks, contextual advertising systems, and other services.
Understanding the needs of the target audience helps increase conversions and gives a higher likelihood of a steady income. If the webmaster acts blindly, the results can be very low.
4.5.1. Paid traffic
There is an opinion among beginners that if you have the budget to run advertising campaigns, you can get an unlimited number of conversions for a few hours of setup. In reality, however, it all depends on the quality of launching advertising campaigns.
If you have no experience with PPC advertising, you should not count on quick results. Active training will take time, which automatically means a low return on investment.
4.5.2. Search Engine Optimization (SEO)
Learning affiliate marketing will be faster if there is an understanding of how to get targeted conversions from search engines. In this case, you don't have to spend all your time working with paid channels. Optimizing sites for search engine recommendations is a complicated and ongoing process involving many separate tasks. This source of traffic is only suitable for those who are not afraid of routine work.
You should keep in mind that the ranking factors change periodically, so even after developing a scheme for monetizing traffic, you will have to monitor the situation and adapt to new conditions.
Effective website promotion is impossible without links from quality sites. PRPosting will help you solve all the problems associated with link building. After creating an account, you can quickly gather a list of donors, top up your balance, and get started.
All links placed through the service are insured for 3 months. For an extra fee, you can extend the insurance period and protect yourself from losing links and link juice.
4.5.3. Email marketing
Newsletters by name are often considered an outdated marketing tool, but they can still generate leads. To gain leads, you must get recipients interested and offer bonuses.
You don't need to know a programming language to create letters, but a basic understanding of HTML layout principles will be a plus. This will help protect against problems with the content display on different devices.
4.6. Follow FTC rules
The Federal Trade Commission (FTC) is a US government agency that protects consumer rights. It developed rules that are also valid for online sales. According to them, affiliate marketers must disclose to users what expects them on external sites.
That is, if the site owner receives income through affiliate links, visitors should know about it. A good usability practice is badge "advertising" at each banner and brightly highlighting external links.
4.7. Get potential customers and convert them into sales
If the traffic flow is stable and there are no problems with audience retention, all that remains is to convert visits into leads. This requires quality content and personalized offers for users with different needs.
The customer's path may be different in each case, so you must closely monitor visitor activity. You can do this with the help of tools like Hotjar. The service shows a map of clicks and gives a full report on the actions performed.
5. Examples of Affiliate Marketing Programs
Affiliate programs for website owners and paid traffic specialists are available in all niches. If you take the time to search for relevant affiliate products, you will be able to find a few suitable options.
If it seems that the competition in the retail niche is too high, you can choose another field. It all depends on the desire of the marketer and their experience. It is possible to reach a stable income without marketplaces.
Newcomers to affiliate marketing often begin with the affiliate programs of large online stores, but it does not mean that everyone should follow this path. There are many more options for stable earnings.
Examples of popular affiliate programs:
Amazon Associates — an affiliate of a major online retailer, with about 1 million affiliates;
Etsy — marketplace for vintage goods, pays 4% on every order;
CodeCanyon — digital products marketplace, the rate is calculated individually;
GoDaddy — top domain registrar, the rate depends on the category of services.
There are hundreds of affiliate products in CPA networks for different niches and traffic sources. The examples above are a drop in the ocean. If you don't take advantage of aggregators, it will be harder to work in the market.
Some marketers choose an affiliate program based on public cases, but that doesn't always produce the desired result. In any case, the situation can be very different because the client's pattern of actions is not always predictable.
6. Tips for Affiliate Marketers to Succeed
If you don't know where to start with affiliate marketing, analyze the tips below and apply them to your work. They will help you avoid common mistakes that prevent newcomers from making money at the start.
Being a full-time affiliate marketer is not as easy as it may seem. This niche requires special skills and constant monitoring. For example, it often happens that an affiliate stops converting, and you must quickly find an alternative.
Useful tips:
Know your audience's needs. This is the only way to count on a high conversion rate.
Search for unconventional tools for converting traffic. For example, banners no longer work as effectively as they did 20 years ago, and Google can impose penalties for affiliate links.
Prioritize your users. If they realize that you just want to make money on them, they will go to your competitors.
Don't focus on one affiliate. Narrow specialization helps maximize revenue, but if the advertiser stops paying, the chain will fall apart.
Don't ignore CPA networks. Through them, you can get exclusive working conditions and useful tools.
You should also monitor the reputation of merchants and affiliate program aggregators. The affiliate marketers' community tends to share useful information, so if someone has problems with payments, the news will spread quickly.
7. Conclusions
Affiliate marketing can be a source of steady income, but you shouldn't consider the niche to be easy. Sometimes, you have to spend more than a thousand dollars to find your niche and successfully establish yourself in it.
FAQ
What is affiliate marketing?
It is a model of interaction between a service provider and webmasters, which implies that an affiliate receives a profit for each targeted action. There are many payment models, affiliate program aggregators, and automation tools.
How do I get started in affiliate marketing?
You need to get a basic knowledge of how a niche operates. Then choose a platform and products to make money, decide on a source of traffic, and keep track of statistics.
Why become an affiliate marketer?
To ensure a high and consistent income and reduce dependence on other areas of employment. You can make affiliate marketing a foundational niche and continually increase your income.
How do beginners choose an affiliate program?
If there is a source of traffic, you need to rely on its features. Otherwise, it is necessary to analyze competitors and get basic skills in areas without millions of webmasters.