An Ultimate Guide on How to Do Keyword Research in SEO
The topic of how to do keyword research is the starting point from which SEO begins. Text content optimization is the most powerful tool for bringing a site to the top of search engines and keeping it there for a long time. At first, this process may seem very complicated, but after getting acquainted with it, you will realize that it is based on the simplest principles of logic. So, let's figure it out.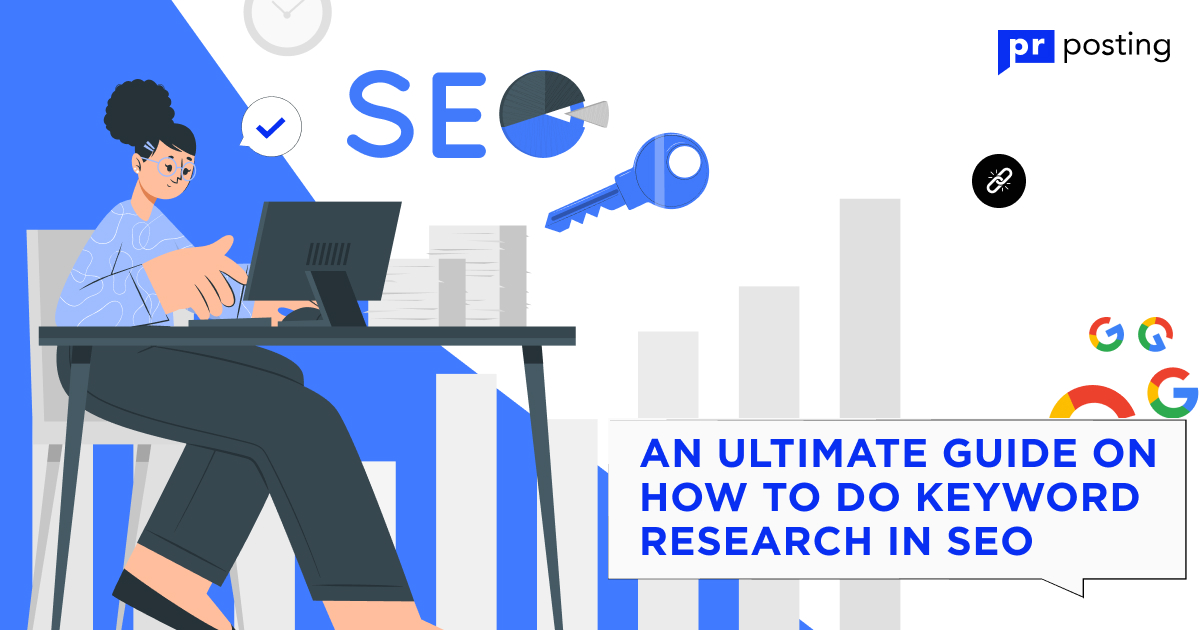 What Is Keyword Research?
Everything brilliant is simple. This also applies to the most popular search engines, including Google. Their task is to analyze user queries and deliver the results they want to see. If these queries are too short, incorrect, or vague, artificial intelligence takes over, picking up the appropriate associations.
So, keyword research is the process of connecting website content to the most common queries of your target audience. Since you can't influence the behavior of large groups of people in most cases, it's up to you to tailor your content to it.
On a technical level, keyword research is the process of finding the most relevant queries that match the characteristics of your product, business, region, and target audience. This process results in a set of words and phrases that must be included in a certain percentage in the text content of a web page.
Keywords and Their Types
So, the keyword is a word/phrase that increases the likelihood of your site being displayed at the top of search engines. But there is an essential detail: the keyword should be relevant to the offerings of your business and the needs of your target audience. Only then will it become a connecting link that can lead to you the buyer in the shortest possible way.
To succeed, you need to carefully evaluate each step, implementing effective techniques and discarding trash. That's why keyword research basics should begin with studying theory. In terms of length and principle, keywords are divided according to the same principle as the stages of the sales funnel — TOFU/MOFU/BOFU:
High-frequency. Short general queries defining the topic or area of interest. For example, "car," "automobile," "realty," "flight," "vacation." It is very difficult for a new business to reach the top for such broad queries. However, they can help steer your SEO strategy in the right direction.
Medium-frequency. Specified queries with a small tail to help more accurately identify the target audience. For example, "diesel car," "electric automobile," "cheap realty," "flight to Europe," "hot price vacation." It makes sense to struggle for such requests in the long term. Competent work on the keyword search and comprehensive optimization of your site will allow you to take a worthy competitive position.
Low-frequency. Maximally detailed queries leading consumers directly to you. For example, "buy used diesel car under 10000 in Wyoming," "new electric automobile for everyday use," "cheap realty in West London buy with bank loan," "flight to Europe holiday tour France Spain Italy," "hot price vacation Thailand Bangkok from Tokyo." Few people describe their needs so precisely in the search engine. On one hand, it is a disadvantage — the target audience is limited. On the other hand, market leaders will not waste effort on narrow optimization. It is with low-frequency keywords that you can succeed here and now.
For keyword analysis to be successful, you need to understand not only the needs but also the user intent. Ask yourself: why does a user enter a phrase into a search engine? What goal are they trying to achieve? According to the intent, there are the following types of keywords:
Transactional. They contain a specific action, such as "buy," "get," "download," "for sale," "sign up online." Such keywords should be used to optimize the page of a specific product — an item, service, application, or SaaS service. To satisfy the user, there should be a button that allows them to perform the announced action.
Commercial. Contain the intention to study the advantages and features of the product, compare it to a competitor, or read the reviews. For example, "best," "prices," "cost," "compare," "quality." These keywords can lead the user to general website pages with a description of the terms of cooperation or to a blog with reviews.
Informational. Contain the intent of exploring a particular question and finding answers. For example, "how can I," "what to do," "why," "guide," "tutorial." Keywords of this type are ideal for latent copywriting, hinting and discreetly nudging the user to a certain solution. They can lead to pages with instructions and articles that contain a link to your product.
Navigational. Contain a specific brand name, such as "Chrysler," "Xbox," "EA Games," "Marvel," "Corolla." Such keywords suggest that users already know about you. The request can be for a quick link to the official page as well as for more information. You should compete for these keywords first and foremost. It is unacceptable that competitors or haters talk about you.
Why Is Keyword Research Important?
Since optimization is based on simple principles of logic, finding SEO keywords should be an easy, intuitive process. It's enough to ponder what exactly connects you to possible customers.
But again, we're dealing with nuance. Do you really call your product with the same words that users do? It's quite possible that your marketing strategy has the right idea but a false implementation. For example, you advertise "personal electric transport for the long haul and everyday use." Optimizing the site for such a query is much easier than under Electric Car or Electromobile. In your niche, you will be a leader, but whether it has enough potential to succeed?
Another scenario is when you understand the query but not its intent. For example, the keyword "compare prices for Android smartphone" leads to a specific product page, and "how to repair car engine" leads to a car sales site. In the first case, the user wants to compare prices but gets an uncompromising offer, so it probably won't satisfy them. In the second case, the product itself is chosen incorrectly. Yes, the car contains an engine, but the person wants to repair it, not replace the vehicle.
Finding and researching keywords for your business should be an ongoing process. You shouldn't stop even if you have had some success in your field. Remember, there will always be someone who will take advantage of new techniques and optimize better than you.
Keeping up with the Marketing Trends
Keyword analysis for SEO can give you valuable information about current trends. For example, your product has started to be more or less in demand among consumers, better analogs have emerged, and technology has stepped forward. You can achieve this with the simplest tools — a keyword list can sometimes replace the work of an entire market research department.
Traffic Growth
This is the main goal of SEO. Keyword research is the source of organic traffic growth. Unlike contextual advertising and other similar tools, it works well over the long term. With minimal effort, you can stay at the top of search engines for a long time.
Customer Acquisition
Knowing the most popular information queries on the web, you can submit your product in response to them. This way, you'll attract the attention of consumers with an urgent need or professionals with high purchasing ability. This tool works well in hidden form — a keyword query can be used to promote articles, blogs, tutorials, and reviews.
Elements of Keyword Research
Every tool must work effectively to maximize value. If you hammer nails with a smartphone and dig the soil with a hammer, you will achieve a certain result, but it will be far from what you want. The same goes for optimization. Therefore, in the instructions on how to do SEO keyword research, you should pay attention to the following details.
Keyword Intent
You should understand the intent with which the user came to you. Offer them a specific solution to the query "buy used Kingston DDR4" and don't impose instructions or product comparisons. It is at the stage of determining intent that novice optimizers make more mistakes. And they are the ones that cause the most harm. Not getting what they want, the visitor is likely to close your site, even if the theme of the page matches the request. Whether they would want to open it a second time is a question close to the rhetorical.
Relevance
Another throwback to simple logic. For a search engine to show your page in the first place, there must be the best content that matches a certain query. The answer to what "best" means, you should check out search engine algorithms. But we can also mention the general rules of optimization: content should be well-structured, contain an optimal percentage of keywords, and have links to information sources. There are services that check the content for relevance. Remember to use them to get a competitive advantage.
Authority
Search engines raise to the top pages that they consider the most authoritative. To achieve this status, you need to get a lot of external links. If your site is cited on popular blogs, news portals, and online encyclopedias, you automatically increase the effectiveness of optimization. When performing keyword analysis for SEO, you should keep in mind that you will have to spend years to get to the top in certain areas. It is unlikely that a new website can compete with Bloomberg in the news industry, with Pfizer in medicine, and Toyota in the automotive field. If that's the industry you've chosen, you'll have to look for keywords and other optimization tools in narrower niches.
Search Volume
The opposite situation: you are in a leading position, but no one sees your appeal. Consequently, almost no one uses the keyword phrase chosen for optimization, or it has lost its relevance. Before rejoicing about the ease of achieving great results, you should check the number of requests for a keyword. It is quite possible that you are just wasting your efforts. Do not give in to easy temptations!
How to Do Keyword Research Step-by-step
Most likely, reading the theoretical part has led you to think, "When is it going to be easy?" Right now. We've put together tips on how to do keyword research in SEO into a coherent and structured guide that will be understandable to beginners and those who want to refresh their knowledge of the topic.
Identify Broad Topics That Define Your Niche
The process begins with philosophical questions: "Who are we, what are we striving for, and where are we going?" Of course, a search engine will not appreciate your efforts to resort to high style, so you should convert the question for it into a simple and straightforward form:
What product do you offer? For example, "coffee."
What needs does it satisfy? For example, "hot beverage."
What is the target action in your business? For example, "buy coffee."
What needs do your consumers have? For example, "home brew coffee."
How do you interact with your audience? For example, "coffee shop."
To qualitatively analyze keywords, you need to look at the situation from the perspective of both the business and the consumer and build a conditional line of communication between them. Think not only about the fact that you want to sell coffee but also that it brings cheerfulness, communication, and a pleasant atmosphere.
In this stage, you collect high-frequency keywords. It makes sense to optimize by them for a well-promoted authoritative site with relevant content. But even in this case, do not stop — you should move on.
Find Related Search Terms
We should broaden keywords and narrow the search. The next step in the instructions on how to do keyword research for SEO is to add the "tail" to the previously found topics. To make this task easier, recall the above classification by query intent:
Transactional — buy Arabica coffee from Ethiopia in Los Angeles;
Commercial — what brand of coffee is the best in Australia;
Informational — how to choose coffee by grade and origin;
Navigational — where to buy Starbucks coffee.
A simple but non-obvious tip: if you have problems at this point, use Google's standard search service. Scroll down to the bottom of the page, and you'll see a "searches related to" section. Use the information from it to move on to low-frequency keywords, with which you can take the top position. You can repeat the procedure — take one of Google's suggestions and type it into the search box. This is how you'll get the most detailed but very real and popular query.
Use Keyword Tools to Find Specific Keywords Within Each Topic
Imagine you are doing SEO research for a young online store that offers about 1,000 products. Manual keyword research will be a painful process that will take forever. By the time you finish it, the trends will already have time to change not in your favor.
To avoid such a problem, you should entrust the research to automated services. Even search engines offer them. For example, Google has Analytics, Trends, and Keyword Planner subsections. The free features they offer will be sufficient for beginners, while professionals can take advantage of premium versions or specialized alternatives.
Check What Keywords Your Competitors Rank for
Do you think that you have done a good job and are well-positioned in your market segment? Check to see if this is true. Using the same services, perform an SEO keyword analysis not only of your site but also of your main competitors. But keep in mind the scope and specifics of the business. For example, a themed cafe in a small tourist town in Spain is unlikely to compete with Starbucks, and a manufacturer of collectible sports cars will hardly compete with Ford.
Ideally, as part of your keyword research and analysis, you will need to do a SWOT analysis of your competitors:
S — Strength. Identify the areas where your competitors are in a stronger position. Consider whether you are willing to spend the effort, time, and money to compete. If not, eliminate those areas from your optimization strategy.
W — Weakness. Military science and historical facts teach us that even the strongest opponent has weaknesses. Hit exactly there — seize those segments of the market and optimization areas that the competitors have not managed to seize.
O — Opportunities. Compare your competitors' strengths with trends. If you are not the leader today, you can be tomorrow. And to do that, you just need to become the first in a niche that the strongest players have not yet mastered.
T — Tactics. Examine your competitors' keyword sets based on which they attract visitors. Compare the ratio of low-, medium-, and high-frequency keywords. Learn from the best and involve their solutions in building your strategy.
Practice shows that detailed analysis of competitors sometimes proves to be the most effective tool for developing a marketing strategy. History knows many cases when major brands have had followers who copied their business model at first and then entered the market with their unique offerings and became even more successful.
Analyze Keywords
After completing all the steps in the instructions on how to find keywords, summarize the results in a table. Even if there are not many of them, you should not use them all at once. Check your chances of success in the case of optimization.
The only option for in-depth analysis is the implementation of special services. They rank your chosen keyword phrases in two ways:
The popularity of the query — the maximum volume of the target audience from which you will get visitors;
The complexity of optimization — an integral indicator that evaluates the level of competition in the segment. Each service has different calculation methods, so we won't explore them further.
A quick analysis will show which keywords you should pay attention to first. Start with easy targets and only then aim for the "Moon."
Check the SERP Features as You Choose Keywords
For finding keywords for SEO, don't forget to check the SERPs. In most cases, the first results display specific elements rather than organic search:
Images;
Videos;
Promotional posts;
Instructions;
Questions and answers;
Product cards, etc.
By analyzing the results for each keyword, you can optimize the web page by filling it with a specific type of content. Sometimes, you have to look for non-standard solutions. For example, there are industries where you can get on top only through contextual advertising. In that case, website optimization will be a secondary element of the strategy. There are also cases where you will be able to attract the users' attention with the help of the visual component. This is especially effective for a product with a unique design.
Choose Priority Keywords and Work Around Them
It is the final part of our instructions on how to find SEO keywords. After all the research, you can finally group the results according to the following criteria:
Potential audience of users;
The prospects for working around that area;
The presence of competitors;
Compliance with trends;
Strengths and weaknesses of your site.
It remains only to rank the keywords to choose the priority areas of work. Of course, you can develop your own methodology. But for such a task, ready-made services are perfect, which we will describe in detail in the next chapter.
Top SEO Keywords Analysis and Research Tools to Use in 2023
Google AdWords Keyword Planner. One of the first platforms from which we learned how to find keywords. Simple and easy to use, but it has its limitations. For example, it does not work well with low-frequency queries because of keyword grouping.
2. SEM Rush is a handy service that allows you to group queries according to their potential and complexity of optimization. You can set targets in both categories to discover the easiest ways of development that can give the best results.
3. Moz Keyword Explorer is one of the most effective services for keywords research and analysis. When you work with a query, it allows you to check the features of SERP in Google and get suggestions for improving the content on the site.
4. AnswerThePublic shows which questions related to your keyword are the most popular on the Internet. By uploading the results to another service called Keywords Everywhere, you can automatically rank them by search frequency and optimization difficulty.
5. Ahrefs is a comprehensive SEO tool that helps you research keywords, analyze the strengths and weaknesses of web pages, and compare your project with competitors. It allows you to analyze the relationship between sites to determine their authority.
6. SECockpit is a service that helps to find prospective keywords with minimal query competition. Suitable for fast optimization of SEO strategy and reducing marketing costs in the long run.
7. KWFinder is a very simple service with great functionality. There is a handy search for local queries to promote low-frequency keywords.
Keywords research summary
Comprehensive website optimization is a long and painstaking work that requires perseverance and creativity. However, once you understand what is keyword research, you can turn it into a coherent sequence of actions and even automate the process with the help of specialized services. To succeed in this area, you should keep in mind the following rules:
Always determine the user's intent. Choose keywords according to it to get positive reactions and avoid negativity.
Mix high-, medium-, and low-frequency queries in your SEO strategy. Your plan of action should cover all possible horizons, from the shortest to the longest.
Use convenient services for keyword research. Do not do it by hand — humanity invented machines, computers, and artificial intelligence for a reason.
Always check the positions of your competitors, identify their strengths and weaknesses, determine development opportunities, and adopt the best tactics of your rivals.
Rank keywords according to the popularity of the queries and the difficulty of optimization in this segment. It is better to entrust this task to online services — there are free ones among them.
Do not stop on what you have achieved. Constantly check the trends, look for keywords, and update your development strategy. Stopping in a highly competitive dynamic market is equal to losing.
Watch for changes in search engine algorithms and adapt to the new rules. Even a minor update to the rules of website ranking can throw you off your position if you do not prepare for it in advance.
FAQ
What Is Keyword Research?
It is a process designed to connect your site's content with the needs of your target audience. By optimizing it for queries, you will get higher positions in search engines and attract the attention of more users.
Why Is Keyword Research Important?
Knowing how to find keywords for optimization will help you increase website traffic, find new customers, and follow trends in your field. This will positively affect not only online but also offline business activities.
How To Do Keyword Research?
Identify the topic and general queries.
Specify queries according to user intent.
Use online keyword research services.
Rank the results by popularity and complexity of optimization.
Determine the priority areas of work.