The Ultimate Guide to Google My Business
Google is the world's most popular search engine. According to various experts, its market share is 90-92%. It means that the vast majority of users go to Google when they are looking for information about goods and services.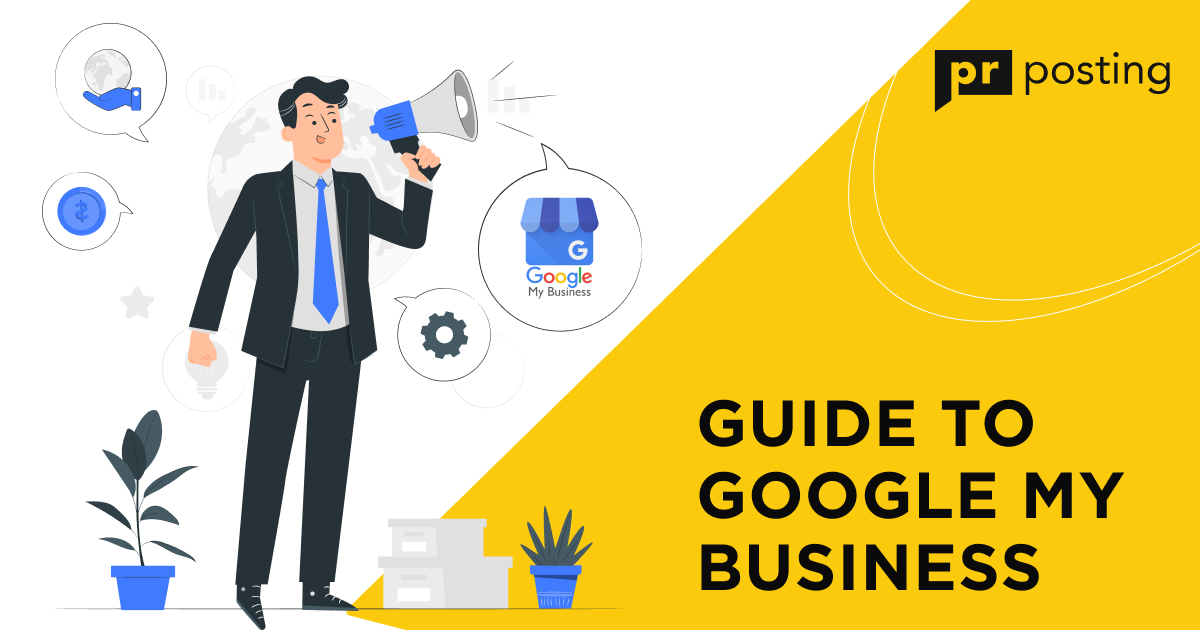 For businesses, the search engine has a special tool called Google My Business. It is a catalog of organizations where business owners can add their companies, and users can read information about it.
GMB was recently renamed Google Business Profile. The name has changed, but the features remained the same. Maintaining a profile in GBP ensures the reach of potential customers and affects the company's reputation.
1. What Is Google My Business (Google Business Profile)?
Google Business Profile is a free tool that allows you to add and manage your business in a listing. Information about the company is displayed on Google Maps, Google Shopping, and in search results.
The biggest benefit of GBP for single-office and multi-location businesses is the additional leads they receive directly from search. For example, a user can enter a query related to grooming, go to the website, and leave a request for a service.
There are also unverified companies in the Google Maps results and catalog that are less trustworthy. Especially if the organization has no reviews and its card is only 10% filled in.
For local businesses, Google's company directory is one of the priority sources of traffic. Some companies do not launch paid advertising but receive leads from GBP. The result depends on the niche, but almost every position in the listing can provide several conversions per day.
There are many instructions on how to optimize a business profile on Google. They contain useful information, but it is better to learn the tool by yourself. You can understand the basic features with any level of knowledge in Internet marketing.
2. Why Should Companies Use a Google Business Account?
The first argument in favor of the service is that it is 100% free. You don't have to pay for registering a company or adding contacts. Money also won't help you get special marks to improve your CTA.
For example, the result of promotion in contextual advertising largely depends on the budget. As for Google My Business, the situation is different — dozens of individual factors affect the ranking in search results. That's why you should register your business on Google.
An optimized profile allows you to gain an advantage over your competitors and get closer to meeting your KPIs. However, even if the profile is 100% complete, there is no guarantee that the company will be on the first lines of search results for relevant queries.
2.1. More visibility on Google
When users search for local companies, the first thing they see in search results is a Google Maps widget with the top 3 organizations. Potential customers are likely to choose between these companies.
If a company has a filled-in profile, it will get more visibility in any case. It takes very little time to fill in a profile, and the potential profit can be quite good.
2.2. Find out what your customers think with the help of feedback
Before buying a product or choosing a restaurant for dinner, most users read reviews. When it comes to Google Maps, the number of stars and user experience are the main criteria for the quality of a business in any niche.
An authoritative Google business account can become a lead generator for offline businesses. If the profile has almost 5 stars and most reviews are positive, users will have no bias and can make a purchase.
Research shows that visitors do not expect to see 100% five-star reviews in a company's profile. There may be negative experiences, but businesses must admit them, compensate for losses, and improve.
2.3. Share important business information with customers
If Google My Business didn't exist, users would have to gather information about stores, restaurants, and other establishments from scratch. They could solve the problem by using services like Yelp, but it would take more time.
The search engine is trying to keep the audience within its ecosystem. Users go to other sites but always return to the search bar when they need to find answers.
With GMB, you can provide users with answers to almost any question. The company card contains up-to-date contacts, physical location, payment methods, and essential attributes.
Google has many useful platforms, and My Business is one of the most important. Therefore, a business in any niche needs a high-quality profile on it and regular interaction with potential customers.
3. How do I add my company to Google My Business?
It doesn't take much time to add a business to Google. But it is better to prepare your contacts, description, photos, and product list in advance. By doing so, you will be able to reduce the time required for the task even more.
One of the main advantages of GMB is repeated customer engagement. If they have a positive experience and see the company again in search results after a while, they are likely to request goods or services again.
To get more profit from placing your business in the catalog, it makes sense to perform A/B testing of the company description and product cards. To do this, it is enough to see how the traffic volume changes after modifications are made.
3.1. Go to Google Business Profile Manager
The first step on the way to successful placement on Google Maps is to go to Business Profile. You won't be able to complete the task without an email account, so you'll need to register a profile or log in to an existing account.
Some business owners create separate emails to manage their organizations. This can be beneficial if there are only two or three accounts. But when there are dozens of them, it's better not to create additional accounts.
3.2. Find an existing business profile or add a new one
When you have already created a company profile on the maps and it has ratings, you need to link it to your Gmail account. If there is no information about your business in the search engine, you will have to create an organization card.
The basic creation is done in just one click. You need to enter the company name in a special field and click the Continue button. After that, the registration process in the catalog will start.

If the company with the specified name is not listed in local Google business listings, the system will offer to select a niche. At this stage, it is important to make the right settings; otherwise, you may face problems with ranking.
If your company has an official website, you should add it to your profile. This will help you get additional conversions from the search engine. The resource can be linked later.
3.3. Add your location
A physical address is important for offline businesses. If the organization does not have a pickup point or office, you do not need to specify the location. Some entrepreneurs cheat and add non-existent addresses to get additional business card impressions, but you shouldn't do this.
Problems with location can turn into negative reviews on maps. Customers will come to the address and not be able to find the business. Obviously, this will lead to a negative experience.
3.4. Choose a service area
For online businesses, Google My Business offers to set up service areas. You can specify cities, districts, or entire countries. The interface supports the possibility of specifying multiple zones.
You also need to specify the service area correctly. For example, when it comes to on-site computer repair, few people will want to travel between states or regions. In this case, coverage plays an important role.
3.5. Add contact information
Contact information helps potential customers save time. Instead of looking through the list of services on the website, they will contact the company via messenger or phone.
Adding a phone number via which users can get the necessary information is useful in all cases. It positively affects the number of orders, conversion, ROI, and other financial indicators.
3.6. Subscribe to updates and recommendations
One of the last steps on the way to successful profile creation is to subscribe to updates and recommendations. Google periodically sends emails with useful tips on how to use the service.
The system also requests an additional address for correspondence. GMB emails are not suitable — you need to specify a physical address. It is not publicly available and is intended for internal purposes.
3.7. Confirmation of your business
After data moderation, the company will appear on Google Maps and eventually start appearing in search results. However, you cannot change information or manage your profile without verification.
There are various ways to verify ownership, but Google usually sends a letter by regular mail. Delivery times vary by region.
3.7.1. Verification by mail
Businesses that have a physical address must confirm their existence with a verification code. At the final stage of setting up Google My Business, a letter request form will appear.
For example, in the US, delivery takes about 1-2 weeks. It is sent within 5 days of filling in the address. The received code should be entered in a special line in the Google Business Manager Profile interface.
3.7.2. Verification by phone
You can verify your company by phone or SMS. In this case, the code will be sent to the specified phone number, and you do not need to wait a week or more.
Both offline and online businesses can request a code via the mobile network. It depends on many factors, so it is impossible to guess in advance which verification methods will be available in the profile.
3.7.3. Verification by email
Verification via email has its features. Google sends the code only to the email address with a unique domain name; public services are not suitable.
But even if a business has a domain email, there are no guarantees that the task will be successfully completed. The fact is that the system validates emails according to a weird scenario. For example, if the company is called IT-magic, [email protected] will work, but [email protected] will not pass the verification.
3.7.4. With the help of a video
Another way to verify a company is through video. You can create a personalized story about the company and demonstrate its physical location. After that, you can upload the video to your profile.
Similar to email verification, this tool is not available in all cases. The quality of the video should be high, but most modern smartphones can cope with it.
3.7.5. Via a live video call
Sometimes, it is possible to send a verification request via a video call. In this case, you will have to confirm the existence of the company, equipment, and office live. Usually, communication with a Google employee lasts no more than 15 minutes.
Entrepreneurs who have passed such a check say that the interlocutors ask to see the facade sign, the appearance of the production, and official documents. If you manage to convince them that the information is reliable, they will verify your profile, and you can start optimizing Google My Business.
Problems often arise in the process of business verification. You shouldn't expect to complete the task the first time. Entrepreneurs have to request letters repeatedly, wait for additional verification methods to appear, and spend time preparing documents. To speed up the verification process, you can ask for help via the contact form.
3.8. Personalization and connection to Google services
The main task of Google Business Profile is to provide business owners with the opportunity to fully utilize the service's potential. Therefore, the system periodically sends personalized recommendations.
If you don't need them, you can disable the function in the settings — in the People & Sharing section of the Google account management page. But it is better not to refuse notifications because they can be useful.
4. Request Access to an Account Managed by Another Person
Sometimes, situations arise when access to a company account is lost. In this case, you won't be able to respond to feedback or update your work schedule. This problem may not seem critical, but it's better not to lose access.
In Google My Business, you can transfer company management to your account or request access rights from another user. It doesn't take much time to send a request, but the result may not necessarily be positive.
4.1. Go to the creation page
To find an organization, you need to go to the business profile creation page and enter the name in the field. Do not create a duplicate organization, because, in most cases, the system will delete this data.
If the company's address has changed, there's no point in creating a new card either. Especially if you have accumulated a lot of reviews over the years and customers often interact with the card in GMB.
4.2. Select "Request access"
Once you have found a company in the catalog, you need to request access to manage your profile. You can't just do this, because then, every user could hack the system.
Managing Google My Business is easy, but if you don't have proof that the email account owner is authorized to use the card, all attempts to transfer the business profile to your account will be in vain.
4.3. Provide the required information
To confirm the ownership of the organization's card, you need to provide Google with a questionnaire with data confirmation. You need to indicate your relation to the company, fill in your contact information, and wait for a response.
The business profile owner must reject or accept the request within 7 days of receiving the letter. If they ignore the message, you can file an appeal and get a chance for a positive decision.
In open sources, you can find many complaints about difficulties with verifying companies and transferring access to a profile. The service has been operating for a long time, but the algorithms are still not perfect. You should take this into account when using Business Profile.
5. Best Practices for Optimizing Google My Business
It's not hard to find the answer to the question of how to set up Google My Business. But many business owners just add a business profile to the Google service. That's not enough to get the most out of the search engine.
You can see the difference between an optimized and unoptimized business card in the illustration below. In the first case, the structure does not look attractive, and the conversion rate is not good.
5.1. Check the consistency of NAP
Name, address, and phone (NAP) are key attributes of any company. If there is a mistake in this information, the reputation can be severely damaged. There are usually no problems with the name and phone number, but the address may change from time to time.
Consistency of the basic parameters of a company allows you to get the most out of your business listing in the business directory. The profile owner needs to keep the situation under control and make changes promptly.
5.2. Provide a business description
A compelling and attractive business description helps to engage customers. If they see two company cards with boilerplate and unique text, the chances of getting the first click will be higher in the second case.
My business profile on Google should be 100% optimized, and the description also affects the user experience. You can change it from time to time, but you can also use the same text on a regular basis.
5.3. Regularly add videos and images to your ad
Pictures and videos convey visual images. They can be used to show the benefits of goods or the quality of services provided. You can also use media content to announce promotions or current changes.
Regularly updated content indicates to potential customers that the company is working and monitors the status of the card. It can promptly respond to messages in the profile and reply to reviews.
5.4. Publish content on your Google business profile
Google My Business has been allowing you to run a news feed for many years. Businesses use it to communicate certain information. For example, it can be a schedule for holidays or price updates.
If customers see that there have been no posts on the profile for a long time, they may not interact with the company. This doesn't always happen, but you can't completely rule out this scenario.
You don't have to create unique videos or images for your posts. You can duplicate posts from social media — it won't be a problem. The text for the post can be created by both the content manager and the business owner.
5.5. Latest products on GBP
If the company periodically updates its goods and product lines, it will not be superfluous to demonstrate the novelties to users. This will increase the audience's interest and might positively affect the conversion rate.
Simply adding a business to Google is not enough. You need to regularly update the page and communicate with users. In some niches, the competition is extremely high, so constant updates can be a significant advantage.
5.6. Encourage and respond to customer reviews
Reviews are the most valuable asset in any company's card. You need to make an effort to get as many positive comments from customers as possible. Studies show that users buy mostly from stores with high ratings.
Every organization can have negative reviews, but if they appear regularly, there is no point in counting on leads from Google My Business. Customers will ignore the company.
Responses to comments shouldn't be template-based. Companies that provide personalized responses can count on a positive experience. If they recognize their mistakes, most dissatisfied users may change their minds over time.
5.7. Add FAQs
Answers to frequently asked questions save time. Potential customers can read them and make a quicker decision about placing an order. For example, if a company doesn't deliver goods within 2-3 days of a request, a certain number of customers will go to competitors.
It is not difficult to understand what Google My Business is and what tools it has. However, you need to spend some time on it and not rush to publish content. You shouldn't let irrelevant information get into the public domain.
5.8. Select highlights and attributes
Google My Business is not just a directory of organizations but a real encyclopedia. If the business owner has taken the time to fill out the information, users can learn almost everything about them.
The company's card displays information about payment methods, services for people with disabilities, employees wearing protective masks, etc. Some attributes appear automatically based on the information added by visitors to Google Maps.
It is quite possible to create an optimized business page on Google, but you should pay attention to each function in the service interface. You don't need any special knowledge to do this.
5.9. Update information regularly
If your store does not change its address, phone numbers, or schedule, you do not need to make changes. But you should regularly publish content — both text and media. This will positively affect the ranking of the organization's card in search.
You shouldn't publish the same type of posts as they don't increase conversions. It's better to release updates rarely, but when they can really attract users' attention.
Google Business Profile has many useful tools that can take customer interaction to the next level. For example, you can exchange messages with them directly from the service interface. Some companies do not do this and lose potential leads.
If a business owner wants to promote their website in search and is limited to creating a Google My Business account, they are unlikely to get maximum visibility for relevant queries. In local SEO, a company card is important, but to unlock the potential of a project, you shouldn't forget about links from reputable projects.
The PRPosting platform will help you solve all the problems with backlinks. In the service interface, you can create a list of donors in 20-30 minutes. This time is enough to search for several dozen projects based on a CMS or framework.
6. Conclusions
GBP is one of the most useful tools for promoting local companies. The Google My Business guide will help you find answers to all important questions related to this resource.
FAQ
What is Google My Business?
It is a directory of local organizations where both users and business owners can add information. The information is displayed in Google Maps.
Why should companies use a Google business account?
Because it will help establish contact with potential customers, expand the boundaries of the target audience, and quickly distribute relevant information about the company.
How do I register my business on Google My Business?
To do this, you need to fill out the questionnaire offered by the service step by step. It's not complicated, and any entrepreneur can handle the configuration.
Is setting up Google My Business free of charge?
The setup is completely free, but there are contractors on the market who offer to optimize the company's card for a fee. It's up to you to decide whether to use their services or not.