How to Check Website for Broken Links
The effectiveness of promotion in organic search results depends on the quality of internal optimization of the resource. If a website has a lot of problems, it will not be able to fully realize its potential.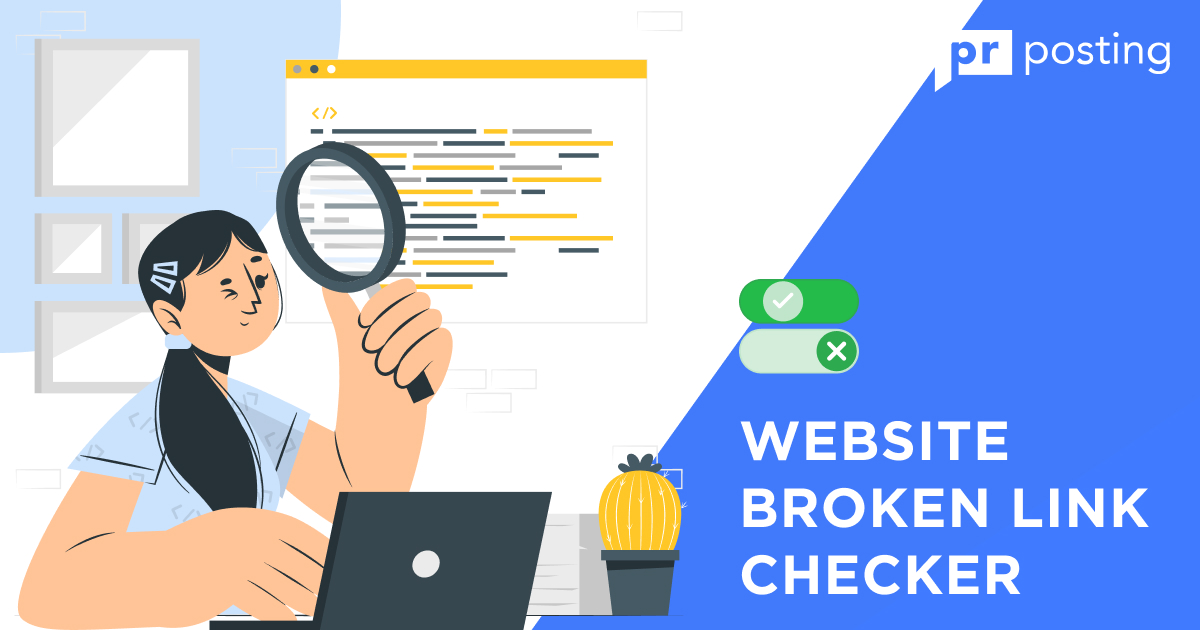 Checking the site for broken links is on the list of webmasters' regular tasks. It doesn't take much time, but links can remain broken for a long time if you don't perform the analysis.
Not all site owners monitor internal optimization, which prevents their projects from getting the highest possible rankings. High-quality SEO consists of small tasks that allow you to outperform your competitors in the struggle for traffic.
1. What Is a Website Broken Link Checker?
A broken link checker is a tool that scans website pages and finds broken links. It checks internal links for 404 errors and generates a detailed report.
404 errors periodically occur on various websites due to problems with the CMS or unsuccessful updates of the URL structure. If you don't fix them, the user experience can suffer.
Imagine visiting a page to view a recipe. You click on a link in the text and see a message about a non-existent address. Obviously, you might want to use another website.
Scheduled checks, setting up redirects, tracking keywords, and other tasks are routine for webmasters, so they don't always pay enough attention to them. This mistake can lead to negative consequences in search results.
A website broken link checker usually does a good job of analyzing the HTML code of the response, but it is better to use several tools in turn. This way, you can increase the accuracy of the analysis.
1.1. What is a broken link (404 error)?
A broken link leads to a page that does not exist on the site. In addition to internal links, external links can also be broken. In this case, you should use a backlink monitoring tool rather than a 404 checker.
When search engine crawlers try to crawl a page and receive a 404 error, they signal this in the Search Console. This is not a critical problem, but it is better not to give the search engine additional reasons to lower your rankings.
Successful promotion in any niche consists of a lot of small steps. If at least 1-2 completed tasks are missing, the project may not reach the optimal amount of traffic.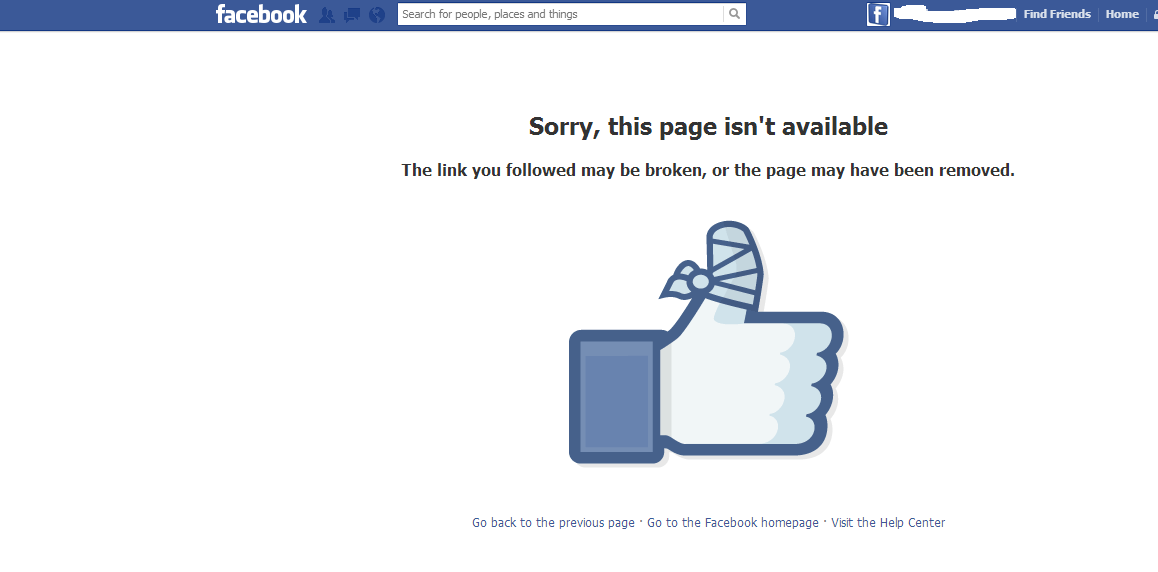 1.2. Are dead links bad for SEO?
When experienced optimizers are asked about the importance of checking 404 errors, the answers can vary greatly. Some say that broken links are very harmful to internal optimization, while others argue that there is nothing critical about them.
To understand the topic, you need to determine the consequences of 404 errors on your website. Typical problems include dilution of link juice, negative user experience, and structural disruption.
Most guides to improving on-page SEO mention the mandatory removal of broken links, but beginners do not always understand why this is important. Therefore, it is not surprising that they often ignore this problem.
The main harm is the blocking of the ways to pass link juice. For example, if a site owner wants to strengthen internal pages, they can link them to addresses that are already saturated with SEO juice. If there is a mistake in the links, the website will get 404 errors instead of improving its optimization.
The importance of a free broken link checker is that massive 404 errors lead to a violation of the site structure. They also waste the search engine's crawling budget, and because of this, important pages may not be included in the index.
You should also keep in mind the importance of good behavioral factors. When 30% of links on a website lead to non-existent pages, you shouldn't wait for them. If the algorithms notice an increase in the bounce rate for a long time, ranking problems may arise.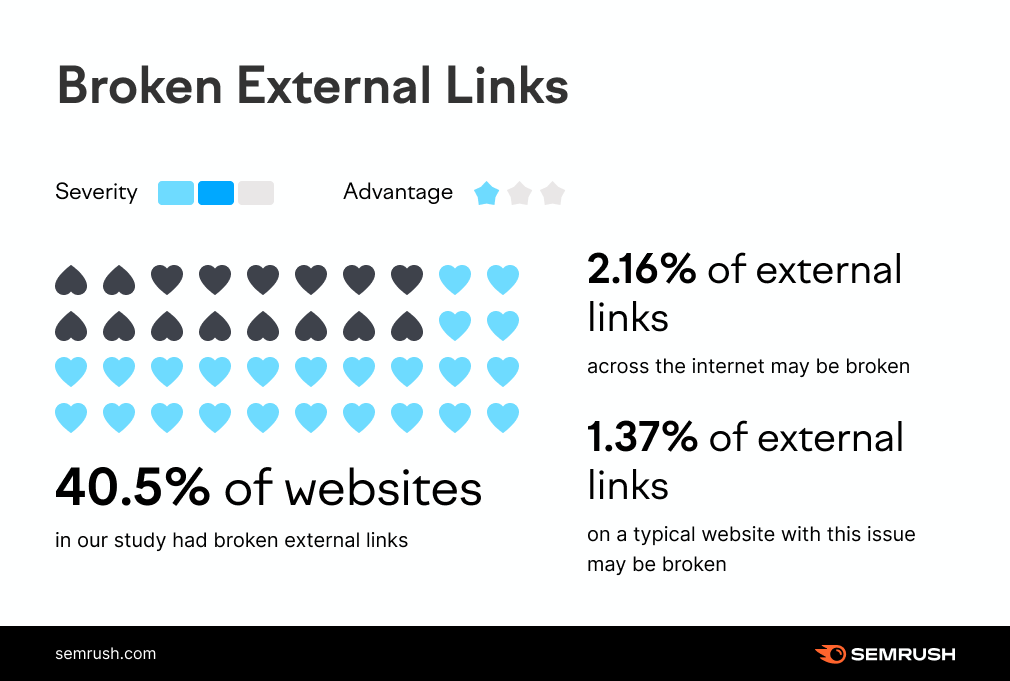 2. Main Causes of Broken Links
Broken links do not appear out of the blue. In most cases, they are formed due to technical problems in content management systems. For example, if you install a plugin to create SEO-friendly URLs, disabling it will break the structure.
In such cases, a lightning-fast response is important. If Google reacts faster, the site owner will not like the outcome. In this case, traffic may decrease significantly for a certain time.
If 404 errors regularly appear on your project, you need to find the source of the problem and deal with it. It's better to do the job once than to constantly remove one link at a time.
2.1. Deleting website pages
Sometimes, it becomes necessary to delete a page because it is irrelevant or the volume of conversions from organic search results is low. There is an opinion that every URL uninteresting to users has zero value. Therefore, it is better to get rid of it. But not all webmasters agree with this.
If you delete a page, you need to create a redirect to any relevant URL. In this case, the metrics will not be affected, and there will be no notifications in the Google Search Console.
2.2. Changing page URL
In many cases, 404 errors are caused by changes in URLs. After that, you need to set up a redirect from the old URL to the new one, but this task is not performed in all cases. As a result, the webmaster ends up with a broken link.
It is better to act in such a way that there is no need to change the URL at all. You should take your time when developing the site structure, and then, everything will be fine. Many CMSs have SEO modules that can take care of the entire technical optimization routine.
2.3. Technical and structural website translation
The structure is often changed when adding language versions. In this situation, it is important to set up redirects correctly and make sure users can choose the region on their own.
It is also necessary to link pages to each other correctly. If there is a need to combine two language versions in the content, there should be no 404 errors. Be sure to check for broken links on website after the work is completed.
2.4. Link spelling errors
Spelling errors can be of different formats. For example, if you change the domain, it is important to set up a per-page redirect. If you don't, traffic may not recover for months.
Fixing a few 404 errors is easy, but when there are problems with the migration, the scope of work will be much larger. You should at least periodically monitor status codes in Google Search Console and fix problems.
2.5. Website reformation
Sometimes, hundreds or even thousands of broken links appear on a website during a large-scale update. It is impossible to 100% protect yourself from such situations, so you need to choose the right tactics.
Experienced optimizers recommend testing changes on a local domain and only then publishing them on the main site. This will help to keep traffic and positions at the same level.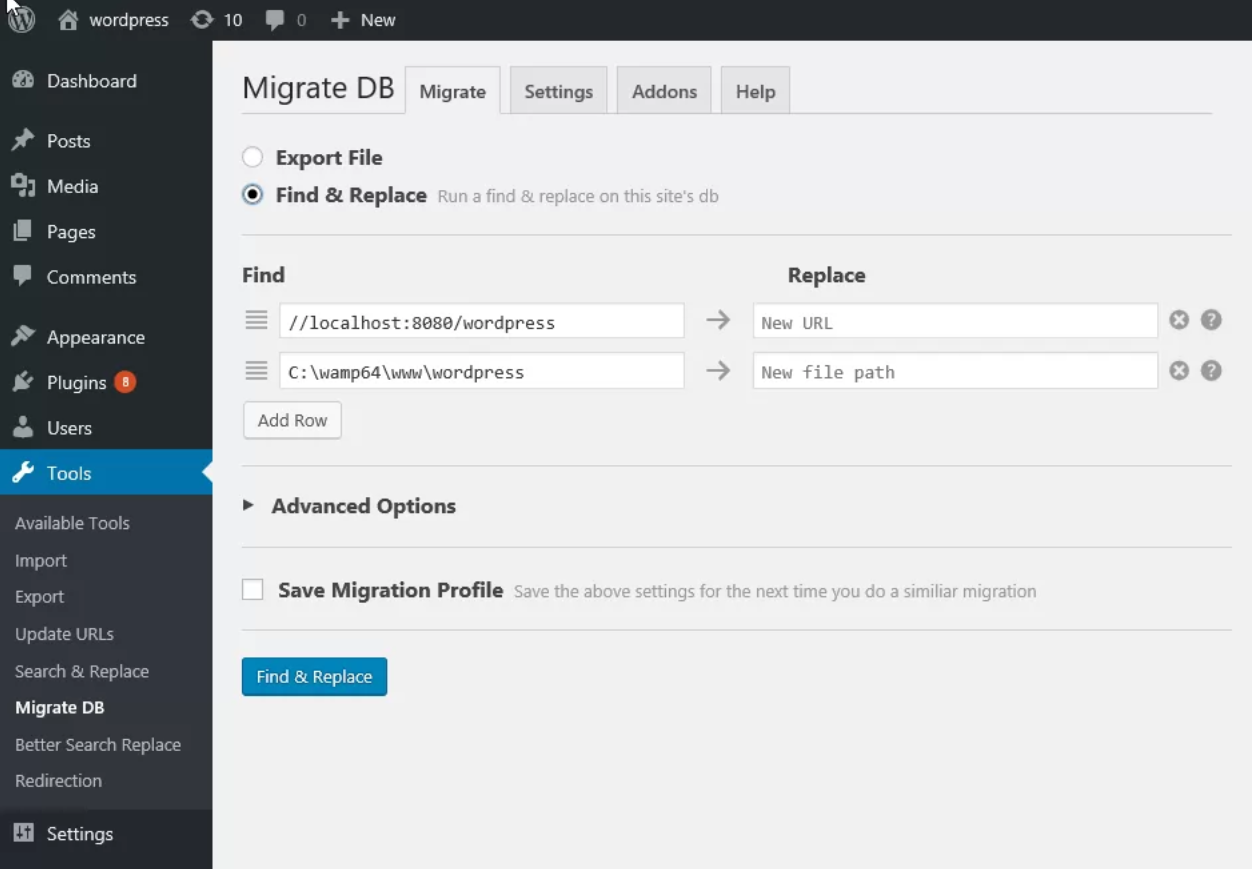 2.6. Changing to another ISP
Checking broken links on a website after switching to another hosting provider or changing CMS is a standard task. Without it, you should not show the updated project to users.
If you need to urgently change hosting or domain, you should perform an online analysis immediately after updating the source code of the pages. You can do this with a high-quality broken links checker tool and then use plugins to replace URLs.
The functionality of any web-based service for SEO tasks can cover 100% of the needs. But it is better to use several tools to eliminate mistakes.
3. How to Check Site for Broken Links?
You can find dozens of services on the Internet that successfully recognize 404 errors and quickly crawl pages. They save a lot of time on routine tasks because a webmaster would otherwise have to search for broken links manually.
It will also be useful to monitor the status of external links. For example, if the link to your project page suddenly disappears, it's not good for your project. You should contact the webmaster and ask them to fix the problem.
Any relevant 404 check can quickly find broken link, provided that the web server is working smoothly. If the page does not display the corresponding code, URLs may not be included in the service's report.
For basic tasks, the webmaster console is enough, but it's always better to have additional tools at hand. Google's crawlers also make mistakes sometimes, which can affect the overall result.
3.1. SEO audit tools
Every webmaster has a set of services that they use on a regular basis. Therefore, it is very difficult to recommend specific platforms. But we can still identify the leaders among SEO checkers.
Netpeak Spider, Semrush, Sitechecker, and Dead Link checker are usually associated with the search for broken links. For large websites, you can use Screaming Frog or Netpeak software. Both options do a good job.
Searching for broken links with desktop software is beneficial only if you use SEO software periodically. Paying for a license just to check 404 errors is unprofitable.
3.2. Google Search Console
In the Search Console for webmasters, you can quickly find out from which pages Google crawlers receive a 404 code. In some cases, the data is not accurate, but this is not a common situation.
A report on non-existent pages can be found in the Coverage section. If there are examples of URLs in the "Error" column, you can click on the tab and see exactly where crawlers had problems scanning the content.
Keep in mind that 404 pages and broken links in content are slightly different. That's why Google spiders don't always provide 100% of the data on these issues. It is better to use a third-party deadlink checker tool.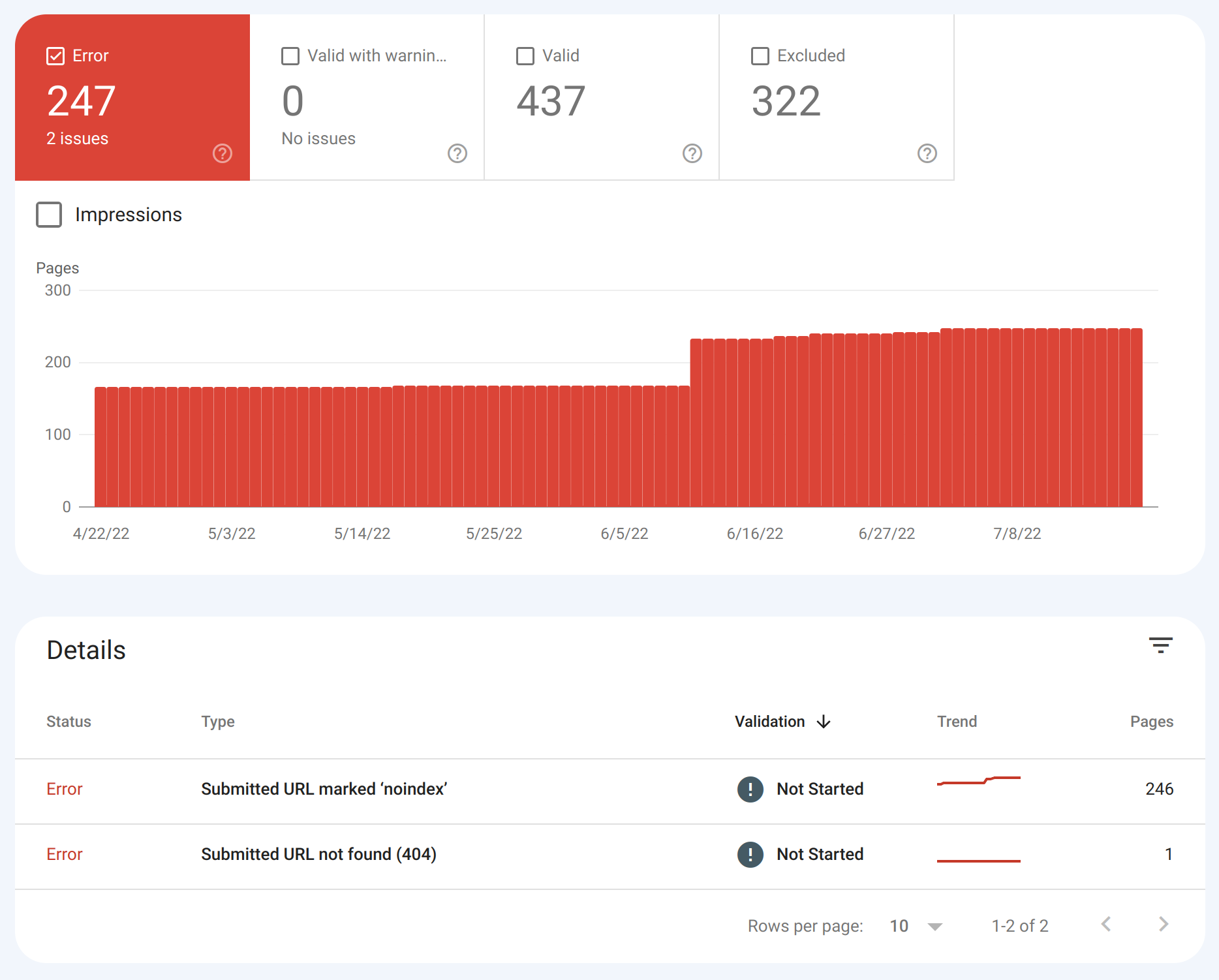 4. How to Use a Website Broken Link Checker?
A webmaster with any level of SEO experience can use a service or desktop software to check a project for 404 errors. All you need to do is look through the knowledge library and follow the recommendations.
Tools for Windows or macOS are more difficult to use because they take time to install, activate, and configure. However, online services allow you to perform analysis even without registration.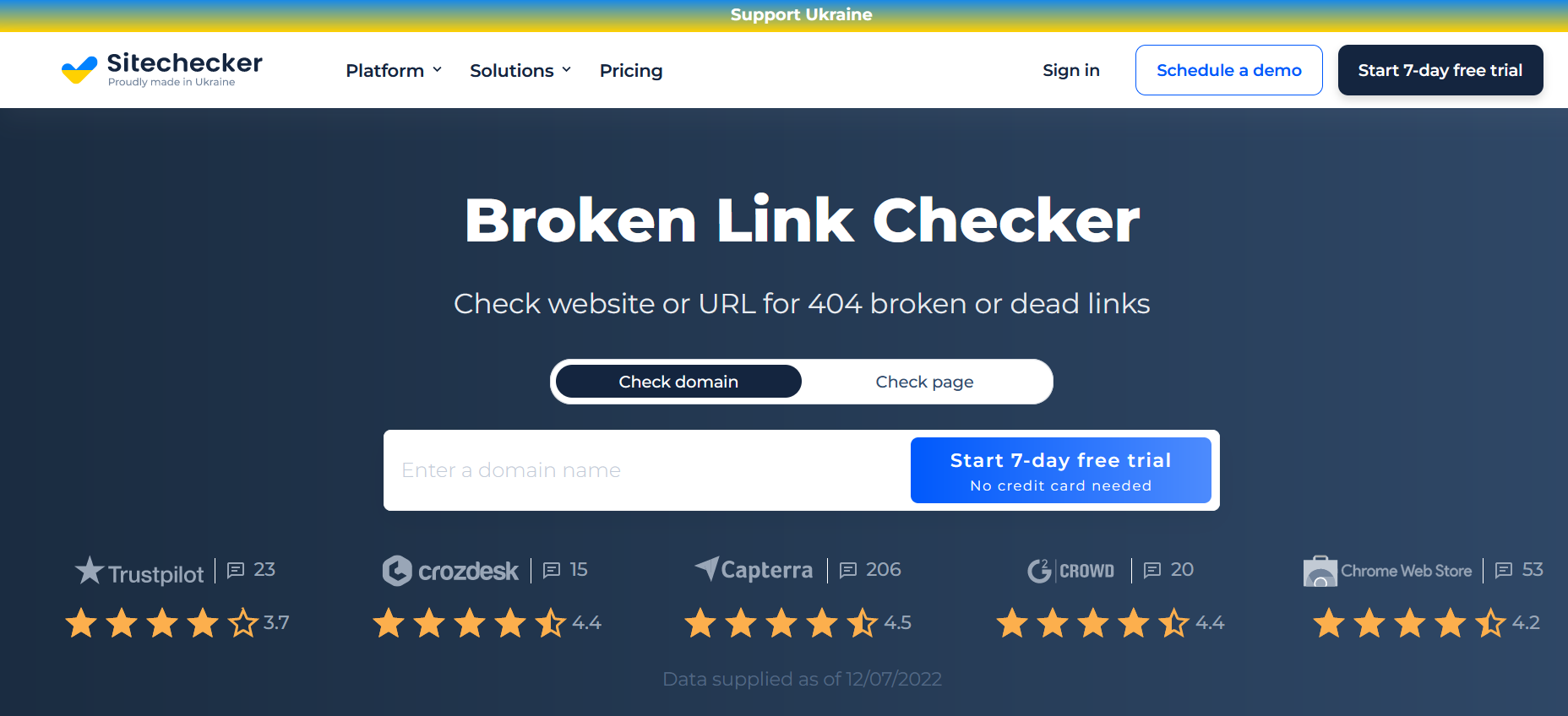 You should choose between a SaaS platform and desktop solutions based on your needs. If you need to periodically perform external optimization tasks, programs may be more convenient.
When you check website for broken links, it is important to make sure that the crawler analyzes all pages. It is better to collect a list of addresses manually and run a bulk check. This function is available in most checkers.
4.1. Checking domain
To help newcomers better understand how to search for 404 errors, we have prepared a step-by-step guide. It is not complicated, but you need to follow the recommendations in the exact sequence.
How to check a domain:
Open the checker interface.
Enter the URL in the search bar.
Select an analysis option.
Wait for the report to be generated.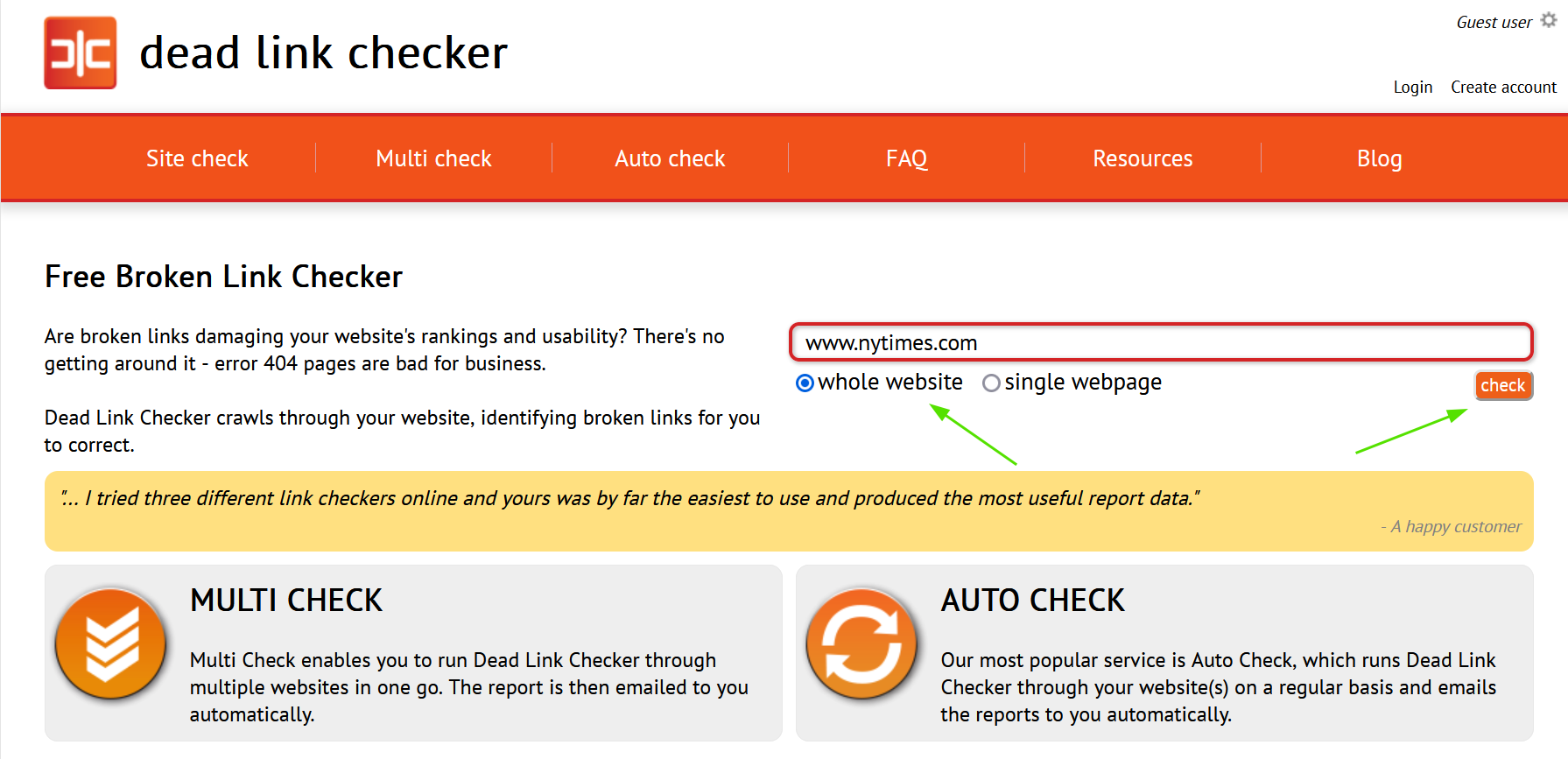 The speed of creating a table with checked URLs depends on the quality of a particular tool. We tested Dead Link Checker, and it analyzed 2,000 URLs in 2 minutes. It is a good result.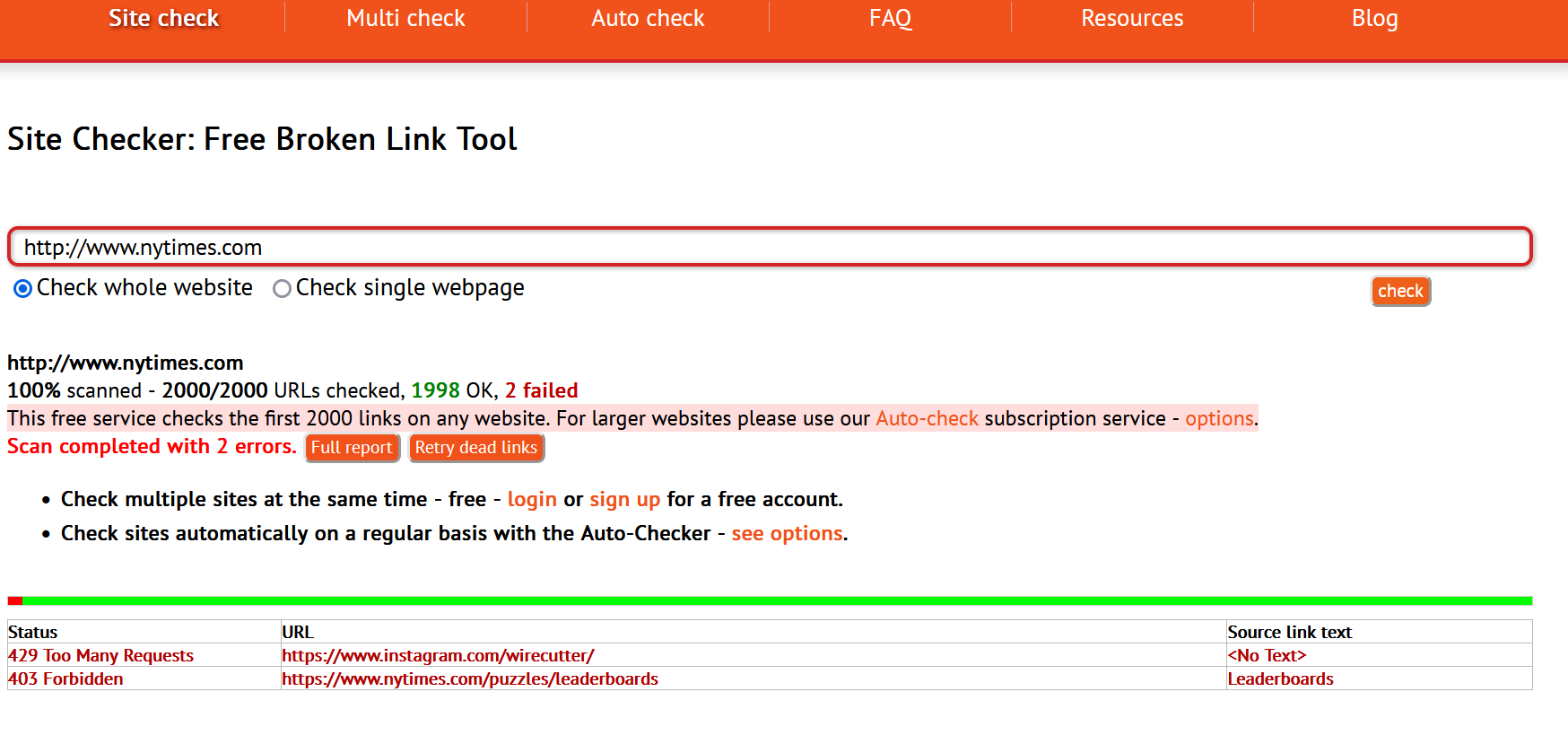 Additionally, you can check the pages in another service to make sure that there are really no problems on the site. It is also worth focusing on Google Search Console data and fixing the problems if they occur.
4.2. Checking web page
To check broken links on a single page, you need to follow similar steps but choose the relevant analysis option. Instead of scanning the project structure, crawlers will look at the status of a single URL.
Note that other codes sometimes appear in reports. It means that spiders have problems accessing the address, but you still need to check for a 404 error separately.
No scanner guarantees 100% accuracy, especially if the scan is performed in the single-URL mode. You can only achieve an accurate result if you collect all the pages and check them separately.
5. How to Fix the Broken Links Issue?
There are many approaches to eliminating 404 errors. Each of them is relevant under certain conditions, so you need to first understand the nature of broken links. For example, if it's a module, you need to replace it.
To check website for broken links is only the first step toward fixing the situation. In each case, you should figure out what is causing the 404 code and use one of the tools to fix the problem.
For example, if you deleted a page and set up a redirect, but it doesn't work, you need to fix the configuration. And if the source of the problem lies in an incorrectly working plugin, you need to replace it.
You can also simply get rid of the link if the page no longer exists and you can't find another URL to transfer the link juice to. In this case, the chain will close, and there will be no 404 error.
Some optimizers recommend not spending much time dealing with each individual link but rather using a broken link checker on a global scale. Eliminating the source of the problem will allow you to defeat 404 errors at large.
In addition to active work with internal SEO, website owners should remember the importance of external optimization. If your site has no broken links, but there are no high-quality backlinks as well, it will be difficult to reach high positions.
PRPosting will help you improve the situation with link juice. The service has more than 44,000 donors for different niches, locations, and languages. Each site owner will be able to create a list of resources according to their budget.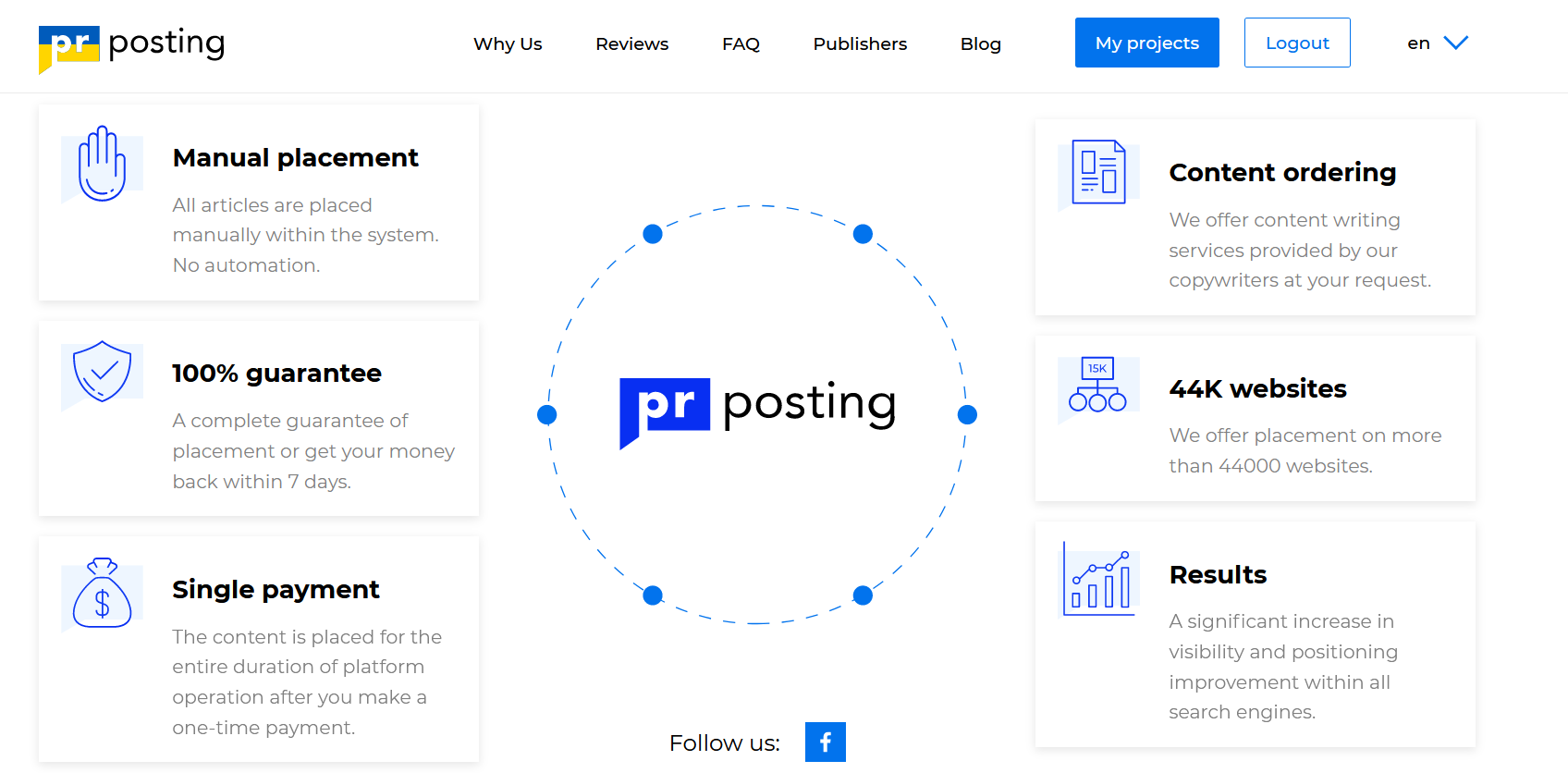 6. Final Words
A broken link finder is a useful tool for all webmasters. You can choose any popular tool, but it is important to use it correctly. It is easy to find 404 errors, but it can be difficult to remove them. Therefore, you need to prepare for the routine in advance.
We can argue for a long time about the harmfulness of broken links, but it is clear that they are not useful. It's better to prevent them from appearing than to fix the situation after being notified in the Search Console.
FAQ
What is a broken link checker (404 error solution)?
It is a tool that analyzes website pages for broken links. If a link generates a 404 error, the checker records it and displays the information in a report.
Are dead links bad for SEO?
They are harmful because they create a negative experience for users and break the chain of link weight transfer. There is nothing critical about it, but it is better to fix such problems in time.
What causes broken links on a website?
Most of the time, the problem lies in technical errors in the CMS, modules, or the .htaccess file. Regardless of the nature, you need to fix broken links.