Top Email Template Builders of 2023
Have you ever thought about how many emails you receive daily? How many of them have you opened? How many of them have you read to the end and how many motivated you to click the link? And the main question is – how do effective emails differ from others? One of the answers is that email template builders are used to create them. However, not all of them can become successful tools for your business. Let's figure out which platforms can help your email marketing reach new heights.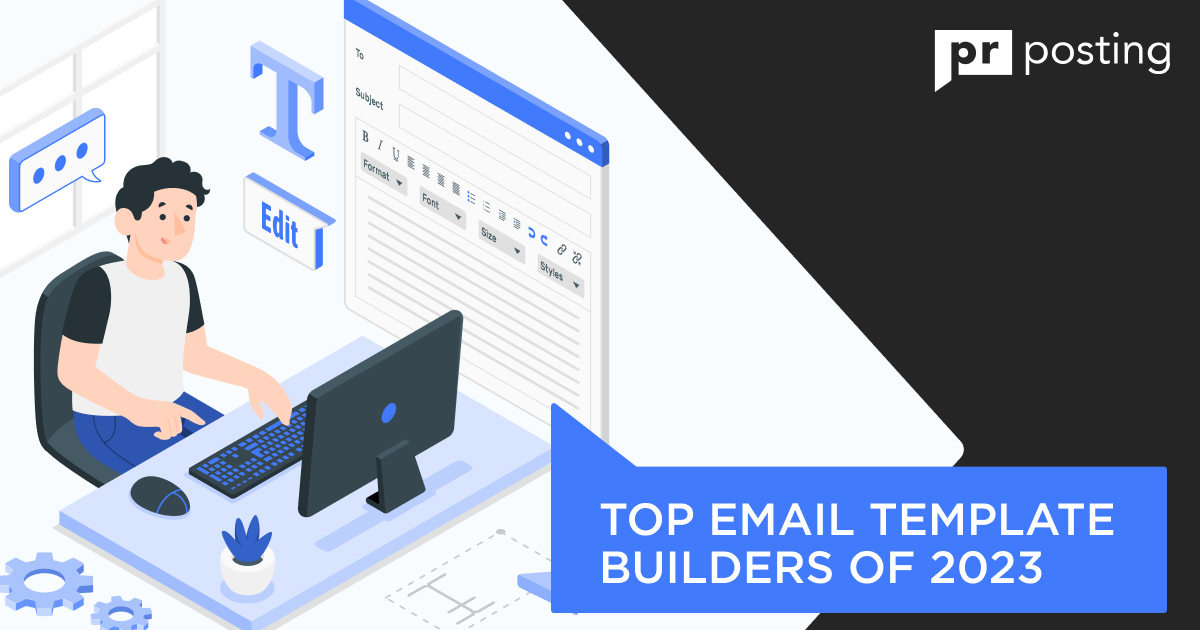 What Is an Email Template Creator and Why Use One
Continuing with the topic of email newsletter effectiveness, we should mention that users make decisions about commercial offers in the first 3-5 seconds. If they are not interested in the email in such a short time, at best, they will close it, and at worst, they will send it to the spam folder. That's why your main task is to create a visually appealing email that can attract and hold the users' attention until they perform the target action.
A modern email newsletter cannot consist of text only. Such an email will be boring for most users. It must be designed properly. Emails should contain design elements, pictures, backgrounds, tables, charts, etc. If you compose your emails manually using HTML code, it will be too time-consuming and fruitless. You either hire several specialists for this task, or you spend a lot of time yourself.
Email template creators will help you in this case. They work on the principles of drag-n-drop and what you see is what you get. These platforms allow you to compose the visual components of your emails from ready elements by simply dragging them onto the screen. They allow you to see your email through the eyes of its recipient. Hence, you will not have to run tests with several editing iterations.
The main advantage of email template builder tools is that they allow one person to run all email marketing. This option will be useful for aspiring entrepreneurs, freelancers, and authors of promising startups, who can free up a lot of their working time and focus on more important tasks. Of course, some of these programs are paid. However, the subscription cost is much less than the cost of creating HTML and CSS codes by yourself.
What Makes a Good Email Templates Creator?
When people receive a couple of annoying email newsletters, they usually block the campaigns and add the sender to the spam folder. That's why your email must be perfect. Take your time when choosing an email template creator, make a list of candidates, and check them for compliance with the following criteria.
Integration with Different Email Clients
It would be frustrating if you compose the perfect email but can't send it to your recipients because of software platform incompatibility. Of course, you can always create a software gateway that allows you to transfer data between apps. However, this is a waste of time and money and a serious security breach. First, you should check whether the email template builder is compatible with your email client.
Pricing and Free Trial Availability
Access to online platforms is cheaper than in-house development or outsourcing HTML code. However, each entrepreneur has a different understanding of the marketing budget. For some of them, it's tens of dollars, while for others, it's tens of thousands or millions. You'll agree that the ratio and ROI will be fundamentally different. Hence, at the first stage of selection, you should consider the subscription cost.
A free trial period will be a significant bonus, especially for expensive platforms. However, you should check out its T & C because it can provide access to a limited number of functions. In this case, you won't be able to evaluate all the advantages of the app.
Customer Support
Although email template builders are based on the drag-n-drop principle, not all of their tools can be easy to use. Moreover, users often have ideas that require a non-standard approach for their implementation. Hence, you will have to communicate with technical support. Before choosing an online platform, you should check reviews and feedback. If the company's managers are happy to help you and respond with minimal delays, you can be sure that all your ideas will be brought to life.
Big Library of Email Templates
A big library of email templates allows you to choose a ready template and edit it according to your business needs. It's faster and more convenient. Moreover, it reduces the number of edits that could potentially lead to errors. If a ready template can work effectively, why do you need to start from scratch?
Of course, you should evaluate the library of individual elements. If there are only a few design options and standard fonts available, this will significantly limit your options, especially when it comes to specific segments of digital marketing, such as healthcare or legal services. That's why the choice of styles will be one of the most important criteria for finding a builder.
Customization Options
Pay attention to the number of interactive elements in the template. Some platforms offer several standard email formats that contain a certain number of blocks – text, images, or interactive elements. Of course, they can be effective because you'll be working with proven tools. However, if you want to stand out among your competitors, you will need more options, including the ability to change the shape, size, and location of individual blocks in your email.
HTML Editor
Some of your ideas may be too complicated for even the best platforms. In this case, a technical support representative will recommend you import your HTML code. It is inconvenient to create and test it in a separate development environment. Your productivity will increase if you can add custom elements to your email creator. Moreover, HTML email editors differ in the number of features. Top platforms offer auto page markup tools and ready tags, and they also highlight errors.
Built-in Image Editing
To make any images look perfect in the final version of your email, you will sometimes need to crop and reshape them, as well as adjust their color. It will be more convenient for you to do this on the online platform itself rather than using a third-party app. Before signing up for a paid subscription, you should check if the platform offers built-in image editing options and specify a list of its features.
Responsive and User-friendly Design and Interface
The easier the program is to use, the better. The intuitive interface saves you hours of working time that you would otherwise spend reading instructions and contacting technical support. The support for responsive design allows you to create emails that look perfect on any device regardless of its screen size and resolution.
Collaboration Features
The more people involved, the more productive ideas there are. When you work on your email newsletter campaigns as a team, you can achieve better results using less time. Hence, you should check if the email template generator you choose provides collaboration features.
Various Supported File Formats
Text and static images are great, but sometimes, they're not enough to grab a user's attention. Check whether your platform offers to add videos and GIFs and create interactive elements with JavaScript.
Comparing the Best Email Template Builders
To compare different tools, we use the integral evaluations of the G2.com portal. Its experts focus on the platforms` usability and the ease of learning their functions for beginners.
| | | | | |
| --- | --- | --- | --- | --- |
| Service name | Free version | Basic subscription plan – payment per month | Main feature | G2 rating (5-point scale) |
| Stripo | A limited number of templates | $15 | Advanced support for responsive web design | 4,6 |
| Active Campaign | Demo on request | $29 | Built-in CRM-system | 4,6 |
| EmailOctopus | A limited number of emails | $8 | Big library of vivid visuals | 4,1 |
| BEE | A limited number of options | $25 | Built-in templates for commercial emails | 4,7 |
| Moosend | 30 days with full functionality | $9 | Easy email personalization | 4,7 |
| Omnisend | A limited number of emails | $16 | An all-in-one online marketing platform | 4,6 |
| Postcards | A limited number of templates | $17 | Easy customization of multifunction modules | 4,2 |
| Unlayer | A limited integration capability | $15 | All features are available in the free version with no time limits | 3,9 |
| HubSpot | A limited number of options | $18 (річна підписка) /$50 | Professional templates for commercial emails | 4,4 |
| Chamaileon | 14 days with full functionality | $300 | User-friendly minimalist templates | 4,3 |
| SendPulse | A limited number of options | $7 | Creation of interactive emails | 4,6 |
| Sendinblue | A limited number of emails | $25 | Email campaigns are combined with SMS and push notifications | 4,5 |
| Mailchimp | A limited number of emails | $13 | Email automation tools | 4,3 |
| MailerLite | A limited number of personalization features | $9 | Simple and user-friendly interface | 4,7 |
| Constant Contact | 30 days with full functionality | $9.99 | Creation of branded advertising campaigns | 4,0 |
15 Best Email Template Builders (Free and Paid Solutions)
When creating the rating, we focused on the ratio of price to the benefits that these platforms can bring to digital marketing. A variety of solutions are available – expensive multifunctional apps for true professionals and simple free programs for beginners.
Stripo
It is one of the best email template builders. Its unique feature is the advanced support for responsive web design. It allows you to build emails that automatically adjust to all mobile and desktop devices. It also supports Dynamic AMP, which increases the speed of loading multimedia elements by using Google caching. Hence, your recipients will be able to see the full version of the most complicated email in a few seconds, which will increase the conversion rate significantly.
| | |
| --- | --- |
| Pros | Cons |
| Over 500 email templates created by professional marketers. Easy to use for users with zero HTML knowledge. Friendly design, easy access to all features. Free version with full functionality.Integration with most user and professional email clients.Support for popular animation and video formats. Ability to use Vector Markup Language. | Lack of a built-in email client – you will need to connect third-party services. Slow operation in case of an online platform overload. |
Cost: There is a free version that limits the number of templates that can be created and exported per day. The cost of a full subscription starts at $15 per month.
Active Campaign
A unique feature of this platform is a built-in CRM system that stores info about all your recipients. It allows you to automate the sending of emails to certain dates – user registration anniversaries, birthdays, holidays, etc. The web app will suggest the best templates, minimizing the percentage of manual work. Another useful feature is the collaborative template editor, which highlights changes made or suggested by your employee. This allows you to control the workflow and evaluate the contribution of each participant.
| | |
| --- | --- |
| Pros | Cons |
| Built-in CRM system.Ability to set up auto-responses to emails. Convenient commercial email builder with offers of goods and services. Easy connection to most email clients. Large selection of mobile-friendly email templates. Auto email campaigns for specific dates and events. | The process of exporting emails to other services is complicated. Confusing structure of contextual menus, which makes you spend extra time. |
Cost: The monthly subscription cost starts at $29. Full subscription plans are characterized by integration with additional services and the ability to create your email domain based on this platform.
EmailOctopus
The key feature of this email template builder is a large library of vivid visuals that can grab the reader's attention at first glance. It will help you to add a wow factor to an ordinary email campaign and, therefore, increase your conversion rate significantly. Another noteworthy advantage of EmailOctopus is that it provides you with a built-in customer segmentation tool that allows you to personalize your emails. Moreover, you can create convenient forms for collecting users` data that can be easily integrated into your website or landing page.
| | |
| --- | --- |
| Pros | Cons |
| A wide range of ready templates with colorful designs. One of the most user-friendly HTML editors that allow you to import your code in a few clicks. Convenient management of subscriber lists and the ability to segment customers. Templates designed specifically for smartphones. Ability to build your emails from scratch – with or without coding. Built-in tool for developing forms and landing pages for collecting users` data. | The template layout interface could be more convenient. A few image editing options. |
Cost: The free version limits the number of recipients and adds the EmailOctopus logo to emails. To get full access, you will have to pay at least $8 per month.
BEE
This builder offers professional email templates for most types of newsletters, product catalogs, commercial offers, service updates, investment advice, etc. Each of them can be edited with intuitive tools. Hence, you can compose a perfect email in five minutes even with zero HTML knowledge. Another advantage is that you can import images by simply dragging and dropping them from your desktop or other browser tabs. They can be cropped, mirrored, rotated, or cloned with a single click.
| | |
| --- | --- |
| Pros | Cons |
| Built-in tools for testing compatibility with popular email clients like Gmail and Outlook. A large number of professional templates for each case but only in the paid version. A user-friendly interface that greatly simplifies the work with images and other multimedia elements. Availability of a plugin and an open API for integration with any platform. Ability to manage recipient lists using tags. | The free version is very limited compared to the paid one. There are compatibility issues with some font types. |
Cost: The free version severely limits the number of functions. The basic paid subscription starts at $25 per month.
Moosend
It is one of the best email builders for creating personalized emails. It allows you to use simple scripts to dynamically change the content according to the user's behavior. The right settings will help you increase the effectiveness of your marketing campaign significantly. The platform's library includes such interactive elements as animated buttons and countdown timers. However, the image selection tool that is integrated with stock images and Google search will be the most captivating option for beginners.
| | |
| --- | --- |
| Pros | Cons |
| Efficient data analytics module with A/B testing feature. Ability to segment subscribers for sending personalized emails. User-friendly drag-n-drop interface with smooth operation. Collecting info about user behavior, such as email reading time. Quick and accurate image selection from paid and free sources. | Some difficulties may occur when importing recipient lists. Most templates have limited editing features. |
Cost: New users can enjoy a 30-day free period with full functionality. Pricing plans are flexible – the final price depends on the number of emails. The cost of the paid subscription starts at $9 per month.
Omnisend
It is more of a comprehensive online marketing platform than an email builder. It allows you to integrate email campaigns into your sales system, which also includes contextual advertising, SMS, push notifications in mobile apps, and calls. By combining all these promotion channels, you will get a synergistic effect – they will work better together than separately. Moreover, Omnisend provides you with template editing tools that are not inferior to competitors in terms of their functionality.
| | |
| --- | --- |
| Pros | Cons |
| A comprehensive approach that will appeal to true professionals. Possibility to create email algorithms tied to other events. Convenient segmentation of recipients by various characteristics. Integration with most marketing platforms, CMS, and ERP. The best technical support in its segment. | Most templates have a few editable elements. The system can be complicated for new users. |
Cost: The free version limits the number of emails. The cost of the full subscription to the web service starts at $16 per month. You can get a personal manager in subscription plans starting at $400.
Postcards
It is the most convenient platform for building emails from scratch. It provides no ready templates. However, this service offers such multifunctional modules with a detailed description of features as commercial, informational, or registration. By combining them in different ways, you will get to know predictable recipient behavior and achieve the planned conversion rate. Moreover, the service offers a collaboration module that saves different versions of templates and emphasizes the contribution of each participant in the process.
| | |
| --- | --- |
| Pros | Cons |
| Uploading an email template to an email client or exporting it to a file in one click. Integration with many marketing platforms. Wide range of personalized fonts supported by Google. Tools for editing and improving image quality. Convenient email preview feature. | The free version severely limits the possibility to edit modules. The app works slowly under heavy load. |
Cost: The free version provides you only with 10 multifunctional modules, each of which can be edited by 1 element. The cost of the paid subscription starts at $17 per month.
Unlayer
It is a free email template builder that provides as many features as its paid competitors. It offers a lot of ready modules and visuals that allow you to build emails from scratch even if you have no coding skills. Among the advantages is the possibility to use scripts and personalization scenarios. Moreover, users get access to free stock images.
| | |
| --- | --- |
| Pros | Cons |
| Simple and fast selection of thematic images. A wide choice of commercial templates – registration confirmation, abandoned cart reminder, etc. Fast upload of files in the form of HTML pages. Availability of a custom plugin for working with Gmail. | Supports integration with a limited number of email clients. Inferior to competitors regarding the ability to customize interactive elements. |
Cost: All features are available in the free version without any restrictions. A paid subscription starts at $15 per month. It simplifies the integration with third-party services, extends technical support, and increases the number of ready templates.
HubSpot
It is a popular marketing platform that offers email templates created in collaboration with well-known designers and targeting experts. These templates can significantly increase the click-through rate and conversion rate of emails. Access to CRM simplifies personalization, and pop-up tips help make emails as human as possible to speak the same language as the recipient.
| | |
| --- | --- |
| Pros | Cons |
| Built-in analytics module and A/B testing function. A wide range of personalization tools. Support for scripts for dynamic content management. An extensive library of guides and efficient technical support. | Limited functionality for constructing responses to emails. The interface is rather complicated and confusing. |
Cost: The free version provides access to a limited number of features. The cost of the paid subscription starts at $50 per month. The annual subscription allows you to get a significant discount of $216.
Chamaileon
It is a newsletter builder that offers hundreds of minimalist templates. They are pleasant to the readers` eyes and do not distract attention from the text content. The element editor on this platform allows you to change the size of blocks to the nearest pixel or millimeter. Moreover, it allows you to save your custom modules and load them for future projects quickly.
| | |
| --- | --- |
| Pros | Cons |
| Multifunctional email template editor. Possibility to preview mobile and desktop versions of emails. Convenient collaboration system. Friendly interface with intuitive tools. | A limited number of fonts. The developer changes the interface a lot during updates. So, it takes time to adapt to them. |
Cost: A 14-day trial period with full functionality is available. The monthly subscription cost starts at $300. It allows you to create three professional accounts.
SendPulse
It is one of the best interactive email services for effective marketing in the tech industry. It allows you to add subscription, registration, and payment buttons, chatbot, and feedback modules. All the tools are available without coding, although you can add your HTML code in one click if you need to.
| | |
| --- | --- |
| Pros | Cons |
| Over 100 professional email templates that effectively sell products and services. Built-in landing page and data collection form. An informative blog with a big library of guides. Animation and video support. A good assortment of call-to-action buttons. | The free version lacks some useful features. The interface is rather complicated and requires thorough study. |
Cost: The free version limits the number of newsletters and the list of features. The cost of the paid subscription starts at $7 per month. You can customize the plans depending on the number of emails and recipients.
Sendinblue
It is an all-in-one marketing platform that combines email template tools with SMS campaigns, push notifications, and a business calendar. It offers ready emails for commercial appeals, news, and data collection. It allows you to save custom blocks to facilitate the development of future emails. It has a built-in personalization module that supports the use of simple scripts.
| | |
| --- | --- |
| Pros | Cons |
| Integration into a comprehensive digital marketing system. A wide range of templates is created specifically for mobile devices. Convenient work with scripts and a quick selection of personalized content. | Confusing interface for managing recipient lists. |
Cost: The free version provides access to all features but allows you to send only 300 emails per day. The cost of paid subscription starts at $25 per month.
Mailchimp
It is one of the oldest professional email providers, founded in 2001. It has an email builder module, although its functionality is somewhat inferior to its competitors. The best option for you is to use ready templates that allow making minor changes. The paid subscription includes an HTML editor.
| | |
| --- | --- |
| Pros | Cons |
| A very simple interface for creating custom templates. Convenient email campaign setup. High-quality technical support. | The process of exporting ready emails to external services is complicated. |
Cost: The free version allows you to send up to 1,000 emails per month. Technical support is available only for the first 30 days. The cost of the basic plan starts at $13 per month.
MailerLite
As the name implies, it is a simple email builder that can be used by people without technical experience. It offers ready templates with moderate editing potential. It also has basic tools for audience segmentation and email personalization.
| | |
| --- | --- |
| Pros | Cons |
| Easy to start, user-friendly interface. A constructor for building landing pages and info collection forms.Extensive technical support. | Limited template editing options. |
Cost: The free version limits access to personalization and scripting features. The cost of the paid subscription starts at $9 per month.
Constant Contact
The main killing feature of the email builder is the ability to create branded advertising campaigns. You can upload your logo and other design elements and use them in the main email templates. It also contains a built-in HTML editor, although it may be difficult for beginners to cope with its interface.
| | |
| --- | --- |
| Pros | Cons |
| Easy launch of branded emails. Ready templates that allow you to build commercial emails in minutes. Tools for auto responses and triggered emails. | A rather confusing interface. Limited editing options. |
Cost: The free version provides access to all features for 30 days. The cost of the full subscription starts at $9.99.
Email Template Builders Are a Tool That Unleashes the Potential of Your Business
If you follow the digital marketing world closely, you know that emails have one of the highest ROIs. In terms of effectiveness, they outperform YouTube videos and even targeted contextual advertising. Paid and free email template builders will help you maximize your ROI by creating visually appealing and well-structured commercial emails.
Frequently Asked Questions
What Is an Email Template Creator?
It is a web service that allows you to manage the layout and content of your emails, improving their structure and focusing readers' attention on key elements.
What Makes a Good Email Templates Creator?
The main criteria are compatibility with your email client, availability of an optimal subscription plan, the ability to select and edit ready templates, as well as access to automation and personalization tools.
What Are the Best Email Template Builders?
Among the multifunctional services, we should mention Stripo, Active Campaign, BEE, and Moosend. Omnisend, HubSpot, and Sendinblue provide access to comprehensive marketing tools. The simplest app is MailerLite, and Unlayer is the best free platform.