TOP Free Keyword Search Tools To Use In 2023
The principles of search engine optimization (SEO) are constantly changing. However, its main element remains constant — these are keywords, based on which the system draws parallels between the user's query and the websites in the SERPs. Of course, artificial intelligence is already beginning to diminish their role, but it is unlikely to surpass them by the end of the decade. That's why we have compiled a collection of the best examples, from which you will be able to choose the free keyword research tool that fits your needs.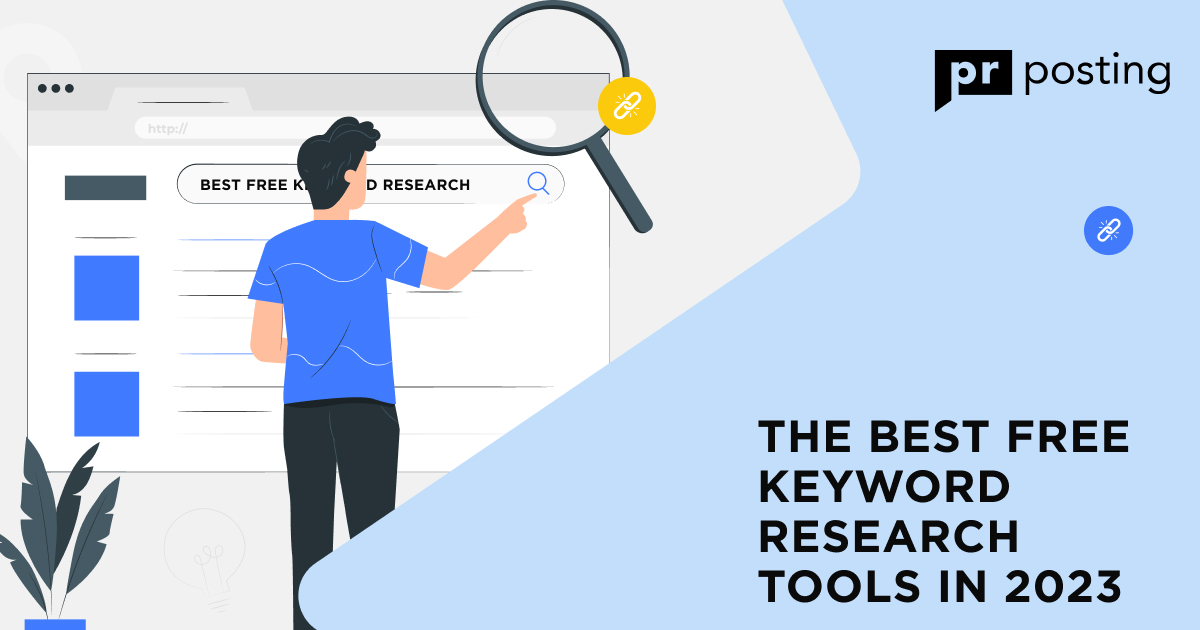 What Makes a Good Free Keyword Research Tool?
All services in this category work according to the same scheme. You enter a keyword, and the program provides statistics for that query. However, they may differ in additional features, the convenience of the interface, and terms of service. We'll tell you about the most important factors that should influence your choice.
Data Included
The chosen free keyword search tools should display the number of queries for a certain period — a day, week, month, or year. However, most platforms go further, providing users with information about optimization difficulty and the cost per click in contextual advertising. In addition, you can get a breakdown of search statistics by region and major competitors.
Sources of Information
The basic level is using Google Analytics and Search Console tables. Top services also add their databases that contain terabytes of information about search queries and user behavior. Our selection includes only those tools that have proven themselves well, that is, they do not provide false results and do not mislead specialists.
Main Features
The main audience for free services is beginners. For them, it is important that the tool is easy to use, fast, and intuitive. Therefore, when compiling a selection, we gave preference to platforms that provide keywords in a few seconds rather than forcing the user to conduct a full SEO audit of the site to obtain basic information.
Free Plan Allowances
Let's clarify one thing right away. Some keyword research tools we propose as a "free keyword researcher" are only conditionally free. In the basic subscription plan, they may limit the number of queries per day or the list of available functions. When compiling this selection, we tried to choose such tools that will be sufficient for the first stage of a beginner SEO worker and which will not force them to spend large sums on a paid subscription.
14 Best Free Keyword Research Tools
Each platform tries to attract the user's attention with unique features; otherwise, it would have no chance of success among competitors. We will highlight the key features of the services to help you quickly choose the best tool for the first steps in search engine optimization of your website.
MOZ Keyword Explorer
Key feature: keyword prioritization. The service automatically calculates the integral index of the query's usefulness, using the total traffic volume, organic click-through rate (CTR), and optimization complexity. By sorting the results by this indicator, you will know where to start SEO. Selected key phrases will bring maximum conversion with minimal costs and a minimum waiting period.
Another interesting feature of the service is called Keyword Gap. It automatically identifies competitors and finds queries that they are better optimized for. This allows you to learn from the leaders by copying the most successful elements of their SEO strategy.
During keyword research, you can also manually prioritize certain queries if you believe they have special significance for your business. This will automatically move them up the list and increase their usefulness index.
MOZ also stands out for its relatively simple interface. By default, there is no breakdown by regions or audiences. It does not offer a history of search results or the total number of keywords in the chosen topic. However, for beginners, this is only a plus — all the necessary metrics are right in front of you. You don't have to spend a long time figuring out the menu and mastering various sections of the service.
This example of conditionally free keyword searching tools provides 10 search queries per month. However, don't rush to give it up in favor of more loyal platforms. Each query is a detailed analysis of search results and about 1,000 related or extended keyword suggestions. If you are optimizing your small website or blog, this will be enough to get acquainted with the service's features.
The minimum tariff for a paid subscription is from $99 per month for 150 queries.
Ahrefs
Key feature: multi-platform search. Unlike its competitors, this tool is not limited to Google Analytics. It also takes data from the Chinese search engine Baidu, the Korean Daum, the Russian Yandex, and others. In addition, users can conduct separate research on social platforms such as Facebook and YouTube. This makes the service invaluable for both large international companies and bloggers.
Ahrefs also offers the best regional breakdown — you can choose from 171 countries worldwide. In addition, it is capable of identifying the general theme with a single query. So, you can search for related keywords — those that are close in meaning but without common roots.
Professionals often choose Ahrefs because of the availability of an additional metric — the number of clicks. It is much more informative than overall traffic. With its help, you can determine the attractiveness of keywords for users — some queries can be highly effective even without a large volume of traffic.
Another interesting feature is the built-in notepad, where you can save lists of keywords and the metrics you need, supplementing them with your notes. This section is suitable for quickly creating content plans and marketing budgets.
This example of free keyword research tools provides 5 trial queries. You can also get weekly demo access for $1 per day.
The minimum cost of a paid subscription is $99 per month.
Semrush
Key feature: SEO Content Template is a tool that automates the creation of a brief for content creation and allows you to track the process of its optimization in real time. You can evaluate the level of uniqueness, tone, and readability. In addition to this, the service provides SEO advice on placing keywords, images, and links in texts.
For analyzing an existing website, the Organic Traffic Insights tool will be very useful. By connecting it to your Google search console, you can find out about all the ways users get to the resource. It even reveals keywords marked with the "(not provided)" tag.
Semrush stands out from competitors with its ability to work with SERP features. It displays unique elements that appear on the search results page for a particular query, such as reviews, answers to questions, comparisons, product lists, and more.
Of course, Semrush also offers standard tools. It can provide statistics for keywords, suggest low-frequency phrases, and provide an overview of the chosen topic. Additionally, it allows for monitoring your positions for specific queries.
This free keyword searching tool limits you to 5 queries per day and 5 phrases for position monitoring. During the optimization of your blog, you can always use the basic pricing plan. If you're interested in more extensive work, the minimum package of services will cost $119.95 per month.
Serpstat
Key feature: a deep analysis by URL. The service offers its own crawler that indexes all pages by links. It displays keywords that you missed during optimization, sorting them by organic traffic and level of competition. This allows for quick and efficient additional optimization of the resource, increasing its rating with minimal effort.
Serpstat also offers one of the best tools for selecting keyword queries. Simply enter one word to find out exactly what answers people need in this segment. This is especially useful for increasing the rating for commercial and informational queries.
The function of adaptive filters allows you to create your reports by selecting keywords based on multiple conditions simultaneously. For example, the result should contain "car" but should not include "oil," optimal traffic is between 100,000 and 200,000 requests per month, and the complexity level should not exceed 75%. Serpstat will be an indispensable assistant for SEO specialists in agencies as it automatically creates beautiful, simple, and understandable infographics for presentations.
This example of free keyword tools is free for 7 days. If you don't renew your subscription, you will have limited functions and 10 requests per day. The basic pricing plan is $69 per month.
SpyFu
Key feature: industrial espionage. Well, almost. The service allows you to download SEO strategies of all your competitors, obtaining spreadsheets with lists of keywords, number of clicks, level of organic traffic, and other valuable information. It also suggests queries with low competition, allowing you to successfully launch even in the most densely populated market segments.
Moreover, you can download not only current information but also historical data. This makes it possible to analyze the path of leaders to success and build your strategy based on it. But there is one important aspect: the database is updated monthly, not in real-time mode. Therefore, the service does not capture fleeting trends.
Another spy gadget is the analysis of external links for a keyword. By activating it, you can find out where your competitors place their content and which influencers they turn to. We don't think anyone will judge you if you choose the same platforms that have been proven effective.
A free keyword tool for SEO is available for 30 days. If you cancel your subscription during this period, you will automatically get your money back without any questions or lengthy bureaucratic procedures. The minimum monthly subscription cost is $39. By subscribing annually, you can significantly reduce your expenses — up to $192 per year or $16 per month.
Keyword Surfer
Key feature: a Google Chrome extension that automatically analyzes the search query in the search bar. Its window displays keyword phrases that are suitable for effective website promotion. You get information on the number of queries and the effectiveness of optimization for each keyword.
The extension allows you to save statistics with just one click by adding it to the control panel. Overall results can be downloaded in a CSV file. It is prepared for analysis — it includes traffic statistics, the number of words in the query, and the number of exact matches on the page.
Another useful feature is the Article Outline Generator. It generates a brief for the copywriter and SEO specialist, which includes the approximate length of the article, the number of keywords, and the structure of headings. The result of its work can also be downloaded and saved in one click.
The most interesting thing is that this is one of the completely free SEO keywords tools. There is simply no paid version. The only thing worth knowing is the advertisement of a comprehensive SEO audit service in the extension.
Keyword Sheeter
Key feature: generating thousands of key phrases from a single word in seconds. The tool is so detailed, accurate, and convenient that it will be useful not only for an SEO specialist but also for a writer looking for new ideas for their creativity.
The interface is as simple as possible. To get the result, simply enter a query or a list of keywords and click the button. Below, you can also see a list of positive and negative filters. You can add words to them that must be on the search results page or that should not be there.
The research results are saved in a built-in notepad. They can be quickly exported for use in electronic spreadsheets. The service also allows for quickly building simple content plans.
The best free keyword research tool is the best option in its category. It is ideal for generating low-frequency phrases with "tails" of middle and long length. The results obtained from it can be downloaded to another platform to gather statistics.
Keyworddit
Key feature: an exclusive tool for keyword research from Reddit. To search for information, you only need to enter the name of the forum branch that has at least 10,000 participants. Optionally, you can activate a mode of increased accuracy — it will reduce the number of incorrect results but extend the task's execution time by 2-3 times.
The service exports up to 500 keywords at once, supplementing them with organic traffic statistics and click cost data from the Google console. The more posts and replies on the forum, the more accurate the results will be.
The platform is particularly useful for beginner bloggers. It allows them to discover popular topics that may not be easily obtained through other means — there may be too few queries in search engines and traditional networks for these keywords to discover.
Keyworddit is a completely free keyword tool for SEO that works with keyword queries. No subscription or account creation is required to use it.
Rank Tracker
Key feature: convenient interface for monitoring website rankings for keywords. Reports can be detailed by user location, language, device type (mobile, desktop), and other parameters. The service will be very useful for agencies — it can automate sending reports to clients regarding work done.
Another feature of the platform is a good visualization of the effectiveness of your SEO strategy compared to competitors. You can see your positions on visibility charts, organic and overall traffic, and the CTR of unique SERP elements.
Also, Rank Tracker monitors trends that are changing the fastest. In its standard reports, you can see peaks and drops in the popularity of keywords over the past 7, 30, or 90 days. This is important for businesses that rely on trends and hype.
This example of free keyword suggestion tools is available for 7 days. If you don't cancel your subscription, the selected pricing plan will start automatically, starting at $18 per month.
AnswerThePublic
Key feature: collecting information on auto-completion of the search bar in Google and Bing. All you have to do is enter a keyword to find out what people are searching for most often and what the search engine suggests as the continuation of the phrase.
The results are grouped by words that begin the question, such as how, when, where, and so on. For each, a list of the most popular questions is generated and sorted by the volume of organic traffic. Results can be displayed as a table or a beautiful pie chart, perfect for presentations.
The service also has a tool for comparing keywords. It allows you to determine which group of phrases is best suited for optimizing your website. By clicking on a question, you can get real-time Google statistics for them.
This example of free keyword analysis tools is available for 7 days. After that, you can purchase a subscription starting at $9 per month or $99 for unlimited time with 100 requests per day.
Keywords Everywhere
Key feature: a convenient browser extension for Chrome and Firefox that can automatically generate reports including keywords from the "People also search for" and "Related topics" sections. This allows for much more effective optimization by covering related topics.
Keywords Everywhere is also valued for its ease of customization. You can quickly select the platforms used for search. In addition to Google and Bing, the extension can work with Etsy, YouTube, and eBay. This greatly simplifies work with narrow segments, such as the topic of craft souvenirs or car accessories.
The extension provides a standard set of metrics. They include organic traffic, SEO competition, cost per click in contextual advertising, and trends on graphs since 2004.
The free tool for keywords research provides access to limited metrics statistics. Unlike its competitors, the full version does not require a subscription. You pay for searches starting from $10 for 100,000 queries.
Google Search Console
Top feature: analysis of keywords that people use to find your website, including breakdowns by pages. Possibility to research unique elements of search results, such as answers to questions, recommendations, reviews, and more.
Google Console cannot be considered a full-fledged keyword research tool. It reflects the current situation rather than generates new ideas. However, it is convenient in that it provides quick access to other optimization tools, including analysis of the technical components of the website.
All Google free keyword tools are costless. However, you need a Google Ads account to access them.
Google Ads Keyword Planner
Top feature: although the service is suitable for SEO, it is primarily intended for PPC. It is convenient to use it if you combine both means of promoting your business online. All you need to do is enter a set of keywords and click the search button.
The platform automatically provides the volume of organic traffic, level of competition, range of cost per click for contextual advertising, as well as the latest trends. If necessary, historical data can be viewed to track long-term trends. It is also possible to download data in electronic spreadsheets or CSV files.
Access to the free keyword search tool is only provided upon linking a payment method, and money is deducted only after the start of the advertising campaign.
Google Trends
Top feature: you can learn about popular topics and related keywords in real time. Google also publishes weekly, monthly, and yearly reports. They are broken down into small categories such as trending people, technology products, food, etc.
This platform is one of the few that allow you to directly compare several queries or topics. You can add them to the report, tracking their popularity on the internet using graphs or tables. The results can be easily exported to the cloud or a CSV file.
Access to this Google service is free for everyone.
Keyword Searching Tools: Free vs. Paid Solutions
Free does not mean low quality. The only thing you have to deal with in such services is a limited set of features. But by combining several of them, you can quickly get all the necessary information. Moreover, many of them can export search results to a spreadsheet for further analysis.
Paid services are divided into two categories. One part is specialized services suitable for real professionals who are ready to delve deep into a specific topic. The other is aggregators that combine a lot of tools for online business promotion.
Do you need access to them? If you work in SEO professionally and spend all your free time on search engine optimization, then definitely. They will significantly increase productivity, improve work results, and simplify report generation for clients.
Is it worth buying a subscription for your pilot project? This is a difficult question, but fortunately, we have a simple answer. Most services, including MOZ, SerpStat, and Ahrefs, offer a trial period, which allows you to evaluate the effectiveness of all functions. We recommend comparing them with free platforms and drawing conclusions about which option is best for you.
The Key to Success Is Using the Best SEO Tools
Services for working with keywords are very diverse. Google platforms are convenient and free, but they only provide basic information. Narrowly specialized tools like Keyword Surfer and Keyworddit will help you dive deeply into a specific SEO segment. And such universal platforms as Serpstat and Semrush will maximize productivity but require a paid subscription.
Which option is better for you? Experiment! Try working with different services, compare their convenience and functionality. All the tools in our selection offer free subscriptions and trial periods, which will help you make the final choice.
FAQ
How Can I Get Free Keyword Research?
There are two options — use free services with limited functionality or use a trial period on universal SEO platforms.
What Is the Best Free Keyword Research Tool?
Each segment has its leaders. For example, Semrush is considered the best for comprehensive optimization, Keyword Sheeter — for generating ideas, and AnswerThePublic — for working with questions and answers.
What Makes a Good Free Keyword Research Tool?
It should provide access to all necessary metrics, have reliable sources of information, a convenient interface, and also offer favorable terms of use.