How To Do A Reverse Image Search On Any Type Of Device
In leading search engines, images can be found by a set of keywords. But these platforms have an even more impressive, albeit less popular, feature. It allows you to find the same or very similar pictures on other web resources. That's the topic we are going to discuss in this how-to: reverse image search, why it is needed, and what sequence of actions you should perform.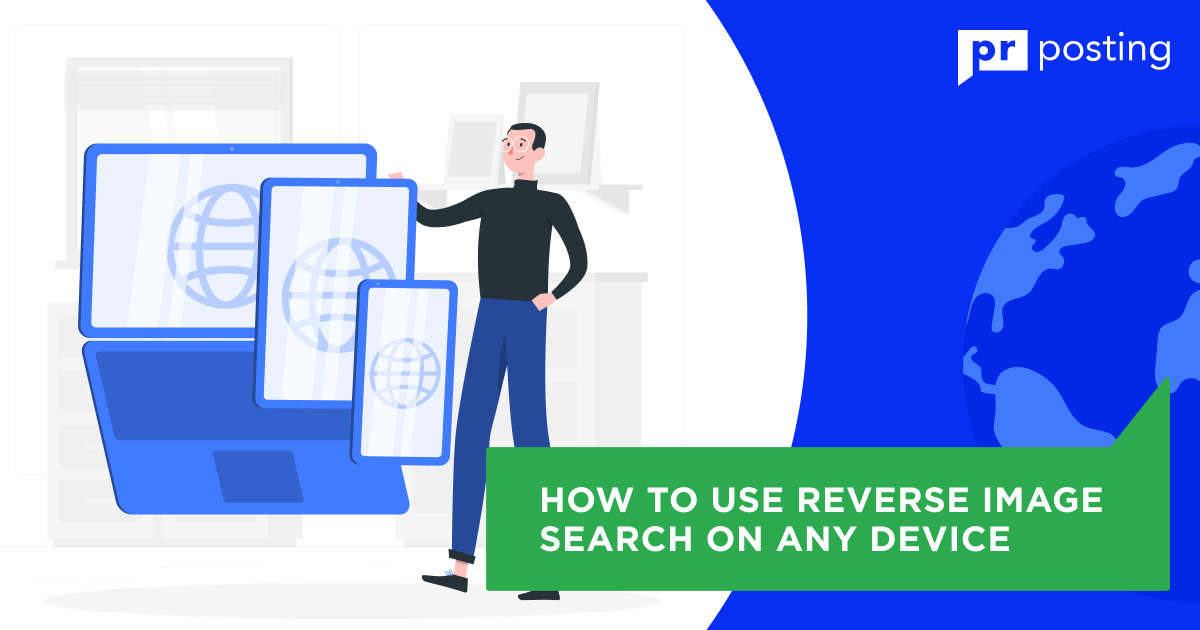 What Is Reverse Image Search?
Let's say you have a photo. You sent it to family and friends. You want to check if someone has uploaded it to social networking sites and open multimedia databases. Reverse image search helps in this case.
It allows you to check whether an identical image is available somewhere on the Internet. With the development of artificial intelligence technologies, search engines began to display similar images on the results page —with matching content or with the same people, including heavily edited.
This feature is available in most leading search engines, including Google, Bing, and Yandex. There are also specialized services based on proprietary algorithms, such as TinEye and Pixsy. They're usually more accurate, so they're used by professionals — designers, photographers, webmasters, and technical SEO specialists.
How Does Reverse Image Search Work?
We need to delve into technical nuances to answer this question. Digital multimedia is based on a mathematical function called the Fourier transform. It allows reproducing the sequence of multi-colored pixels in the form of program code decomposed into ones and zeros. Thanks to this, it is possible to get pictures and photos that occupy a relatively small amount of memory.
Image backtrace reverses this function, hence the common name of the process. It converts the image into code and starts comparing it with information from open sources. How effective is this process?
The answer will surprise you: search engines were good at performing this function even ten years ago, before the widespread use of artificial intelligence. This is possible due to the specifics of converting pictures into mathematical expressions: the code is divided into fragments, each having a unique "signature" or checksum. Therefore, a search engine does not compare general data sets but only certain samples. Even a regular PC can perform such a task, not to mention the powerful servers of Google, Bing, and TinEye.
The digital signature system makes images truly unique. The chance that two pictures will have the same sequence of pixels and checksums is 1 in 100 billion. For comparison: the probability of matching fingerprints is 1 in 64 billion. That is, images on the Internet are even more unique than people.
But why do we need artificial intelligence if the reverse photo search system has been working nicely for over ten years? Self-trained neural networks expanded its capabilities — they enabled users to search not only for the same but also for similar images. As a result, you can find:
heavily edited pictures
pictures with a similar layout and color scheme
other works of the same artist
images showing the same people
automatically generated pictures with the same design concept
Unlike conventional search systems, neural networks focus specifically on pixel locations, not program code. They use various processing algorithms to simplify an image as much as possible. Some systems transform raster images into vector patterns, that is, into a set of reference points and lines. There are algorithms that compress images to 128–256 pixels and those that replace main objects with geometric figures.
However, the further processing looks more or less the same. A neural network builds an image map and describes it with simple means—keywords or code snippets. This allows it to quickly compare very similar but not identical images. Since such solutions are still imprecise, associative search systems are connected to them. They evaluate the image context on the page, the relationship with other images, links, keywords, and other SEO elements. This improves the search accuracy and increases the number of results.
Why Do People Use This Feature?
The reverse photo lookup was initially considered an interesting but useless technology. However, more and more people began to appreciate it with the development of neural networks and changes in website optimization principles. Today, there are several reasons to use this function at both mundane and professional levels.
Search for similar images
Say, you want to replace your desktop wallpaper but without a fundamental change. Or you need to choose pictures for a website to maintain its information value yet avoid repeating competitors.
Increasing resolution is another reason to learn how to do a reverse image search. If an image has a small size against other objects on the page, the site administrator can downplay it to reduce bandwidth consumption and speed up loading. But such an approach may not be suitable for you. It is worth finding the image before its compression, and one of the search engines will help you with this.
Find information about a photo
You get an image and need to find out who the people in the picture are, where the events take place, or what function certain objects have. You can entrust this task to a private detective, who will resolve the issue in a few days, or the reverse search system, which will do the same in seconds.
The service will take you to a page hosting the same or similar photo. There is a good chance its text content or even its metadata will contain the information you need. You can't but agree that this turns such mini-investigations into an easy and fun hobby.
Track where an image is used
Imagine that you were photographed in a very ambiguous way, and the picture can be perceived differently depending on context. Some people will find it funny, while others will see insult and inappropriate behavior. If the image falls into the hands of competitors and haters (and be sure this will happen immediately after the photo gets on the Internet), you are at risk of being embroiled in controversy.
PR specialists use the reverse picture search system to monitor the reputation of their clients. They examine where and in what context their images are used. If a photo is used for malicious purposes, it can be removed in a number of ways — by complaint, reaching a compromise, or even using search engine reputation management (SERM).
Check for plagiarism and copyright infringement
You want to insert an image into your website, but before doing so, you should make sure it doesn't violate current legislation. It is likely the author legally secured their rights to prevent the distribution of the picture or to make a profit from its use. Both commonly used and specialized search engines can inform you about multimedia content under copyright. They help to avoid a violation entailing a just punishment.
Vice versa, you may create a carefully designed infographic for your site, which appeals to visitors and increases conversion rates. There will always be someone wishing to get the same benefits in an easier way. Competitors can grab these images and change them slightly before integrating them into their web pages. You can track such violations using Google or specialized services.
Find the image source
This task is a bit more difficult. However, by knowing how to use reverse image search on computer devices or mobile phones, you will be able to find the content author. Further actions depend on your goals — you can discuss the legal use of the picture, place the information on your website, or add an appropriate line to the database.
How to Do Reverse Image Search on a Computer (Mac or Windows)?
Several search engines offer this feature, and each has its own advantages. Some stand out for ease of use, while others boast an extended set of functions or increased recognition accuracy. That is why we will consider several options for performing the task.
Google reverse image search
All Internet users are familiar with this platform. Its services are integrated into other sites and applications, and it offers many tools for all occasions. This time, we will need a section called Google Images.
The first scenario is to search for an image found on the Internet:
Place the cursor on the picture, right-click, and select Copy image address.
Open the images.google.com page in the browser.
Find the camera icon next to the search bar and click on it.
Copy the link from the clipboard to the URL bar and click the search button.
The results will open in a new window. You can increase the search depth by repeating the procedure with the found content.
In the second scenario, we will answer the question "How do I reverse search in Google Images using my own files?"
Go to images.google.com.
Click on the camera icon next to the search bar.
Select Upload a file and find the desired picture on your computer. You can also simply drag and drop it into the browser window the same way you add new files to cloud storage.
Immediately after that, the system will redirect you to the search results window.
Using Chrome
Google's browser gives a huge advantage — access to a tool called Lens. It uses artificial intelligence to find similar images in the main window. This is how to use it:
Place the cursor on the picture.
Click the right mouse button and select Search Google for image.
An extension window will open in the browser where you will see results.
The advantages of Google Lens lie in the extended functionality compared to the standard Images service. It allows you to select a specific part of an image, recognize text, and translate it into the language of your choice. You will see links to sites with similar content at the bottom, while a button to find the source is located at the top.
Bing reverse photo search
Microsoft's search service also offers a similar solution. Moreover, it has some advantages few people know about because more than half of computer owners use Google. To get the desired results, you need to do the following:
Go to the start page of the service https://www.bing.com/.
Select the Images section at the top or click the camera icon in the search bar.
The system will let you choose — you can drag a file into the window, find it on your computer, or enter a link. Instructions for using these search methods are provided in the previous section, so we will not repeat them.
One of Bing's advantages is the possibility to search by instant photo. You can use a camera built into a laptop or connected to a desktop computer. Another option is to use a smartphone synchronized with your device.
Microsoft Bing also offers combined desktop reverse image search. You can load multiple images in one go to find crossover content. For example, it allows you to get photos depicting cars, traffic lights, and airplanes simultaneously. Interesting, isn't it?
Another advantage of the service is detailed results processing. The neural network automatically selects key image elements and marks them with large blue dots. By clicking on them, you will activate searching for a specific object. This feature can also be used to select products in an online store.
Yandex reverse image search
The principle is very similar to the search engines described above:
After opening the Yandex.com start page, you go to the Images section.
Click the camera icon next to the search bar.
Enter a URL, drag and drop a file from your computer, or search for it manually.
Yandex is not very convenient for a reverse image search for SEO since it prioritizes Russian websites. Sometimes, you have to scroll through several result pages to find English-language content.
However, the service has separate buttons to search for images with a specific resolution, for example, 1024×768 or 1320×600, which is a helpful feature. In addition, as in Google Lens, you can choose any part of a picture to view. Of course, links to websites and similar multimedia content are available.
Third-party websites
Specialized services have certain advantages over commonly used search engines — enhanced functionality and increased accuracy. To prove this, we will analyze the search feature on popular platforms:
TinEye immediately opens its image search screen. You can enter a URL or upload a file. The service allows choosing the most edited, popular, and newest images. In addition, it has direct links to similar content in the Shutterstock library used by professional designers.
Pixsy specializes in monitoring copyrighted content. The site helps to find even severely edited, compressed, and distorted images in minutes. Its team offers copyright protection services — illegal content removal, fee collection, and mediation.
The Pinterest Visual Search Tool searches for images in its own database. However, this service provides access only to professional tools for webmasters and SEO specialists. With its help, you can configure automatic content integration into a website, insert alternative text and tags, and check picture uniqueness.
How to Do Reverse Image Search on iPhone or Android?
Some modern smartphones have the same functionality and power as desktop computers. You can use them for site administration, search engine optimization, and other professional tasks. Therefore, the question of how to reverse image search on a phone is a hot topic.
Classic way
Most developers simplify mobile versions of their applications and sites to adapt them to small screens. As a result, some functions remain hidden, so let's figure out how to reverse image search on iPhone and Android devices.
Go to google.com, bing.com, or yandex.com.
Open your browser settings, for example, three dots on the upper right in Chrome or the aA letters on the left in Safari.
Select Show desktop version of the site.
Follow the instructions above — look for a camera button.
Click it and enter a link or download a file.
To get the URL of a picture in a mobile browser, click on it and hold your finger. Some programs provide access to their context menu, while others open the image in a new window. In both cases, you need to copy the link. Quickly double-click on it and select Copy from the menu that opens afterward.
Using the Google Chrome application
Select an image for search on any site while surfing the web. Click on it and hold your finger until the context menu opens. Select Search by Lens. The image will open in the Google Lens application provided it is installed on your smartphone. This method of reverse image search on Android has certain advantages, namely, it can provide:
identical or similar pictures
text recognition
translation of inscriptions
goods in online stores
buildings' addresses and notable objects' location
directions to restaurants
answers to homework tasks
Please note that most of these features are available in the beta version only, so it is not recommended to rely on them entirely, especially when it comes to travel route planning and answers to important tests in educational institutions.
Third-party applications
All search services, including Bing and Yandex, have programs offering identical functionality used similarly to the desktop Google version or the Chrome browser. But here is an interesting fact: searching through Lens is not available in the standard Google Search application displayed on the main screen of the Android operating system. Sometimes, this leads to confusion and inconvenience.
A list of the most popular reverse image search services looks like this:
TinEye is a free application working in the same way as its web version. It currently indexes more than 57 billion images, and the number grows by tens and hundreds of millions every day. The main feature is the possibility of selecting the most popular and heavily edited pictures.
Reversee is an interesting aggregator of services for reverse image search on Mac, Windows, Android, and iOS devices. Its free trial version gives access to the Google Image service only. You can connect Yandex, Bing, and Yahoo for $3.99 per month.
CamFind is an application that uses a smartphone camera. Take a picture of any object, and the system will find a mention of it on a website. It is very convenient for comparing prices in offline and online stores. However, the program does not always give proper results — sometimes, you have to make 2-3 attempts.
Search by Image is a service very similar to the competitors yet distinguished by convenient access to a smartphone file system with file sorting. It is powered by Google and available only for Android.
Reverse Image Search Is a Convenient Solution for Managing Multimedia Content
Google, Bing, and Yandex provide the most popular and convenient image search services. Each of them has some advantages: Google is the easiest and fastest; Bing highlights individual elements in an image, and Yandex allows you to quickly choose a desired resolution. Each of them has mobile applications with similar functions.
But you should not underestimate third-party services, which outperform the search giants in some ways. TinEye lets you sort images by the level of editing, popularity, and upload time. Pixsy provides copyright protection services, and the Pinterest Visual Search Tool offers convenient content integration into the pages of your site.
All these services have their preferred usage scenarios, so we recommend bookmarking them if you're interested in reverse image search from a professional perspective.
FAQ
What is reverse image search?
It's a possibility to upload a URL or multimedia file to a search service. The system finds the same or similar pictures.
How does reverse image search work?
Checksums and mathematical functions are used to find strong matches. Approximations are spotted with the help of neural networks, which create an image map and determine its similarity to other pictures.
How to use reverse image search?
This function is available on the Google, Bing, and Yandex sites. You need to open their Images section and click a camera-shaped button. The next window will prompt you to enter a link or download a file.
Does reverse image search work with screenshots?
Yes, you can copy them from the clipboard or store them in your device's memory.
Why does reverse image search sometimes fail to work?
There are many reasons. An image may be too complex or really different from other pictures. Sometimes, search engines fail because of the image's low resolution, large size, or unfamiliar file format.