Most Searched Thing on Google in the US and Worldwide
Would you like to know what the most searched thing on Google is? We've collected data on the top Google searches in the US and around the world. To make the list as accurate as possible, we have divided it into simple keywords and advanced questions. Can you guess what exactly was interesting to people in 2023?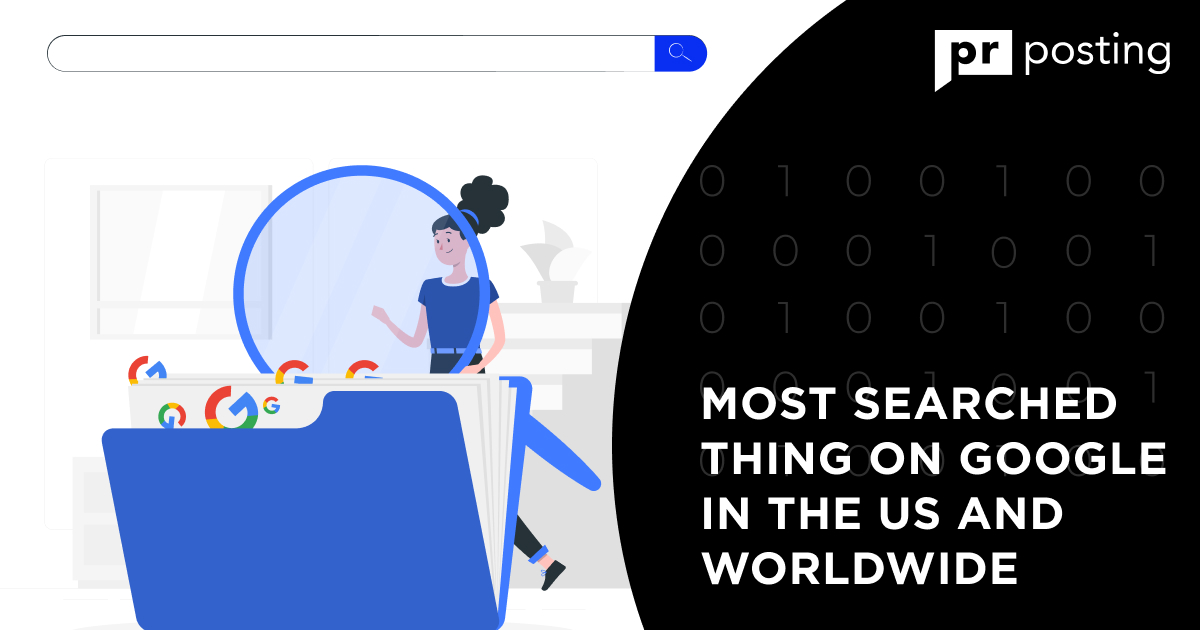 Top Google Searches by Volume Worldwide
It seems that most users consider the top search engine as a convenient means of navigation. This is confirmed by the keywords with the highest number of requests:
| | | |
| --- | --- | --- |
| № | Keyword | The number of searches in 2023 |
| 1 | Facebook | 203,900,000 |
| 2 | YouTube | 196,100,000 |
| 3 | Amazon | 178,200,000 |
| 4 | Wordle | 159,100,000 |
| 5 | Google | 128,500,000 |
| 6 | Gmail | 100,300,000 |
| 7 | BBC news | 67,700,000 |
| 8 | Google translate | 62,200,000 |
| 9 | weather | 61,400,000 |
| 10 | Yahoo mail | 56,600,000 |
The Facebook social network and the YouTube multimedia platform have been at the top Google searches for several years. The Amazon marketplace takes an honorable third place. But the fourth place has been unexpectedly occupied by the game Wordle created in 2021. The New York Times seems to have made a good investment by buying the rights to it for several million dollars.
Who do you think came in fifth place? Yes, people really use Google to search for Google, and it's no joke! And it was hardly done for fun because, in 2023, there were 128.5 million such requests. On this background, the sixth place with 100 million queries for the Gmail client does not raise any questions at all.
The seventh place in the global ranking was awarded to the BBC British news agency. This looks logical because it owns the most popular channel in the world with a total audience of 500 million viewers. Google Translate service holds the eighth place. In recent years, its ranking in search queries has somewhat decreased, which is explained by the integration of translators into various apps.
It seems that the weather will always be a popular topic of conversation, even if the other participant in the dialogue is a search engine. This is confirmed by the keyword that took ninth place in our ranking. The top 10 requests for 2023 are finalized by another email client — Yahoo Mail.
And What About Other Positions?
The list of the most searched on Google requests is worth a detailed study. So, we looked at 100 popular queries and selected interesting key phrases:
14. Instagram. The visual content-oriented social network lags far behind Facebook with only 44 million searches. But do not rush to make conclusions about its unpopularity because it is focused on a mobile application, not a web client.
18. NBA. According to Google, the most popular sport in the world in 2023 was basketball with more than 36 million searches. Compare that to the American Football League, which came in just 46th with 16.7 million queries.
19. Twitter. The social network with short posts is clearly experiencing not the best of times, significantly inferior to its competitors. However, it is worth waiting for the results of the study for the first half of 2023 to see whether the loud announcements of Elon Musk will have any effect.
20. Fox News. The US largest television network is far behind its British competitor with 35.1 million searches.
23. Netflix. The #1 world streaming service also shows relatively weak results. However, consider this data critically. Take into account that most people watch series through apps on smart TVs and tablets, never using the web interface.
27. Indeed. The employment service also became the most searched thing on Google in 2023. It deserved more than 26 million views, about the same as the American television network CNN.
30. Zillow. One more common commercial request on the list. This time, it is a platform for selling real estate. It scored 24.4 million searches in 2023.
34. Food near me. Public catering establishments are leading among requests to find the nearest enterprise. They are very popular among tourists. It means that if there is no high competition in this niche in your region, you already have a ready-made successful business model. It is also interesting that the key phrase "restaurants near me" is in 50th place. If you combine these results in terms of the total number of searches, they will come to 16th place in the ranking.
49. Roblox. This is the top gaming query of 2023, which has attracted the attention of users almost 16.5 million times. The platform for creating minigames is inferior to PUBG and Fortnite in terms of the number of players on the servers, but it generates much more hype, which gives it additional potential for development.
51. Calculator. People use Google for a variety of purposes. Statistics show that a lot of them turn to the search engine for performing mathematical tasks. And this is understandable — in addition to standard functions, Google offers millions of tutorials and manuals.
52. Solitaire. This game unexpectedly ended up in second place in the category of games. It is ahead of the mega-popular PUBG and the most anticipated among gamers — Starfield. Approximately 15.5 million users searched Solitaire.
53. Covid vaccine near me. Although global concerns about the coronavirus pandemic have subsided somewhat, people are still looking for ways to protect themselves from it in 2023. Therefore, this request has become the most popular topic of medicine and health.
56. Speed Test. Internet speed is the # 1 problem in the technical field. Judging by the list of the most looked up thing on Google, providers still have a lot of work although the quality of telecommunication services is constantly increasing.
64. PayPal. This electronic payment system was searched for more than 14 million times during the year. For comparison, the only traditional bank in the top searches was Wells Fargo, which ranked 95th with 10.5 million views. Isn't this the way to a bright digital future?
73. Spanish to English. This was the most popular language pair for translation on a global scale. By the way, reverse translation ranks 74th. Adding up their results, we will get 26.5 million requests, which could correspond to the 26th position in the ranking.
80. Google Classroom. The service, which was known only to a limited circle of professionals, has been in search engine trends for the last two years. It is not difficult to find the reason for such changes since distance learning during the coronavirus restrictions demanded new digital tools.
81. Spotify. Music was not on the list of Internet users' priorities in 2023. The audio streaming service received only 11.8 million views on the search engine page.
97. Bitcoin price. This is one more sign confirming that humanity is on the way to a decentralized digital economy. First of all, users were interested in the price of a cryptocurrency rather than stock quotes or conversion of traditional fiat currencies.
NSFW queries
Usually, "adult" keywords are removed from ratings. But they also matter for optimization — you should know their positions to target or, conversely, avoid them. The fourth place in global requests that include NSFW content is Pornhub with 200 million views. Its competitors, XVideos and XNXX, ranked 11th and 15th with 140 and 100 million searches. The overall keyword porn ranked 20th with 65 million searches.
Top Searches on Google in the US
In general, the North American rankings are similar to global ones. Nevertheless, some regional differences should be taken into account:
| | | |
| --- | --- | --- |
| № | Keyword | The number of searches in 2023 |
| 1 | Amazon | 147,600,000 |
| 2 | Facebook | 132,600,000 |
| 3 | YouTube | 131,300,000 |
| 4 | Wordle | 124,900,000 |
| 5 | Google | 86,400,000 |
| 6 | Gmail | 64,000,000 |
| 7 | Google translate | 49,400,000 |
| 8 | Walmart | 41,000,000 |
| 9 | Yahoo | 40,500,000 |
| 10 | Yahoo mail | 38,200,000 |
The most Googled thing in 2023 was Amazon. Of course, who can resist regular sales and same-day delivery? The second and third places brought no surprises. Although Facebook and YouTube were forced to give way to Jeff Bezos' company, they still have more than 100 million requests in the US alone.
Positions from fourth to sixth completely coincide with global statistics — this is the Wordle game, Google's search engine itself, and its email client Gmail. But the BBC Network channel is not very popular in America, so the translation service Google Translate rose to seventh place. It is immediately followed by Walmart, the largest US retailer that owns a chain of hypermarkets. The list is closed by the competing search engine Yahoo, as well as its e-mail service.
Questions Most Searched on Google in 2023
Complex requests should be reviewed separately. They have a lower number of views but more possibilities in terms of promoting informational pages and commercial products. By optimizing your site for them, you can get a large amount of high-quality organic traffic.
WorldWide
Simple and generalized questions expectedly get into the top Google searches in 2023. But among them, you can also find keywords interesting for businesses:
| № | Question | The number of searches in 2023 |
| --- | --- | --- |
| 1 | what time is it | 1,400,000 |
| 2 | what is my ip | 1,100,000 |
| 3 | when is easter 2023 | 1,100,000 |
| 4 | what to watch | 960,900 |
| 5 | when is mothers day | 886,000 |
| 6 | what time is the super bowl | 774,300 |
| 7 | how many weeks in a year | 771,100 |
| 8 | how many ounces in a gallon | 747,900 |
| 9 | when is easter | 734,300 |
| 10 | how many ounces in a cup | 709,800 |
Most often, people in 2023 wanted to know what time it was. Of course, among the 1.4 million users, there were also jokers and those who wanted to look at the clock integrated into the search engine. But the request is also interesting from a commercial point of view. It is popular with travelers who cross long distances and have to adapt to other time zones.
The issue of determining one's personal IP address took second place. It can be interesting for ordinary users who are driven by simple curiosity. However, it allows targeting IT and digital marketing professionals — network administrators, webmasters, programmers, content creators, etc.
Questions about the date of the Easter celebration in 2023 and in general were in the third and ninth places. Interestingly, when combined, these two queries could become the most popular. In sum, they gained 1.873 million searches compared to 1.4 million of those who wanted to know the time. This question allows targeting almost all possible products, from funny souvenirs to holiday tours to exotic countries.
The fourth most popular question was wondering about what to watch. This is a real gold mine for streaming services like Netflix and Amazon Prime Video. However, you can also join them in the promotion of the YouTube channel. The fifth place is held by another holiday — Mother's Day. The date of the Super Bowl competition is in the sixth position.
The questions about units of measurement are in seventh, eighth, and tenth places. Those are queries about how many ounces are in a gallon, how many weeks are in a year, and how many ounces are in a cup. They can also be used to target specific groups of consumers — the first and last queries are mostly for home cooks, and the second for accountants.
The USA
The statistics of top searches on Google among Americans completely coincide with the global ones — we can find the same queries in the top ten. Only the order has changed — US residents are more interested in movies and the Super Bowl.
| | | |
| --- | --- | --- |
| № | Question | The number of searches in 2023 |
| 1 | what time is it | 1,300,000 |
| 2 | what to watch | 911,500 |
| 3 | what is my ip | 823,000 |
| 4 | when is easter 2023 | 804,800 |
| 5 | what time is the super bowl | 773,300 |
| 6 | when is mothers day | 739,000 |
| 7 | how many ounces in a gallon | 732,600 |
| 8 | how many weeks in a year | 695,100 |
| 9 | how many ounces in a cup | 676,400 |
| 10 | when is the super bowl | 659,100 |
Also, Americans are often interested in local topics:
When is Liberation Day celebrated?
When to pay taxes in 2023?
Why was the tax overpayment not returned?
What time is it in Texas, Hawaii, and other states?
How many steps in a mile?
This is priceless information for targeting and search engine optimization. Knowing about the popularity of these queries, you can get a large amount of organic traffic in a certain segment.
Surprisingly, Americans turned out to be less interested in politics. They more often ask who called me from this number, and much less often — what is NATO. Another local feature is a low number of inquiries about weight loss but a large number of questions about Covid and other infectious diseases.
Interesting Trends That Are Worth Your Attention
By analyzing the most common Google searches over the past 20 years, you can draw valid conclusions about where the online community and related businesses are headed. And although this period is very small in terms of history, it brought more changes than we expected.
Acceleration of Life Online
Every year, the peaks of trending requests become sharper. This means that trending topics gain more popularity at the moment they appear, but their prominence fades away quickly — sometimes, within several days. This forces digital marketing professionals to adapt to this phenomenon. They have to play ahead — predict future trends to prepare new products and launch advertising campaigns in time.
Celebrities Are Getting Closer
In the early 2000s, the information sphere was filled with such well-known names as Britney Spears, Eminem, and David Beckham. However, already in the 2010s, this list began to be diluted by young stars and YouTubers — Rebecca Black, PSY, and PewDiePie. Today, bloggers powerfully compete with actors and politicians for popularity on the Internet. This makes the media sphere more interactive. Users can directly communicate with their idols using comments, chats, and AMA sessions.
Unfortunately, Anxiety Remains a Trend
Negative events gain very high rankings in search engines. For years, people have monitored conflicts in the Middle East, the Fukushima accident, oil spills from tankers, and hurricanes. Any such topic causes a quick burst of interest that lasts for days or weeks. This is what has led to the popularity of social media channels that publish information earlier than traditional media.
Dogs Are More Popular Than Cats
No matter what happens in the world, the Internet continues to love cats, right? But in fact, this is a common myth. If you ask what is the most Googled thing in 20 years, it turns out that dogs received 2-3 times more ratings than cats and 5-10 times more than other animals. This is a great idea to boost your blog's ranking or promote your business. Do you want other people to pay attention to you? Make sure you have a funny dog helping you.
People Love Sports
Basketball, football, and hockey have been in the top 50 searches all these years. However, the biggest splashes in popularity are caused by athletes who compete in other disciplines. It could be golf, Olympic swimming, or even cricket. In the last case, the members of the Australian national team received special attention. Surprisingly, it was not India, where this sport ranks first in television ratings.
Memes Are More Important Than Brands
In the early 2000s, people Googled the names of such popular companies and products as Nokia, Apple, iPod, Xbox, and Microsoft. However, at the turn of the 2010s, interest in them gradually faded. Then, viral content such as planking and the Ice bucket challenge became the search leaders. After that, the Internet was covered by a wave of memes — Flappy bird, Pepe the frog, Pokémon Go, the Baby Shark song, and others. These trends are short-lived, but according to experts, the savviest businessmen receive up to 2.5 billion dollars every year from their exploitation.
The Culture of Series
At first, people were wondering about the personal lives of movie stars. However, with the growing popularity of streaming services and the increase in the number of multimedia entertainment, interest in this topic began to wane. Today, users are more likely to search for series reviews than for information about actors. Among the latest trends, it is worth mentioning "Game of Thrones," "Squid Game," and "Wednesday." At the time of their release, they filled all the free space on the Internet — it seemed that it was simply impossible to avoid them.
How to Detect Top Google Keywords
There are many tools to help you succeed in SEO and PPC. They will select the top Google keywords, show the number of requests, the difficulty of optimization, the cost of a click in contextual advertising, and other useful statistics. We will show you the most popular, convenient, and effective services you can subscribe to.
SEMRush
This is one of the best keyword research tools you can find. It allows users to view top queries and track trends. Thanks to this, you can timely adapt your SEO strategy and advertising campaigns to new market conditions.
By choosing a certain keyword from Google top, you will receive advanced statistics. It includes not only the number of requests and the cost of a click but also the estimated difficulty of optimization, the approximate amount of organic traffic in the segment, and the breakdown by region. The service can automatically determine the user's intent. This simplifies the creation of Title and Description meta tags, as well as headings and subheadings in articles.
SEMRush will become your personal assistant in the field of digital marketing. The research tool suggests relevant keywords based on your query:
low-frequency with a large number of words;
related queries with the lowest level of competition;
questions and comparisons.
Subscription fee: from $119.95 per month or $1190.40 per year.
Ahrefs
Meet the best tool for digital marketing on a global scale. It offers statistics from many platforms, not limited to Google and Bing. With its help, you can check the data of the Chinese service Baidu, Russian Yandex, Korean Daum, Czech Seznam, etc.
Ahrefs keyword search tool is also appealing by its capacity to quickly switch between the following modes:
complete match of the phrase;
searching terms included in the query;
alternative keywords used by market leaders;
autofill offers;
popular questions in this field.
The section comparing competitors will also be very useful. After choosing a specific keyword phrase, you will see the sequence of indicators for the top sites — the number of domains, external links, and optimized keywords, as well as the amount of traffic. The service also has a built-in notepad that allows you to save research results, edit and accompany them with your comments.
Subscription fee: from $99 per month or $990 per year.
Serpstat
The service doesn't just show what people search on Google. It also generates separate reports on the effectiveness of the use of key phrases in SEO and PPC. In addition, it has sections for tracking seasonality and current trends. With their help, you can choose the optimal time to start a marketing campaign.
Another feature of Serpstat is the availability of internal services for creating a content plan and advertising budget. Besides that, Serpstat allows you to create interesting and understandable infographics that can be demonstrated to management or clients. Of course, it also has tools for advanced keyword research:
searching for related terms;
identification of leaders according to certain requests;
creation of low-frequency keywords.
Subscription fee: from $69 per month or $660 per year.
Majestic
This service has a simple interface and advanced functionality. It is based on standard analytical tools. After choosing a keyword for a certain topic, you can check its popularity, approximate amount of traffic, cost of advertising, and difficulty of optimization.
But this tool has something more. The built-in keyword generator will be very useful for SEO specialists. It uses the terms from your query, searches for related keywords, and sorts them in blocks by popularity, market size, and complexity. The Search Explorer tool is available in advanced tariff plans. It allows you to:
analyze competitors by the quality of optimization of texts, meta tags, and link mass;
view request sources on the map;
find factors that impact the effectiveness of business promotion in your segment.
Subscription fee: from $48 per month, PRO version — from $99 per month.
Google Keyword Planner
The list wouldn't be complete without this essential tool for SEO and PPC professionals. The search engine keeps it free, offering a considerable number of features:
determining the number of searches, dynamics of keyword popularity, and bids in contextual advertising;
calculating the optimization complexity index;
measuring conversion and click-through rate;
planning of advertising campaigns;
forecasting marketing profitability;
determining the best regions for product promotion.
Subscription fee: free.
Google's Top Searches in 2023 Are Not Mere Curiosity
One of the common mistakes of specialists in the field of digital marketing is excessive immersion in a certain topic. Having given full attention to their industry, they often forget to stand up and look at the horizon, that is, evaluate their business environment. Knowing what's the most searched thing on Google, you can track current trends, monitor leaders and closest competitors, and find new areas of investment with high return rates.
FAQ
Which Was the Most Searched Thing on Google in 2023?
Links to Facebook, YouTube, and Amazon were the most popular. People were also interested in Wordle, weather, news, and email services.
Which Are the Top Google Searches in the US?
Amazon was the first in rating, and Facebook and YouTube took second and third place. In general, the requests of US residents coincided with global ones — the trends differ only in the presence of Walmart.
What Do People Search on Google Worldwide?
Popular questions include what time is it and what is my IP address? People are also interested in movies, holiday dates, and major units of measurement conversions.