December 2022 Google Link Spam Update
Last Wednesday, December 14th, Google began to roll out the December 2022 link spam update, and it seems at least based on the chatter and tracking tools I follow, this link spam update has some teeth. I am seeing a nice number of real reports of sites feeling the impact in a big way and Google really being able to zone in on links it never did prior with other link algorithms.
As a reminder, here are some quick facts on this update, and then below, I will share some of the impacts it had on sites this SpamBrain link algorithm picked up on:
December 2022 Google Link Spam Update Quick Facts
Here are the most important things that we know right now in short form:
Name: Google December 2022 Link Spam Update
Launch Date: It began to roll out on December 14th
Rollout: It will take up to two weeks to fully roll out
Targets: It targets both sites buying links, and sites used for the purpose of passing outgoing links.
Penalty: This will "neutralize" links that it detects as being spam and thus links that are detected won't be counted and may show a decline in rankings.
Not a manual action: This is not a manual action, so you won't be notified in Search Console if you are hit.
Global and all languages: This is a global launch and affects all languages.
SpamBrain: This is the first time Google is using its AI-based spam detection, i.e., SpamBrain, for link spam purposes.
SEO Chatter
Here is some of the public chatter from the forums, Twitter and comments area here that I found on this update:
WebmasterWorld:
My search traffic is up 31% so far today, it would be great to see that continue but the first day of these updates tends to be an anomaly. I'm not sure, but I don't think purchasing links from link farms, etc is a huge problem in my niche. I do suspect one major competitor site may be doing this. It will be interesting to see how they fare now....
and today we are -50% again. Not buying any links or exchanging any links.
Traffic is all over the place...skyrocketing the first half of the day, then dropping off a cliff suddenly. My home page and major landing pages all taking major hits in traffic, -80% some days, then reverting back to normal, then dropping again...on and off for almost two weeks already. Yesterday UK traffic suddenly turned off entirely and was -45% by day's end...today USA traffic was down by 72% this morn. Meanwhile, visits to individual content pages are still fairly strong.
As expected for me traffic is down today and looking like a weekend level.
Another big drop in search traffic today...down 18% at 5pm. Traffic basically stopped cold between 6am-10am. USA is down 25% and UK traffic down 34%. AU and CA also down. Google put the damper on all day long today.
Our Google traffic has gone up a bit in the last couple of days, which isn't normal for our travel site at this time of year. Usually we don't see an uptick until after Christmas.
Normally, Fridays and Saturdays are the weakest days of the week, but since yesterday afternoon, Google traffic is steadily increasing. According to Xovi, the ranking of my most important keywords, which have suffered since the spam update, is also recovering.
Black Hat World
Not sure if this was the link update or most recent one, but I've already dropped a LOT in the past 24 hours.
I've already dropped a lot in the past 3 days
Already dropped a LOT OF rankings in the past 24 hours. not sure if update could roll out that quick but yea... getting hit hard and I bought a lot of links...
SER Comments:
Very low traffic...
My main 3 keywords just disappeared from SERP on 14 Dec and no longer showed impressions in search console report since then. Does anyone have the same issue?
After the HCU that started this week, I lost another 20 percent of my traffic on one of my WordPress sites. But today, G traffic is double. You might think that is good news, but this usually means tomorrow, my traffic will hit new all-time lows. So strange. Anyone else experiences this?
Hey, just to make sure I'm not alone.. anyone with persistent traffic drop?
The comments in those forums just keep going on and on.
Via Twitter:
Via @chy_ayon: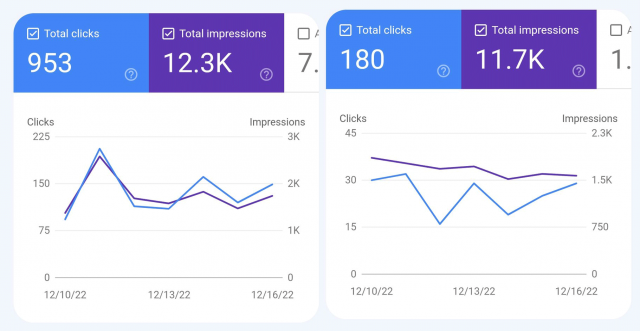 Some polls:
Google Tracking Tools
Check out what the tools are showing since Wednesday, December 14th:
RankRanger:

Semrush:

Cognitive SEO: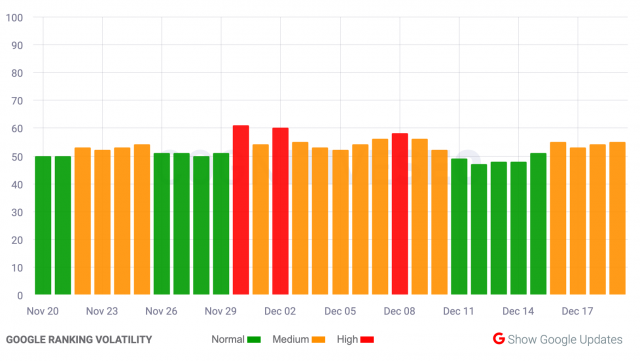 SERPmetrics:

Mozcast: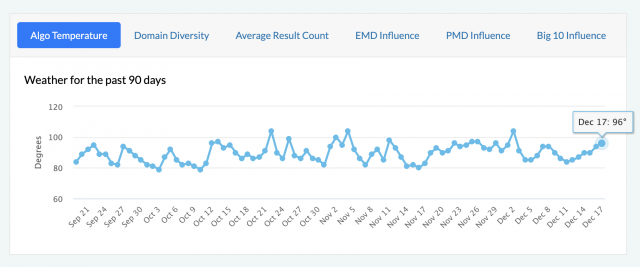 Advanced Web Rankings: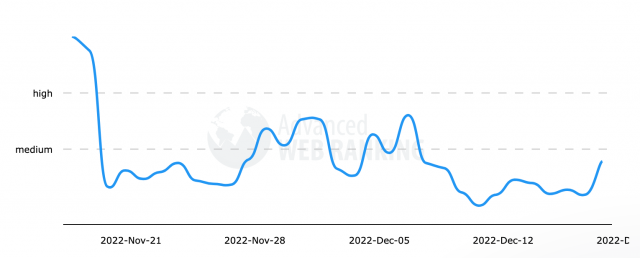 Accuranker: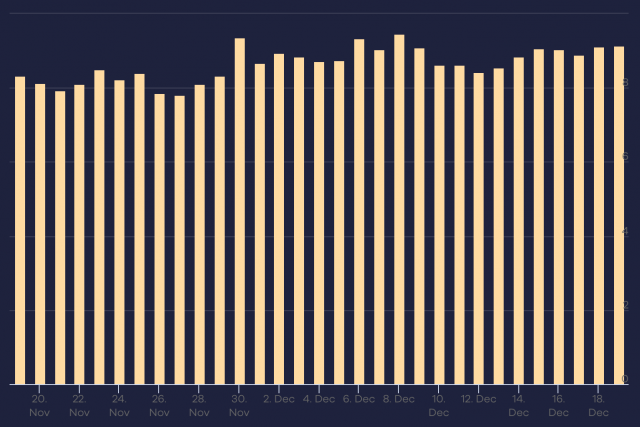 Algoroo:

SERPStat:

So this update, in my opinion, seems pretty significant for those who did any link-building of sorts.
Source: https://www.seroundtable.com/